If you are looking for a book about the forest and immigration set in New Hampshire, don't skip Waiting For The Night Song by Julie Carrick Dalton. Find a Waiting For The Night Song summary, book information, and book reviews here.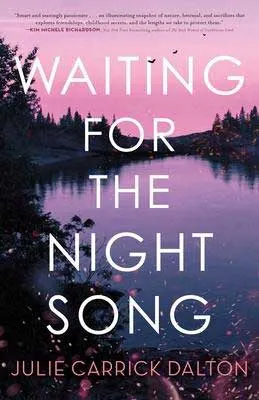 This post may contain affiliate links: If you purchase through my link, I will receive a small commission at no additional cost to you. I only recommend products/services that I approve of. See my full Disclosure Policy.
Author: Julie Carrick Dalton
Genre: Literary & Women's Fiction | Book Set In New Hampshire
Pages: 336
Publisher: Forge
Publication Date: January 12, 2021
Buy Now On Amazon
Find books like Waiting For The Night Song by Julie Carrick Dalton here:
Waiting For The Night Song by Julie Carrick Dalton Summary
A startling and timely debut, Julie Carrick Dalton's Waiting for the Night Song is a moving, brilliant novel about friendships forged in childhood magic and ruptured by the high price of secrets that leave you forever changed.

Cadie Kessler has spent decades trying to cover up one truth. One moment. But deep down, didn't she always know her secret would surface?

An urgent message from her long-estranged best friend Daniela Garcia brings Cadie, now a forestry researcher, back to her childhood home. There, Cadie and Daniela are forced to face a dark secret that ended both their idyllic childhood bond and the magical summer that takes up more space in Cadie's memory then all her other years combined.

Now grown up, bound by long-held oaths, and faced with truths she does not wish to see, Cadie must decide what she is willing to sacrifice to protect the people and the forest she loves, as drought, foreclosures, and wildfire spark tensions between displaced migrant farm workers and locals.

Waiting for the Night Song is a love song to the natural beauty around us, a call to fight for what we believe in, and a reminder that the truth will always rise.

Forge
---
Join The Uncorked Reading Challenge Today
---
Travel around the world with the Uncorked Reading Challenge. Get the best book and movie recs straight to your inbox. Sign Up Now.
---
More About The Author, Julie Carrick Dalton
Julie is writer and author with a Master's in Literature and Creative Writing from Harvard Extension School. She currently lives in Boston and runs her own organic farm. Read more about Julie Carrick Dalton.
---
Where You Can Find Waiting For The Night Song by Julie Carrick Dalton Reviews On TUL
Don't miss 2020's newest books, including Waiting For The Night Song. We are sharing some of the most anticipated titles of the year in thrillers, suspense, romance, YA, historical fiction, mystery, and, of course, books set around the world.
What new books released with Waiting For The Night Song? Don't miss books like Your Story, My Story by Connie Palmen, Our Darkest Night by Jennifer Robson, Beauty Among Ruins by J'nell Ciesielski, and Faye, Faraway by Helen Fisher.