Take the Uncorked 2023 Reading Challenge, and read – and watch movies – around the world with The Uncorked Librarian.
Back and even better, the Uncorked Reading Challenge 2023 is here!
Each year, we poll our readers, and in 2023, we are grabbing that cocktail shaker and mixing things up.
If you've been with us before, you know that Uncorked Reading usually involves a theme/book a month with extra bonus challenges.
In 2023, we are introducing Uncorked Bingo to give you even more fantastic choices and flexibility by season.
The Uncorked Reading Challenge 2023 will help you read (and watch) a variety of topics while also letting you continue that love affair with your favorite genres and authors.
So, get ready to read around the world with our new 2023 book challenge. You might just meet some tipsy mermaids, survive a shipwreck, and tour a spooky castle.
Head to Brazil, Kenya, Canada, Panama, New Zealand, Ireland, and more.
Grab a glass of bubbly or boozed hot chocolate and snuggle into that blanket with a furbaby for one of the best 2023 reading challenges. Let's get started!
To get the most out of this 2023 Reading Challenge, join our Facebook Group, Uncorked Readers.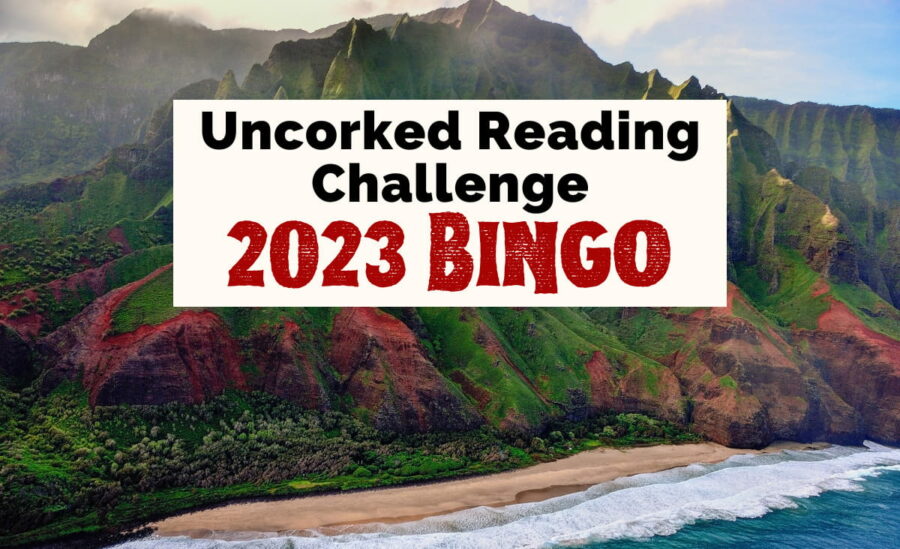 Uncorked 2023 Reading Challenge
Please do not cut and paste or reproduce any part of this Uncorked Reading Challenge on another website.
Directions for the Uncorked 2023 Reading Challenge:
For our Uncorked 2023 book challenge, read (and watch) as much or as little as you like.
Bingo cards span three months. Work toward reading a book/watching a movie a month to score a "Bingo" in any direction, horizontal, vertical, or diagonal.
Of course, you may do all of the topics on a card too – or at least try.
If you need to bow out for a month or season – or are joining us late – feel free to pick up the Uncorked Reading Challenge 2023 wherever you can.
If the topic is "Costa Rica," read a book or watch a movie from, about, or set in Costa Rica. We will provide some but not all book and movie lists with each bingo card.
And, keep checking back for more reading and movie lists – our writers will be working hard.
Grab the bingo cards below by clicking and saving them or taking a screenshot.
Also, find these bingo cards in our FB Group, Uncorked Readers, as well as receive them via our newsletter. As always, we will send book lists and more reading ideas via our newsletters.
For our readers who don't love bingo cards, feel free to track your reading any way you wish. We will provide PDF trackers below via email and in our FB group.
The most important part is that you have fun, read books, watch great things, and talk about your finds with your friends, family, TUL book community, and anyone who will listen.
Lastly, our readers love to post what they are reading in our Facebook Group, Uncorked Readers. Feel free to join, post your book and movie selections, and/or non-creepily lurk.
Joining our Facebook Group is not required, though, and some people even start their own book clubs with TUL themes.
P.S. Use the hashtag #UncorkedReading and tag us @ theuncorkedlibrarian when talking about the challenge on social media for reshares.
Join The Uncorked Reading Challenge Today
---
Travel around the world with the Uncorked Reading Challenge. Get the best book and movie recs straight to your inbox. Sign Up Now.
Winter 2023: January through March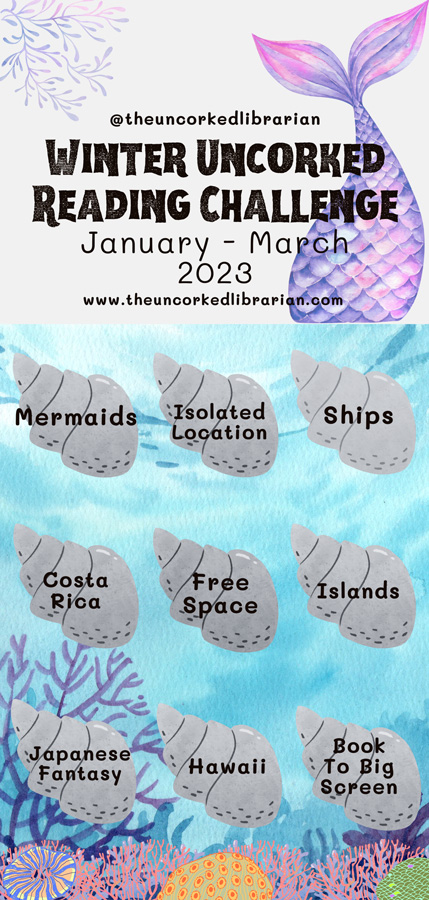 January through March topics include:
Spring 2023: April through June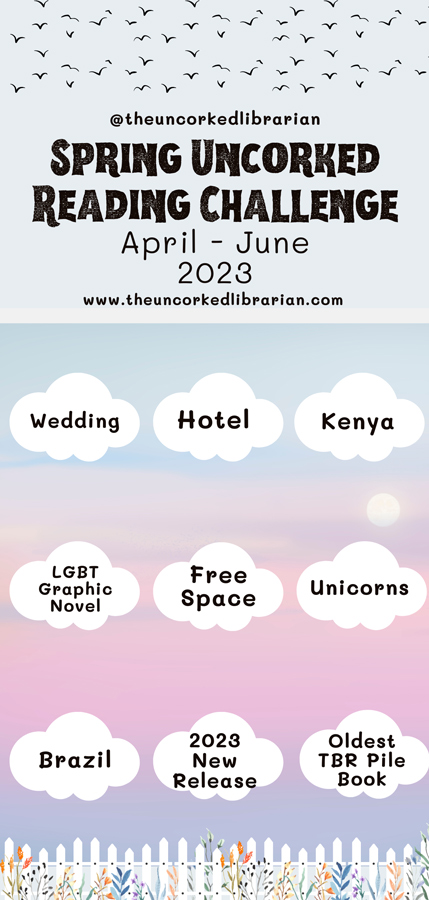 April through June topics include:
Summer 2023: July through September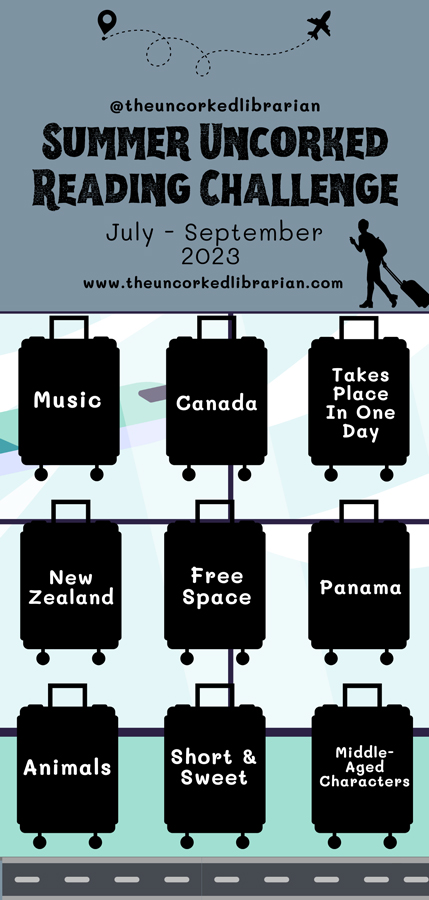 July through September topics include:
Fall 2023: October through December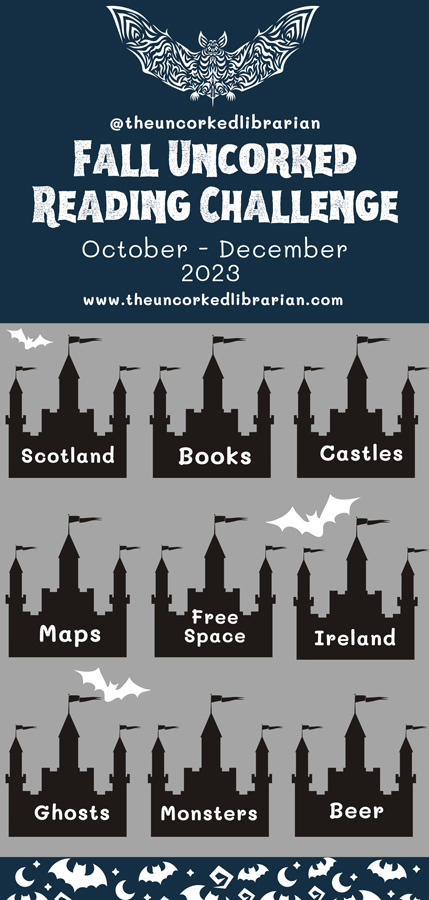 October through December topics include:
Free Printable Trackers For TUL 2023 Book Challenge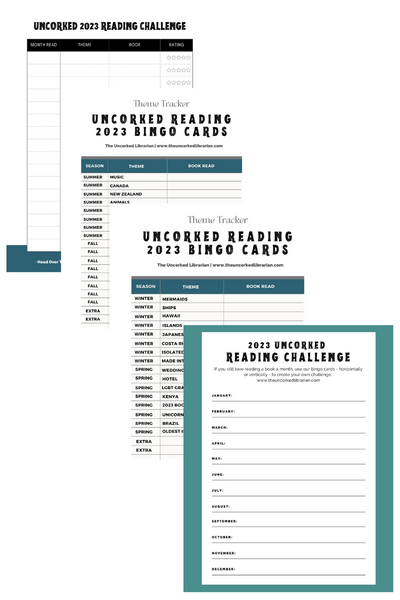 Join The Uncorked Reading Challenge Today
---
Travel around the world with the Uncorked Reading Challenge. Get the best book and movie recs straight to your inbox. Sign Up Now.
Sign up for our newsletter above, and grab your free printable Uncorked Reading Challenge trackers (PDFs).
Trackers include spaces to fill in book titles per topic and season, read one theme a month, and/or rate the books you've read.
By joining our newsletter, you will also receive bi-weekly book and movie recommendations straight to your inbox.
We never spam you, and you may unsubscribe at any time. Plus, we are told that our newsletters are the best part of joining The Uncorked Librarian.
If you are already on our mailing list, there is no need to sign up again – we will send you all of the 2023 Reading Challenge materials.
Where To Get Your Reading Challenge Books
Of course, we always recommend dropping into your local library to grab your reading challenge books. Or, find a Little Free Library in your community.
However, if your library doesn't carry a certain book – and you tried requesting it – these are the other places we recommend for great books:
1. Book of the Month: Get the month's hottest new and upcoming titles from Book of the Month. You might snag an early release or debut author. Along with selecting a book a month, find terrific add-ons, both trendy and lesser-known titles.
2. Audible Plus: From Amazon, listen to Amazon Originals, podcasts, and audiobooks. They add new titles every week.
3. Amazon Prime: Don't miss Amazon First Reads – early access to Kindle books. Get fast delivery as well as movies, music, Originals, shows, and more.
4. Or, start your trial of Amazon Video for movies and tv series on demand.

You might also want to peruse both the 2022 and 2023 book releases – we always try to pick multiple titles that fit with our Reading Challenge themes.
Lastly, our team of writers compiled a terrific "Best Books of 2022" reading list filled with the top books published that year. Many of these are perfect for 2022 Uncorked Reading.
Uncorked Reading FAQs
Do I need to read a book for the free space?
As true to bingo, you do not need to read a book for the free space. However, many of our Uncorked Readers are using their free space as a chance to read a book of their choosing, which we love!
Do audiobooks count for this reading challenge?
Yes! Audiobooks are, of course, books and count for all of our reading challenges.
Will there be an end-of-year giveaway?
Unlike 2022, we are not necessarily having an end-of-year reading challenge giveaway. However, we occasionally host giveaways in our Facebook Group, Uncorked Readers.
Do I have to use TUL trackers and bingo cards for this reading challenge?
Nope; our trackers are optional. You may use whatever you like to track your reading challenge themes.
In fact, head over to our Facebook group to see how readers have been logging and rating their 2022 books. We love and appreciate all of your creativity.
Canva also has fun templates that you may customize.
Do I have to start this reading challenge in January?
No; you may join our reading challenge at any time throughout the year, and we hope the new Bingo card format makes joining even easier for you.
You may also take time off whenever you need.
Is joining the Facebook group, Uncorked Readers, required?
We understand that not everyone wants to be on social media, and joining our Facebook group is not required to participate in our reading challenge.
However, if you enjoy reading with others and getting even more fabulous and diverse book recommendations, we truly believe our community will enhance and diversify your reading experience.
Plus, joining a group sometimes helps us all become more accountable for our reading goals.
Uncorked Readers might just be the online book community and book club you didn't know you needed.
We also allow members to post their reading choices anonymously, and we have many members who just quietly hang out.
Posting is not required.
Do I have to sign up for the TUL newsletter?
Like our Facebook group, signing up for our newsletter is not mandatory. We get it; not everyone loves emails or a slammed inbox.
However, we try to keep emails to a minimum, and our newsletter is designed to enhance your reading experience with more book lists, updates, and a few new releases to watch out for.
You may always sign up and unsubscribe as well as re-subscribe as you like. There are no hard feelings; we promise!
Are you joining us caught in between the 2022 and 2023 Reading Challenges?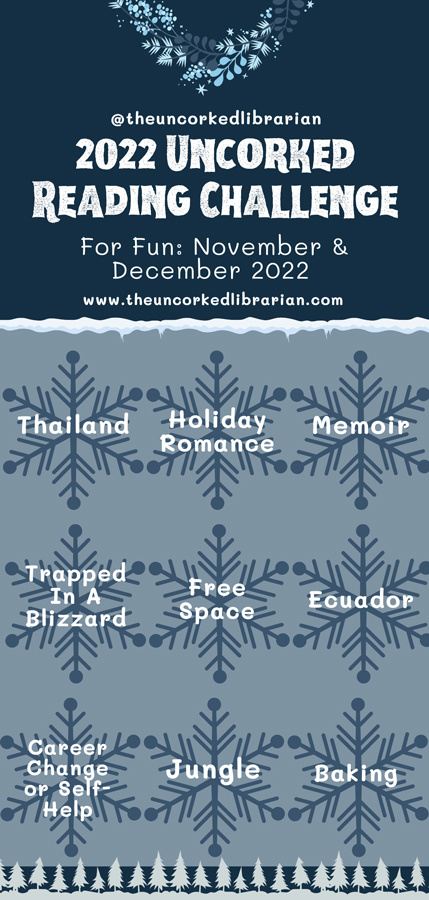 With so many new reading challengers joining us between October and December – during the end of our 2022 Uncorked Reading Challenge – we wanted to give you the option to jump right in.
This November and December 2022 bingo card is perfect if you wish to start reading and watching movies with our Facebook Group or across social media.
This a voluntary bingo card – consider it practice, even – and we hope you have fun with it.
Themes are from both the 2022 challenge along with a few bonuses. Find this bingo card posted in our FB group as well as on our Facebook page.
End of 2022 topics include:
Happy reading!
Are you ready to take the Uncorked Reading Challenge 2023?
What themes are you most looking forward to this year? Do you have any questions? What other 2023 reading challenges are you hoping to do with ours?
Let us know in the comments, and you can always email Christine – hello@ the URL of this website.
And, at the end of 2023, we will ask for your feedback, including themes, formatting, and discussions. Help shape all of our reading challenges.
Past Uncorked Reading Challenges: