Head to Alaska for a sweet romance in The Tourist Attraction by Sarah Morgenthaler. Grab book information, book reviews, and where you can find this 2020 book on The Uncorked Librarian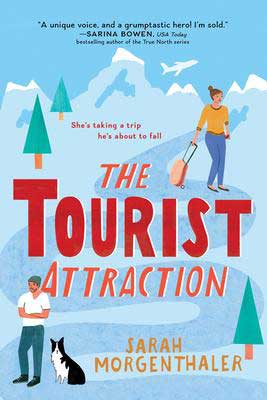 This post may contain affiliate links: If you purchase through my link, I will receive a small commission at no additional cost to you. I only recommend products/services that I approve of. See my full Disclosure Policy.
Author: Sarah Morgenthaler
Genre: Contemporary Romantic Comedy | Book Set In Alaska
Pages: 416
Publisher: Sourcebooks Casablanca
Original Publication Date: 2020
Buy It Here: Amazon
Find books like The Tourist Attraction by Sarah Morgenthaler free or discounted here:
1. Book of the Month: Get the month's hottest new and upcoming titles from Book of the Month. You might snag an early release or debut author. Along with selecting a book a month, find terrific add-ons, both trendy and lesser-known titles.
2. Audible Plus: From Amazon, listen to Amazon Originals, podcasts, and audiobooks. They add new titles every week.
3. Amazon Prime: Don't miss Amazon First Reads – early access to Kindle books. Get fast delivery as well as movies, music, Originals, shows, and more.
4. Or, start your trial of Amazon Video for movies and tv series on demand.

Description Of The Tourist Attraction By Sarah Morgenthaler From The Publisher:
He had a strict "no tourists" policy…
Until she broke all of his rules.
When Graham Barnett named his diner The Tourist Trap, he meant it as a joke. Now he's stuck slinging reindeer dogs to an endless parade of resort visitors who couldn't interest him less. Not even the sweet, enthusiastic tourist in the corner who blushes every time he looks her way…

Two weeks in Alaska isn't just the top item on Zoey Caldwell's bucket list. It's the whole bucket. One look at the mountain town of Moose Springs and she's smitten. But when an act of kindness brings Zoey into Graham's world, she may just find there's more to the grumpy local than meets the eye…and more to love in Moose Springs than just the Alaskan wilderness.

Sourcebooks Casablanca
Join The Uncorked Reading Challenge Today
---
Travel around the world with the Uncorked Reading Challenge. Get the best book and movie recs straight to your inbox. Sign Up Now.
About The Author, Sarah Morgenthaler
Sarah writes adorable romantic comedies set in Alaska. She is a 2017 and 2018 RWA® Golden Heart® finalist. You can read more about Sarah Morgenthaler here.
More From Author Sarah Morgenthaler
Mistletoe & Mr. Right
Enjoy The View – A wonderful novel about hiking
TUL Book Lists Featuring Sarah Morgenthaler's The Tourist Attraction
Enjoy a getaway with some of the best novels set at and about hotels. Of course, Morgenthaler's books all emphasize tourists vs the locals, and this hotel reading list is no different.
2020 had such good books, especially in romance. What do we consider to be the very best books of 2020? The Tourist Attraction by Sarah Morgenthaler made the list! Plus, find three more romances on this new book releases reading list, including Ties That Tether. We are also sharing the best books in women's fiction, historical fiction, LGBTQ+, YA, indie, and inspirational nonfiction.
Do you love reading books set in Alaska and around the nation? Don't miss our 50 States book list with books in every state.
What were some of our favorite books of May 2020? You can bet The Tourist Attraction made the cut. Find all of May 2020's newest books here.
Spring 2020 had some of the best new books. Discover your next favorite read on this book list filled with literary and historical fiction, romance, murder mysteries, and thrillers.
Don't miss our master list of books set in North America. Here, you'll find book lists with American books and books set in and about North America. See which hot books set across the continent we are talking about on The Uncorked Librarian.
If You Like The Tourist Attraction By Sarah Morgenthaler, Try: