Head to a secluded mansion in France in The Safe Place by Anna Downes. Uncover a The Safe Place summary, book information, and book reviews.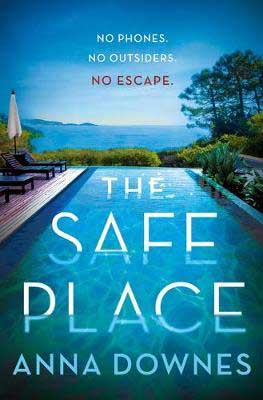 This post may contain affiliate links: If you purchase through my link, I will receive a small commission at no additional cost to you. I only recommend products/services that I approve of. See my full Disclosure Policy.
Author: Anna Downes
Genre: Psychological & Domestic Thriller | Book Set In England and France
Pages: 368
Publisher: Minotaur Books
Publication Date: July 2020
Buy Now: Amazon
The Safe Place by Anna Downes Summary
Emily is a mess.

Emily Proudman just lost her acting agent, her job, and her apartment in one miserable day.

Emily is desperate.

Scott Denny, a successful and charismatic CEO, has a problem that neither his business acumen nor vast wealth can fix. Until he meets Emily.

Emily is perfect.

Scott offers Emily a summer job as a housekeeper on his remote, beautiful French estate. Enchanted by his lovely wife Nina, and his eccentric young daughter, Aurelia, Emily falls headlong into this oasis of wine-soaked days by the pool. But soon Emily realizes that Scott and Nina are hiding dangerous secrets, and if she doesn't play along, the consequences could be deadly.

Minotaur Books
About The Author, Anna Downes
The Safe Place is Anna Downes debut novel and is inspired by her experiences as a live-in caretaker along the French Coast. Downes grew up in the UK and has traveled to numerous parts of the world, settling in Australia with her family.
Where You Can Find The Safe Place Reviews On TUL
Don't miss summer 2020's best new books, including The Safe Place. Find bestselling authors like Emily Giffin and Kevin Kwan, too.
See what TUL thought of The Safe Place along with some of July's most anticipated new titles.