If you are looking for contemporary fiction about racism by a black author, don't miss Such A Fun Age by Kiley Reid. Find a Such A Fun Age summary, book information, and book reviews featuring this thought-provoking novel perfect for book clubs.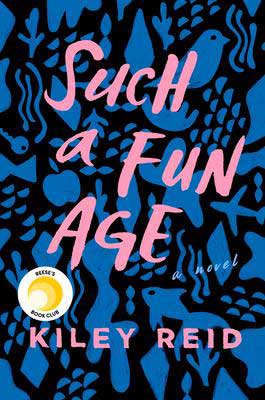 This post may contain affiliate links: If you purchase through my link, I will receive a small commission at no additional cost to you. I only recommend products/services that I approve of. See my full Disclosure Policy.
Author: Kiley Reid
Genre: Coming Of Age | African American Literature | Book Set In Philly
Pages: 320
Publisher: G.P. Putnam's Sons
Publication Date: December 2019
Buy Now: Amazon
Find more of your favorite books here:
1. We get the month's hottest new and upcoming titles from Book of the Month.
2. Try Audible Plus.
3. Find books via Kindle Unlimited Membership Plans.
4. As a member of Amazon Prime, don't miss Amazon First Reads — early access to Kindle books.
Such A Fun Age by Kiley Reid Summary
Alix Chamberlain is a woman who gets what she wants and has made a living, with her confidence-driven brand, showing other women how to do the same. So she is shocked when her babysitter, Emira Tucker, is confronted while watching the Chamberlains' toddler one night, walking the aisles of their local high-end supermarket. The store's security guard, seeing a young black woman out late with a white child, accuses Emira of kidnapping two-year-old Briar. A small crowd gathers, a bystander films everything, and Emira is furious and humiliated. Alix resolves to make things right.

But Emira herself is aimless, broke, and wary of Alix's desire to help. At twenty-five, she is about to lose her health insurance and has no idea what to do with her life. When the video of Emira unearths someone from Alix's past, both women find themselves on a crash course that will upend everything they think they know about themselves, and each other.

With empathy and piercing social commentary, Such a Fun Age explores the stickiness of transactional relationships, what it means to make someone "family," and the complicated reality of being a grown up. It is a searing debut for our times.

G.P. Putnam's Sons
Join The Uncorked Reading Challenge Today
---
Travel around the world with a book a month as part of our Uncorked Reading Challenge. Never be late to the party again with the best new book releases. Get book recs straight to your inbox. Sign Up Now.
Read More About The Author, Kiley Reid
Such A Fun Age is Kiley Reid's first novel. She is a graduate of the Iowa Writers' Workshop and currently lives in Philly. Read more about Kiley Reid.
Where You Can Find Such A Fun Age Book Reviews On TUL
If you are looking for more books about racism, don't miss our books that will make you think differently about the world reading list. A few more books about racism you'll find here include The Hate You Give, How To Be An Antiracist, Caste, Such A Fun Age, Small Great Things, A Good Neighborhood, and The Black Friend.
Don't miss the best books set in every state, including Such A Fun Age, a book heavily set in Philadelphia, Pennsylvania.
Uncover some of our favorite July reads, including Such A Fun Age. Other book reviews on this reading list include White Fragility, Over The Top, A Burning, and Red, White & Royal Blue.