Are you looking for restaurants in Ocala, Florida? Check out these top 4 Ocala restaurants and downtown Ocala drinking spots with mentions of fast food, chains, and local Ocala food. Did you know that Ocala could be so hipster?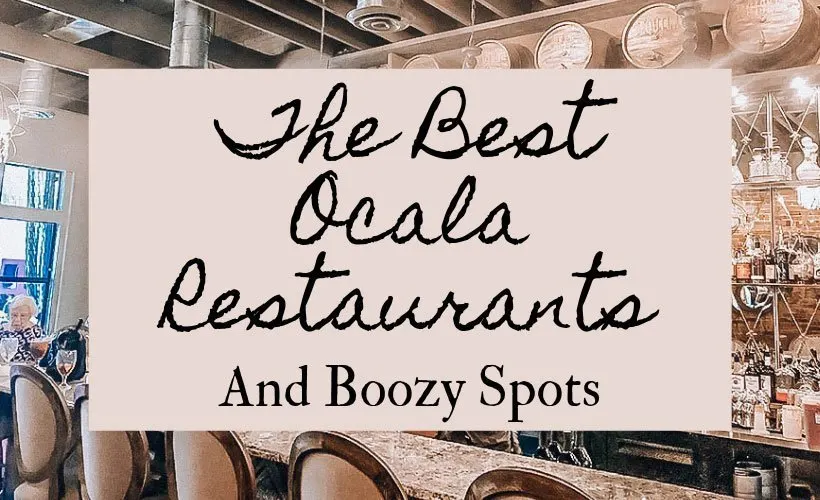 Pin
This Ocala restaurants and bars post has been updated from its original publication in 2018 for the fall of 2019.
Horse country. Confederate flags (cringe). Glass bottom boats.
These are the images that Ocala, Florida invokes to locals and tourists alike.
However, there is so much more to the off-the-grid city. Ocala's downtown square restaurants are slowly growing in popularity. With newer breweries, a winery where you can create your own personal oaky libation collection, and a slew of contemporary but quaint restaurants lining the smaller historic downtown, don't overlook Ocala.
Downtown Ocala is an upcoming go-to day trip destination from anywhere in Central Florida with less than an hour or hour and a half drive. As local Floridians, my husband and I had no idea that hidden gems existed in horse country as we drove through the Ocala National Forest. Plus, the Ocala restaurants are stellar for both ethic and southern food.
With family in the Ocala suburbs and having visited numerous times, these are my favorite suggestions for restaurants in Ocala as well as where to uncork with the best drinks. I'll also share American Ocala restaurants, seafood places, chains, and spots nearby for the tourist on the run looking for a quick bite to eat.
My Favorite Boozy Spots & Restaurants In Ocala Mentioned More In-Depth Below Include:
Latinos y Mas

The Ivy House

The Corkscrew Winery

Infinite Ale Works Brewery
Ocala, Florida On The Map & Off The Grid
Ocala is located in Central Florida a bit off to the west.
Coming anywhere south from the Orlando area, visitors pass other equal food and drink-worthy towns like Mount Dora, Sanford, DeLand, and Winter Park. Easily accessible from the beaches to the East—such as Daytona, New Smyrna, and Flagler—yet also close enough to Gainesville, the Palm Coast, and St. Augustine, Ocala offers a more country-like getaway in the sunshine state.
Less heavily populated and largely unspoiled, traffic settles down on winding two-lane roads. Much of the land is protected. If you are short-cutting through the Ocala National Forest, greenery and bird watching greets you along with bubbly springs and Smokey the Bear. Think manatees, swimming, Spanish moss, and oak trees galore.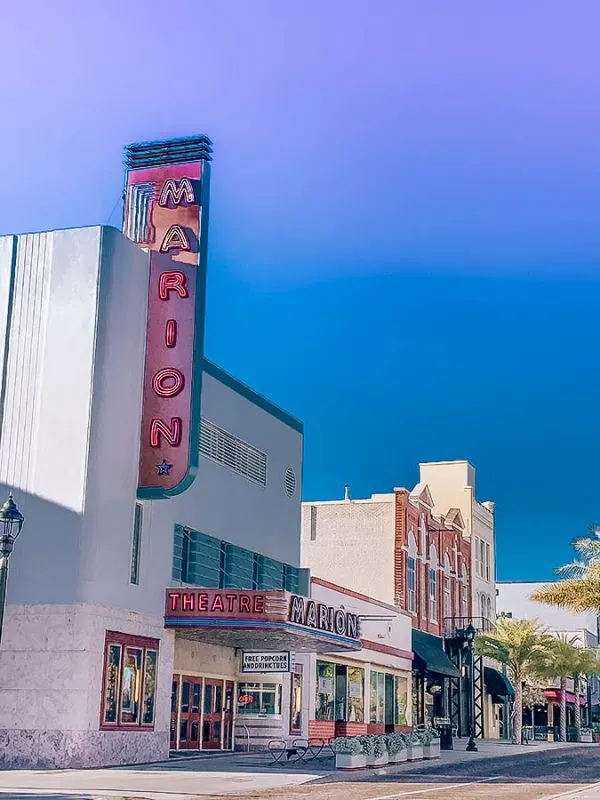 Pin
A Different Type of Florida in Ocala
Ocala is known as "horse country," which makes me the worst driver. I drive, and I gape. Horse mansions and ranches populate the rolling hillsides—well, Florida has 'hills' as in a foot of bumpy land—and husky, well-groomed, prized steads graze the land. I am in love. Like a little girl, I want a pony, and I want to ride one. Can I take them all home, please? You can tour the ranches.
Juxtaposed with such beauty is a not so pretty history. My husband and I despondently joked that we should make a drinking game out of our Confederate flag sightings. I'd be tanked in 5 minutes.
Although not the Deep South, Florida falters with its prideful and shameful history. Just a fair warning, but know that this culture does not resonate throughout downtown Ocala. Much of Ocala, like Florida, is progressive and inviting.
Which brings me to one of the reasons why you should head here: the Ocala food!
The Best Restaurants In Ocala, FL
If you are coming in for a day trip to see the city or need to refuel after a morning of hiking and kayaking, you may be wondering what are the best restaurants in Ocala…
When acres of forest and smalltown vibes surround you, Ocala can seem like a vast and remote island. With a small drive, though, Ocala opens up into a bustling city with a historic downtown perfect for dining and celebrating with a toast.
The Best Spanish Food In Ocala, FL
If you love Cuban food, you will barely make it into the revitalized historic downtown Ocala square. Don't make the mistake of driving by Latinos y Mas for lunch or dinner. This is one of the best places to eat in Ocala if you are looking for amazing Spanish cuisine and has great reviews.
Surrounded by darker wood tables and booths with a Spanish flair, prepare for large portioned Latin Fusion. Of course, you can munch on anything authentically Cuban plus tacos and the fish of the day covered in a unique salsa. With tender roasted Cuban pork, cassava, and black beans, nothing served here could possibly taste terrible.
A Tummy-Friendly Ocala Restaurant
Latinos y Mas in Ocala marks gluten-free items on their menu and is incredibly food intolerance friendly. As an ulcerative colitis sufferer married to a Celiac, trust me, we know. Sauces are not overly heavy, butter is sparse if non-existent, and there is something for everyone in the family.
P.S. My delicious plate lasted me two more meals, and I swear the flavors just got better and better. I also enjoyed their Central and South American wine pairings. Latinos y Mas is a perfect Cuban Ocala restaurant.
Latino Y Mas Address: 2030 S Pine Ave, Ocala, FL 34471
Lunch menu for Latinos Y Mas. Dinner Menu Here. Visit Latinos Y Mas.
I've also heard that the Mojo Grill and Catering Company has delicious Latin food.
American Ocala Restaurants & Local Ocala Food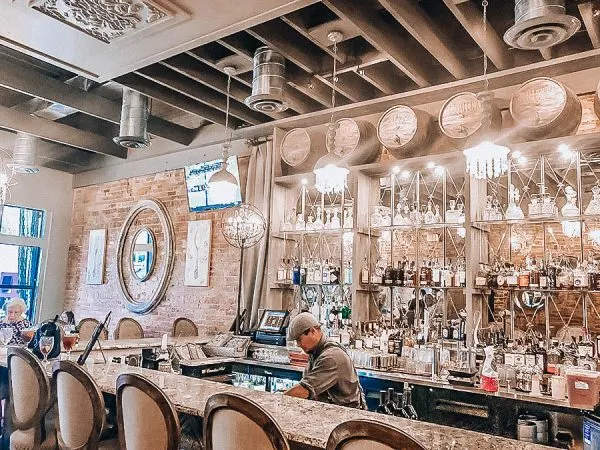 Pin
I hesitate to share this speakeasy gem. I want it all to myself. The Ivy House offers a little southern Ocala food vibe and is one of my favorite downtown Ocala restaurants right off the square.
The Ivy House, located in the more charming downtown Ocala FL area, is always packed. Be sure to call ahead for dinner reservations or you might miss out on tasty southern delicacies with old-fashioned glamour. They are open for lunch, dinner, and my favorite, Sunday brunch.
The outside seating is usually more readily available and perfect for people watching. A bonus: the patio overlooks the historic Marion Theatre where you can catch a modern feature film.
The inside greets diners with a blast from a glorious bourdon and rum past. Silver walls, ornate mirrors, sparkling chandeliers, and gentle bricks transport you right out of Florida and into a Prohibition-era. I am reminded of the Plant Bar in St. Augustine, Florida. Waiters dressed in suspenders with old school newsboy hats and eclectic women in fancy tights serve up handcrafted cocktails and perfectly portioned plates.
Personal Tip:
If they have them, I would not pass up on the dates wrapped in bacon. Dates are totally healthy, right? Who can resist fried green tomatoes, crab cakes, and chicken wings to start? Hell, I am not even from the South, but I crave it all.
Try a bourbon flight, pick a specialty cocktail, or enjoy local brews paired with handhelds, fishplates, and of course, fried chicken. The Ivy has a gluten-free and kids' menu, too. Personally, I love a Manhattan on the rocks. Does that make me old? I promise for the best restaurants in Ocala, The Ivy House is a must.
The Ivy House Address: 53 S Magnolia Ave, Ocala, FL 34471
The Ivy House Downtown Ocala Menu. Visit The Ivy House.
If you are looking for more American restaurants in Ocala, try Brooklyn's Backyard. True to its namesake, this local Ocala restaurant pretty much looks like someone's backyard. They are known for their famous wings and have your classic pizza and burger options.
Brooklyn's Backyard Address: 2019 E Silver Springs Blvd, Ocala, FL 34470
Brooklyn's Backyard Menu. Visit Brooklyn's Backyard.
A Few More Local Ocala, FL Restaurants
Although we frequented Ocala often as FL residents, these are a few more restaurants in Ocala that came highly recommended with stellar reviews on TripAdvisor and Yelp that we wanted to check out:
Braised Onion Restaurant
Stella's Modern Pantry
Brick City Southern Kitchen & Whiskey Bar
Arthur's American Bistro
Mesa De Notte (Italian)
Royal Orchid (Thai)
Chain Restaurants In Ocala, FL
While I don't usually eat at chain restaurants, I do know that Ocala is a stopping point for road trippers. If you need food in a pinch, know that the following are Ocala chain restaurants (I am only naming a handful of them):
Longhorn Steakhouse
Five Guys
Cheddar's
Ruby Tuesday
Gator's Dockside
Outback Steakhouse
First Watch
Carrabba's Italian Grill
Olive Garden
Red Robin
Applebee's
Cracker Barrel
Chili's
Hooters
IHOP
Fast Food Ocala Restaurants
Golden Corral
Sony's
Bob Evans
Burger King
Tijuana Flats
Looking For A French Ocala Restaurant?
Seafood Restaurants In Ocala, FL
In my opinion, you don't go to Ocala for seafood, but that might just be me. I'd drive there for the local southern flair and drinks. If you are looking for seafood restaurants in Ocala, though, try:
Harry's Seafood Bar and Grille
Murphy's Oyster Bar
Red Lobster (Chain)
Bonefish Grill (Chain–but one I recommend)
Love These Ocala Restaurants? Looking For More Florida Insider Tips? Check Out These Florida Travel Guides from TUL:
5 Of Historic St. Augustine's Best Kept Secrets
Ocala Florida Restaurants: Where To Drink
The Ivy House has a cozy and elegant little bar, which works for starter cocktails or happy hour. If you are into the winery and brewery scene, get ready for a surprise. Within two blocks of each other, head to Infinite Ale Works Brewery or The Corkscrew Winery. Both boast of craft beer with chill local vibes.
A Little Back Story–Don't Judge
I have a small history at The Corkscrew Winery. As in took an embarrassing wine shower and am slightly relieved that it was on a bartender's last day kind of story. My mug has yet to reach their walls. God, I hope they aren't reading this.
Let's just say you can tap and cork your own wine to take home. Some people are bar pros.
Me, I went to Smith. My head lived in books. That's my excuse. So when the bartender told me to tap my wine and the tap didn't shut off right away, hell broke loose. I mean, YES, a WATERFALL OF WINE is a dream come true, but imagine getting pulled over and explaining to the po-po why you reek of wine. That last part did not happen. Thank gosh. I'd be the Uncorked Inmate, and I don't like the ring of that as much.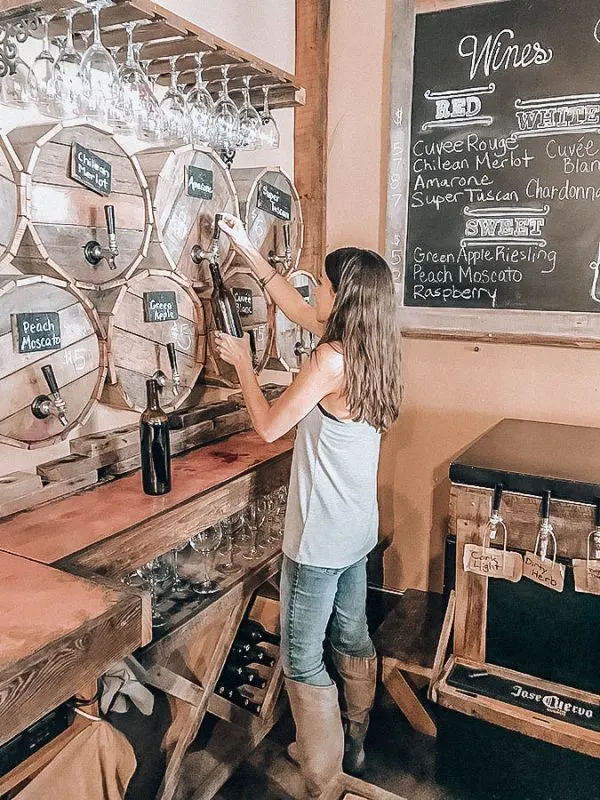 Pin
FYI: electronically fake tapping beer at the Heineken Factory in Amsterdam is not the same as tapping wine. Lesson learned. Mortification fully enabled. Husband now has blackmail forever.
Make Your Own Wine and Beer In Ocala
With that said, The Corkscrew is truly amazing, and yes, you can bottle your own wine—the entire process including corking and sealing. Even better, you can ferment and create your own batch of wine or beer if you can come back. We have yet to participate in the full experience but batches are a steal ranging from $250-$450. Imagine putting that experience in the books. Bucket list item, right here. More details here.
Or Just Go For Local Ocala Drinks
If all of the above sounds too intense, know that you can sip wine and beer flights on tree stub tables in a garden patio or in their bar area. Corkscrews cover the walls.
These wines are not your usual Florida Muscadine grape garbage either. Sorry, not sorry, if I offended. Find full-bodied and spicy reds with drier yet sometimes subtle fruity whites. The beer list also ranges from dark coconut heaven to lighter grapefruit wheat.
The staff members are friendly, and if you are lucky, you might just catch yoga with wine. I repeat, yoga with wine.
Corkscrew Winery Address: 16 SW Broadway St, Ocala, FL 34471
Visit The Corkscrew Winery.
Looking For A Place To Stay In Ocala, Florida?
Infinite Ale Works is the entire reason that we started exploring Ocala. I hunt breweries like a travel blogger seeks a sponsored post. Imagine finding 35 glorious beer taps mixed with local brews and specialty hops. A flight barely covers any ground. Maybe I need to stay at a B&B tonight…or a horse ranch.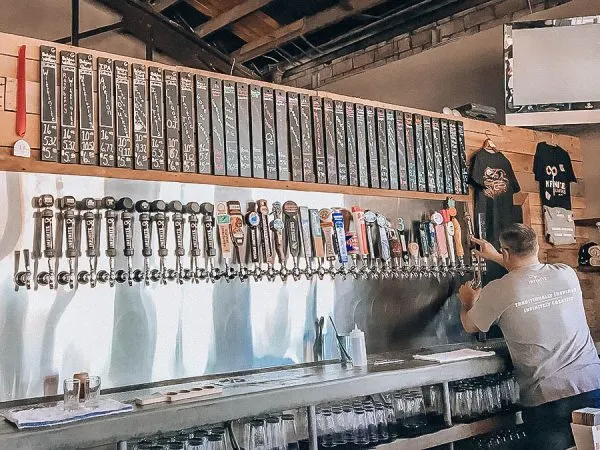 Pin
Grab a mug—they do have other selections for the gluten-free and nonalcoholic drinkers—and play board games, chat it up with friends, and people-watch from the street windows. Infinite Ale also offers the occasional yoga class, and of course, they have live music on Friday's and Saturday's. With a chill and clean vibe and knowledgeable staff, they are a strong Florida beer contender that you cannot miss.
Infinite Ale Works Address: 304 S Magnolia Ave, Ocala, FL 34471
Beer List Here. Visit Infinite Ale Works.
It's All About The Booze & Food With Ocala's Restaurants Scene
The wineries, breweries, and happening Ocala scene took us off guard. I had no idea civilization existed in such a country-reputed town. The Ocala restaurants and downtown walking area that I remember from growing up are not quite the same downtown Ocala visitors find today.
The horses will always be there—thank goodness—along with Silver Springs Park and the sea cows, aka manatees. You can enjoy the great outdoors before heading downtown for some of the most secret and delicious food and beverage choices.
Who knew what you could uncork in Ocala?
Which of these Ocala restaurants are you excited to try? Any new restaurants in Ocala that we should all look out for?
Headed To Florida? Pin These Restaurants In Ocala, FL For Later: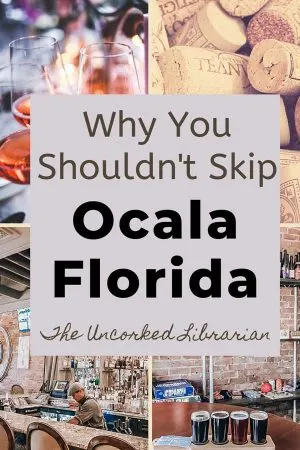 Pin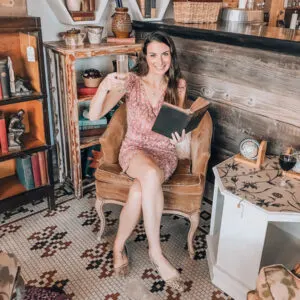 Christine (she/her) is the owner, lead editor, and tipsy book sommelier of The Uncorked Librarian LLC, an online literary publication showcasing books and movies to inspire travel and home to the famed Uncorked Reading Challenge.
With a BA in English & History from Smith College, an MLIS from USF-Tampa, and a U.S. Fulbright Fellowship in Christine's back pocket, there isn't a bookstore, library, or winery that can hide from her. Christine loves brewery yoga, adopting all of the kitties, and a glass of oaked Chardonnay. Charcuterie is her favorite food group.