If you are looking for romance and comedy, check out Love Your Life by Sophie Kinsella. Set in Italy and London, watch as Eva and Matt determine if their love is real after a honeymoon week at a writers' retreat. Find a Love Your Life summary, book information, and book reviews here.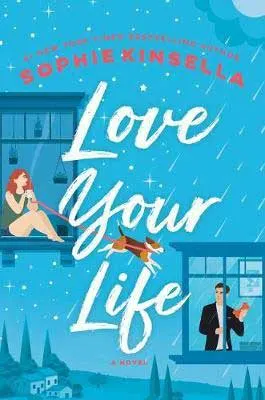 This post may contain affiliate links: If you purchase through my link, I will receive a small commission at no additional cost to you. I only recommend products/services that I approve of. See my full Disclosure Policy.
Author: Sophie Kinsella
Genre: Romance | Book Set In Italy & London | Rom-Com
Pages: 432
Publisher: The Dial Press
Publication Date: October 27, 2020
Buy Now On Amazon
Find books like Love Your Life by Sophie Kinsella discounted or free here:
Love Your Life by Sophie Kinsella Summary
Call Ava romantic, but she thinks love should be found in the real world, not on apps that filter men by height, job, or astrological sign. She believes in feelings, not algorithms. So after a recent breakup and dating app debacle, she decides to put love on hold and escapes to a remote writers' retreat in coastal Italy. She's determined to finish writing the novel she's been fantasizing about, even though it means leaving her close-knit group of friends and her precious dog, Harold, behind.

At the retreat, she's not allowed to use her real name or reveal any personal information. When the neighboring martial arts retreat is canceled and a few of its attendees join their small writing community, Ava, now going by "Aria," meets "Dutch," a man who seems too good to be true. The two embark on a baggage-free, whirlwind love affair, cliff-jumping into gem-colored Mediterranean waters and exploring the splendor of the Italian coast. Things seem to be perfect for Aria and Dutch.

But then their real identities—Ava and Matt—must return to London. As their fantasy starts to fade, they discover just how different their personal worlds are. From food choices to annoying habits to sauna etiquette . . . are they compatible in anything? And then there's the prickly situation with Matt's ex-girlfriend, who isn't too eager to let him go. As one mishap follows another, it seems while they love each other, they just can't love each other's lives. Can they reconcile their differences to find one life together?

The Dial Press
---
Join The Uncorked Reading Challenge Today
---
Travel around the world with the Uncorked Reading Challenge. Get the best book and movie recs straight to your inbox. Sign Up Now.
---
About The Author, Sophie Kinsella
Sophie Kinsella used to be a financial journalist before switching over to writing. A bestselling author, she lives in London with her family. Read more about Sophie Kinsella.
More Books From Sophie Kinsella
Wedding Night by Sophie Kinsella
Confessions Of A Shopaholic by Sophie Kinsella
Finding Audrey by Sophie Kinsella (YA)
Where You Can Find Love Your Life by Sophie Kinsella Reviews On TUL
Uncover some of the hottest books releasing in fall 2020, including Love Your Life by Sophie Kinsella. We'll share some of the season's most-anticipated new books in multicultural romance, thrillers, mysteries, YA, LGBT+ fiction, historical fiction, and WWII fiction. Never miss out on the year's hottest new books.
What other books released with Love Your Life by Sophie Kinsella? Don't miss fall titles releasing in October including thrillers and mysteries like Plain Bad Heroines by Emily M. Danforth, The Searcher by Tana French, and Leave The World Behind by Rumaan Alam. We also share even more rom-coms like Mistletoe and Mr. Right (set in Alaska) and Simmer Down (set in Maui).
Don't miss some of the year's best and most-anticipated new books, including Love Your Life by Sophie Kinsella. We'll talk about 40+ books releasing in 2020 in historical fiction, YA, WW2 books, multicultural romance, thrillers, mysteries, suspense novels, indies, and more. Some of these titles are our absolute favorites of 2020, too.