We devoured sizzling LGBTQ+ romance and California-set book, Love & Other Disasters by Anita Kelly. Find Love & Other Disasters book information, a summary, and book reviews here.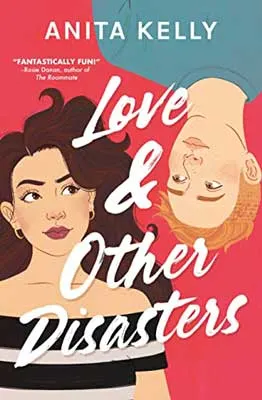 This post may contain affiliate links: If you purchase through my link, I will receive a small commission at no additional cost to you. I only recommend products/services that I approve of. See my full Disclosure Policy.
Author: Anita Kelly
Genre: Books Set In Los Angeles, California | Food Fiction With A Cooking Show
Pages: 385
Publisher: Forever
Publication Date: January 18, 2022
Buy Now On Amazon
Find even more great books here:
Love & Other Disasters by Anita Kelly Summary
Recently divorced and on the verge of bankruptcy, Dahlia Woodson is ready to reinvent herself on the popular reality competition show Chef's Special. Too bad the first memorable move she makes is falling flat on her face, sending fish tacos flying—not quite the fresh start she was hoping for. Still, she's focused on winning, until she meets someone she might want a future with more than she needs the prize money.

After announcing their pronouns on national television, London Parker has enough on their mind without worrying about the klutzy competitor stationed in front of them. They're there to prove the trolls—including a fellow contestant and their dad—wrong, and falling in love was never part of the plan.

As London and Dahlia get closer, reality starts to fall away. Goodbye, guilt about divorce, anxiety about uncertain futures, and stress from transphobia. Hello, hilarious shenanigans on set, wedding crashing, and spontaneous dips into the Pacific. But as the finale draws near, Dahlia and London's steamy relationship starts to feel the heat both in and outside the kitchen—and they must figure out if they have the right ingredients for a happily ever after.

Forever
Join The Uncorked Reading Challenge Today
---
Travel around the world with the Uncorked Reading Challenge. Get the best book and movie recs straight to your inbox. Sign Up Now.
Sneak Peek Into TUL's Advanced Copy Review Of Love & Other Disasters
What a fabulous way to start off the 2022 new year. We loved this feel-good and sizzling romance filled with representation, dynamic characters, and of course, a cooking show.
If we had the time, we honestly would have read this California-set book in a day.
Thank you to NetGalley and Forever for a free advanced copy in exchange for a fair and honest review.
More About The Author, Anita Kelly
Anita Kelly is a queer romance writer from PA now living in the Pacific Northwest. Read more about Anita Kelly.
Where You Can Find Love & Other Disasters Book Reviews On TUL
If you love books about restaurants, food, and baking shows, this reading list is for you.
Travel to California with these books for adults and teens.
Grab our list of the best books published in 2022.
Explore the most talked about and anticipated books of 2022.
Explore the best books set in each U.S. State – contemporary and classic.