What are the most anticipated upcoming June 2021 book releases to read? We are sharing June's hot new books to look out for this summer.
I cannot believe that we are already talking about 2021 summer reading. Where did the spring go?
I'm not going to lie, either. Some of the winter and spring new releases left me a tad disappointed while others proved quite memorable. Think women in the 1800s poisoning their lovers…
The summer season welcomes an entirely new set of devour-worthy titles perfect for the beach or a gorgeous day in a shaded hammock. We are just starting to pick up June's new books to see what is worth your time.
Of course, since TUL specializes in books set around the world, these June 2021 book releases are sure to send you to the Deep South, Italy, India, Britain, Bolivia, and Malibu. Take a road trip to rural Scotland and fall in love with a puma in Bolivia.
Obviously, we want you to attend a few tipsy summer parties, too, via your armchair… Lastly, find new June 2021 books in YA romance and historical fiction based on true stories.
Below, we are sharing our most-anticipated June 2021 book releases — a few of which we are currently reading and reviewing. What new June books are you going to select? Let's get started.
P.S. Since June is a huge month for publishing, we will be updating our June reading list throughout the summer.
See all of the Year's Hottest New Book Releases.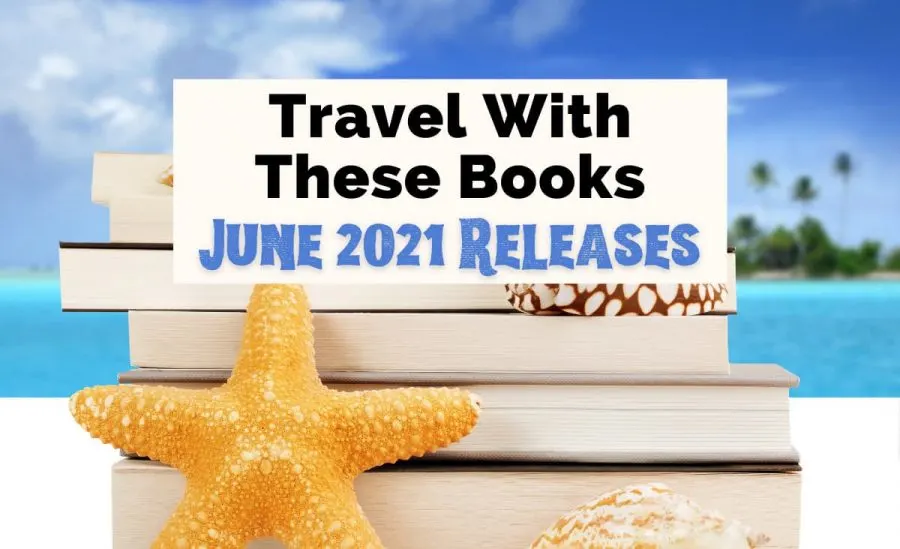 Where To Find Some Of These New June 2021 Book Releases:
Most Anticipated June 2021 Book Releases
Which June 2021 book releases are we most excited about? Uncover some of the most anticipated new books publishing this June.
*Books marked with an asterisk next to the publication date are upcoming June 2021 books and ARCs that we requested in exchange for a fair and honest review or were freely gifted/offered by the author or publisher. Please know that dates of publication are subject to change.
Contemporary Women's Fiction Set In Malibu
Expected Publication: June 1, 2021*
TUL Rating: 3.5 Stars
Author of Daisy Jones & The Six, Taylor Jenkins Reid, is back at it with one of the most anticipated book releases of June, Malibu Rising.
Head into the 1980s for a flashy, end-of-summer party in Malibu. Each of the siblings is facing their own problems and inner demons.
Family secrets, trauma, and affairs begin to surface during this fiery evening. The scrutiny of the public eye doesn't help.
By the morning, flames will engulf their family mansion. Can this family keep it together?
It's no secret that I wasn't the biggest fan of Daisy Jones & The Six. I will say that Malibu Rising is better.
Find a deeper exploration of the meaning of family. I appreciated Nina's grit to care for her siblings.
Halfway through, though, I found the overabundance of party-goers and their stories tedious and unnecessary. That's where Malibu Rising lost me.
The plethora of books publishing that count down timelines are growing tiresome, as well.
Should you still pick up Malibu Rising? We think so. Malibu Rising was also named as a June 2021 Book of the Month selection.
Thank you to NetGalley and Ballantine Books for providing me with a free advanced copy in exchange for a fair and honest review.
YA Romance Set In California
Expected Publication: June 1, 2021*
TUL Rating: 4 Stars
Nicola Yoon is one of our favorite authors, and you may remember her from The Sun Is Also A Star and Everything, Everything.
For June 2021 YA book releases, this romance promises a sweet and magical narrative about first love.
Evie Thomas doesn't believe in love, especially after she witnesses a couple kissing on the street and envisions their downfall. Her dad's recent affair doesn't help...
In a PG Dirty Dancing-esque narrative, Evie meets X at La Brea Dance Studio where she is convinced to join a dance competition. Evie can't help but fall for X. Will she also fall into heartbreak?
I closed Instructions For Dancing in tears. This new June release is a poignant and beautiful heartbreaker. Is seeing into the future a gift or curse?
Gah, Yoon got me AGAIN. You'll love the chemistry and themes of family, forgiveness, and living in the present.
Instructions For Dancing is also a June 2021 Book of the Month selection.
Thank you to NetGalley and Delacorte Press for providing me with a free advanced copy in exchange for a fair and honest review.
Historical Fantasy Set in the Depression-era South
Expected Release: June 1, 2021
TUL Rating: Coming Soon
Eliza Meeks can communicate with animals. Some see her as a she-devil while others appreciate her talents. Eliza ultimately finds her place in a traveling carnival.
Unfortunately, this carnival is also home to an ancient but hidden demon. Can Eliza save everyone from this soul-devouring force?
Thank you to Amazon First Reads and 47North for providing me with early access as a Prime Member.
Romance & Mystery Set In The Tuscan Vineyards
Expected Publication: June 1, 2021
One of the other Amazon First Reads that we almost snagged and are hoping to read includes Julianne MacLean's These Tangled Vines.
Head to the vineyards of beautiful Tuscany with Fiona whose biological father has recently passed away. An inheritance and two unhappy half-siblings await her.
Fiona learns more about her mother's secret love affair from 30 years ago as she explores the true meaning of family.
Memoir Set In Amazon Jungle & Bolivia
Expected Publication: June 1, 2021
If we could read books featuring animals, we'd be all over The Puma Years. You'll have to let us know if anything terrible happens to this cat.
In her early 20's, Laura Coleman quits her job to backpack across Bolivia. At a wildlife sanctuary, she is charged with Wayra, an intense puma.
Each animal as well as the staff and volunteers are full of stories and life as well as love, abuse, and heartache. They learn and grow from each other.
Readers will also learn more about deforestation, the illegal and exotic pet market, and forest fires.
Uncover more books about cats.
Rom-Com Set Across Britain
Expected Publication: June 1, 2021
Years ago, Dylan and Addie fell in love at their friend's French villa where Addie was the on-site caretaker.
They haven't spoken for years until their cars collide on the way to a mutual friend's wedding. Addie and Dylan, along with a gaggle of characters that they pick up, make their way to rural Scotland for the wedding.
How will this uncomfortable road trip end?
A few reviewers note that the car is too crowded but the humor might carry the novel.
YA Family Fiction Set At A Bookstore
Expected Release: June 1, 2021
Bestselling author of If I Stay is back just in time for the highly anticipated June 2021 YA book releases...
Gayle Forman's newest, We Are Inevitable, follows Aaron who is trying to survive the abandonment of his mom, brother, and friends.
Aaron works in a secondhand bookstore in a mountain town where no one reads.
As Aaron meets new friends full of courage and inspiration, he begins to build his own community. Watch as Aaron learns who he is and how to overcome what life throws at you.
Memoir | Astrophysics & Science
Expected Publication: June 15, 2021*
A coming-of-age story about a young man growing up surrounded by violence and poverty, watch as he becomes a world-renowned astrophysicist.
James Plummer loves science and has the IQ of a genius. Growing up in the worst neighborhoods of New Orleans, Houston, LA, and later Mississippi, James finds himself dealing pot at one moment and attending a science fair the next.
Admitted into a competitive physics Ph.D. program at Stanford University, addiction threatens James's future.
See how James overcomes his past to become "Hakeem Muata Oluseyi," in honor of his African ancestors.
Thank you to NetGalley and Ballantine Books for providing me with a free advanced copy in exchange for a fair and honest review.
Fiction Set In Jaipur, India
Expected Publication: June 22, 2021
Continuing from The Henna Artist, Lakshmi has married Dr. Jay Kumar, and Malik has finished his private school education.
Malik is set to intern at the Jaipur Royal Palace to work on a state-of-the-art cinema. When the balcony collapses on opening night, Malik knows that there is much more at play here.
Power and money are still the ruling class, and readers will find a story about love and loyalty.
Historical Fiction Based On A True Story
Expected Publication: June 29, 2021
J. P. Morgan hires Belle da Costa Greene to curate a collection of manuscripts, books, and artwork for his Pierpont Morgan Library.
Although Belle becomes one of the most infamous and powerful people in NYC's art and book world, what no one knows is that she is passing as white.
Watch as Belle navigates her role and identity in a racist and male-dominated society.
Save These June 2021 Book Releases For Later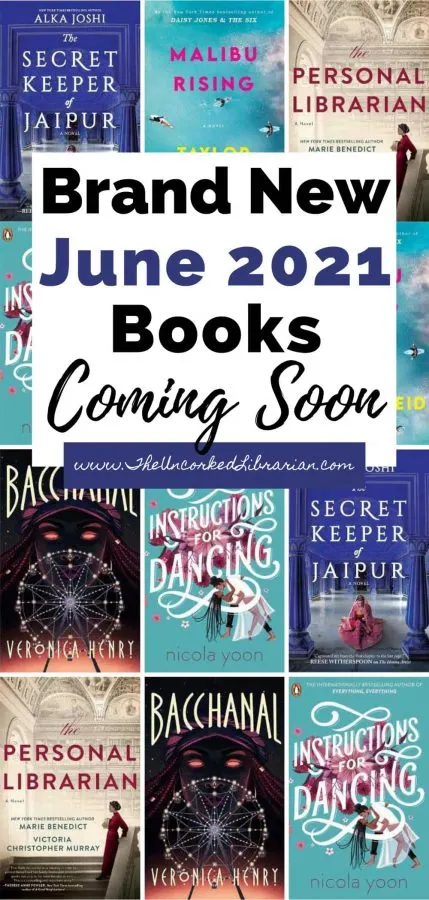 Which June 2021 book releases are you eyeing?
What upcoming June books are you most excited about? What are you reading this summer?
Plus, what are your summer reading goals? Please let us know in the comments!
P.S. If you want to read around the world with us, don't forget to join our 2021 Uncorked Reading Challenge. It's not too late since we have monthly themes and are pretty chill…
What To Read Next:
Upcoming 2021 New Book Releases
2021's Newest Books About WW2
New Releases By Month:
What To Read This May
April 2021's Book Releases To Look Out For
New Books Published In March
February's Newest Books
January 2021's Hot New Book Releases
Best Books Of 2020 You Might Have Missed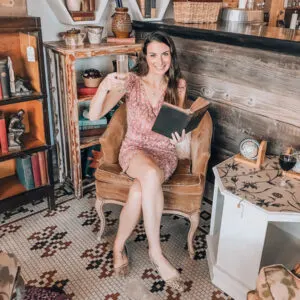 Christine (she/her) is the owner, lead editor, and tipsy book sommelier of The Uncorked Librarian LLC, an online literary publication showcasing books and movies to inspire travel and home to the famed Uncorked Reading Challenge.
With a BA in English & History from Smith College, an MLIS from USF-Tampa, and a U.S. Fulbright Fellowship in Christine's back pocket, there isn't a bookstore, library, or winery that can hide from her. Christine loves brewery yoga, adopting all of the kitties, and a glass of oaked Chardonnay. Charcuterie is her favorite food group.