Inspirational Books For Writers
Are you looking for inspirational books for writers? The Uncorked Librarian asked eight indie authors to share the books that most influenced their writing.
---
Pin
Find these authors' top book recommendations ranging from intuitive nonfiction and foreboding futuristic classics to storytelling fantasy and world-building science fiction. Learn how these inspiring and motivating books shaped self-published novels, and discover a favorite new indie title along the way.
8 Inspirational Books For Writers And The 8 Indie Books They Influenced
---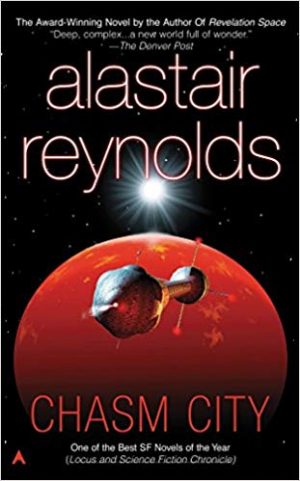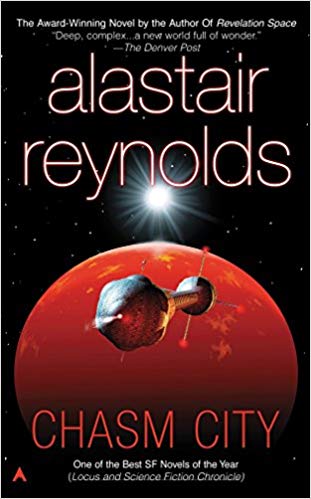 Pin
1. Books That Inspire Writing: Chasm City by Alastair Reynolds
The story follows the exploits of Tanner Mirabel, a security operative on the search for a former employer. His path leads him to Chasm city, which has suffered the aftermath of the Melding Plague, a disease that attacks victims with cybernetic augmentations. After an exhausting chase, Tanner learns a little too much about a former past that leaves him shaken and questioning his morality.
I first read this book as a teenager, and it is still my absolute favorite Space Opera/Cyberpunk work. The world descriptions are vivid, and the imagery implants the environment in your mind (no pun intended).
The characters are complicated and well rounded, while their development as the story progresses is fluid. This book is written in multiple perspectives, with seamless transitions tying the plot together. The villain is absolutely terrifying, but not in the traditional sense. While they commit abhorrent acts aplenty, it is their nonchalance and apathy toward justifying the actions that make them so vile.
If you need inspirational books for writing a hyper-futuristic world, this is one to check out. It covers topics like Singularity, space travel, and genetic alteration. But the most prominent theme is memory transference and the ethics of identity ownership.
Find your copy of Chasm City here: Amazon Barnes and Noble Book Depository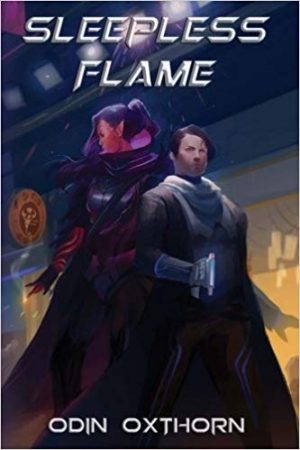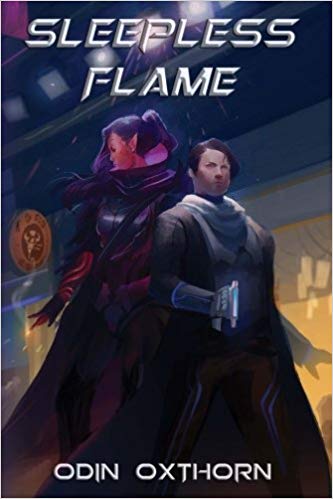 Pin
Odin Oxthorn is the author of Sleepless Flame.
Sleepless Flame is a cyberpunk thriller featuring a nonbinary protagonist. Having dodged the claws of the Galavantier Biotech Corporation, Nara takes her next job with an unlikely employer: the heir of the megacorp's CEO position.
You can follow Odin on Twitter.
Find your copy of Sleepless Flame here:
Amazon Barnes and Noble Book Depository
---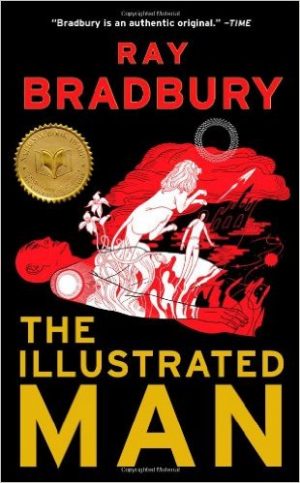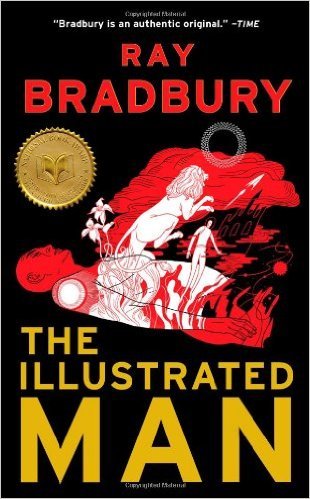 Pin
2. Inspirational Books For Writers: The Illustrated Man by Ray Bradbury
Submission by Jennifer Brasington-Crowley
I have been influenced by many authors and many books over my many years of life, but one that recently became an obsession for me was The Illustrated Man by Ray Bradbury. I discovered the book while researching David Bowie for a book I authored, noting that it was one of the late musician's favorites. The premise itself is at once intriguing and disturbing – a carnival man covered in tattoos, but tattoos that each come to life and tell a tragic, moving story.
I had read Bradbury before in my youth. I had always been haunted by the story, "The Veldt," a futuristic story of children addicted to technology, and the disturbing lengths they go to when their parents try to take it away.
It completely captivated me, and I thought about it often over the years. I was delighted to find that story, among many other equally if not more haunting stories, in the magnificent collection that is The Illustrated Man. Another that hit me was "The Long Rain." Astronauts on Venus are driven mad by the constant rain and seek out a shelter of warmth and sunshine that may only exist in their imagination.
These stories are so much more than science fiction. They are meditations on humanity.
I'm not generally a sci-fan, but I am a fan of dark themes and tragic endings. I devoured the book. My appetite for more Bradbury was insatiable, as I scoured the bookstore shelves for more of his stories. He writes lusciously, and every word needs to be read in order to fully digest the meanings of his work.
I long to be able to manipulate language as he does and incorporate greater themes in my stories. The book encouraged me not to seek out the happy endings, but to allow the story to go where it was leading, to the necessary ending.
Find your copy of The Illustrated Man here: Amazon Barnes and Noble Book Depository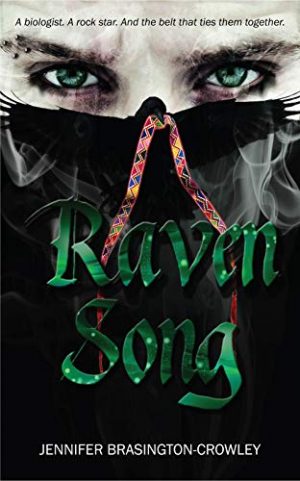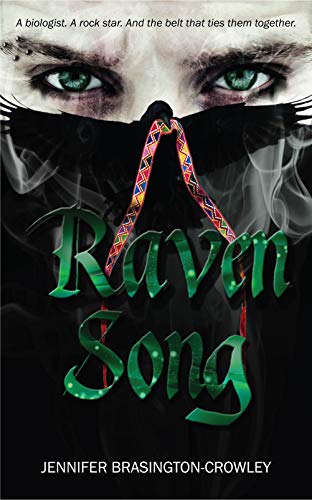 Pin
Jennifer Brasington-Crowley is the author of Raven Song.
What if you fell for a rock star? What if he fell for you? This is the story of a harried biologist, a haunted rock star, and the belt that ties them together
You can follow Jennifer Brasington-Crowley on Twitter.
Find your copy of Raven Song here: Amazon
---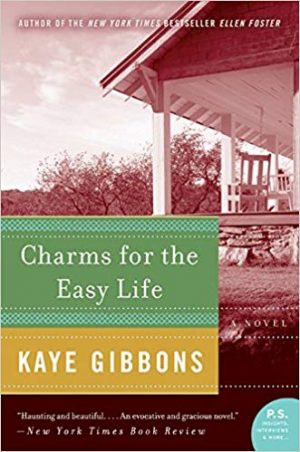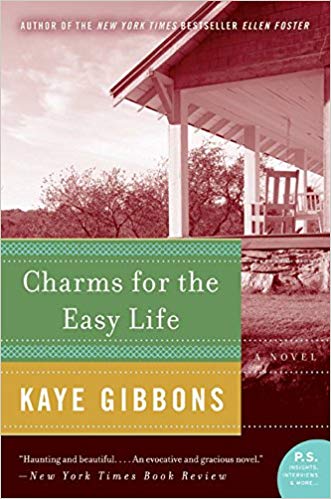 Pin
3. Books For Writers: Charms for the Easy Life by Kaye Gibbons
Charms for the Easy Life, by Kaye Gibbons, is a book that brings three generations of women together. The intricacies of family, living together, and the role of love and men in each generation flavors each of their perspectives.
Gibbons knits scenes with descriptive action. We come to love all three women in these small movements. How they conduct themselves in a time of war and coming peace, love and independence pulls the reader all the way into this southern scented tale.
I've read this story at least ten times. It reads like soup on a cold day, tucking into new corners and warming the soul. Gibbons' writing lets you hear the creak of old pine floors, smell the sheets coming off the line, embrace the squalor and the fancy that revolve around being human, and feel the frustration and disgust of a woman who knows but is denied for knowing while female. The reader peeps through the knothole, smells the soup, and stares transfixed at the play unfolding.
Perhaps, the best gift within these pages is the celebration of strong women raising strong women.
Within the subtle play of expectation against a backdrop of housework and social mores (both met and avoided) is the story of American women coming of age in a world that's warring to avoid ruination. Any aspiring writer looking to discover how to embody more with less will find a great style lesson in any of Gibbons' work, but this is one of many evocative and enduring inspirational books for writers.
Find your copy of Charms for the Easy Life here: Amazon Barnes and Noble Book Depository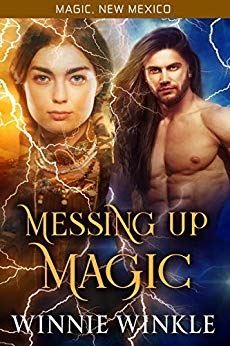 Pin
Winnie Winkle is the author of Messing Up Magic (Magic, New Mexico Series, #37)
Can a smoking hot Djinn and a Navajo Skinwalker Witch save themselves and the citizens of Magic, New Mexico from an alien invasion… or will pride cost them their love? This fast-paced stand-alone paranormal romance is spicy fun that will keep you laughing.
You can follow Winnie Winkle on Facebook.
Find your copy of Messing Up Magic here: Amazon
---

4. Inspirational Books For Writers: 1948 by George Orwell
Every time I read Nineteen Eight-Four by George Orwell, I find more nuance coupled with more paranoia and hopelessness. As bad as that sounds, I assure you, it is quite the contrary.
Set in the fictitious future of 1984 Britain (renamed Airstrip One), the world has been forever changed by never-ending war. The supreme and enigmatic leader of the one and only Party, Big Brother, rules through invasive surveillance and propaganda that pits citizens against one another.
Winston Smith is a member of the middle class or Outer Party. He is tasked with rewriting historical records on behalf of the government. When he falls in love with Julia, it triggers long lost memories in him of times when people had rebellious thoughts, compassionate emotions, and romantic relationships, all outlawed since Big Brother had come into power.
The more Winston acts on these memories, the more he betrays the Party, and the more he worries for his safety and that of Julia's. Can Winston seize the opportunity to break free from the totalitarian society he contributes to? Or, will Big Brother force his will onto Winston and Julia like countless others?
Nineteen Eighty-Four has been cited to death since it was published in 1949. Yet, the lessons that it so intricately conveys are as relevant today as they have ever been.
If Orwell's "doublespeak" was ever historically and vitally important to comprehend, it is at a time when fake news comes from demagogues complaining about fake news. Like Winston, the meta experience of the book will have you feeling watched, untrusting, and isolated as you read and think about the present day. This is a warning of what can happen if too few are given too much power for too long. If you, like so many others, feel conflicted after finishing the novel, just remember: It's not too late for us.
Find your copy of 1984 here: Amazon Barnes and Noble Book Depository

D C Wright-Hammer is the author of Between Two Minds: Awakening.
How much would you pay for the body of your dreams? It might cost Ryan everything.
You can follow D C Wright-Hammer on Twitter. Read The Uncorked Librarian's review of this new sci-fi book series.
Find your copy of Between Two Minds: Awakening here: Amazon Barnes and Noble Book Depository

5. Books That Inspire Writing: Elfquest: The Quest Begins by Wendy and Richard Pini
Submission by J. Webb Garrett
The tales of Cutter and the Wolfriders introduced me to fantasy as a child. Through the eyes of the elves, I found myself introduced to worlds beyond anything I'd ever known. Heroics, daring, passion, love, kinship, and the value of one's "pack,' those closest to you, family by blood or not, were all things I recall these tales instilling in me.
My mother began reading Elfquest to me when I was very young, and I read them myself all through my adolescent years. I began writing my own stories out of the passion for storytelling I gained from these wonderful adventures.
These are not the elves of J.R.R. Tolkien or Terry Brooks.
These are ancient people from beyond the stars who mixed their blood with the beasts of this world in order to survive in it. Spending years alone, surrounded by enemies, the Wolfriders must flee their ancestral home tree and venture into the great wastes, chased into the dunes due to the fear of the humans and the trickery of the trolls. In their travels, they meet the Sun Villagers, a clan of desert-dwelling elves they must learn to co-exist with as they learn to survive in these new and hostile conditions.
Soon, a question arises: are there others?
Are there more elves besides the Wolfriders and the Sun Villagers? Surely there must be, or so the young Wolfrider chief, Cutter, and his best friend Skywise believe. They set out, leaving their pack and family behind. They begin their quest to find others alike themselves, other elves.
Along the way, they discover how little they knew about both themselves and the world around them. They meet new friends, new enemies, and become embroiled in conflicts much greater than either of them could imagine.
When I was younger, these inspirational books for writing helped me to understand things like my own mortality, the idea of the world is so much more than what we see with our own eyes, and that even the most wicked people can have good motivations for what they do (hoping to save their own people or discover some ancient secret lost to time), even if they do not justify their actions.
Find your copy of Elfquest here: Amazon Barnes and Noble

J. Webb Garrett is the author of NEON Calico
A cyberpunk thriller about what it means to be both an individual and to be human. Calico, a cyborg troubleshooter, is faced with questions of who she is and who she was meant to be. Her Chinese half-brother hires her to uncover a secret project their father had been working on before his passing – Project: Stray.
You can follow J. Webb Garrett on Twitter.
Find your copy of NEON Calico here: Amazon Barnes and Noble Book Depository
---

6. Inspirational Books For Writers: Big Magic by Elizabeth Gilbert
I came across Big Magic by Elizabeth Gilbert after procrastinating on writing my first book for many years. I had taken some time to read everything I could to 1) see how others were telling stories, 2) brush up on the most popular trends of writing from a technical standpoint, and 3) get out of my own head.
Gilbert's advice couldn't have come at a more perfect time for me, as she "discusses the attitudes, approaches, and habits we need in order to live our most creative lives."
This seems like an unclimbable mental mountain, but her nudges of encouragement have helped millions of readers reach the top. As humans, we tend to put immense pressure on ourselves to be "successful," which is a barrier to creativity, causing many of us to live in an unimaginative, unfulfilling circle of unhappiness. Your brain creates all sorts of excuses as to why you shouldn't do something, and Gilbert addresses them head-on:
"You're afraid you have no talent…afraid you'll be rejected or criticized or ridiculed or misunderstood or—worst of all—ignored…afraid there's no market for your creativity, and therefore no point in pursuing it…afraid somebody else already did it better…afraid everybody else already did it better."
So sometimes, as she says, you have to embrace your fear and the vulnerability that comes along with it. You have to accept that you're probably not going to cure cancer with your creativity or sell millions of books — but if you're able to spend time working on your art and enjoying doing so, why wouldn't you go for it? (I did.)
Loving these inspirational books for writers? Also, be sure to check out TUL's list of inspirational travel writers.
Find your copy of Big Magic here: Amazon Barnes and Noble Book Depository

Jennifer Ann Shore is the author of New Wave (The Islands of Anarchy Series, Book One), a debut YA dystopian novel
When seventeen-year-old Mol is caught committing a crime, she kicks and screams her way into a dull existence of servitude in the Authority, the suffocating patriarchal regime that oversees The Network of Islands. Her penance makes her restless. She soon finds an outlet to direct her attention — the young Commander who is at the root of her unhappiness.
Follow Jennifer Ann Shore on Twitter. Read TUL's book review of New Wave.
Find your copy of New Wave here: Amazon Barnes and Noble
---

7. Writing Inspiration Books: The Pillars of the Earth by Ken Follett
There may appear to be no connection to the historical fiction, The Pillars of the Earth by Ken Follett, and my YA dystopian novels. This epic story has and continues to inspire me as an author. The Pillars of the Earth is a true saga spanning dozens of years.
Steeped in twelfth-century history, full of war, starvation, depravity, and religious zeal, the story follows many families. Master Mason, Tom Builder, heads one family. He strives to move beyond the menial laboring jobs taken to feed his growing family. His vision is to create something beautiful, a monument to the ingenuity of mankind. In the English town of Kingsbridge, he realizes his dream in the form of a Gothic cathedral of immense proportions.
At the heart of the book are tales of cruel ambition, betrayal, revenge, and love.
All are intertwined in characters whose roles range from Mason to beautiful nobles to high-ranking figures in the Catholic Church. It is a story of corruption masked in a devout cloak that begins with the hanging of an innocent man and ends with the downfall of a bishop.
The book paints a picture of the harshness of life in feudal England with witchcraft and rampant famine. But not all is greed and ruin in the book. There is light in the form of characters like Jack, the abandoned son of Tom Builder. He is raised by a woman who defies conformity and challenges the powerful in an effort to bring justice for her husband's death.
Jack brings the cathedral to fruition and forces accountability on the corrupt. The story is raw and gritty, the author refusing to shy away from the reality of the time period. Realism and attention to historical accuracy help shape the book into a true masterpiece.
In regards to inspirational books for writers, I connect with the corruption of the powerful and the voice of those who seek to tear away the veil of benevolence that shrouds the true faces of those who hide behind their authority. This dynamic is evident in my work and is a common theme in many novels.
Find your copy of The Pillars of the Earth here: Amazon Barnes and Noble Book Depository

Kristin Ward is the author of After the Green Withered
The face of the country changed forever when the rain stopped falling and the green withered. Now water is the global currency and one power controls it all.
Follow Kristin on Twitter.
Find your copy of After the Green Withered here: Amazon Barnes and Noble Book Depository
---

8. Inspiring Books For Authors: Pride and Prejudice by Jane Austen
My book of inspiration needs very little introduction. Pride and Prejudice by Jane Austen is a classic and loved by many. Even though I write mysteries (with a hint of romance), and I am not a particular romance-novel lover, Pride and Prejudice is one of my favorite all-time reads. For me, it is the greatest love story of all, yet so much more than that.
The book takes place in England in the early nineteenth century and follows the Bennett family: Mr. and Mrs. Bennett and their five daughters. It gives us a glimpse of life in that era, yet mostly contained within the bubble of their society.
In order to secure a living, the sisters need to find a man and of course, it's not all smooth sailing.
Jane, the eldest, falls in love with a wealthy Mr. Bingley, but his circle disapproves of her family. Lydia, the youngest, ends up eloping, disgracing the family and jeopardizing all the girls' opportunities even further. But the heroine of the book is the second daughter, Elizabeth, who meets Mr. Darcy: a rich, proud and obnoxious aristocrat.
He becomes slowly infatuated with her, yet she wants nothing to do with him. In order to win her heart, he has to change some of his ways. However, it takes two to tango, and she has to do some soul-searching of her own as well—no one is perfect after all!
The book is timeless, even though it was published in 1813. It is about the growing affection between two people with flaws, but who both possess enough merits to make them loveable. A writer who was a very keen observer of the people around her intelligently writes it. She pokes fun of her contemporaries with sharp wit, even satire, and great dialogues. Each time I read it, it occurs to me that people over the last two hundred years haven't changed as much as one would think, or hope.
More importantly, a woman wrote it in a time when respectable women were not supposed to write books. She used a pseudonym—A Lady—hiding her identity, but not her sex. Every time I need a little courage or inspirational books for writing, I pick up this book to remind me that at least for me, no such restrictions apply. So I'd better get on with it.
Find your copy of Pride and Prejudice here: Amazon Barnes and Noble Book Depository

Lucia N. Davis is the author of The Dunhill Mysteries, a paranormal mystery series with a hint of romance
The first book, The Baby On The Back Porch, is a novelette and introduces Sara Eriksson, who—after a personal tragedy— leaves San Francisco for a quiet mountain town in the Northern Cascades. When she rents a small cabin in the woods, she soon discovers that life is not as peaceful as she expected. First, an unexpected visitor. Then, the dreams start…
Follow Lucia N. Davis on Twitter.
Find your copy of The Baby On The Back Porch here: Amazon
---
What books have influenced your writing or way of thinking? Which of these inspirational books for writers will you pick up next? P.S. Many of these authors have made TUL's favorite indie books list that you should check out next.
Add These Inspirational Books For Writers To Your TBR Pile. Save It For Later: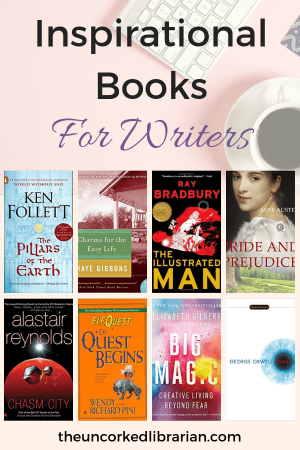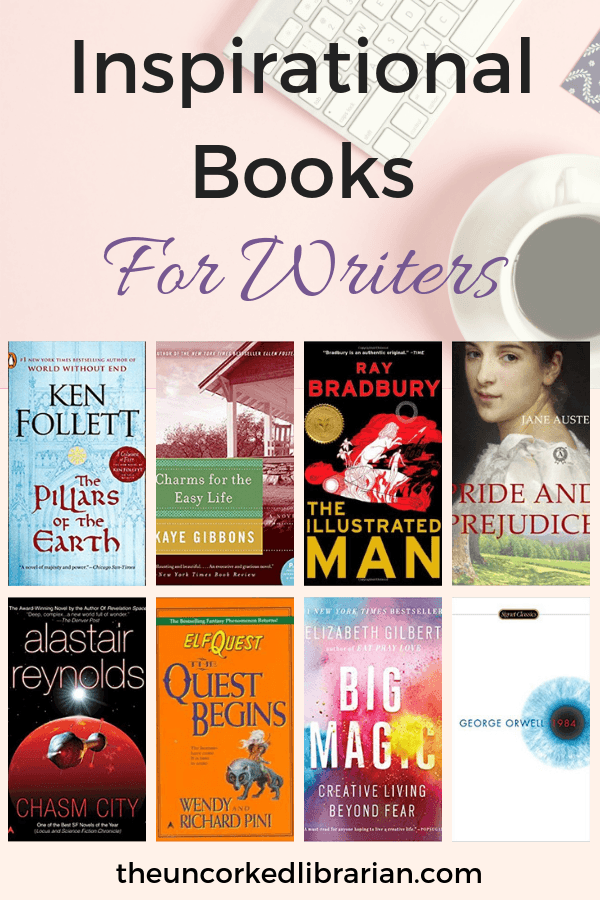 Pin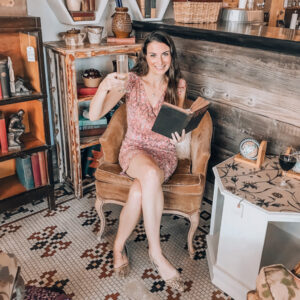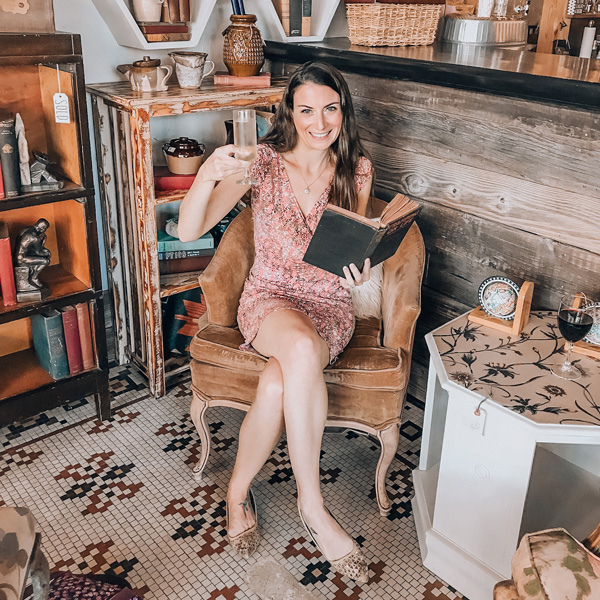 Christine (she/her) is the owner, lead editor, and tipsy book sommelier of The Uncorked Librarian LLC, an online literary publication showcasing books and movies to inspire travel and home to the famed Uncorked Reading Challenge.
With a BA in English & History from Smith College, an MLIS from USF-Tampa, and a U.S. Fulbright Fellowship in Christine's back pocket, there isn't a bookstore, library, or winery that can hide from her. Christine loves brewery yoga, adopting all of the kitties, and a glass of oaked Chardonnay. Charcuterie is her favorite food group.