What is TUL currently reading this June 2020? Head to the Italian island of Capri, Chicago in the 1930s, and rural Texas. Or, join a toxic yuppie NYC playgroup. You'll love this June reading list.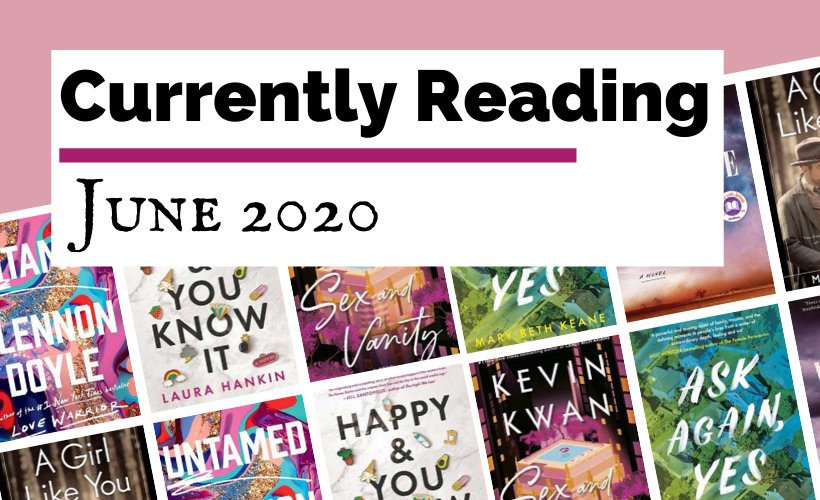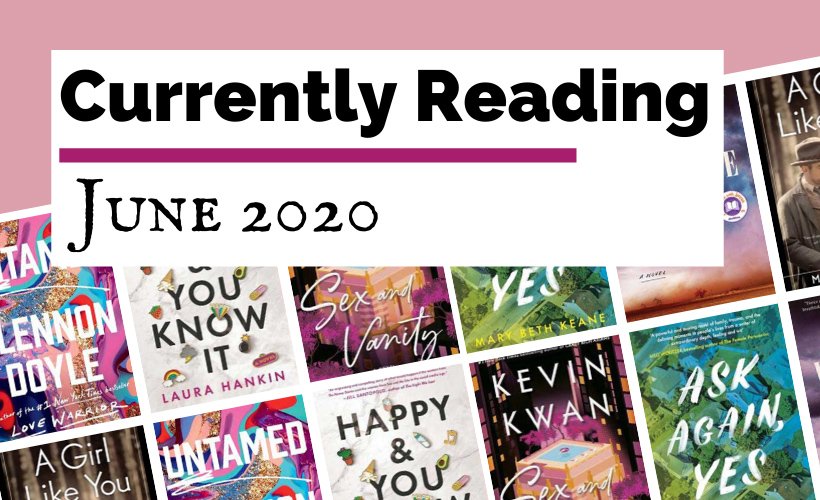 How is it practically summer?! HOW?!?!
I'm not going to lie: with Stay At Home orders lifted, I am suddenly slacking on my current reading list. We desperately needed to get outside.
With a little less time to read, I wanted to check out the BEST books, and I think you'll love this June 2020 reading list. Head to Chicago, NYC, and Italy. Discover books perfect for book clubs and books that will change the way you think.
TUL's June 2020 Reading List With Book Reviews Includes:
A Girl Like You by Michelle Cox – A 1930s amateur sleuth, indie press novel with a little romance
Ask Again, Yes by Mary Beth Keane – Named one of the best books of 2019, an emotionally draining and intense novel about mistakes, mental health, love, families, and forgiveness
Valentine by Elizabeth Wetmore – A 'Read With Jenna' and BOTM selection set in Odessa, Texas in the mid-1970s
Sex and Vanity by Kevin Kwan – June 2020 book release from the bestselling author of Crazy Rich Asians
Happy And You Know It by Laura Hankin – May 2020 book release about a poisonous wealthy mommies' playgroup in NYC
Untamed by Glennon Doyle – New 2020 courage-inducing memoir about love, addiction, and living your truest and most beautiful life
So what did TUL think of our June 2020 Current Reads? Let's get started!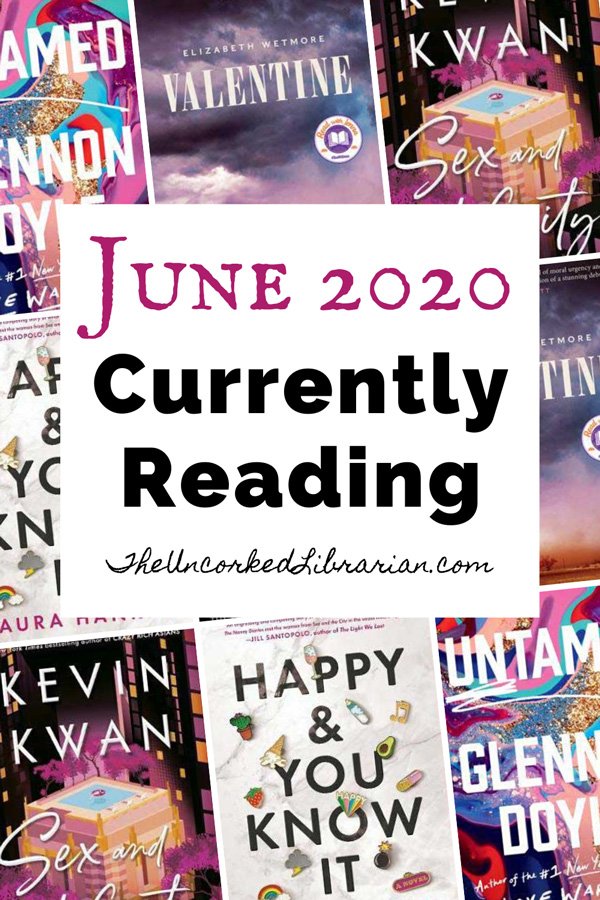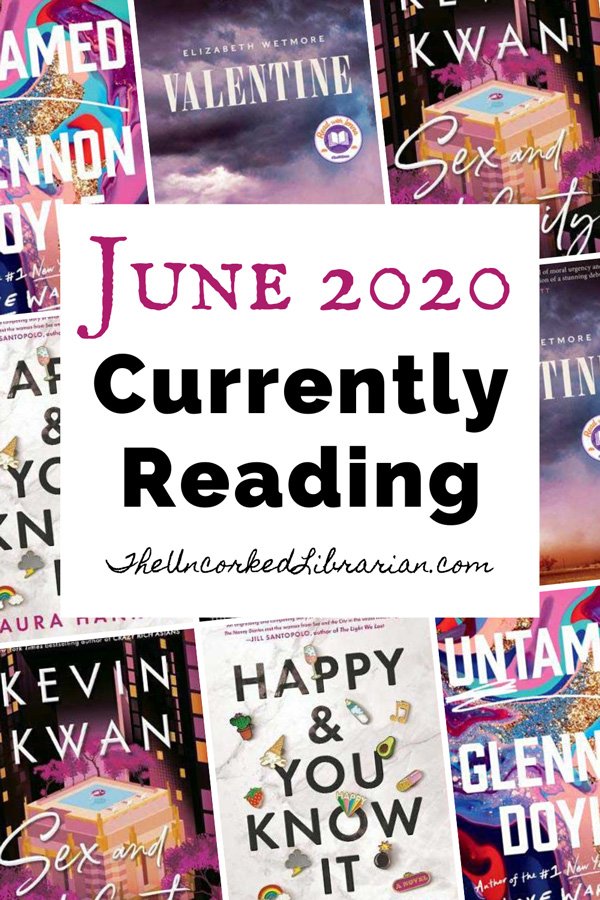 Currently Reading June 2020
*Books marked with an asterisk are ARCs that we requested in exchange for a fair and honest review or were freely gifted/offered by the author or publisher. Please know that dates of publication are subject to change for any new releases.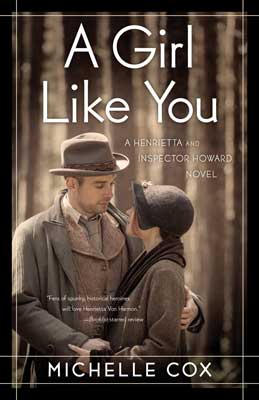 Historical Mystery & Thriller | Book Set In Chicago | 1930s | Indie Press
April 2016*
When Michelle Cox emailed me with her historical fiction series set in Chicago, I had to start reading it ASAP. A Girl Like You, part of The Henrietta and Inspector Howard novels, has won numerous indie awards and is a title that you will devour if you love the 1930s and innocent romance. I also want to start calling my friends and family 'gumdrop' and 'doll' now.
Henrietta Von Harmon works hard to help support her family after her father's suicide. Lying to her mother–even though she is 26–Henrietta takes on jobs at bars and dance halls to put food on the table for her young brothers and sisters.
When a floor matron is found dead at her newest job, Henrietta finds herself working closely with a handsome and broken detective to solve this murder mystery. Moving on to a much more dangerous establishment, Henrietta is the most determined and beautiful plant that Clive Howard has ever met. Yet, is she too naive and ambitious to stay alive?
Cox vividly tours readers through seedy Chicago in the 1930s, against the backdrop of the Great Depression. Uncover what it means to be a woman back in the day, and cheer along for Henrietta and her eccentric group of lovable friends.
I fell for the innocence, language, and love. I'll go on a date with Stanley to the LIBRARY any day. Henrietta might be pure, but she is not a damsel in distress. I look forward to reading more in the series. Amazon | Goodreads | Book Information→
---
Join The Uncorked Reading Challenge Today
---
Travel around the world with the Uncorked Reading Challenge. Get the best book and movie recs straight to your inbox. Sign Up Now.
---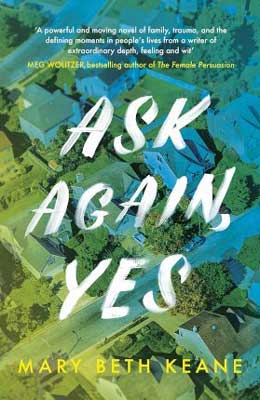 Family Life Fiction | Book Set In NY & NYC | Coming Of Age
May 2019
When I first heard about the premise for Ask Again, Yes by Mary Beth Keane, I wasn't sure what all of the hype was about. But then, I began reading the novel and felt a reverberation in my heart–like it was sinking.
Within the first 100 pages, the book had already emotionally wrecked me. I was invested, and yes, it was that brilliant. Just like these relationships, Ask Again, Yes will put you back together piece by piece; you may never be the same, though.
Peter and Kate grew up together. Their parents immigrated from England and Ireland and both their fathers worked together on the police force. Peter's mother shoots Kate's dad, halting their friendship and budding young love. Over the course of 40 years, we watch both families evolve, fall apart, love others, disappear, and try to grow and move on from inescapable and intertwined pasts.
How do we overcome the worst in us, including forces we cannot always control? Are we the products of our childhoods? Can we turn out differently than what is in our blood? Do memories bind us and make us stronger or do they have the potential to destroy? How healing is the act of forgiveness? Do we even know why we are mad…or guilty? And why do adults always seem to ignore their kids' feelings?
The perfect book club book filled with emotion, real-life problems, and undying love, I almost don't have words for how the pages of Ask Again, Yes will personally affect you–but I feel like they will. This is one of those stories that changes you after reading it. Amazon | Goodreads | Book Information→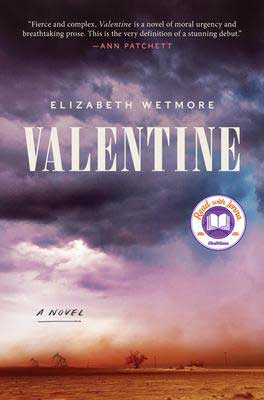 Rural Fiction | Book Set In Odessa, Texas | Women's Fiction
March 2020
A Read With Jenna book club title and a BOTM selection, I probably should have considered what type of mood I was in before reading Valentine by Elizabeth Wetmore. This rural fiction novel is intense and brutal with trigger warnings for sexual assault, racism, and animal cruelty.
Let me first say that the novel is beautifully written, and you will feel like you are in Odessa, Texas in the mid-1970s. Valentine brings up so many emotions of sadness, anger, confusion, and just disgust. If you have a book club that enjoys thought-provoking and fierce reads, Valentine is a good choice–but also a somber one.
The novel alternates among 5 perspectives–from abused women to a widow, child, and immigrants from Mexico–while you also meet a forgotten veteran and the men who work in the farming and oil industries. Poverty sears off of the pages. Abandonment and revenge loom over multiple characters.
A young Mexican girl, Gloria, is at the heart of the story when she is brutally and sexually assaulted by a young man known for, yet always pardoned for, his violating and devastating deeds. The justice system is garbage here, and when it fails, so does everything and everyone around it.
Valentine is a women's story that is complex and chilling. Worth the hype? Yes. Hard to read? For me, very much so. Amazon | Goodreads | Book Information→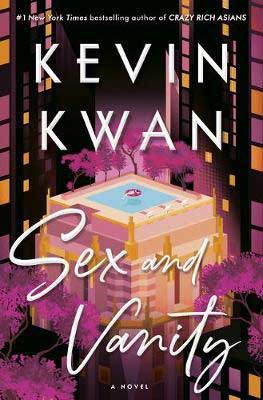 Multicultural Romance | Women's Fiction | Book Set In Italy & NY | Retelling Of A Room With A View
June 30, 2020*
With sheltering in place going on for so long, I am terribly relieved that Kevin Kwan took me back to the fancy and elitist Amalfi Coast island of Capri. I will never forget boating over to Capri on a hydrofoil, just like the tourists that Kwan's WASPY characters dread. Helicopters truly do drop off the rich and famous into the white-dotted cliffs.
A brand new June 2020 book release, Sex and Vanity will remind you all about Kevin Kwan and Crazy Rich Asians. Although not as character and world-building as his first series, Sex and Vanity promises over-the-top wealth, couture rom-com, and quite a few laughs.
Lucie first meets George Zao during a wildly extravagant wedding weekend. Chinese-born but raised in Australia, George's mom is both envied for her excessive wealth but also ostracized for her eccentric, gaudy taste. Lucie is a Churchill, after all, comprised of pilgrim blood from her father and Chinese-American roots from her mother.
Although Lucie doesn't understand George, they are caught via drone in a comprising situation. She desperately wants and needs him.
Fast forward years later when Lucie is now engaged to new wealth and chump, Cecil. Cecil is a bit of a pompous, racist slug, and their engagement is on the fritz, especially when George moves to New York to work on eco-friendly architecture. Lucie must learn to love herself before she can figure out who she really loves and her contribution to this high-class world.
Although Sex and Vanity may not be Crazy Rich Asians, I loved it just as much. Kwan immerses readers in pop culture references like Mary Berry and Moira Rose. The lavish pictures he paints paired with themes of racism, ethnicity, and culture, make for a strong standalone. Lucie may be no Rachel, but her story is more about self-awareness and love. Amazon | Goodreads | Book Information→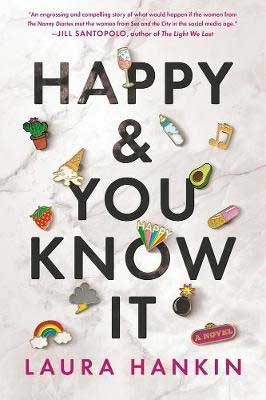 Women's Friendship Fiction | Book Set In NYC
May 2020
My Book Of The Month selection for May, Happy & You Know It, is not my usual go-to type of read. Set in New York City, watch as a rich mommy playgroup falls apart over affairs, Instagram, and vitamins. Did I absolutely love it? Ehhh…the book isn't riveting but it is relevant and entertaining. I definitely enjoyed the influencer commentary and humor.
Kicked out of her now-famous band, Claire finds herself broke and in desperate need of a gig. When the beautiful and seemingly perfect mom Instagrammer, Whitney, offers Claire a hefty salary to play sweet children's songs for a close-knit playgroup, Claire cannot say no.
Despite feeling like the hired help, Claire grows to love the playgroup and their babies, even though she has little in common with them. The tighter they grow, though, the more Claire starts seeing that their worlds are not so perfect…
As a kitty-mom only, I cannot attest to how mommy readers will digest Happy & You Know It. I can probably best relate to Claire for her child-free life and love of booze–although not problematic like Claire. I appreciated the women's relationships, worries, and growth as a light and humorous feminist read. The story is captivating and fun but nothing mind-blowing. Amazon | Goodreads | Book Information→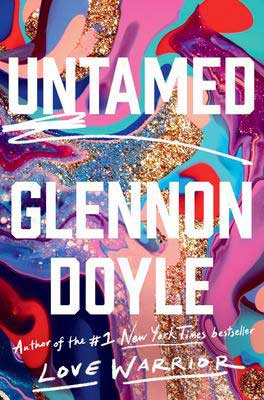 Inspirational Memoir | Self-Help
March 2020*
Don't you feel like everyone is reading Glennon Doyle's Untamed right now? I swear, this inspirational memoir is all over bookstagram and why not: the cover is stunning. I'm not that shallow either, but yes, I am drawn to attractive AF book covers, as well. But, know that the cover is actually a large part of Doyle's narrative, too.
As everyone knows, Rachel Hollis is not for me. If Hollis gets under your skin, give Glennon Doyle a try. Full disclosure that I am not 200% rah-rah for Untamed either, but I did love and appreciate Doyle's memoir. Untamed is more spiritual and abstract, which might not be for everyone. Yet, even if you feel yourself giving a *very* small eye roll here and there like me, I could still get on board with her ideas and values.
Doyle is an engaging storyteller who is not afraid to admit her battles. Her thought-process is deep and intense. I love feeling more courageous after reading Untamed. One of the sentiments that rang truest was how women tend to support downtrodden and hurt women but judge, criticize, and condemn women who are confident.
Learn about divorce, family, overcoming addiction, and love. Untamed will suggest how to find inner peace and make better decisions. Throughout the book, I laughed, nodded my head, and just loved Abby's and Glennon's love story. Perfect for Pride month, you'll find inspiration, too. Amazon | Goodreads | Book Information→
What Books Are You Currently Reading This June?
What does your June reading list look like, and what books are you currently reading? Have you read any of the books above, and if so, what did you think?
You May Also Enjoy:
Currently Reading May 2020
Currently Reading July 2020
June 2020 Book Releases
June 2020 Book Discussion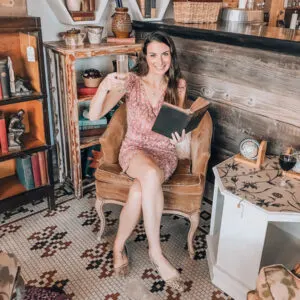 Christine (she/her) is the owner, lead editor, and tipsy book sommelier of The Uncorked Librarian LLC, an online literary publication showcasing books and movies to inspire travel and home to the famed Uncorked Reading Challenge.
With a BA in English & History from Smith College, an MLIS from USF-Tampa, and a U.S. Fulbright Fellowship in Christine's back pocket, there isn't a bookstore, library, or winery that can hide from her. Christine loves brewery yoga, adopting all of the kitties, and a glass of oaked Chardonnay. Charcuterie is her favorite food group.