Between Two Minds Revelation is the second book in D C Wright-Hammer's science fiction thriller series. Found out the engineering behind mind migration.
---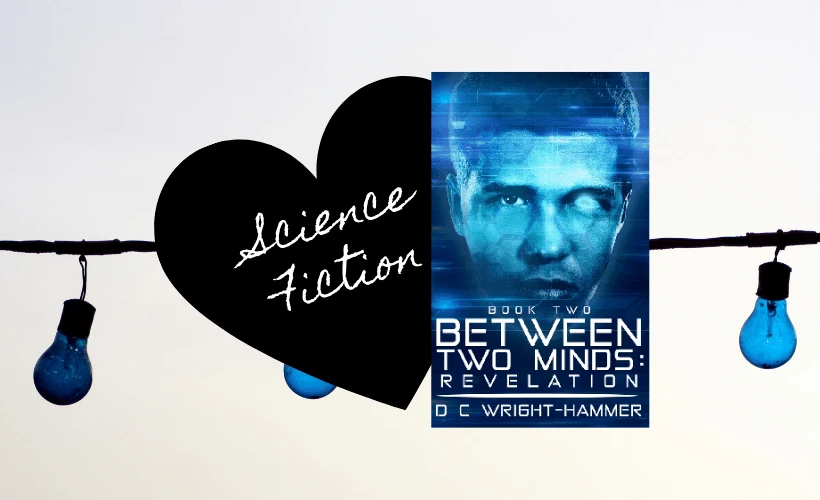 Pin
Nothing is ever as it seems.
When Ryan and Helen decided to have their steady minds migrated into fully functioning, new bodies, they knew they faced many challenges. Death, acclimation, and moral implications threatened to hinder their dreams.
Even worse after the transition, they now live in a world where there are prejudices against mind migrators and developing issues regarding whether or not those bodies were completely "empty" and consenting before receiving new guests.
Between Two Minds: Revelation by D C Wright-Hammer is the second book in a philosophical science fiction thriller series.
Picking up where Book One left off, Helen and Ryan are moving in together and starting their new lives. Unfortunately, the past and their bodies' pasts come back to haunt…or not quite "haunt" them…as Wright-Hammer adds in twists and turns from the past, present, and future. Learn about the initial mind migrations and watch as new threats and movements engulf our fearless science innovations and soon-to-be activists.
[bctt tweet="Between Two Minds: Revelation by D C Wright-Hammer is the second book in a philosophical science fiction thriller series that explains the science and morality behind mind migrations. #sciencefiction #scifi #thriller" username="theuncorkedlib"]
A Quick Recap From Between Two Minds: Awakening by D C Wright-Hammer
Before picking up Between Two Minds: Revelation, I highly recommend reading Book One: Awakening first. Revelation begins where Awakening leaves off and also goes back to explain the mind migration process.
Trust me when I say that Book Two reveals a few jaw-dropping secrets about the science and lab testing behind those migrations. If you thought black market body parts was gruesome, morals plummet even lower. People are real b*astards, sometimes, for the sake of technology and money.
Readers also meet vital players in Book One, like Junior, Charlie, Tony, Lucy, and the Padre, that evolve and grow in Book Two. Their backstories matter. Because Revelation moves along quickly and within multiple timeframes, Book One is vital to your understanding and enjoyment of Book Two.
If you decide to read Revelation on its own, though, you can at least peruse The Uncorked Librarian's book review of Between Two Minds Awakening to get a gist for what you missed. Having loved Awakening, don't miss out on meeting the old Ryan. He's naïve, sweet, and kind of cute. Find your copy of Awakening here.
A Book Review of Between Two Minds Revelation
Content Warning: Sex, violence, mental illness
Which brings me to the main attraction: Between Two Minds: Revelation. Book One remains my favorite so far in the series and set this boozy reviewer's bar pretty high for Book Two.
Get ready for a raging stereotype in 3, 2, 1… I am not sure if science fiction writers should write [unnecessary] sex scenes—I feel like Bill Aicher could start a Twitter war over this—so let me just get that chuckle out of the way. There is a sex scene and other mentions of sex that induced a gentle eye roll. Jesting aside, the smaller, mundane details weighed down the pace of the storyline for this uncorked blogger.
But scientist affairs and two-minds (4-minds?) loving making aside, Wright-Hammer delves into a highly relevant and timely intellectual and moral battle that aligns with current political issues.
Major Themes Discussed Include:
Institutional corruption
Everyday people wanting to live better lives with sacrifices
Scientific progress, experimentation, and big corporation involvement
Resistance movements
Women in the workforce and feminism
Morality versus science
Mental illness and physical abuse
The definition of consent on multiple levels
I have always championed Ryan and Charlie's story.
Incomplete in Book One, readers discover in Revelation that Charlie has more going on than just poor life choices. As if Ryan's situation couldn't get any worse, let's just say he's multi-dimensional these days. Although readers do not see much of Charlie in Book Two, his processes and problems are explained through others in his life. Captivating and innovative, the creativity and engineering behind Ryan are unlike any other.
Similar to Ryan, Helen begins to battle her own body's demons and persona–someone like Charlie. Without giving away too much of the story, the full-blown problems of mind migration fully shine through, forcing Helen and Ryan to team up with a new organization that can help them.
Trust is hard to earn, though. Plus, enter another brilliant and strong woman, scientist, and character who adds an even more prominent feminist feel to the novel. I love seeing women in science fiction…and not just for those sex scenes.
---
Looking For More Intuitive Sci-Fi? Be Sure To Check Out TUL's:
Books That Make You Think Differently Book List
The Unfortunate Expiration of Mr. David S. Sparks
---
Who Between Two Minds: Revelation Will Appeal To
The Good And The Stovetop Popcorn
Science fiction readers looking for a philosophical thriller will find kindred-ship in the Between Two Minds series. Book Two, like Awakening, is not for the weak of heart or stomach. There are some gory scenes and violence that powerfully complement the morals and theme of the novel.
Revelation will also appeal to readers who enjoy multiple timeframes, storylines, and characters. Personally, I found the title to have too much going on, jumping around like popcorn on the stove: frantic and scattered. The chaos distracted me, but Ryan's story helped ground the plot.
The new characters introduced did not all seem to require their own perspectives, voices, and chapters. The title would have been 4-stars and more effective if the focus and voice stayed with Ryan and Helen.
A Modern Day Satire
With solid writing and an intriguing concept, though, readers will find Between Two Minds: Revelation a title that keeps them thinking far past the last pages. Refreshing, we need more books that aren't quite dystopian but that recognize and criticize all that is currently wrong in the modern world with its flawed institutions. Social engineering is at the heart of this title. D C Wright-Hammer gives voice to morality, feminism, and political awareness.
With Book Three clearly in the works, I cannot wait to see where the series progresses and how Ryan will shape his new life with the knowledge and strength gained in Book Two. Just leave a few timelines and characters in the dust. Less is better. Even with wine.
Find your copy here: Amazon Barnes and Noble Book Depository
Book Information
Between Two Minds: Revelation by D C Wright-Hammer [Hammerstone Creative/Indie 2018]
Genre: Adult Science Fiction; Thriller
D C Wright-Hammer is a fantasy and science fiction writer. He works for a large software engineering company and is a former technology and engineering high school teacher. This is his second self-published title. Learn more about the author here.
I would like to personally thank D C Wright-Hammer for sending me a free copy of Between Two Minds: Revelation in exchange for a fair and honest review.
Share The Thrill Of Science Fiction! Pin It: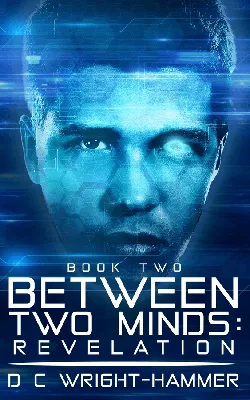 Pin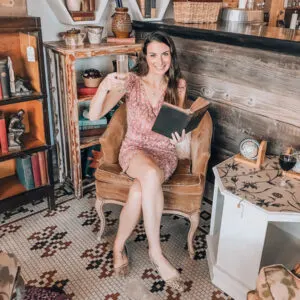 Christine (she/her) is the owner, lead editor, and tipsy book sommelier of The Uncorked Librarian LLC, an online literary publication showcasing books and movies to inspire travel and home to the famed Uncorked Reading Challenge.
With a BA in English & History from Smith College, an MLIS from USF-Tampa, and a U.S. Fulbright Fellowship in Christine's back pocket, there isn't a bookstore, library, or winery that can hide from her. Christine loves brewery yoga, adopting all of the kitties, and a glass of oaked Chardonnay. Charcuterie is her favorite food group.