Beauty Among Ruins by J'nell Ciesielski – WW1 Historical Romance Set In Scotland
Head to Scotland during WW1 in this Beauty and the Beast retelling and historical romance, Beauty Among Ruins by J'nell Ciesielski. Find a summary, book information, and book reviews here.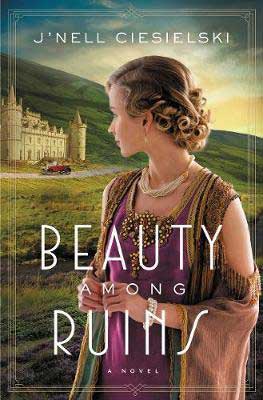 This post may contain affiliate links: If you purchase through my link, I will receive a small commission at no additional cost to you. I only recommend products/services that I approve of. See my full Disclosure Policy.
Author: J'nell Ciesielski
Genre: WW1 Historical Fiction | Beauty And The Beast Retelling | Historical Romance Set In Scotland
Pages: 414
Publisher: Thomas Nelson
Publication Date: January 12, 2021
Find more great books:
Beauty Among Ruins by J'nell Ciesielski Summary
American socialite Lily Durham is known for enjoying one moment to the next, with little regard for the consequences of her actions.

But just as she is banished overseas to England as a "cure" for her frivolous ways, the Great War breaks out and wreaks havoc.

She joins her cousin in nursing the wounded at a convalescent home deep in the wilds of Scotland at a crumbling castle where its laird is less than welcoming.

Alec MacGregor has given his entire life to preserving his home of Kinclavoch Castle, but mounting debts force him to sell off his family history bit by bit.

Labeled a coward for not joining his countrymen in the trenches due to an old injury, he opens his home to the Tommies to make recompense while he keeps to the shadows.

But his preference for the shadows is shattered when a new American nurse comes streaming into the castle on a burst of light.

Lily and Alec are thrown together when a series of mysterious events threaten to ruin the future of Kinclavoch.

Can they put aside their differences to find the culprit before it's too late, or will their greatest distraction be falling in love?

Thomas Nelson
More About The Author, J'nell Ciesielski
J'nell Ciesielski is a historical romance author and Florida native who now resides in Virginia with her family.
She loves Scotland and chocolate. Read more about J'nell Ciesielski.
We also enjoyed Ciesielski's The Socialite.
Where You Can Find Beauty Among Ruins On TUL
Travel across the world with these fictional and nonfiction castle books.
Don't miss the most talked about and anticipated books of 2021. Find Beauty Among Ruins along with more WW2 historical fiction, YA, indie, and so much more. Travel around the world with a good book with The Uncorked Librarian.
Check out the great books released in January 2021 including Beauty Among Ruins, Your Story, My Story, People Like Her, Enjoy The View, and Waiting For The Night Song.
Don't miss these inspiring women in historical fiction just like Lily and Kat.