If you loved Harry Potter, don't miss Akata Witch by Nnedi Okorafor, a YA fantasy set in Nigeria. Find a summary, book information, and book reviews here.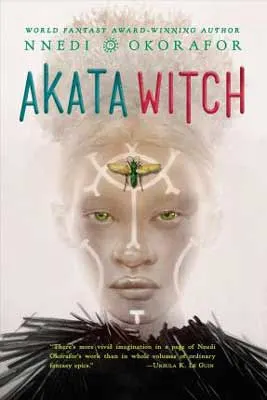 This post may contain affiliate links: If you purchase through my link, I will receive a small commission at no additional cost to you. I only recommend products/services that I approve of. See my full Disclosure Policy.
Author: Nnedi Okorafor
Genre: Book Set In Nigeria | YA Fantasy
Series: Akata Series Book 1
Pages: 349
Publisher: Viking Books for Young Readers
Publication Date: April 14, 2021
Buy Now On Amazon
Find more great books like Akata Witch here:
1. Book of the Month: Get the month's hottest new and upcoming titles from Book of the Month. You might snag an early release or debut author. Along with selecting a book a month, find terrific add-ons, both trendy and lesser-known titles.
2. Audible Plus: From Amazon, listen to Amazon Originals, podcasts, and audiobooks. They add new titles every week.
3. Amazon Prime: Don't miss Amazon First Reads – early access to Kindle books. Get fast delivery as well as movies, music, Originals, shows, and more.
4. Or, start your trial of Amazon Video for movies and tv series on demand.

Akata Witch by Nnedi Okorafor Summary
Twelve-year-old Sunny lives in Nigeria, but she was born American. Her features are African, but she's albino. She's a terrific athlete, but can't go out into the sun to play soccer. There seems to be no place where she fits in. And then she discovers something amazing—she is a "free agent" with latent magical power. Soon she's part of a quartet of magic students, studying the visible and invisible, learning to change reality. But will it be enough to help them when they are asked to catch a career criminal who knows magic too?

Ursula K. Le Guin and John Green are Nnedi Okorafor fans. As soon as you start reading Akata Witch, you will be, too!

Viking Books for Young Readers
Join The Uncorked Reading Challenge Today
---
Travel around the world with the Uncorked Reading Challenge. Get the best book and movie recs straight to your inbox. Sign Up Now.
About The Author, Nnedi Okorafor
Nnedi Okorafor is an award-winning Nigerian-American sci-fi and fantasy author for adults and children. Read more about Nnedi Okorafor.
Where You Can Find Akata Witch Reviews On TUL
Are you looking for books set in and about Nigeria to take you there or read before you go? We are sharing famous Nigerian and Nigerian-American authors and novels, including Akata Witch, Ties that Tether, The Death of Vivek Oji, Zikora, Children Of Blood And Bone, and so much more. See what other books you can read to learn more about Nigerian history and culture.
Do you love witchy books as much as we do? Don't miss this booklist featuring some of our favorite witches for both adults and teens.