If you are looking for political fiction set in India, don't miss A Burning by Megha Majumdar. Find A Burning book information, book summary, and book reviews featuring this heartwrenching and powerful debut novel.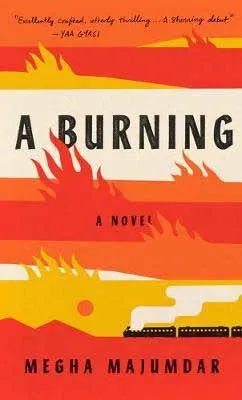 This post may contain affiliate links: If you purchase through my link, I will receive a small commission at no additional cost to you. I only recommend products/services that I approve of. See my full Disclosure Policy.
Author: Megha Majumdar
Genre: Political Fiction | Book Set In India
Pages: 304
Publisher: Knopf
Publication Date: June 2020
Buy Now: Amazon
June 2020 Book Of The Month
Find more top books here:
1. Book of the Month: Get the month's hottest new and upcoming titles from Book of the Month. You might snag an early release or debut author. Along with selecting a book a month, find terrific add-ons, both trendy and lesser-known titles.
2. Audible Plus: From Amazon, listen to Amazon Originals, podcasts, and audiobooks. They add new titles every week.
3. Amazon Prime: Don't miss Amazon First Reads – early access to Kindle books. Get fast delivery as well as movies, music, Originals, shows, and more.
4. Or, start your trial of Amazon Video for movies and tv series on demand.

A Burning by Megha Majumdar Summary
Jivan is a Muslim girl from the slums, determined to move up in life, who is accused of executing a terrorist attack on a train because of a careless comment on Facebook. PT Sir is an opportunistic gym teacher who hitches his aspirations to a right-wing political party, and finds that his own ascent becomes linked to Jivan's fall. Lovely–an irresistible outcast whose exuberant voice and dreams of glory fill the novel with warmth and hope and humor–has the alibi that can set Jivan free, but it will cost her everything she holds dear.

Taut, symphonic, propulsive, and riveting from its opening lines, A Burning has the force of an epic while being so masterfully compressed it can be read in a single sitting. Majumdar writes with dazzling assurance at a breakneck pace on complex themes that read here as the components of a thriller: class, fate, corruption, justice, and what it feels like to face profound obstacles and yet nurture big dreams in a country spinning toward extremism. An extraordinary debut.

Knopf
Join The Uncorked Reading Challenge Today
---
Travel around the world with the Uncorked Reading Challenge. Get the best book and movie recs straight to your inbox. Sign Up Now.
More About The Author, Megha Majumdar
Born in Kolkata, India, Megha Majumdar moved to the US to attend Harvard University. She also attended graduate school for social anthropology at Johns Hopkins University. Currently, Majumdar lives in NYC. A Burning is Majumdar's debut novel.
Where You Can Find A Burning by Megha Majumdar Reviews & Summaries On TUL
Are you looking for books that will change the way you look at society and the government like A Burning by Megha Majumdar? Don't miss our books that will make you think differently reading list. Find titles like The Handmaid's Tale, The Vegetarian, and Convenience Store Woman.
Head to India with these books set in and about India, including A Burning.
What were the best books of the year in 2020? Find out here. We are sharing the top books released in literary and historical fiction, LGBTQ+, indie, romance, nonfiction, and so much more. If you love books that transport you across the globe like A Burning by Megha Majumdar, find even more titles such as The Death Of Vivek Oji (Nigeria), Love & Olives (Santorini), Simmer Down (Maui), and Ties That Tether (Canada).
See what books we read in July, including A Burning, Such A Fun Age by Kiley Reid, and White Fragility by Robin DiAngelo.