Take The Uncorked 2020 Reading Challenge
Are you looking for a 2020 Reading Challenge for book lovers and wanderlusters?
Take the Uncorked Reading Challenge with 12 categories – one for each month – with books to inspire travel and diverse, international reads.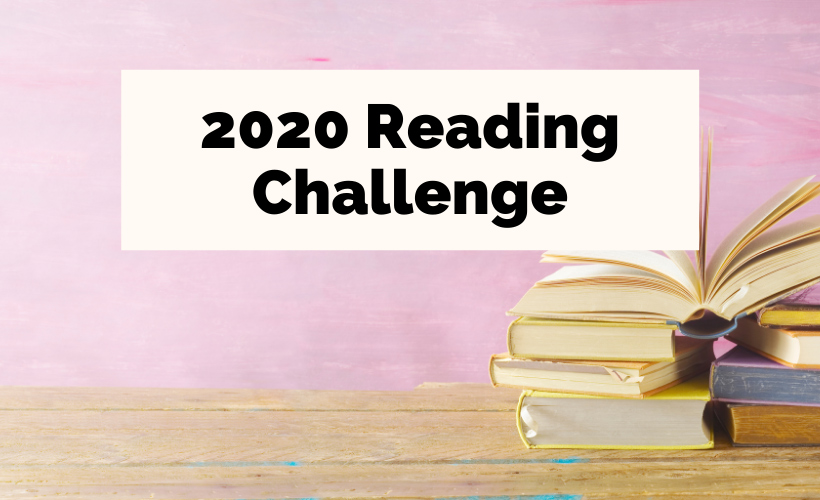 Guys, I've crossed over to the Dark Side and got sucked into the reading challenge wormhole.
If you are unfamiliar with The Uncorked Librarian, I focus on diverse books to inspire travel with a love for indie authors and diverse, global reads.
I also sneak plenty of YA into my adult book lists, travel a lot, and drink my fair share of wine…
I could not think of a better way to kick off the New Year than with an Uncorked 2020 Reading Challenge. This is my first annual Reading Challenge.
I'd love for you to be a part of my new tradition.
This 2020 reading challenge is not about how many books you read. Nor will you have to read specific titles.
Instead, find 12 themes, one for each month, where you can read one book or 20. Or none. I am not judging if you miss a month or two.
The themes are based on my love for books, booze, and travel.
Each month, I will send out suggestions to my mailing list with book recommendations per theme as well as post ideas in our FB group, Uncorked Readers.
Choose from suggestions or pick your own reads.
Start reading as soon as the month begins or anytime during that month. If you want to skip that month, that's OK too.
This 2020 Reading Challenge is that easy.
I'd love to know what books you are reading and if you are participating. Whenever you start or finish a book, please let me know on social media by using the hashtag: #UncorkedReading and tag @ theuncorkedlibrarian or @ theuncorklib for Twitter.
So, what do you say?! Are you all in with this 2020 Reading Challenge?! Cheers, and let's get started!
Uncorked 2020 Reading Challenge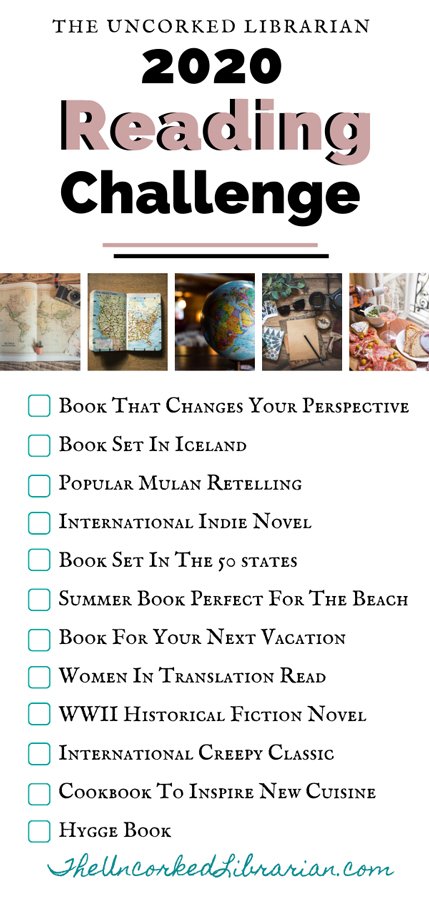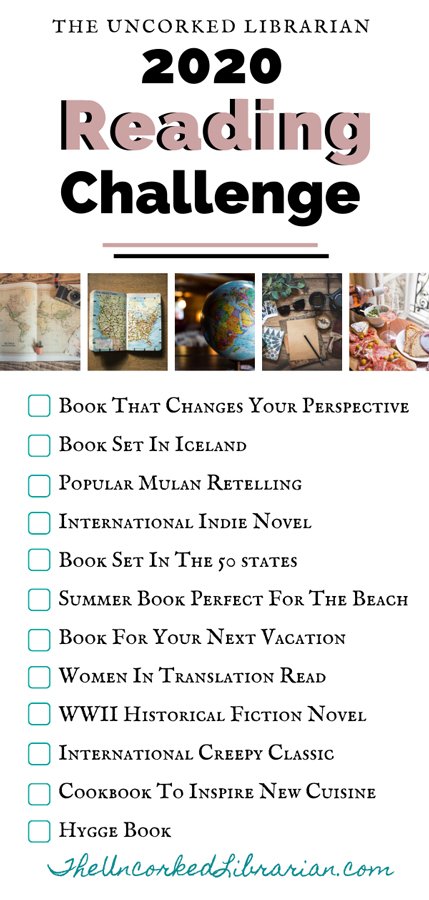 January: Book That Changes Your World Perspective
One of the best ways to grow and stay open is through powerful, life-changing books. What books inspire you to think about the world in a different way?
This could be books that make you cry, laugh, or help you decide to make small life improvements like going to the gym or cleaning out your closets.
Maybe there are authors that inspire you to travel or a cookbook that challenges your palate.
Grab more January 2020 reading ideas and share your thoughts here.
February: Book Set In Iceland
I never play favorites when it comes to travel. However, last year, Iceland in February literally and figuratively blew us away.
For the first time, I saw the Northern Lights, glaciers with playful seals, and nature which brought me to tears. Who knew mountains could turn navy blue with the sunset?!
OK, and maybe a $26 bowl of soup in Reykjavik.
With this trip, TUL decided to niche down after reading so many Icelandic novels. Burial Rites made the history of Iceland come alive for me.
From that moment on, I wanted my site to become a place that inspired and enhanced people's travels.
Discover more February 2020 book ideas and share your thoughts here.
March: Mulan Retellings
In honor of the new live-action March 27, 2020, Mulan movie release, let's read a popular Mulan retelling together.
I love this centuries-old fairy tale, and there are so many international stories that celebrate this Chinese legend.
You can find the March 2020 Book Discussion For Mulan here.
April: Indie Novel
TUL has a soft spot for indie authors and publishers. In fact, I cannot believe how some of us will never discover some of the best books written because they are indie.
Over the past year, I read many new books that were on no one's radar. Some indie authors promote away, while others stay quiet with their masterpieces.
For Indie April and our 2020 reading challenge, I will pull together some of my absolute favorite indie titles. I know you'll find a new favorite that you didn't even know existed.
You can find the April 2020 Book Discussion For Indie Books here.
May: 50 State Book
In honor of our move to North Carolina, TUL started pumping out southern book lists. Throughout 2020, we'll branch out to all of the US and North America.
Let's start by reading a book set in one of the 50 states. I'll have endless Reading Challenge 2020 suggestions for this one.
You can find the May 2020 Book Discussion for books set around America here.
June: Beach Book
What travel writer doesn't love the islands and the beach for a little escapism now and again?
In honor of an American summer, I cannot wait to read books set on the islands, in warm destinations, and books perfect for the beach. I am getting vampire pale since we moved from FL to NC.
Participate in the June 2020 Reading Challenge here.
July: Book Set In Bucket List Or Upcoming Travel Destination
Are you a traveler too? Where are you headed in 2020? We are already planning our vacations now.
Why not read a book set in your next destination for the 2020 Reading Challenge?
If you cannot travel far this year, consider a staycation. But also, let's read books that spark our wanderlust too.
Don't miss the July 2020 Reading Challenge here.
August: Women In Translation
August is Women in Translation Month.
A few years ago, Meytal Radzinski deemed August a month to celebrate women writers in translation.
This initiative fights the underrepresentation of women's work being translated from their native languages.
I'm super excited to take this one on as a Smithie and book blogger.
September: WW2 Books
Who doesn't love reading books set during WWII?
With this 2020 Reading Challenge, try to find a lesser-known WWII book set where the history is lesser-known and more obscure.
You can bet that I'll suggest Ruta Sepetys or even Denise Kiernan as September grows closer.
You may also find helpful titles on these new 2020 WW2 upcoming releases for January to June or want to check out a few Holocaust books for teens.
October: Creepy Classic
I love a good paranormal book in the fall. TUL has endless fall book lists showcasing all things spooky.
What 2020 Reading Challenge would be complete without trying a classic or two…how about a creepy classic?
Plus, I love a good debate about what classics are worthy of our time vs the duds.
November: Cookbook To Inspire New Meals
TUL has never written a cookbook list, but I think it is time. Do you ever travel somewhere and return home, wanting to recreate everything that you just ate? I do!
In honor of learning and growing abroad, let's cook up something new. Plus, this Reading Challenge 2020 theme is perfect for Nonfiction November.
December: Hygge Book
Hygge is that Scandinavian – Danish and Norwegian – feeling for happiness and coziness.
We definitely understand this concept more while living in the Asheville mountains. Our winters are perfect with the fireplace, cozy blankets, cats on our lap, and a heartwarming novel.
Let's embrace this international concept with books that warm the soul.
TUL Newsletter
Join our mailing list so that you never miss a 2020 Reading Challenge update. I typically send 2-3 emails a month. I will never spam you.
Take The Uncorked Reading Challenge!
Travel around the world with our Uncorked Reading Challenge. Never be late to the party with unique new book releases. Get the latest movie and book lists straight to your inbox.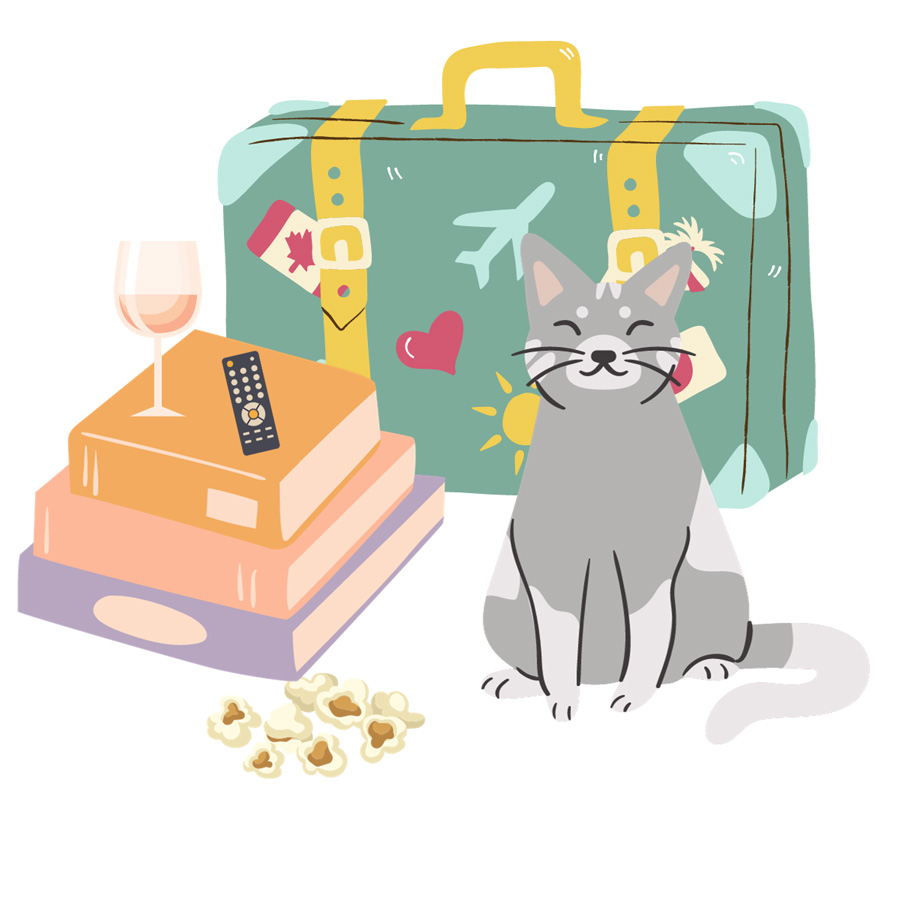 Are You Ready To Take The Uncorked 2020 Reading Challenge?
Please let me know below if you will join us this year and what you are reading. I'd love to hear from you.
Don't forget to follow TUL on Goodreads, too.
All Reading Challenges:
2023 Uncorked Reading Book Challenge
2022 Reading Challenge
2021 Book Challenge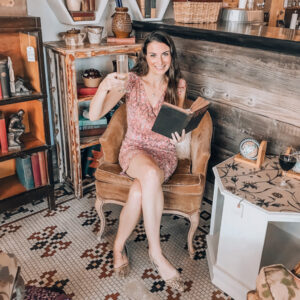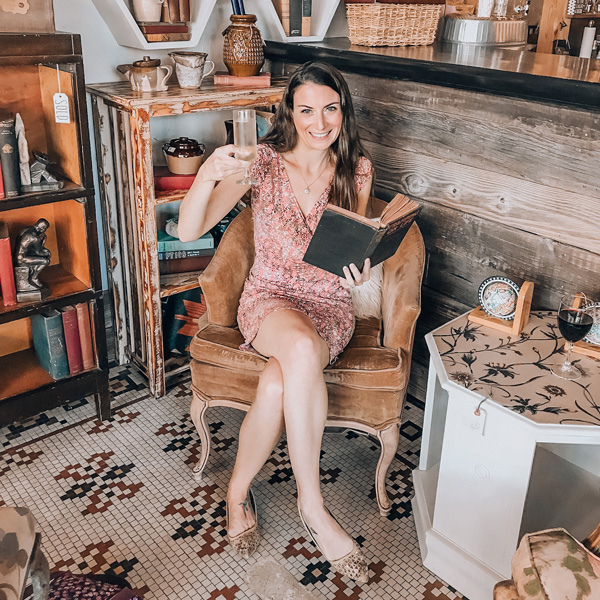 Christine (she/her) is the owner, lead editor, and tipsy book sommelier of The Uncorked Librarian LLC, an online literary publication showcasing books and movies to inspire travel and home to the famed Uncorked Reading Challenge.
With a BA in English & History from Smith College, an MLIS from USF-Tampa, and a U.S. Fulbright Fellowship in Christine's back pocket, there isn't a bookstore, library, or winery that can hide from her. Christine loves brewery yoga, adopting all of the kitties, and a glass of oaked Chardonnay. Charcuterie is her favorite food group.