Are you looking for a feel-good YA summer romance set in Pennsylvania? You'll get a sugar rush for The Extended Summer Of Anna And Jeremy by Jennifer Ann Shore.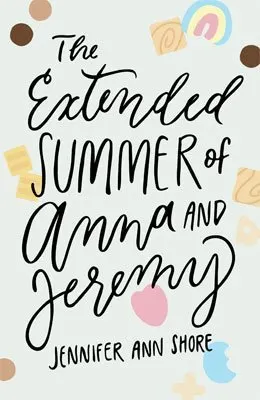 The Extended Summer Of Anna And Jeremy Book Information
Title: The Extended Summer Of Anna And Jeremy
Author: Jennifer Ann Shore
Publisher: Indie
Publisher Date: 2019
ISBN: 9781732608320
Pages: 159
Genre: Young Adult | Realistic Fiction | Contemporary YA Romance
Disclosure: Thank you to Jennifer Ann Shore for providing us with a free copy in exchange for a fair and honest review.
Buy a copy of The Extended Summer Of Anna And Jeremy
The Extended Summer Of Anna And Jeremy Summary
From Drab To Fab
Set in PA, Anna is entering her junior year of high school and looking for a change of pace. A list-maker and strong student, Anna is a play-it-safe and practical kind of gal.
Unlike her brother, her future is uncertain both for college and her career.
The pressure is immense. Her parents could easily hand over the family business, making her life a cakewalk. However, Anna wants more but doesn't know what more is yet.
…Until she gets caught checking out Jeremy's abs, her brother's best friend and the boy who has grown up with her.
Now, wait, that sounds wrong, and I am a total feminist. I swear. Anna wants the danger and adventure that Jeremy represents…along with the lust. I am game.
Anna craves experiencing life and feeling on a deeper level, but her mind is a constant battlefield.
I blame the fact that the girl doesn't eat a dang veggie. Most days, my mind is clouded with wine and coffee–I get it.
When Romance Meets Cereal
Anna enlists Jeremy to help her fulfill a mini-bucket list of adventures throughout the summer. Get a tattoo. Cross the state. Have an intimate moment with a man…
Jeremy is more than willing to jump right in, too. No, no. I mean, YESSSS, YESSSSS, but he is a GOOD guy. A really good freaking guy. Kinda like a Tom–attractive, geeky, and wholesome.
I love a crunchy, well-rounded man.
Throughout the summer, readers watch as Anna and Jeremy's relationship blooms. True to her nature, though, Anna puts up walls that Jeremy consistently climbs over.
Worried about making their family situation more awkward and ruining her brother's friendship, Anna has a tough decision to make. Should she follow her heart or her brain?
Yup, you want to slug her for a bit. And yup, you want to tell her parents to shut the heck up and get off her back.
Haven't we learned what happens when we push kids into picking their entire careers too early? I swear guidance counselors are evil too.
The Extended Summer Of Anna And Jeremy Book Review
Jennifer Ann Shore might have written The Extended Summer Of Anna And Jeremy just for me. There are CATICORNS, steamy kisses, and cereal. So much cereal.
The short: I DEVOURED IT!! Like Beauty and the Beast-style but instead, the Beast is slurping up almond milk.
A Small Content Consideration For My Conservative Families
Is this even needed if you follow me regularly? I am writing this clause for Google hits because you know TUL curses like, well, The Uncorked Librarian.
Plus, I love my booze, and I don't blush over a hot sex scene. Even more, I champion realistic YA lit and telling it like it is.
Sorry parents: many of your kids are most likely fooling around, having sex, and going to parties with alcohol.
I'm not going to lie: I also messaged Shore to let her know that her high school relationships might have been way…more fun…than mine.
Apparently, I dated the wrong and most boring guys with no 'experience.' TMI truth bomb.
Go, Anna! Go! Anna and Jeremy must be watching 13 Reasons and Riverdale lately. Archie….man–now I feel like a gross-ass cougar who should go to jail.
If you don't want your teens reading about sex in pool showers, blow jobs, and sneaking out at night, this book probably isn't for your family.
I'd say if you judge John Green's books for drugs, sex, and booze, you'd struggle here too.
Did it bother me? Nope. Would I recommend this to teens at the library? Yup.
The Extended Summer Of Anna And Jeremy Is Not Your Average YA Book
What I appreciate even more is that The Extended Summer Of Anna And Jeremy is not your typical 300-page YA book.
That sounds shallow, right?! But at 159-pages, I am so grateful that Shore doesn't follow the typical formula.
I am so tired of too-long YA books or the standard recipe for a 300-350 deal. Truly. We are all not Janet Evanovich.
The length of the novel is more poetic too: the book is a small snippet of just the summer…that may or may not continue into the fall. Hmmm…
Equally important, Shore doesn't feel the need to alternate every other chapter between fall and summer: For a while, you get more summer and then you flash forward to the fall.
Less contrived, I love that Shore obliterates current trending YA novel styles.
What makes me extra warm and fuzzy inside is just the feel-good, wholesomeness of the book and Anna and Jeremy's relationship.
The story is relatable, sweet, and one that engrosses you completely. You feel like you are reliving your youth.
You cheer for them. Their relationship is believable and easy to watch. Their adoration is healthy.
If you are looking for a short, contemporary YA read that snuggles your soul and sprouts a yogic smile, most definitely pick up The Extended Summer Of Anna And Jeremy ASAP.
You'll also find this novel on our favorite foodie picks reading list.
About The Extended Summer Of Anna And Jeremy Author, Jennifer Ann Shore
Jennifer Ann Shore is an Amazon bestselling author who recently moved to Seattle, Washington with her family.
She has worked in journalism, publishing, and marketing and wrote The Extended Summer Of Anna And Jeremy in EIGHT DAYS like a champ.
You could never tell, though. Learn more about Jennifer Ann Shore.
More books by Jennifer Ann Shore On TUL
Metallic Red – Located on our Teen Vampire Books & Best All-Time Vampire Books reading lists
New Wave – Head over to our Books Set On An Island and Ecuador Books reading lists

In The Now – Read more on the Best of 2020
Everywhere, Always – New Books Set In NY & NYC
Loving New Wave? Looking for more YA books? Check out: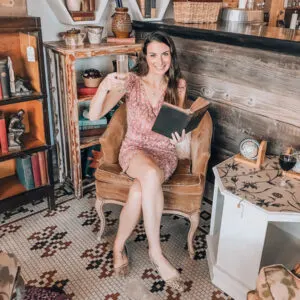 Christine (she/her) is the owner, lead editor, and tipsy book sommelier of The Uncorked Librarian LLC, an online literary publication showcasing books and movies to inspire travel and home to the famed Uncorked Reading Challenge.
With a BA in English & History from Smith College, an MLIS from USF-Tampa, and a U.S. Fulbright Fellowship in Christine's back pocket, there isn't a bookstore, library, or winery that can hide from her. Christine loves brewery yoga, adopting all of the kitties, and a glass of oaked Chardonnay. Charcuterie is her favorite food group.