Are you looking for a coming of age YA vampire book? Don't miss Metallic Red by Jennifer Ann Shore. Discover a Metallic Red book summary, book reviews, and book information here.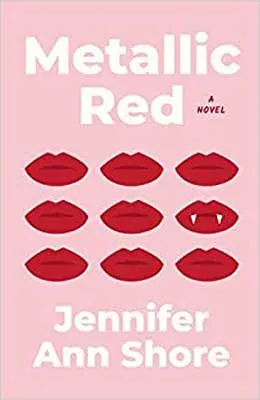 This post may contain affiliate links: If you purchase through my link, I will receive a small commission at no additional cost to you. I only recommend products/services that I approve of. See my full Disclosure Policy.
Author: Jennifer Ann Shore
Genre: YA Vampire Horror & Fantasy | Coming Of Age
Pages: 308
Publisher: Indie
Publication Date: July 2020
Buy It On: Amazon
Find more great books here:
Metallic Red by Jennifer Ann Shore Summary
Mina Byron wants to be just like every other high school senior, but as one of the only half-human, half-vampires in existence, she's far from normal.

After having the first eighteen years of her life dictated by whatever is best for the vampires around her, she wants to embrace her humanity.

When her uncle, the vampire King of Appalachia, agrees to send her to a private high school and integrate into the culture of the living and breathing, it's not without sacrifice on her part. As she attempts to find herself, love, and friendship in the human world, she has to reconcile the future he has planned for her in the vampire one.

Jennifer Ann Shore
Join The Uncorked Reading Challenge Today
---
Travel around the world with the Uncorked Reading Challenge. Get the best book and movie recs straight to your inbox. Sign Up Now.
More About Author, Jennifer Ann Shore
Jennifer Ann Shore is one of our favorite YA indie authors. Based in Seattle, Washington, she is an author and award-winning marketer.
She has experience in journalism, marketing, and book publishing. Read more about Jennifer Ann Shore.
Where You Can Metallic Red by Jennifer Ann Shore Reviews On TUL
Don't miss our favorite books to sink your fangs into. Find YA vampire books like Metallic Red along with adult vampire romances and series. We'll even share a few vampire books if you loved Twilight.
If you are looking for more YA vampire novels, we have just the reading list for you… Of course, find mainstream and popular teen vampire series, too.
Enjoy our fun reading list themed with books with colors in the title, including red, blue, green, and yellow. Find YA and adult fiction and nonfiction books.
Find a complete book review of Jennifer Ann Shore's Metallic Red on our August reading list. You'll also uncover 5 more book suggestions for what we read, including YA novel Dear Martin by Nic Stone.
More books by Jennifer Ann Shore On TUL
The Extended Summer of Anna & Jeremy
New Wave – Head over to our Books Set On An Island and Ecuador Books reading lists

In The Now – Read more on the Best of 2020
Everywhere, Always – New Books Set In NY & NYC
Loving New Wave? Looking for more YA books? Check out: