If you enjoy stories like The Conners, don't miss Outbound Train by Renea Winchester. Find a summary, book information, and book reviews here.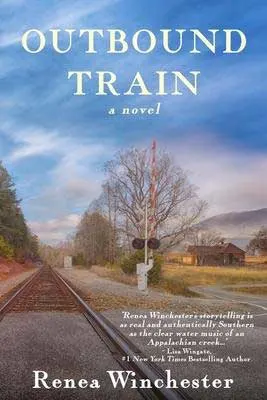 This post may contain affiliate links: If you purchase through my link, I will receive a small commission at no additional cost to you. I only recommend products/services that I approve of. See my full Disclosure Policy.
Author: Renea Winchester
Genre: Indie | Book Set In NC | Contemporary Small Town Fiction
Pages: 259
Publisher: Indie Published | Firefly Southern Fiction
Publication Date: April 1, 2020
Find more great books:
Outbound Train by Renea Winchester Summary
In 1976, memories from a night near the railroad tracks sixteen years earlier haunt Barbara Parker. She wrestles with past demons every night, then wakes to the train's five-thirty whistle.

Exhausted and dreading the day, she keeps her hands busy working in Bryson City's textile plant, known as the "blue jean plant," all the while worrying about her teenage daughter, Carole Anne.

The whistle of the train, the hum of those machines, and the struggle to survive drives Barbara. When an unexpected layoff creates a financial emergency, the desperate pressure of poverty is overwhelming.

Unbeknownst to Barbara, Carole Anne sneaks out at night to walk the tracks so she can work at Hubert's Bar. She's hoarding money with plans to drive her mother's rusty, unused Oldsmobile out of Bryson City, and never return. She only needs one opportunity … if she can just find it.

When Carole Anne goes missing, Barbara finds herself at a crossroad—she must put aside old memories and past hurts to rely on a classmate for help finding her daughter. But this is the same man she blames for the incident years ago. Is she strong enough—or desperate enough—to do anything to keep her daughter safe?

In Outbound Train, the Parker women struggle to make frayed ends meet in a town where they never quite do … at least, not without expert weaving and a bit of brute force.

Berkley
Join The Uncorked Reading Challenge Today
---
Travel around the world with the Uncorked Reading Challenge. Get the best book and movie recs straight to your inbox. Sign Up Now.
More about author, Renea Winchester
Renea Winchester is from Rabun County, Georgia and currently resides in Bryson City, North Carolina. Read more about Renea Winchester.
Where You Can Find Outbound Train by Renea Winchester Reviews
All aboard with these books set on, about, and with trains.
Outbound Train is set in Bryson City, NC. If you are looking for more North Carolina-based books, you'll love this reading list.
See what other books published in April 2020.
Uncover all of 2020's hottest new book releases.