16 Terrific Things To Do In Aruba For All Types Of Travelers
From feeding rescued donkeys to laying on the beach with a cocktail, discover the best things to do in Aruba.
If you are traveling to the Caribbean for the first time, you might be overwhelmed with wondering what to do in Aruba – or you might be more aloof like us.
Whenever we plan an island vacation, we become more go-with-flow and less advanced planning type of people. Show us the sun, beach, and drinks.
And for the most part, this works as many of the Aruba attractions don't require reservations. In fact, you can also find quite a few free Aruba activities too.
Only in peak season would you want to make sure you have things like your boat tours, UTVs, and rental cars booked in advance.
But, with so many fun things to do in Aruba – from donkey, butterfly, and ostrich farms to water sports, shopping, and beach hopping – how do you choose, especially in a time crunch?
Below, we are sharing just a few favorite Aruba things to do for all types of budgets and travelers. Enjoy a beach sunset, spy murals in San Nicolas, and even do… absolutely nothing!
Since we prefer getting a rental car and exploring on our own, our list reflects this – but know that you can find endless guided and group tours.
Don't forget to share your favorite things to see in Aruba in the comments; our "best" might be different from yours, and we are always exploring. Let's get started!
Find all of our guides to Aruba here.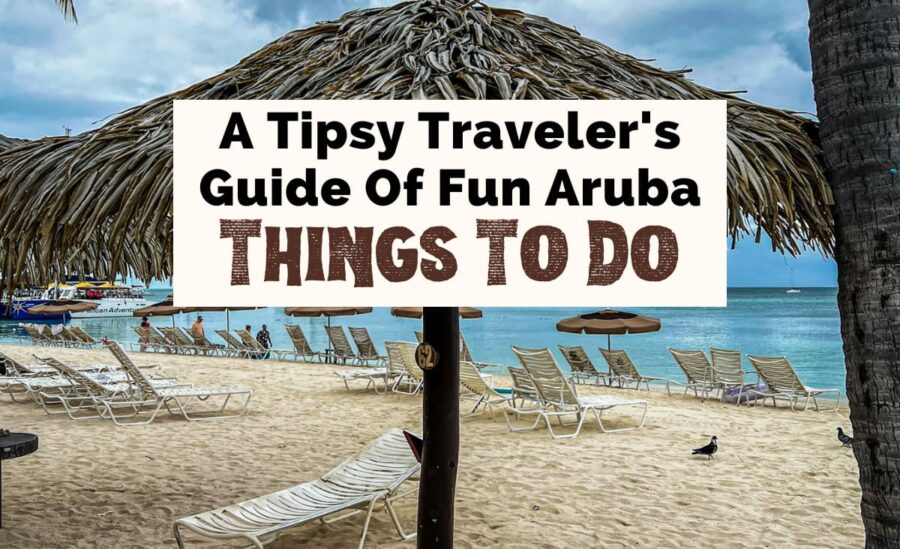 16 Best Things To Do In Aruba
Spy The Street Art In San Nicolas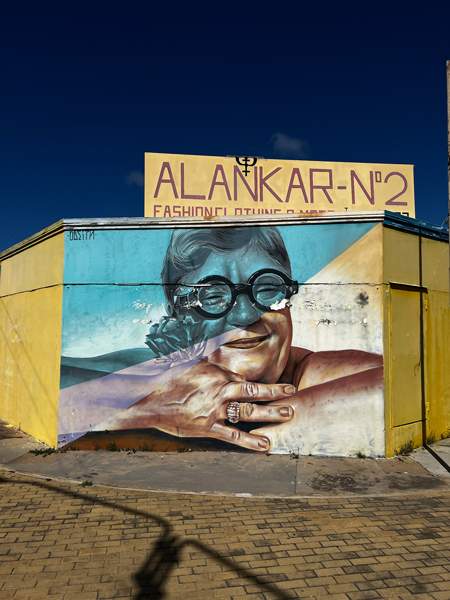 We absolutely love urban murals and street art, and we were not expecting to see so many great pieces in Aruba.
For lesser-known (or at least not as busy) Aruba activities, head to the southern tip of the island to see all of the great murals in San Nicolas.
There are about 50+ of them, including one of Elton John!
Think the Miami Wynwood Walls or Asheville River Arts District of Aruba. Find pieces from both local and international artists.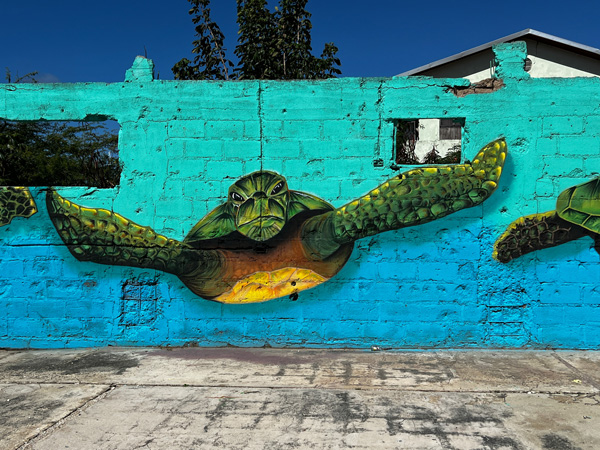 We parked in front of the police station to start our own personal walking tour. Just look up and start wandering around.
For more things to do in Aruba, San Nicolas houses a Visitor Center, cafes, bars, and the Museum of Industry.
It makes for a great day trip from Oranjestad or the Palm Beach area.
San Nicolas Street Art Area | Bernhardstraat San Nicolas, Aruba
Snorkel Or Lay Out At A Gorgeous Beach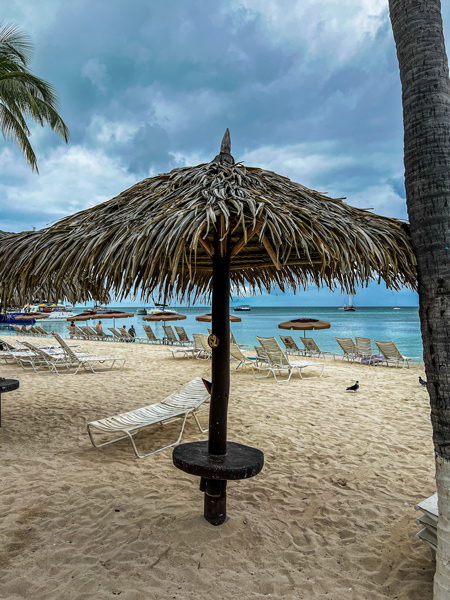 Of course, one of the top Aruba things to do is head to the beach – that's why we booked this beautiful destination. Our Asheville winters get pretty gray.
But, how do you pick which beach to visit when there are over 40?
First, you'll want to think about whether or not you want to go snorkeling or casual swimming – or just rent out one of those iconic shelters.
We won't pretend to be Aruba beach pros here, either, as we haven't seen them all. However, our three favorite beaches include Palm Beach, Eagle Beach, and Baby Beach.
We decided to stay at the Holiday Inn Resort along Palm Beach, which means that we had beach access straight from the resort, including service from their delicious beach bar.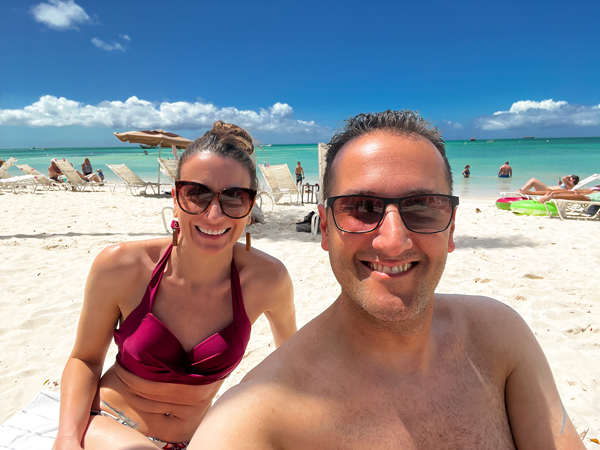 You could also see the beach from the pool – which is another great thing to do in Aruba…
Palm Beach is where the nightlife is. Along with gentle ocean currents, enjoy access to popular Aruba activities like water sports – think parasailing, tubing, and sailing – along with beachside restaurants.
Eagle Beach is right next to Palm Beach with those fun Fofoti trees (more below), and the water felt just a tad bluer here. Walk or bike the promenade.
Lastly, Baby Beach sits at the southernmost point of Aruba. While you have to watch for rip currents, people like to snorkel here. We saw stingrays too.
Looking for books to read before you go or by the pool? Explore all of our South America reading lists.
Feed The Ostriches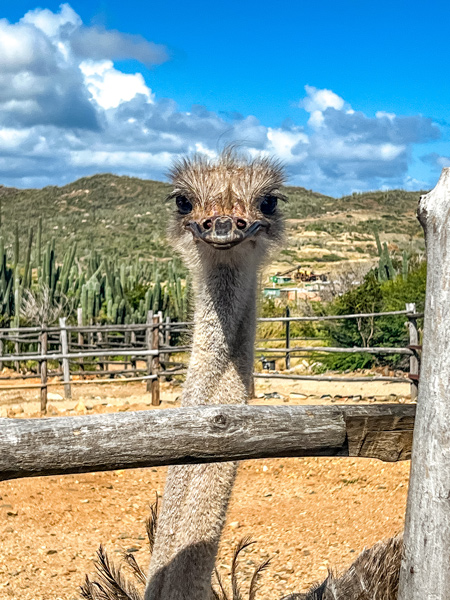 Aruba is full of animal and bird sanctuaries and farms.
While not native to the island, for unique things to do in Aruba, head to the Aruba Ostrich Farm to see peacocks, emus, ducks, and ostriches.
Located on the lower northeastern side of Aruba, we visited via rental car, but you'll find plenty of UTV tours that drop by here too.
You'll know you have arrived when you see their ostrich mural out front. Snap a picture, and head inside the ostrich-themed specialty store to grab tickets.
Tours typically run every hour, and while waiting, shop for local crafts, art, jewelry, and ostrich plushes.
The tour heads out back along their massive property where hungry peacocks might just follow along for food.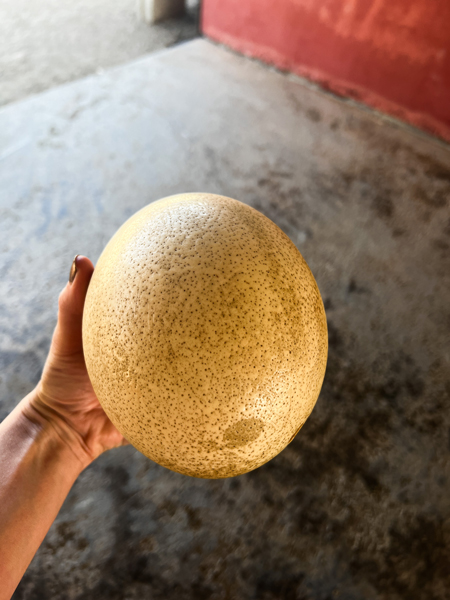 Since it was just the two of us, we received a private tour and fed one of their more gentle ostriches. Let's be real, though, these birds are a bit intimidating with powerful beaks and kicks!
Learn a plethora of great ostrich facts, and hold an ostrich egg. If you are hungry, eat a… burger… at their on-site restaurant.
When in season, order an ostrich or emu egg. Or, sip on a smoothie.
We suggest arriving at opening time to stay ahead of the crowds. You do not need to make advanced reservations (but always double-check).
For Aruba activities, if seeing animals in any form of captivity isn't for you, maybe skip this one, though. The animals are humanely kept and well-taken care of.
Aruba Ostrich Farm | Matividiri 57, Paradera, Aruba
Devour A Delicious Meal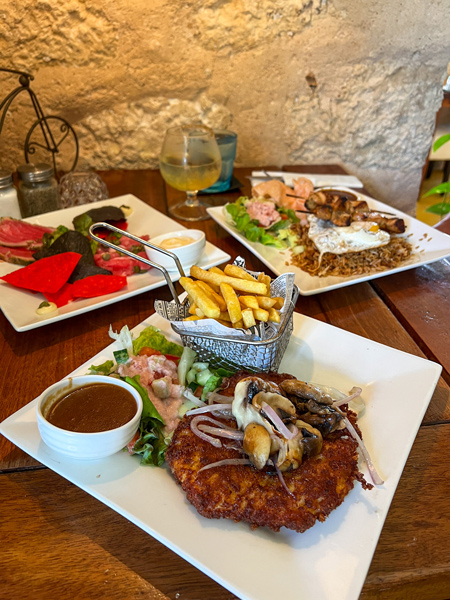 Who knew that the Aruba attractions would include its foodie scene? Not us! The food in Aruba is delicious.
Aruba is well-known for its fresh seafood, including grouper, shrimp, mahi-mahi, lobster, oysters, and conch. Many of the dishes have Asian and Dutch influences.
If you've been with us for a while, you know that we are both lactose-intolerant and a half-Celiac household, which is reflected on our foodie lists.
We most enjoyed The Vue Rooftop Aruba for sunset dinner over Palm Beach, Bistro de Suikertuin in Oranjestad for Aruban-Dutch cuisine, and Bavaria toward Palm Beach for German meats and beer.
Garden Fresh Café is a great organic restaurant with vegan and gluten-free options.
Uncover all of our personal top picks for delicious restaurants in Aruba.
See The Fofoti Trees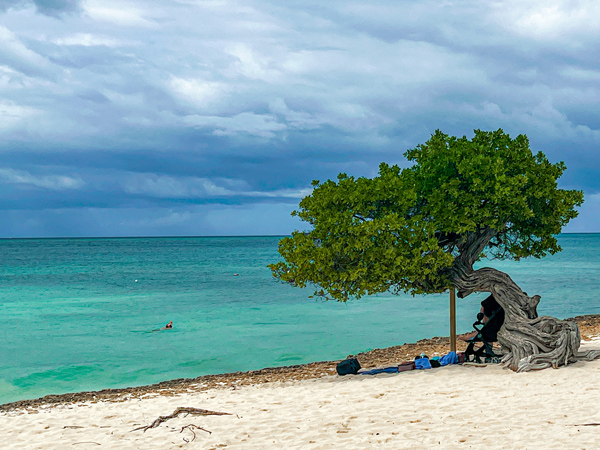 While you might not think that a tree is one of the top Aruba attractions, we have to disagree.
Eagle Beach is home to the Fofoti tree, and these southwestern pointing trees grow in the sand. They tend to trace the tradewinds and are protected by law (so please don't climb them).
You can find the Fofoti trees labeled on Google maps, and you'll quickly recognize them on the beach across from the charming Amsterdam Manor Beach Resort.
There's free parking along the promenade.
Signs will point out the trees, but it is hard to snap a photo of them during the day – beachgoers will sit under them for shade.
Amsterdam Manor Beach Resort | J.E. Irausquin Blvd 252, Oranjestad, Aruba
Donate To The Donkey Sanctuary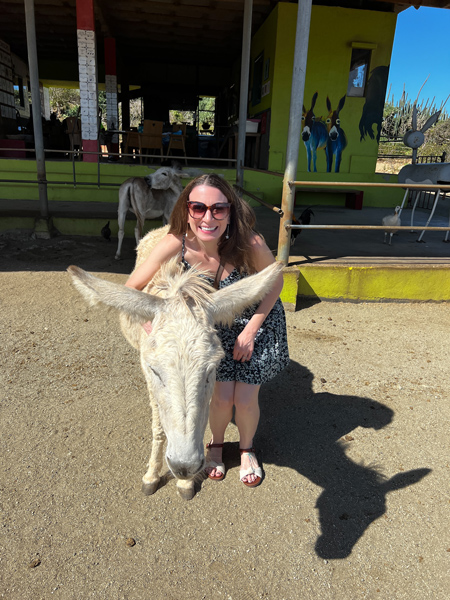 One of the best things to do in Aruba for animal lovers includes a visit to the Donkey Sanctuary. In fact, it was one of the first items on our Aruba itinerary.
This is a great stop if you are renting a car, and even better, it's free! Of course, they request that if you enter the grounds, you leave a donation of your choosing.
Like ostriches, donkeys are not native to Aruba, but they've been residing on the island for over 500 years, specifically used for transportation.
Disease and car traffic have led to their near extinction on the island, and the Aruba Donkey Sanctuary helps rescue and care for neglected and injured wild donkeys.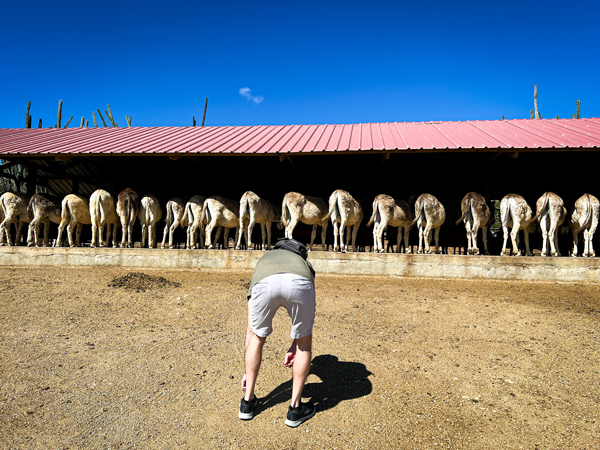 Along with freely walking the grounds – just watch out for donkey poop! – find a small visitor center with a cafe, donkey-themed gift shop, and restrooms.
Here, you can also buy feed for the donkeys and even consider "adopting"/funding one for the year.
Like the Ostrich Farm, spy peacocks along with a few barnyard cats.
For budget-friendly Aruba things to do, this is a great option for all ages. You don't need reservations or tickets.
Read a few fun donkey facts before you go!
Donkey Sanctuary Aruba | Bringamosa 2-Z, Santa Cruz, Aruba
Tour The Aruba Aloe Factory Museum & Store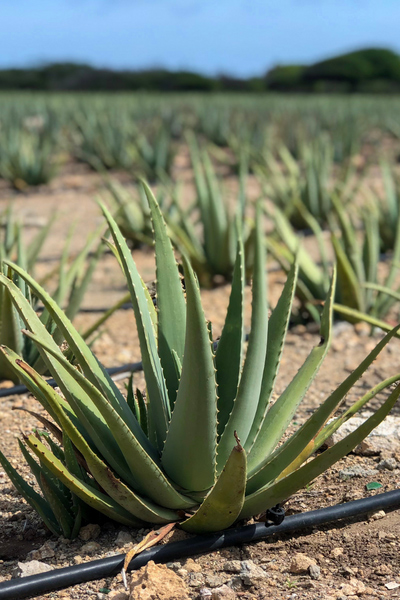 While touring Aruba, you will see many aloe stores across the island along with aloe plants (they are even inside the airport!).
This is in part because of the Royal Aruba Aloe Company – and their retail locations – along with Aruba's desert-like environment.
Aloe is most well-known for its natural healing abilities, and here, you'll find it in hand sanitizer, soaps, lotions, creams, deodorant, lip balm, and more.
For free things to do in Aruba, take a complimentary factory tour or independently walk around the Aruba Aloe Factory Museum.
Guided tours are given in multiple languages and happen around every 15 minutes.
Learn the history of aloe on the island, hear more about its health benefits, and watch the cutting, testing, storing, and packaging process.
Aruba Aloe Factory Museum & Store | Pitastraat 115, Oranjestad Aruba
Walk Around Oranjestad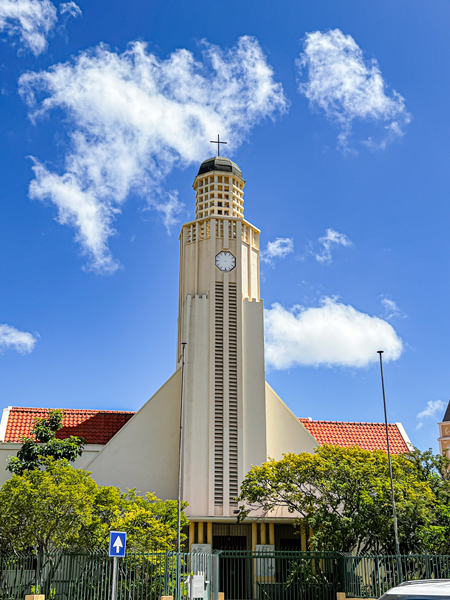 Aruba's capital as well as the largest city, you cannot skip over Oranjestad. This is also where the cruise ports are.
"Oranjestad" means "orange city," and became the capital soon after Dutch colonization.
For Aruba attractions, see restored and colorful historic landmarks alongside ritzy modern structures like the Renaissance Mall.
The famous Renaissance Hotel is over here, which boasts access to private Flamingo Island.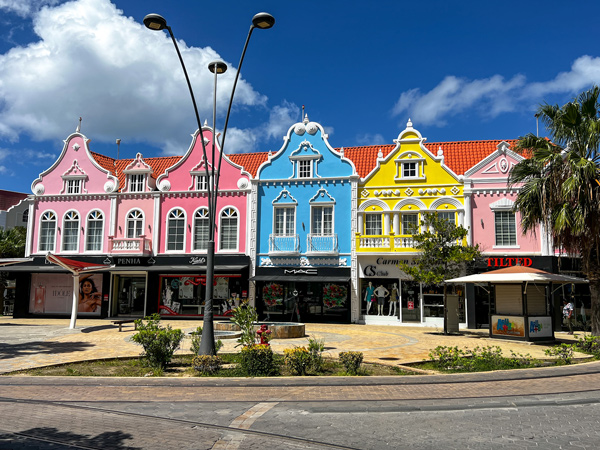 Hop on and off the trolley tour, and find plenty of delicious places to eat, including Bistro de Suikertuin, Taste My Aruba, Wilhelmina Restaurant, and Yemanja Woodfired Grill – all places our Uncorked Readers love.
This is also a great place to shop for cheesy souvenirs and see Dutch architecture.
Find endless street parking. Just keep in mind that Oranjestad can get a bit traffic-y and congested during rush hours.
See A Burrowing Owl At The Spanish Lagoon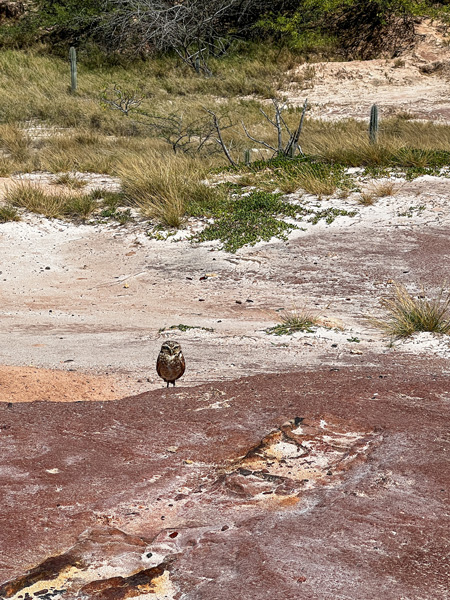 The Spanish Lagoon, also known as the "Spaans Lagoen" is one of the lesser-frequented and most unique things to do in Aruba.
Even in peak season, we had this area largely to ourselves with just one UTV tour behind us in the course of an hour.
The Spanish Lagoon is technically a part of Arikok National Park but is much easier to visit with a regular car and no guided tour.
And, while not on our original Aruba itinerary, we had spotted this great area on Google maps; talk about a surprise adventure where we got to see one of our favorite animals: an owl!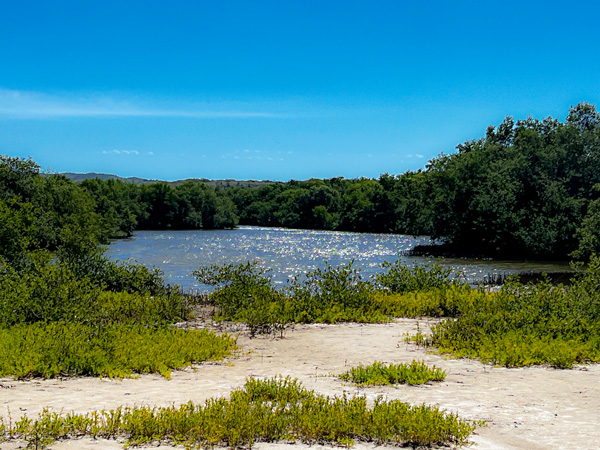 Said to be formed during the last Ice Age, this is the only inner bay in Aruba. A protected wetland, park and take a short hike to see the former Balashi Gold Mills.
Then, continue on a dirt trail to the lagoon where you'll spot plenty of local birds.
We even saw a Shoco, which is a native Aruban burrowing owl and an endangered species – be sure to keep your distance. There are ropes protecting them.
The pink-hued mud is pretty fascinating too.
For peaceful Aruba activities, we love hiking the Spanish Lagoon followed by lunch in nearby Orangestad.
Spanish Lagoon Aruba | F2HH+M77, Oranjestad, Aruba
Grab A Cocktail Or Local Brew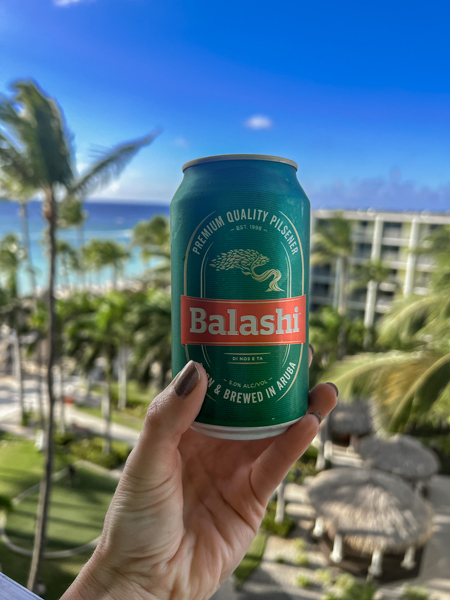 We try to live up to our namesake, which means that you can bet we searched for boozy Aruba things to do.
While there are no wineries in Aruba, they most certainly have delicious beach cocktails, a local craft brewery, and Balashi – a full-scale brewery.
For our Aruba trip, Balashi was temporarily closed to the public and not offering tours. However, you can find their beer pretty much anywhere in Aruba and should try it at least once.
We love that "Balashi" translates to "water" in the local Papiamento language, and their main beer is quite light, perfect for the beach.
For local craft beer in Aruba, head to Fireson Brewing Company – Aruba's first microbrewery, which sits near Palm Beach.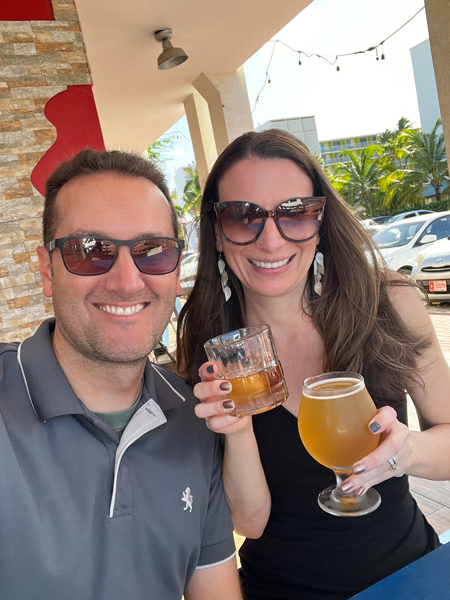 Fireson offers a small rotating menu of IPAs, Blondes, and more along with a pub grub food menu, including wings, burgers, and quesadillas.
For non-beer drinkers, Fireson Brewing has cocktails and wine too. They take reservations for dinner, but we didn't need them to grab a late afternoon/early evening drink.
Of course, along with beer, one of our favorite things to do in Aruba is also to grab a cocktail on the beach, and we highly recommend heading to Rum Reef on Baby Beach.
Along with delicious seafood and sandwiches, their cocktails are utterly refreshing as you watch the stingrays from their beachside restaurant.
Of course, Baby Beach is one of the top Aruba attractions in and of itself.
Learn About Butterflies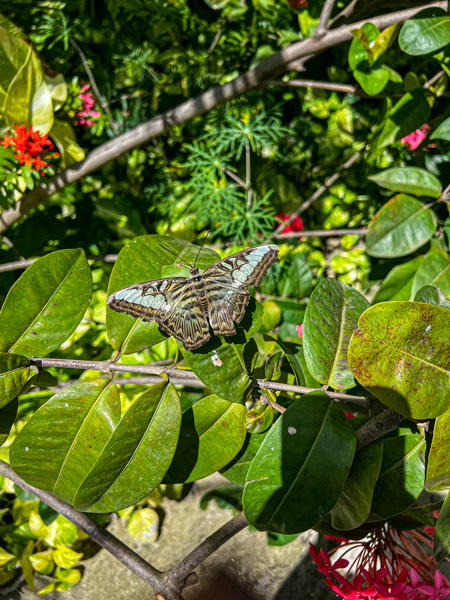 After Key West, we cannot resist seeing well-cared-for and beautiful butterflies, and one of the best Aruba activities for families includes visiting the Aruba Butterfly Farm.
Purchase a ticket as you enter – no reservations needed for groups under 20+ people – and that ticket allows you to return anytime during your stay.
A casual guided tour is included with your ticket, teaching visitors about the butterflies. We dipped in and out of the tour as we walked around the grounds.
The butterfly enclosure is a bit magical as hundreds of exotic butterflies flutter around you – and you may just find yourself with a passenger…
Just know that it can get quite steamy here. Find on-site bathrooms, a refreshment stand, and a souvenir shop.
Aruba Butterfly Farm | J.E. Irausquin Blvd, Noord, Aruba
UTV In & Around Arikok National Park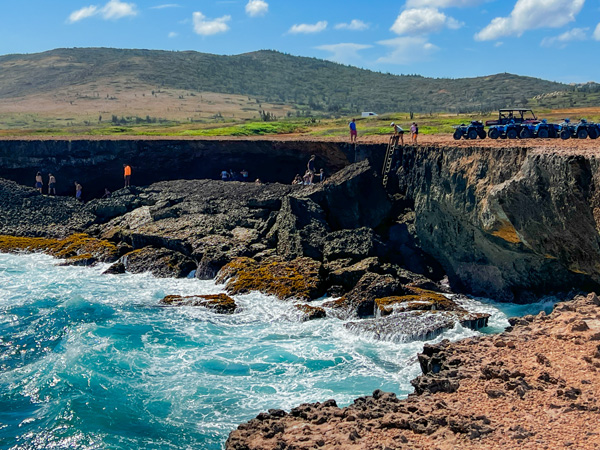 One of the most popular Aruba activities includes renting UTVs and exploring Arikok National Park.
Our cousins enjoyed their honeymoon here, and many cruisers choose to spend their day enjoying a guided tour.
Arikok National Park boasts an extremely unique terrain – that cannot be navigated with a regular car; they suggest visiting the park with a 4 x 4 – and is filled with protected flora, fauna, and wildlife.
The park covers twenty percent of Aruba, sits on the east side, and showcases the shoreline, historical sites, and desert-like hills filled with those towering cacti.
Just a few of Arikok National Park's attractions in Aruba include Arikok Hilltop, Jamanota Hilltop – the highest point on the island – the Natural Pool, multiple caves, and Dos Playa beach.
Be sure to follow all posted signs to keep the area and wildlife safe and expect to pay a conservation fee to enter.
If you are visiting in peak tourist season, especially in February, we suggest planning this one out in advance.
Tours will quickly sell out and Jeep rental availability disappears or becomes exorbitant, especially as one of the most popular Aruba activities.
You can see equally neat places on the outskirts/edges of the park too, like the Spanish Lagoon.
Arikok National Park | San Fuego 70, Santa Cruz, Aruba
Take A Sunset Stroll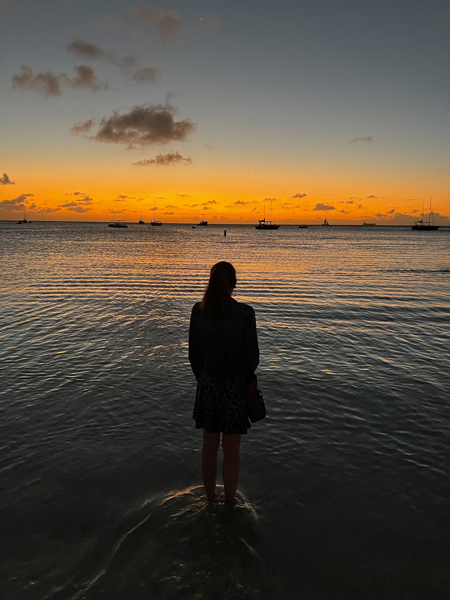 What's one of the best things to do in Aruba for low-key travelers like us? Take a sunset stroll.
We aren't stay-up-all-night-and-party people. Instead, we love waking up early, exploring, and winding down with an early dinner and walk on the beach.
Staying around Palm and Eagle Beaches is perfect for sunset strolling, and some of the resorts will even offer special happy hours.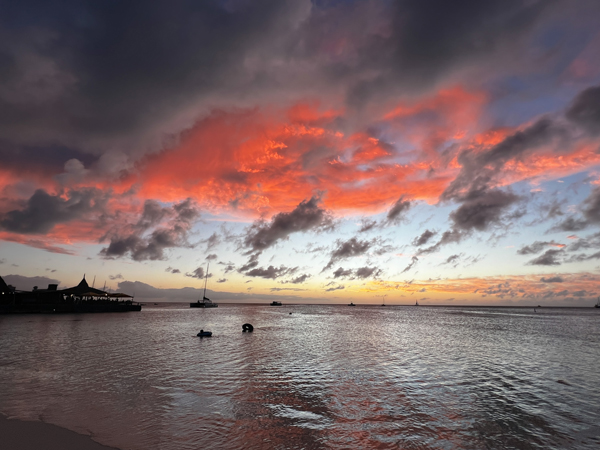 Even in peak season, the busiest of beaches tend to clear out after 4 PM as people nap, shower, and change for later-night dinner and drinks.
For us, this is the best time to sit out, grab a bite to eat, and watch the sunset followed by a peaceful and gorgeous walk.
You won't soon forget those vibrant oranges, pinks, purples, and blues over the water.
While we were in Aruba, Jupiter and Venus snuck out too.
Devour Dessert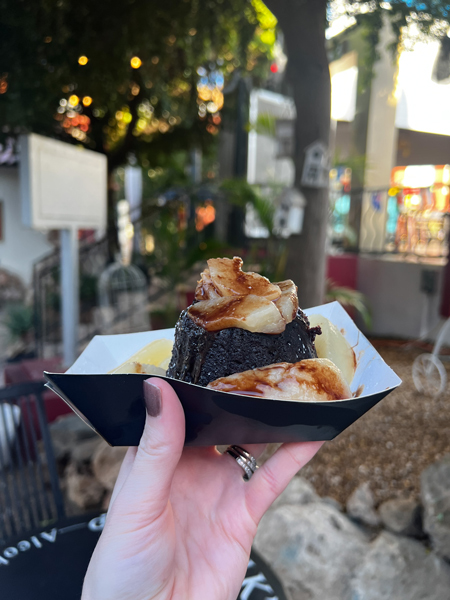 Nothing screams vacation like frothy cocktails on the beach and decadent desserts.
For foodie Aruba things to do, try all of the goodies, including tipsy cakes, bubble tea, and ice cream. You certainly won't find a shortage of stands around the island.
Paseo Herencia Mall is just one place to indulge – whether you are searching for dinner, dancing, or sugar.
It's here we stumbled upon Drunk's Denial, a gem of alcohol-infused desserts, fruits, coffee, and crepes.
Personally, we went with the vegan chocolate cake (we are lactose-intolerant) infused with red wine and topped with whiskey pears.
Find plenty of tempting options like bourbon apples, rum chocolate fudge, and champagne whipped cream plopped on top of yogurt bowls, waffles, and ice cream.
We also enjoyed vegan bubble tea at BubbleBee located on the third floor of Palm Beach Plaza. They also serve coffee in a cute (but hard-to-find) space.
Take The Uncorked Reading Challenge!
Travel around the world with our Uncorked Reading Challenge. Never be late to the party with unique new book releases. Get the latest movie and book lists straight to your inbox.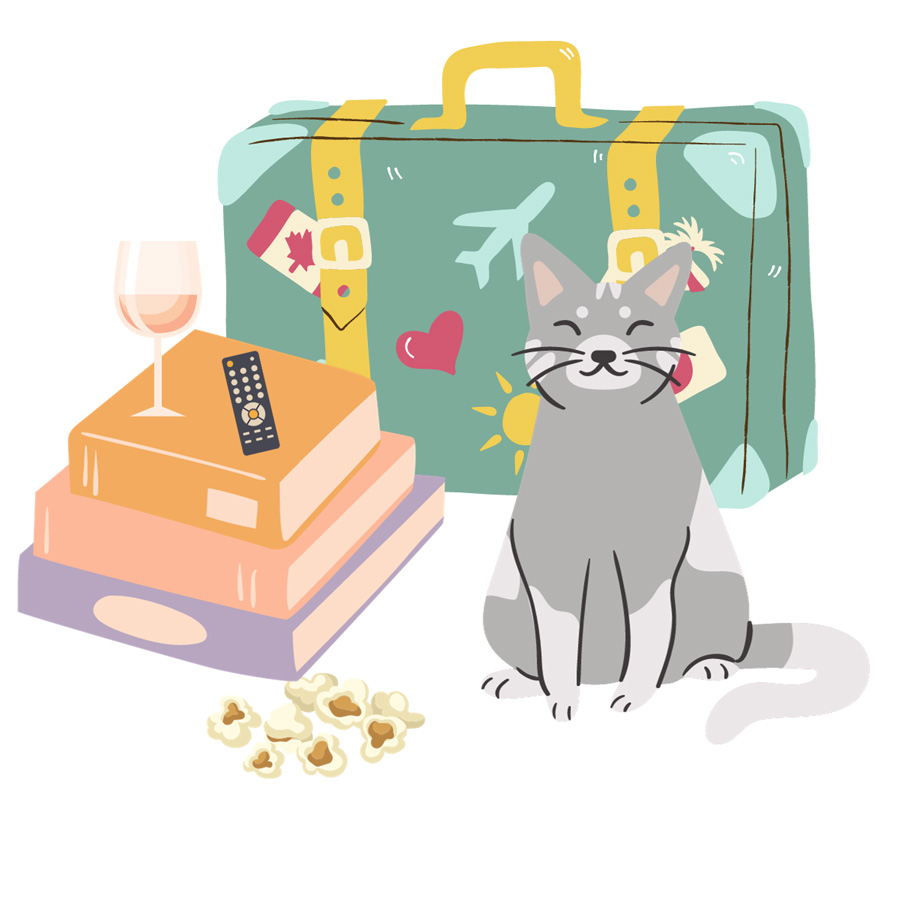 Shop At One Of The Many Malls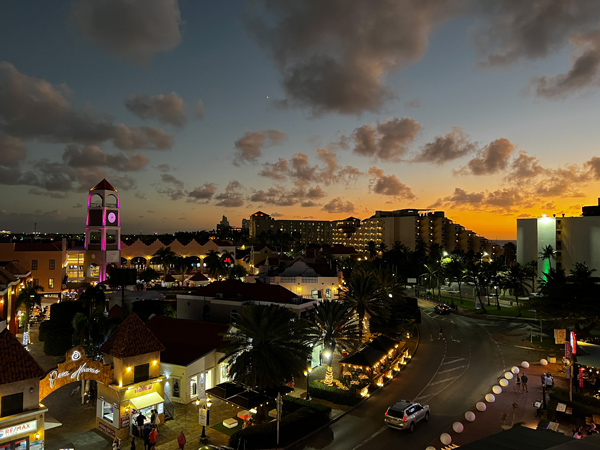 Did you know that some of the best Aruba attractions include its shopping areas? And like aloe, there certainly is no shortage of malls and stores for all types of spenders.
For luxury malls, head to Oranjestad's Renaissance Mall. Located in the heart of the city, find all of your favorite high-end designers.
Surrounding the mall, you'll also find fun and cheesy souvenir shops.
We frequented Paseo Herencia Mall, which was full of food and dessert stands, Instagram photo opportunities, restaurants, and specialty and beach clothing stores.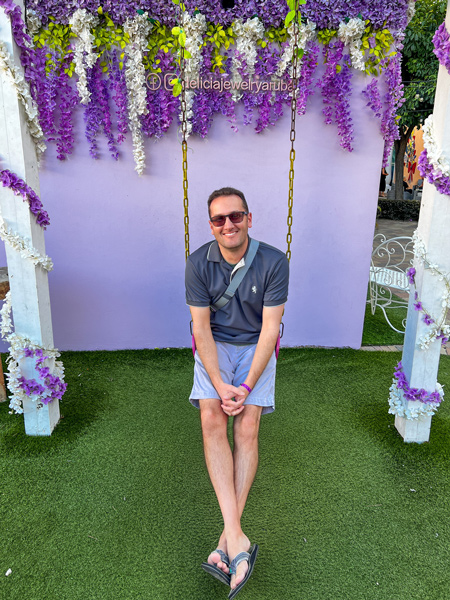 There's even a movie theater and musical performances.
We appreciated the convenient shop which sold everything from alcohol and water to lotion, soaps, snacks, and medicine.
Palm Beach Plaza Mall is a bit of a ghost town (at least when we were there), but there are still a few restaurants, a bubble tea cafe, and retail stores, which were perfect when we needed a new pair of beach sandals.
Across the street, The Cove Mall houses some of our favorite outdoor restaurants, including The Vue Rooftop, live music, and bars.
Shopping is also one of the best things to do in Aruba on rainy days or if you need to escape the heat.
Visit Historic Landmarks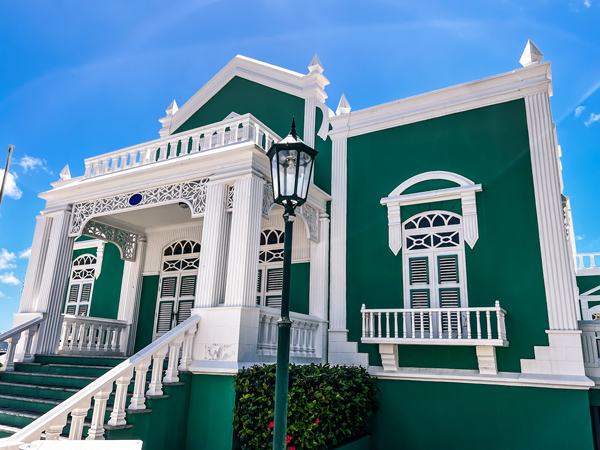 For unique Aruba attractions, drive around and explore some of the island's historic landmarks.
We could see Aruba's most famous landmark, the California Lighthouse, from our hotel balcony. It's over 100 years old.
Drive up the northern tip of the island and for a small fee, climb its steps for 360-degree views.
In Oranjestad, you cannot miss that bright green building, "Stadhuis," which is City Hall, or the renovated historic buildings and architecture.
On the island's northern side, find Alto Vista Chapel (the rebuilt version), founded by Spanish missionaries. This is a Catholic church.
Around the Natural Cave Pool, you'll see the Bushiribana Ruins, the remains of the 19th-century gold mill. At the Spanish Lagoon, traipse the Balashi Gold Mills too.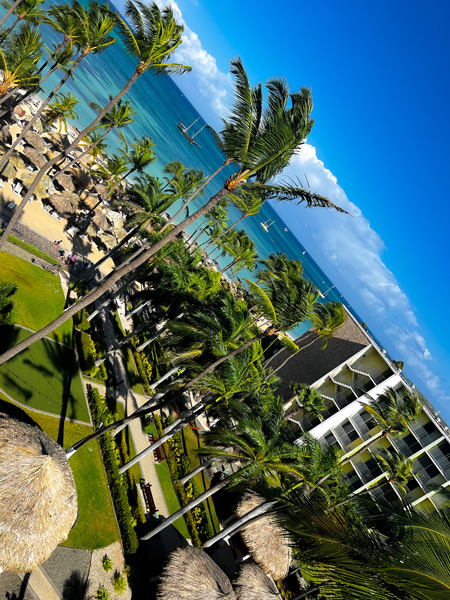 Where To Stay In Aruba
Holiday Inn Resort Aruba – Located in the heart of it all on Palm Beach, this is a family-friendly resort with all-inclusive options, a casino, multiple on-site bars, pools, and restaurants, and pretty much everything you could need on vacation.
Renaissance Wind Creek Aruba Resort – Situated in Oranjestad, Aruba's capital, enjoy adult-only as well as family lodging. Along with the spa and casino – and next to the high-end mall – visit private Flamingo Island. Just keep in mind that the hotel isn't directly on the beach and is at the cruise port.
Hilton Aruba Caribbean Resort & Casino – Another popular Palm Beach resort and casino, this beachfront property has a restaurant, bar, and water sports facilities. Eagle Beach is also close by.
Amsterdam Manor Beach Resort -Located across from Eagle Beach, you'll recognize this resort by its Dutch colonial-style architecture. We would love to stay here on our next visit.
Aruba Marriott Resort & Stellaris Casino – At sunset, we walked by this gorgeous (borderline) Palm and Eagle Beach property almost every night. They boast adult-only amenities, including a pool, and have seven on-site dining options.
Save These Aruba Things To Do For Later: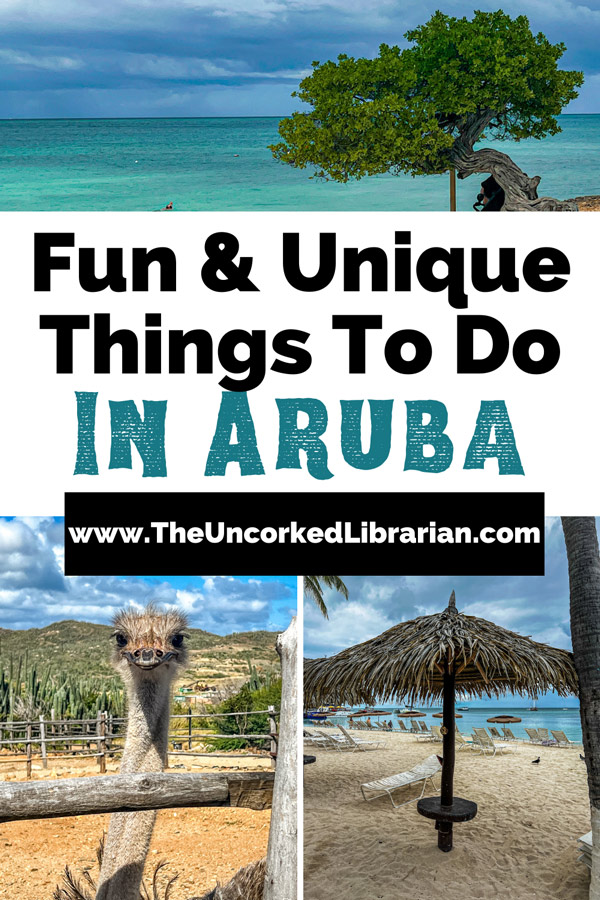 What are your favorite Aruba activities?
Unlike our European vacations, when we travel to the islands, we move at a slower pace. We crave the beach, sun, and utter and total relaxation.
If we had to pick our top things to do in Aruba, we'd of course say eat, drink, go to the beach, and catch a sunset.
Dine on a rooftop, try the local beer, and stare at the stars and planets from a beach hammock.
For our favorite Aruba attractions, we enjoyed learning about the ostriches and donating to the Donkey Sanctuary.
Seeing a burrowing owl in the red mud at the Spanish Lagoon was truly the coolest as well as finding murals across San Nicolas.
What are your favorite Aruba activities? Do you prefer group tours or renting a car and heading out on your own?
How long do you visit for, and what are your "musts?" Let us know in the comments.
You May Also Enjoy: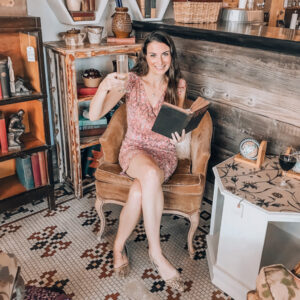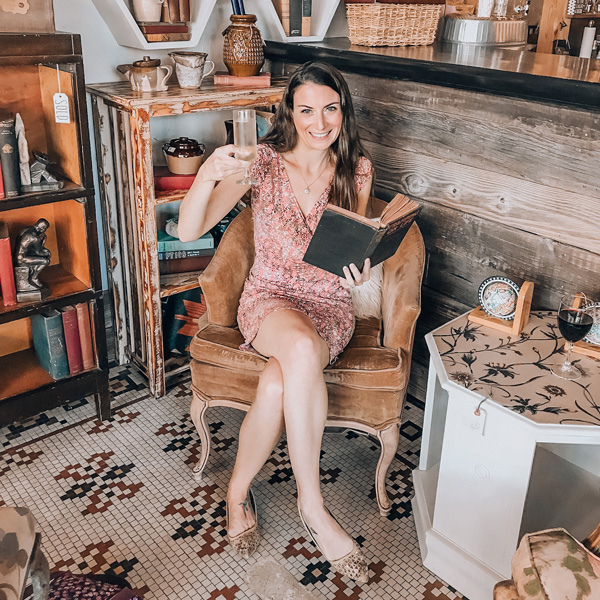 Christine (she/her) is the owner, lead editor, and tipsy book sommelier of The Uncorked Librarian LLC, an online literary publication showcasing books and movies to inspire travel and home to the famed Uncorked Reading Challenge.
With a BA in English & History from Smith College, an MLIS from USF-Tampa, and a U.S. Fulbright Fellowship in Christine's back pocket, there isn't a bookstore, library, or winery that can hide from her. Christine loves brewery yoga, adopting all of the kitties, and a glass of oaked Chardonnay. Charcuterie is her favorite food group.