Discover top tips for how to plan the perfect visit to Donkey Sanctuary Aruba, including what to expect and do afterward.
We don't know about you, but when we think of Aruba, we picture white sand, blue water, and tropical drinks.
However, we are pretty active travelers, and one lazy beach day is usually enough for us. We want to hit the road and explore.
We've road-tripped across Aruba, looking for unique things to do, including a visit to the Aruba Donkey Sanctuary. Who knew that there were donkeys in Aruba?
While wild donkeys aren't native to the island, they've existed there for over 500 years – but were almost wiped out.
Hence, why you'll find a donkey farm in Aruba with the goal to rescue, protect, and save them. We are all about animal welfare and conservation in Aruba.
Below, see if the donkey sanctuary is right for you – especially if you are short on time – and learn what to expect, what to wear, and how you can help support the Aruban donkeys.
Plus, how long should you budget for? Are there restrooms? Do you get to feed or interact with the donkeys? And, who might not enjoy the sanctuary?
Keep reading to find out as well as see endless photos of sweet donkey friends. Let's get started!
Explore all of our Aruba travel guides.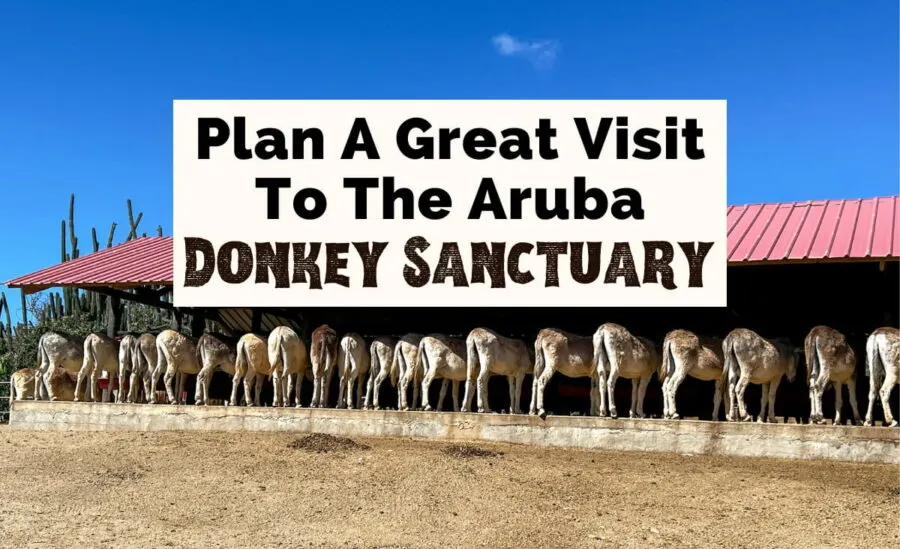 9 Great Things To Know Before Visiting Donkey Sanctuary Aruba
1. How did the donkeys end up in Aruba?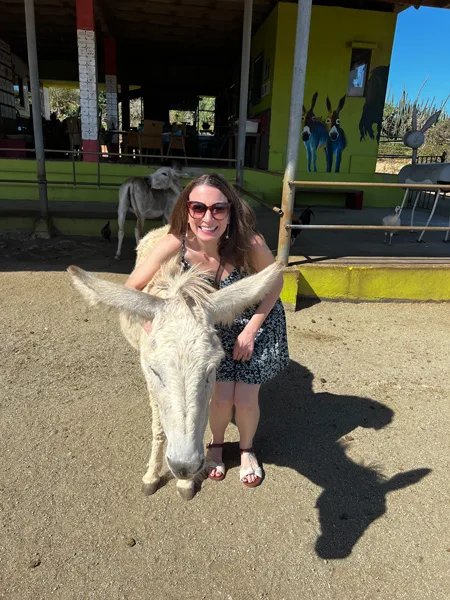 Over 500 years ago, the Spanish brought donkeys to Aruba, mainly for transportation. Arubans also utilized donkeys to help them distribute water.
Over time, however, people relied on donkeys less and less, releasing many into the wild.
Then, in the 1970s, widespread illness destroyed much of the Aruban donkey population.
Along with increased traffic and, sadly, neglect and abuse, that's where the Aruba Donkey Sanctuary comes in, rescuing the dwindling, injured, but still remaining population.
Aruba wildlife conservation and animal welfare are important.
Learn even more interesting donkey facts before you go, including their uses across the globe – and the biggest and smaller donkey, ever.
2. What is the Donkey Sanctuary?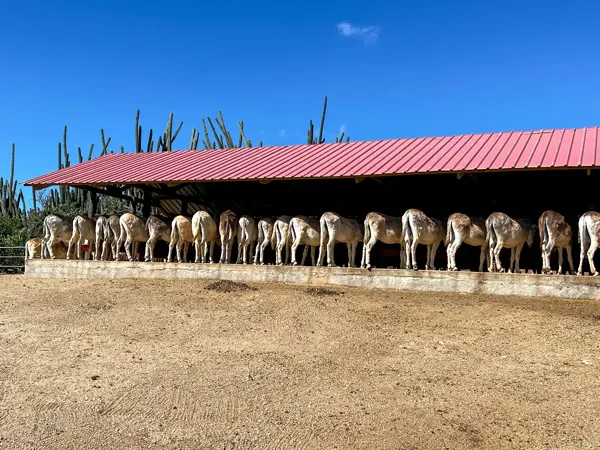 If you are looking for an Aruba animal sanctuary, the donkey farm is a great stop on any itinerary, especially if you are seeking free, educational, and fun things to do on the island that are perfect for families, couples, solo travelers, and animal lovers.
The sanctuary currently houses over 130+ members, and visitors will meet largely, but not all, free-roaming donkeys, peacocks, roosters, chickens, and farm cats.
Stroll the property, hug and pet a donkey that approaches you, and dip into the small cafe/"concession stand" and shop.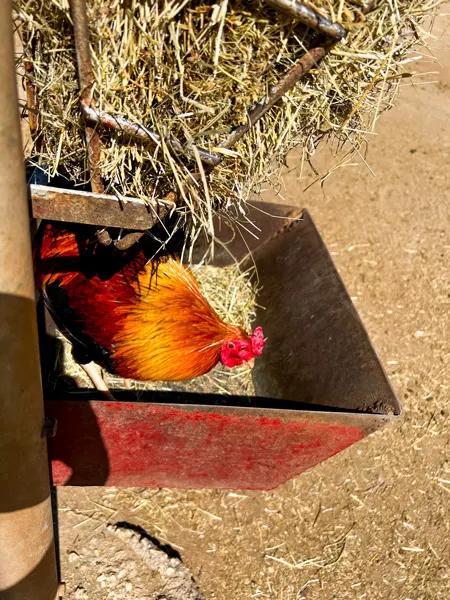 At the shop/cafe/restroom area, visitors are also allowed to purchase food to feed the donkeys from the enclosed porch.
However, the sanctuary might not be great for your Aruba itinerary if you or your party have allergies, are sensitive to animals and dirt, or are frightened by larger, free-roaming animals.
The donkeys are kind and gentle, and most will probably ignore you unless you are standing in the designated feeding area.
3. Do I need to schedule an appointment or tour?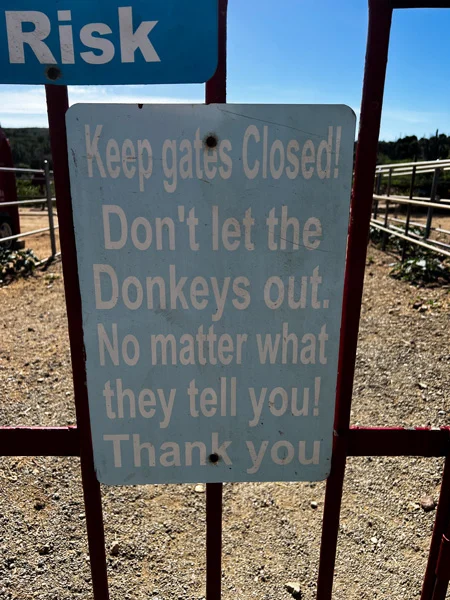 Unlike the Aruba Ostrich Farm – also a great Aruba attraction for animal lovers to learn more about ostriches – the donkey sanctuary is "self-guided."
Roll up to the dirt lot, carefully enter the farm gate without letting out any animals, and start enjoying the property.
We did not check in with staff, although you will find friendly volunteers and workers around the farm.
Since the donkey farm in Aruba is free, be sure to leave a donation in one of the many boxes around the property to say thanks and help support the Donkey Sanctuary Aruba's conservation efforts.
4. Where is the Donkey Sanctuary in Aruba?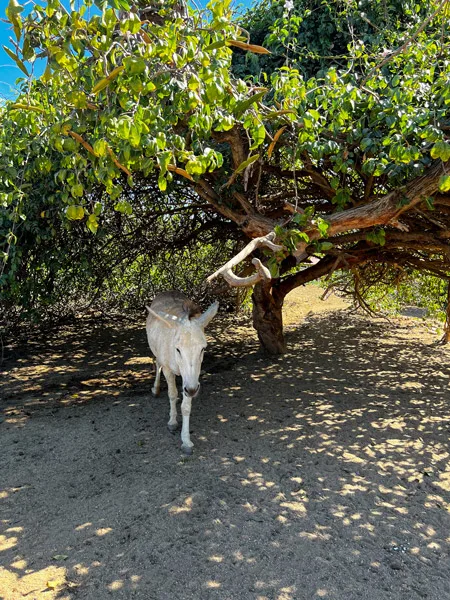 Donkey Sanctuary Aruba is located in the central part of the island past Oranjestad at Bringamosa 2-Z, Santa Cruz, Aruba.
If you are coming from the Palm and Eagle Beach area, take Route 4a for 14 km to the sign for French Men's Pass. Exert caution in those plentiful roundabouts.
Turn left onto French Men's Pass; then, take your 1st left and 2nd right. On that dirt road, you will find the lot for the Donkey Sanctuary.
It's easy and straightforward on GPS/Google Maps. We drove there with our rental car.
5. What are the typical hours for the farm?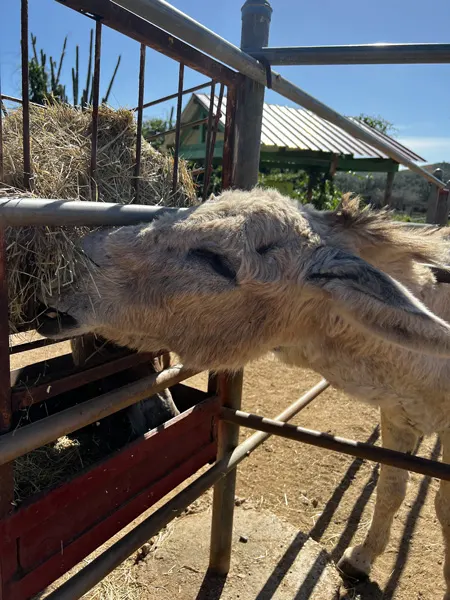 The donkey sanctuary is typically open every day from 9 AM to 4 PM, except on January 1st. Always double-check hours on their site.
6. How can I support the Donkey Sanctuary Aruba's efforts, and can I adopt a donkey?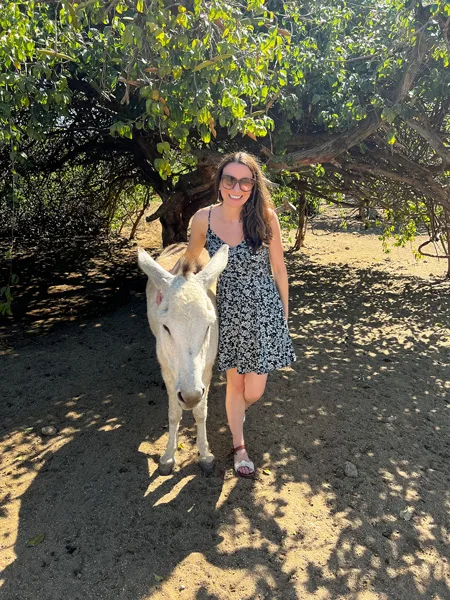 If you are looking to support the donkeys in Aruba, there are multiple ways to do so both in person and online – for companies, families, and individuals.
Along with different paid membership options to their club, Friends of the Aruban Donkeys, you might also consider adopting a donkey for the year.
The Donkey Sanctuary Aruba adoption process involves selecting your favorite donkey (photos online) and paying a fee of around $180.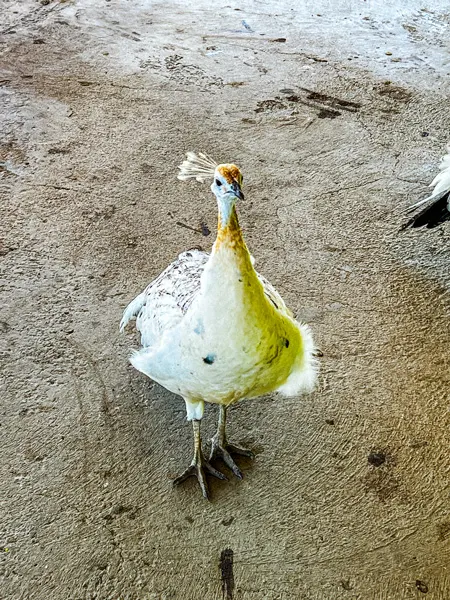 For the year, you are listed with your donkey's photo on the website (but no, you don't actually take the donkey home…) and receive updates on your new friend.
Adoption fees help pay for food, medical care, and the maintenance of the Aruba Donkey Sanctuary.
Companies may also opt to sponsor a donkey, including a logo/brand spot on their website and a banner on the property.
Any form of donation, sponsorship, and adoption helps Donkey Sanctuary Aruba's conservation efforts and the animals' welfare.
7. How long does it take to visit the farm?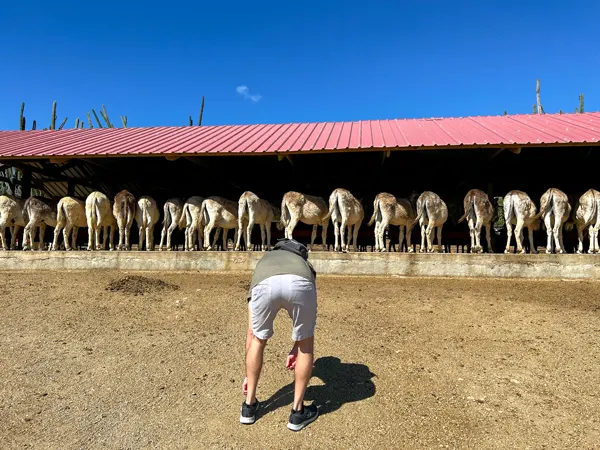 If you only have a short time to enjoy the island, expect to spend at least 30 minutes to one hour at Donkey Sanctuary Aruba – which varies depending on how many people are in your group and your interest in donkeys.
We budgeted about 30 to 45 minutes to freely explore the grounds, use the facilities, and peek in the small gift shop, which sells donkey clothing, schwag, and plushes.
Add in a few more minutes if you wish to hang out with the cats at the little concession stand/cafe, sipping coffee.
If you arrive earlier in the morning – which we did not – you can watch donkey chores and possibly even help out.
Join The Uncorked Reading Challenge Today
---
Travel around the world with the Uncorked Reading Challenge. Get the best book and movie recs straight to your inbox. Sign Up Now.
8. What should I wear to the Aruba donkey farm?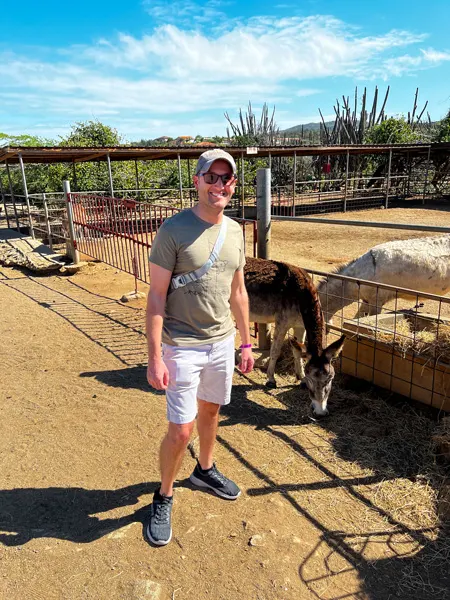 Aruba promises desert-like weather – have you seen those cacti? – and even in the milder seasons, the island is pretty warm.
Much of the donkey farm in Aruba is exposed to the elements, including the harsh sun and rain. Only the cafe, gift store, and covered feeding porch are shaded.
You may get hot or wet.
Because of the weather, we suggest dressing comfortably, casually, and practically. Wear breathable and light clothing, including cotton, shorts, and skirts.
Since you will be walking outside on a pathway as well as packed dirt with large animals milling around – with bugs, rocks, and dust – closed-toe shoes and sneakers are best.
One of us wore sandals, and it was fine. Hiking shoes are best, though, especially if you are exploring more of Aruba afterward.
Sunscreen is a must anywhere in Aruba, and you might want a hat to shade your face. Natural and safe bug deterrent isn't a bad idea either.
The Aruba Donkey Sanctuary doesn't have any rules about clothing around the animals. Please just be smart and considerate of the animals' and birds' safety.
9. What else is there to do nearby?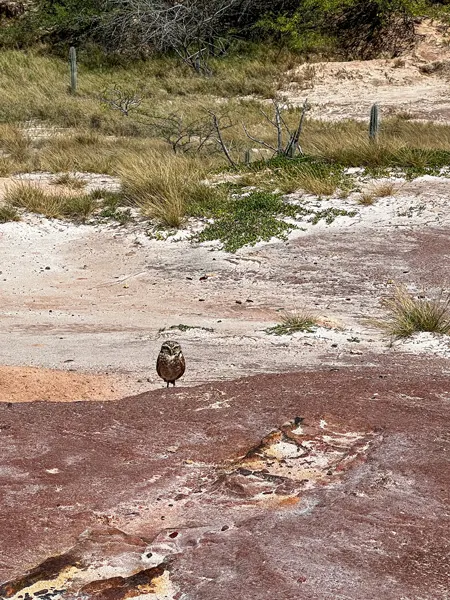 Because the sanctuary is located in the central part of the island – and Aruba is quite small and drivable – there is so much to do nearby.
After visiting the donkey farm, we drove over to the Spanish Lagoon, also known as the "Spaans Lagoen," which has been incorporated into Arikok National Park.
Unlike the official entrance area of the park, this hidden gem doesn't require 4WD to access, although you will see UTVs drive up here too.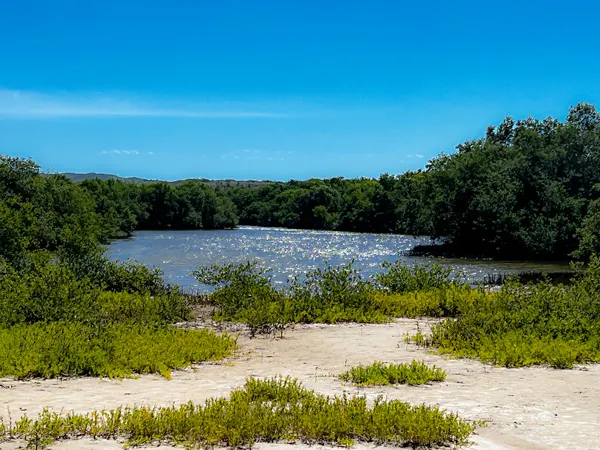 The Spanish Lagoon promises a short and easy dirt trail to a protected wetland, endangered Shoco owls, pink mud, and former Balashi Gold Mills.
Afterward, we headed to Oranjestad, the Aruban capital, for lunch at Bistro de Suikertuin, one of our favorite restaurants in Aruba for Dutch-Caribbean food.
Stroll Oranjestad's colorful streets, looking at unique architecture, before heading back to Palm Beach.
Of course, if you have 4WD – Jeep and UTV rentals are popular in Aruba – head deeper into Arikok National Park to spy cool land and rock formations, including cave pools, and the Aruban shore.
Aruba Donkey Sanctuary Information:
Address: Bringamosa 2-Z, Santa Cruz, Aruba
Website: http://main.arubandonkey.org/portal/
Email: e-mail@arubandonkey.org
Save This Guide For Later: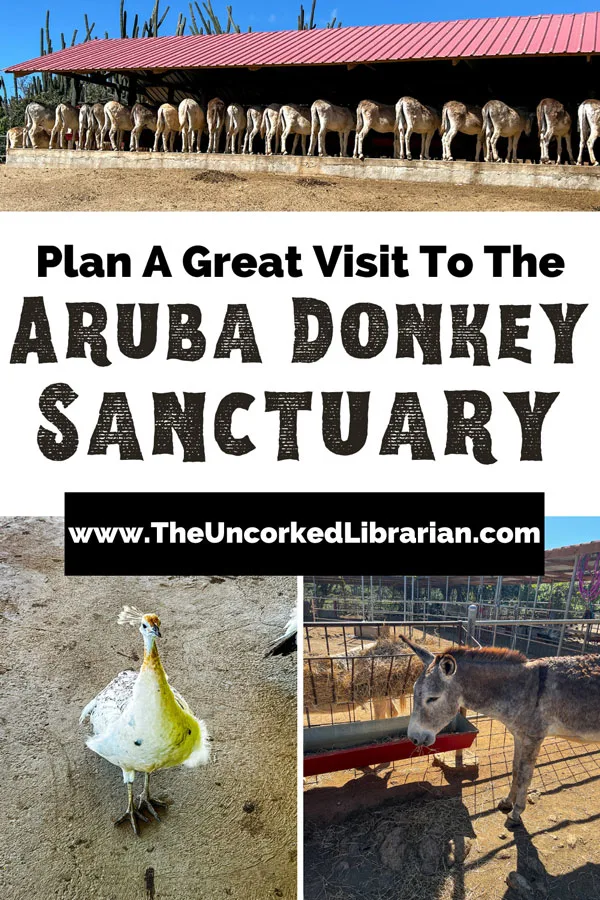 Have you visited the Aruba Donkey Sanctuary? What did you think?
Do you love animal travel and conservation as much as we do? Have you been to see the donkeys in Aruba?
What was your experience? What did you do afterward?
To get you in the mood for your travels, you might also enjoy these Caribbean movies to take you there and teach you more.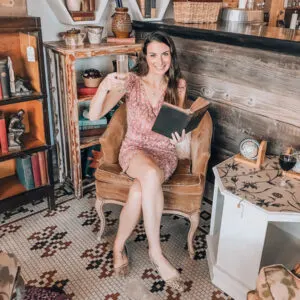 Christine (she/her) is the owner, lead editor, and tipsy book sommelier of The Uncorked Librarian LLC, an online literary publication showcasing books and movies to inspire travel and home to the famed Uncorked Reading Challenge.
With a BA in English & History from Smith College, an MLIS from USF-Tampa, and a U.S. Fulbright Fellowship in Christine's back pocket, there isn't a bookstore, library, or winery that can hide from her. Christine loves brewery yoga, adopting all of the kitties, and a glass of oaked Chardonnay. Charcuterie is her favorite food group.