Aruba Ostrich Farm: 10 Great Things To Know To Plan Your Visit
Are you thinking about visiting the Aruba Ostrich Farm? Here are just a few great things to know to plan the perfect visit.
Aruba to our North Carolina home is just under a 4-hour flight, which makes it an easy and great destination for warmer weather and gorgeous beaches.
We aren't the type of travelers who can sit still for too long either, so you can bet that we rented a car to tour the island from top to bottom.
Aruba is full of natural, free, and ticketed attractions, and after visiting the Aruba Donkey Sanctuary, we debated visiting the ostrich farm.
While the donkey sanctuary has rescued donkeys and is donation-based, the Ostrich Farm in Aruba requires an admission ticket and is a working farm.
Ostriches are not native to Aruba, but they are well-kept and loved on the farm along with emus, peacocks, chickens, and ducks.
So, is the Aruba Ostrich Farm worth a visit? We think so, especially to learn more about these impressive and rather fascinating birds.
Plus, the farm is a family-friendly Aruba activity and has an on-site restaurant and shop. There are a lot of great things to do nearby too.
Below, uncover the top ten things to know about the farm to plan the best trip. Let's get started!
Discover all of our Aruba Travel Guides.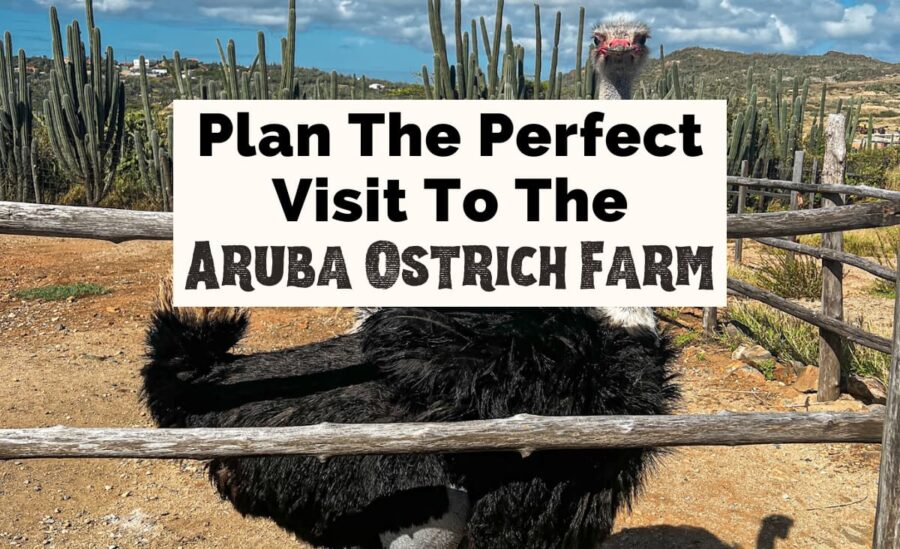 10 Great Things To Know Before Visiting The Aruba Ostrich Farm
1. What is the Ostrich Farm?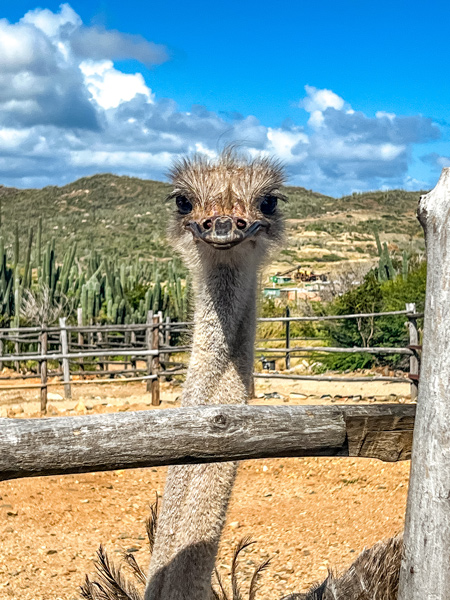 One of the most unique things to do in Aruba, we greatly enjoyed our visit to the Aruba Ostrich Farm, which is one of the island's top attractions.
Here, visitors will find well-kept "farm" animals, an ostrich mural, an on-site restaurant serving food and smoothies, and an art and souvenir shop.
Take a guided tour to learn cool ostrich facts – they are the largest bird species on earth – as well as interact with the ostriches.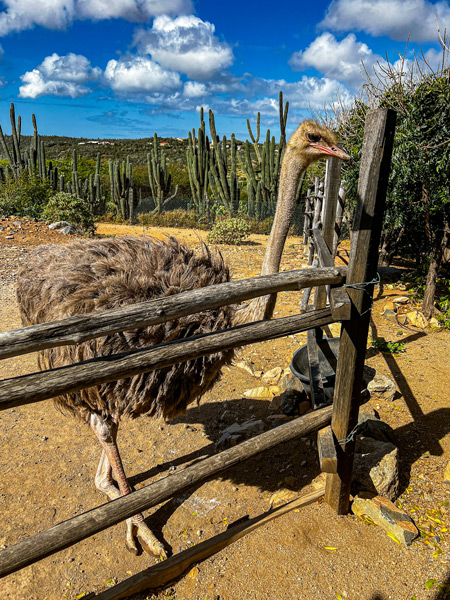 The farm is especially great for families and animal lovers who are not bothered by or allergic to farms, animals kept in captivity, or domesticated animals.
Know that ostriches are not native to Aruba; they come from Africa but live on farms across the world for both their meat and eggs.
The farm is a chance to learn more about their anatomy, behavior, personalities, and habits while maintaining a safe distance from their powerful kicks.
2. Where is the Ostrich Farm in Aruba?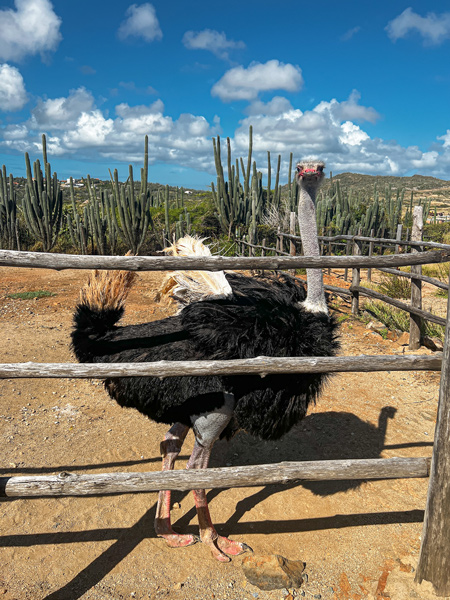 The ostrich farm sits on the east side of the island opposite the main resort areas including Palm and Eagle Beaches and along the road leading to the Natural Bridge, Rock Wish Garden, and a natural cave pool, just before the Bushiribana Ruins.
The farm is accessible by car – which doesn't have to have 4WD like other parts of the island – tour bus, and UTVs.
The ostrich farm has a dirt and gravel lot out front with ample parking; we visited during peak season and suggest going at opening (10 AM) to avoid any crowds.
For GPS, the address is Matividiri 57, and their phone number is +297 585 – 9630.
The farm to our hotel in Palm Beach was about 20 minutes by car and 12 miles away.
3. What are the typical hours & costs for the farm?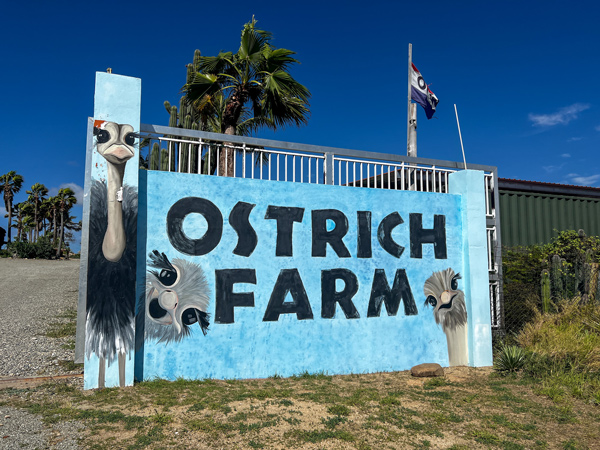 While hours and prices are subject to change – please always double-check information directly with the business – the Aruba Ostrich Farm is typically open daily from 10 AM to 4 PM with the last tour leaving at 3 PM.
Tickets are $15+ for an adult and $8+ per child. Tours leave every hour, and advanced reservations are not required (we did email them just to check in).
Kitchen hours are 11:30 AM to 2:30 PM with prices ranging from $7 to $24, and the souvenir shop will stay open until closing at 4 PM.
4. What can I see and do there?
One of the best things to do at the Ostrich Farm in Aruba is to take the 45-minute guided tour to see the ostriches, emus, ducks, and peacocks.
With just the two of us, the tour was under 30 minutes.
A friendly and knowledgeable guide will open the ground's gate and walk you behind the scenes of the farm to meet the animals, specifically those massive ostriches.
Walk a loop around the property meeting male and female ostriches – we even saw a juvenile – learning how they mate, eat, and don't actually bury their heads in the sand.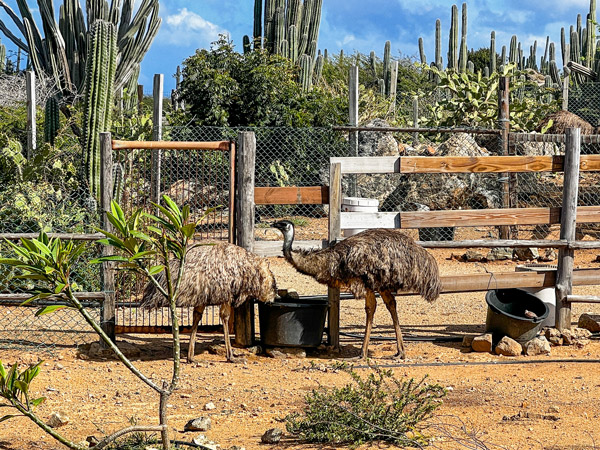 Ask questions and hold the shell of an ostrich egg.
Hungry peacocks might follow you around knowing that typically an ostrich or two will get fed on the tour, and emus will keep an eye on you from behind their enclosure.
Peacocks freely walk the grounds, letting everyone know they are there with their vocal cords.
Because tours leave on the hour, you'll want to plan accordingly but can also spend time browsing the souvenir shop and grabbing a bite to eat.
There are also nice on-site facilities for bathroom breaks and handwashing.
5. Can I feed the ostriches at the Aruba Ostrich Farm?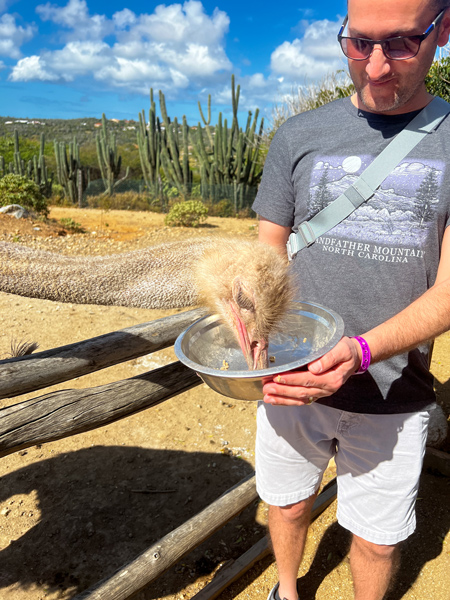 Yes, you might just be given the chance to feed the ostriches at the farm – if you dare.
Both of us were given a metal bowl filled with feed and watched as an ostrich pounded away at it, which was an unnerving yet neat experience.
We've fed and held rescued raptors in Croatia, but these ostriches instilled quite a healthy fear of large birds in us.
You get a taste of how powerful their beaks and necks really are.
6. Do I have to take a guided tour?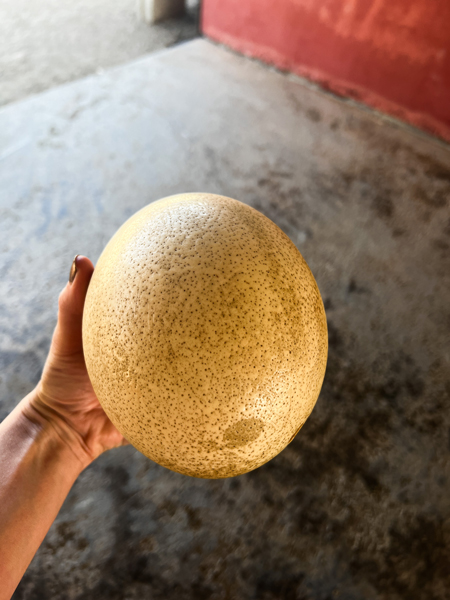 If you want to see the ostriches and emus at the Aruba Ostrich Farm, you will have to take a guided tour for both your safety and the birds'.
Otherwise, the only birds you might see are the wandering peacocks along with a few Aruba Whiptails (colorful lizards).
However, visitors may just drop into the shop, restaurant, and bar – but you'd be missing most of the educational experience.
We highly suggest the guided tour.
7. How long does it take to visit the farm?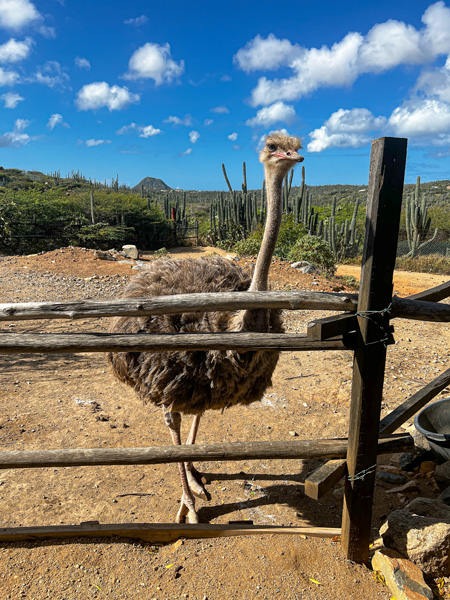 If you only have a short time to explore the area, expect to spend at least one hour at the Ostrich Farm in Aruba.
We budgeted about 30 to 45 minutes for the tour, which varies depending on how many people are in the group, and another 15 to 20 minutes to enjoy the shop and use the facilities.
If you are dining there and hanging out in the restaurant/bar area, add another 30 minutes to an hour to enjoy a snack, drink, or meal.
We decided not to eat at the farm's restaurant as we had a full self-guided driving agenda that day.
8. What can I find in the gift shop and at the restaurant?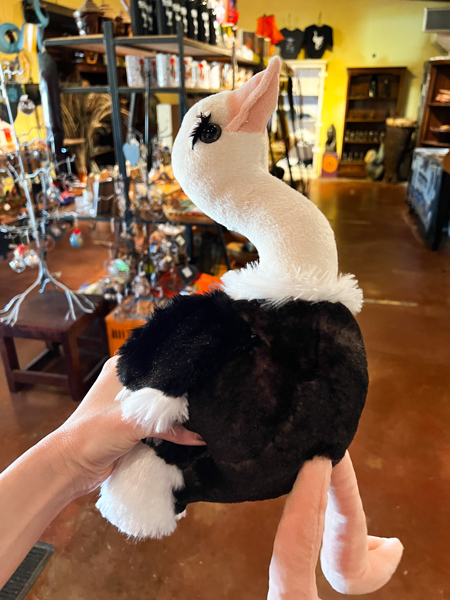 Which brings us to the Aruba Ostrich Farm's Savana Bar and Restaurant: did you know that you can try an ostrich or emu egg (when they are in season)?
Whether on its own or part of a platter, this unique experience will be a bit pricy and require an advanced reservation – but hey, bucket list item?!
However, visitors can also enjoy a more traditional lunch with salads, burgers, BBQ pulled pork, and grouper – with vegan and vegetarian options.
To drink, find shaved ice, fruit and boozy smoothies, and local beer.
Then, head into the souvenir and art shop for ostrich plushes and paintings, local art and jewelry, and kitschy trinkets to commemorate your time on the farm and in Aruba.
Discover even more spectacular Aruba restaurants.
9. What should I wear?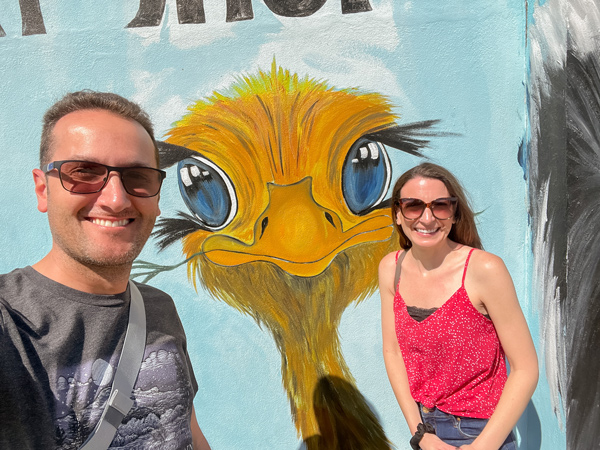 With Aruba's desert-like weather, even in the milder seasons, it grows toasty across the island.
While the open-air restaurant/bar and enclosed shop are shaded, know that the guided tour is mostly outside and unshaded. You may get hot.
Because of this, we recommend dressing casually, comfortably, and practically. Wear light and breathable clothing like cotton, shorts, and skirts.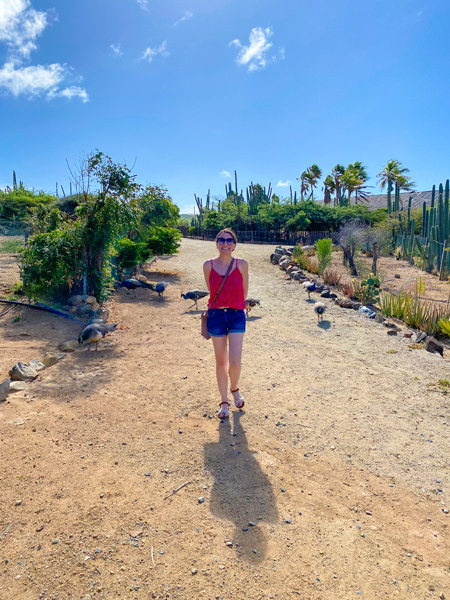 Since you will be walking outside on a dirt pathway – with rocks and dust – closed-toe shoes are best. But, if you know us, we stink at this, and we wore sandals.
Hiking shoes and sneakers are even better, especially if you are exploring more of the Aruban east coast that day.
Sunscreen is a must, especially if you burn easily, and you might want a hat to shade your face.
The Aruba Ostrich Farm doesn't have any rules about what (not) to wear around the ostriches, but loose or dangly accessories aren't the best idea around any animals.
10. What else is there to do nearby?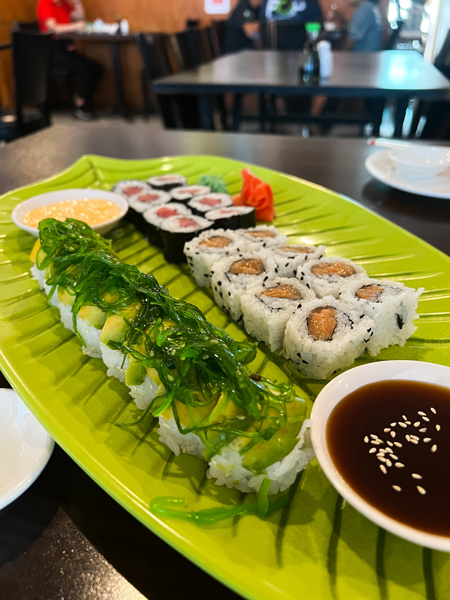 Since the farm is located in the central-eastern part of the island, you'll find plenty of nearby things to do.
We started our day at the Ostrich Farm in Aruba and then headed toward Santa Cruz and the Bushiribana Gold Mill Ruins.
Here, spy the coast along with the crumbling ruins of a once-thriving 19th-century gold mill.
Nearby, you'll also find a newer natural cave pool that many UTVers will line up to jump in.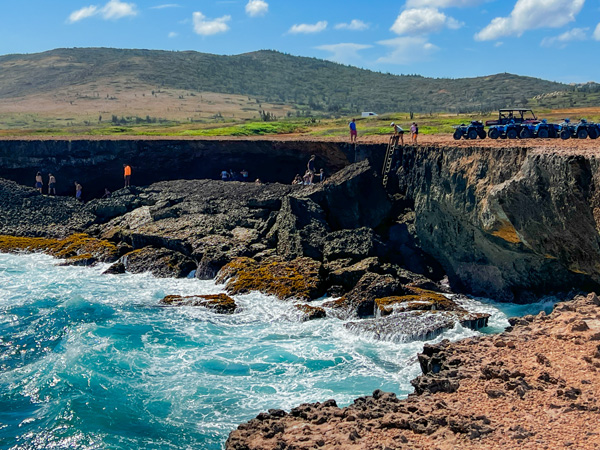 Of course, the Natural Bridge and Arikok National Park are nearby, but you will need a Jeep or UTV to navigate the bumpy terrain.
People hike, bike, and explore the historical sites in the park. There is also horseback riding around the coast.
From the ruins, we headed out for a sushi lunch at Yami Yami before heading to Eagle Beach to see the famous Fofoti trees and walk along the beach.
We ended our road trip with a stop at Aruba's Butterfly Farm before laying out on Palm Beach for the remainder of the afternoon.
Aruba Ostrich Farm Information:
Address: Matividiri 57, Paradera, Aruba
Website: https://www.arubaostrichfarm.com/
Email: [email protected]
Phone Number: +(297) 585-9629
Save This Guide For Later:
Have you visited the Ostrich Farm in Aruba? What did you think?
While we tend to only visit places that rescue and rehabilitate animals, we are not personally opposed to humane farms with well-kept and loved animals.
We have cats, we ride horses, and we'd love to own a little farm with chickens, pigs, and donkeys.
The Aruba Ostrich Farm is a great opportunity to learn about these incredibly interesting birds that you may never encounter elsewhere.
Talk with knowledgeable and caring guides, grab a smoothie, and bring a big-eyelashed ostrich plush back home for your best friend.
Is the Ostrich Farm in Aruba worth a visit? We think so!
Have you visited? What did you think? Do you have any questions about our experience there?
You May Also Appreciate…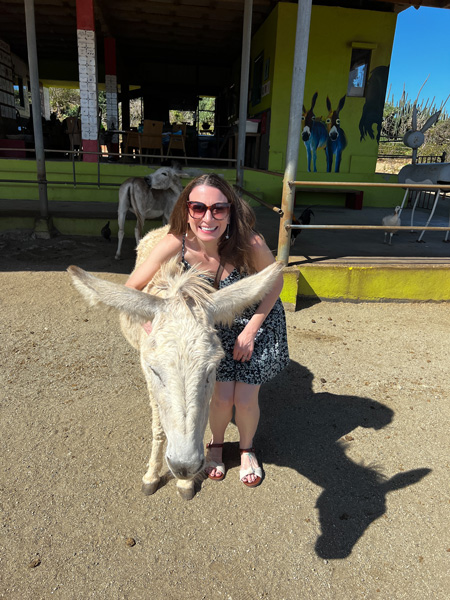 And, if you are looking for places in Aruba that support animal welfare and wildlife conservation, we highly recommend a visit to the free/donation-based Aruba Donkey Sanctuary.
Learn donkey facts and interact with rescued donkeys and farm cats. The donkey farm is great for the entire family.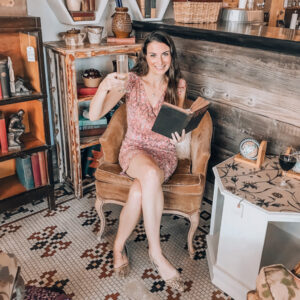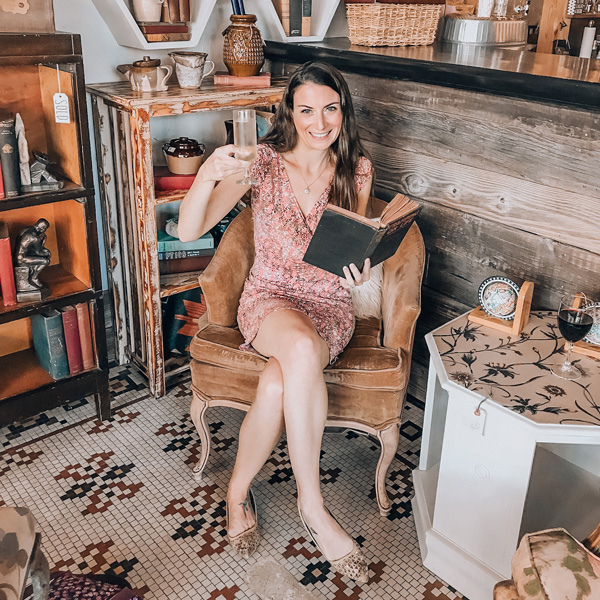 Christine (she/her) is the owner, lead editor, and tipsy book sommelier of The Uncorked Librarian LLC, an online literary publication showcasing books and movies to inspire travel and home to the famed Uncorked Reading Challenge.
With a BA in English & History from Smith College, an MLIS from USF-Tampa, and a U.S. Fulbright Fellowship in Christine's back pocket, there isn't a bookstore, library, or winery that can hide from her. Christine loves brewery yoga, adopting all of the kitties, and a glass of oaked Chardonnay. Charcuterie is her favorite food group.