11 Delicious Aruba Restaurants For All Types Of Diners
Head to these fantastic Aruba restaurants for rooftop views, local sushi, drinks on the beach, takeout, drunken desserts, and more!
It's no secret that after years of living in Asheville, NC, known as "Foodtopia," we've become quite the foodies.
Which is why when we landed in Aruba, we had to eat all of the things.
What are some of the best restaurants in Aruba that we ate at and loved? How about the places our Uncorked Readers recommend?
Let's just say that we enjoyed one gorgeous rooftop dinner watching the sun go down over Palm Beach with violin music in the background. Jupiter and Venus even peeked out.
We devoured Dutch-Aruban cuisine with Indonesian flavors in Oranjestad and washed down fresh fish with the most delicious sangria on Baby Beach.
Can we talk about all of that schnitzel and German beer?
And, how about those restaurants in Aruba serving up alcohol-infused desserts, sushi, tacos, and vegan and gluten-free cuisine?
We are a half-gluten-free and fully lactose-intolerant household, after all. Tom has Celiacs and Christine UC.
So, keep reading for all of our top places to eat in Aruba as seasoned travelers with a few dietary restrictions.
Because so many people stay around northern Aruba, we also focused on more restaurants here.
Lastly, we know that our "best" might not be yours, so please share your favorites in the comments. Let's get started!
Be sure to check out these fun things to do in Aruba.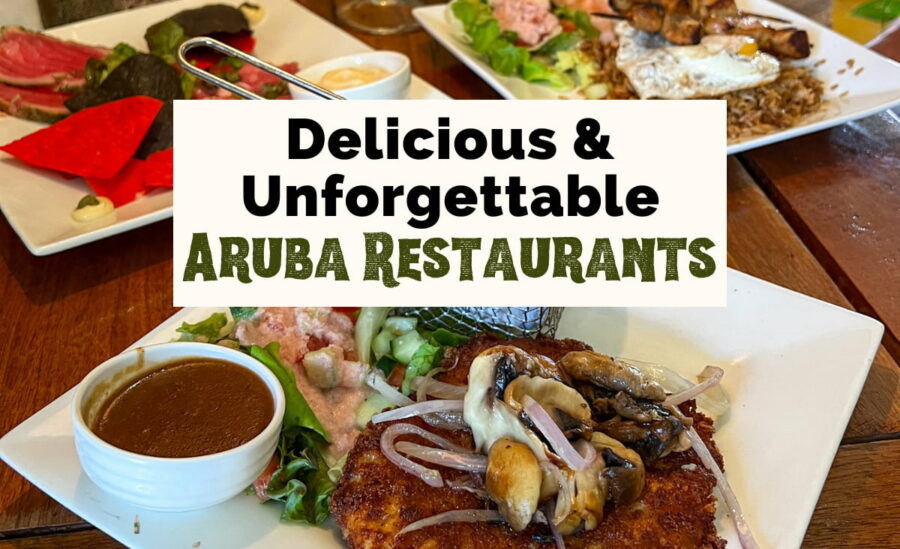 11 Terrific Aruba Restaurants (& More!)
Bistro de Suikertuin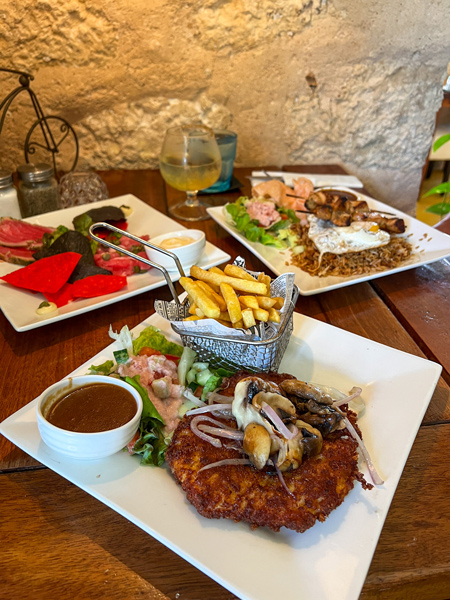 If you are wondering where to eat in Aruba, especially around the capital city, we have just the place for you.
In fact, Bistro de Suikertuin might just be our top pick for restaurants in Aruba, specializing in Dutch-Aruban food with Asian influences.
Located in a former historic residence on one of the oldest streets in Aruba, you might just want to move in. Bistro de Suikertuin boasts all of the charm, terrific service, and delicious cuisine.
With a menu labeled for gluten-free and vegan/veggie dinners, find late breakfast/brunch, lunch, and dinner options.
Bistro de Suikertuin's brunch menu features items like lox, egg and meat platters, and croissants with jam.
We came for lunch and had to order that chicken schnitzel along with a raw tuna special.
Not to mention after living in Indonesia for a year, we could not pass up a plate of nasi goreng topped with an egg and satay and paired with kroepoek.
Of course, find more lunch and dinner options including a variety of salads, soups, burgers, and sandwiches. For larger entrees, enjoy chicken curry, cream pasta, and steak with shrimp.
Sit out front people-watching, inside the quaint restaurant at a table or around the bar, or outside on the airy back patio. Relax with a limoncello spritzer.
Bistro de Suikertuin | Wilhelminastraat 64, Oranjestad, Aruba
The Vue Rooftop Aruba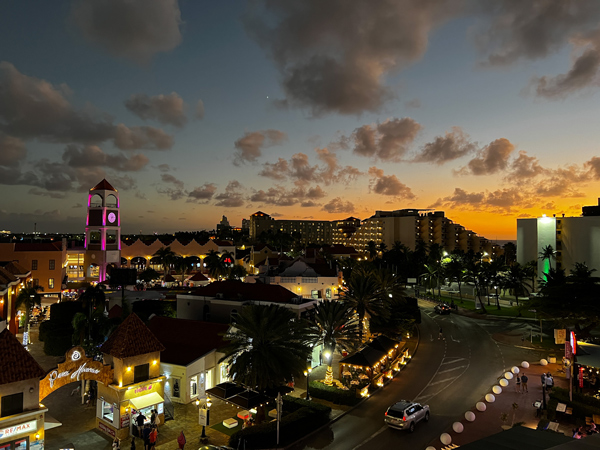 Have you ever made dinner reservations while sitting on the plane to your destination?
Since we aren't big vacation over-planners, we do this a lot, even with The Vue Rooftop Aruba. For romantic rooftop restaurants in Aruba with stellar sunset views over Palm Beach, this is it.
Imagine sitting at a table overlooking Palm Beach – just across from the Holiday Inn Resort – as the sun descends over the entire bustling party area. We loved the violist playing fun covers too.
Start with a classy cocktail, fun shot, or tropical drink to toast to another day of exploring beautiful Aruba.
There are so many delicious appetizers, we had to try the calamari and yellowfin tuna crudo. We also eyed fried Brussels (we made them a dinner side), Asian skewers, and charcuterie.
Mains include those fancy steaks, chicken, lamb, lobster, tuna, salmon, pasta, and the catch of the day paired with a variety of veggie sides – vegan/veggie and gluten-free items labeled.
We highly recommend making advanced dining reservations here, although you might just catch a seat at the large bar.
We'd consider The Vue Rooftop one of the best places to eat in Aruba for date night.
The Vue Rooftop Aruba | J.E. Irausquin Blvd 384-A, Noord, Aruba
Garden Fresh Café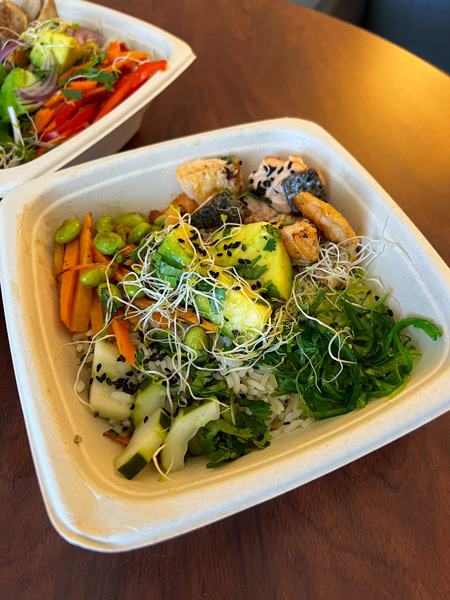 As two very lactose-intolerant travelers, we made a list of Aruba restaurants with vegan options before going; we aren't vegan but we love this safe-for-us, healthy, fresh, and delicious cuisine.
Located in the Playa Linda Beach Resort – technically, it's part of the hotel but before the entrance – Garden Fresh Café is absolutely perfect for this, serving organic breakfast, lunch, dinner, and beverages.
Signature breakfast dishes include items like acai bowls, avocado toast, yogurt filled with berries, and croissants.
Garden Fresh Café also doles out wraps, salads, burgers, paninis, fish tacos, and poke bowls.
Who doesn't love those build-your-own bowls and handheld options too – with a large variety of proteins, veggies, and sauces?
Plus, we had to order a gluten-free and vegan carrot cake with iced coffee topped with oat milk. They also have cocktails, wine, beer, and smoothies.
While we ordered takeout, enjoy indoor and outdoor seating, which if seating is wide-open, grab a coffee and hang out while you wait for food.
Garden Fresh Café is also a budget-friendly restaurant in Aruba with delivery.
Garden Fresh Café | J.E. Irausquin Blvd 87, Noord, Aruba
Rum Reef Cocktail Bar & Grill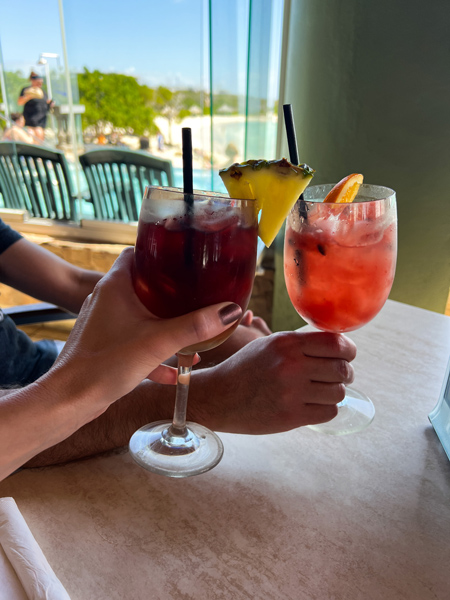 What's one of the best places to eat in Aruba along the beach? Rum Reef Cocktail Bar & Grill!
We know Palm Beach is where it is at for fist-pumping music, clubs, and endless delicious but pricy Aruba restaurants. But, what about Baby Beach?
This little (and still famous) gem sits in the southernmost part of the island, which keeps it slightly more sheltered from tourists and the cruising crowd.
Plus, imagine pulling up to glistening ombre-blue water filled with stingrays. To the far right, you'll find Rum Reef, and yes, this Aruba restaurant lives up to its namesake.
The cocktails are absolutely delicious, strong, and not all sugary. That red sangria…
Grab a table inside surrounded by massive (and mostly open) windows overlooking the beach or outside on the back deck.
Rum Reef even has a small adult-only infinity pool – with a shower – that you can pay to use and score a free drink.
Open for brunch through late lunch (5 PM but always check hours), this is one delicious beach bar-grub restaurant – that's a grade up from what you'd typically expect.
Select from salads, wings, fish sandwiches, coconut shrimp, and catch-of-the-day specials. Or, find a regular or veggie burger or grilled grouper.
Sides include heaps of fries, cheeseballs, or plantains. We also saw quite a few families with older children dining here.
Rum Reef Cocktail Bar & Grill | Baby Beach, San Nicolas, Aruba
Bavaria German Restaurant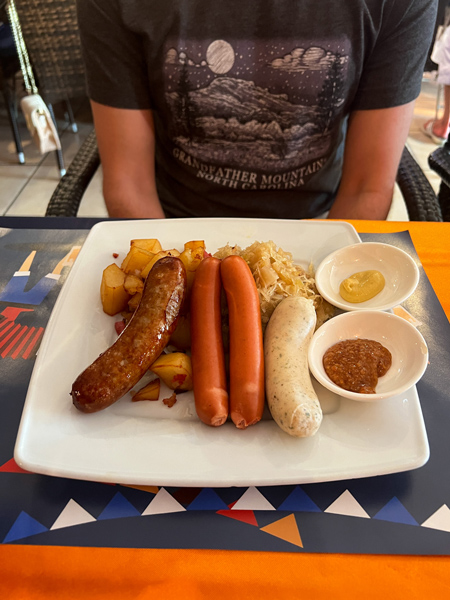 What are the best restaurants in Aruba for German cuisine? Oh my gosh, go to Bavaria – and we suggest making advanced reservations.
While people typically dine later in Aruba, this restaurant was already filling up by 5:30 PM, including a 50th Birthday celebration.
We cannot resist good German cuisine or an extensive German beer and wine list. Plus, those bright blue and orange walls are sure to make you smile.
Located in a smaller Wendy's plaza right before you enter the Palm Beach area, make hard decisions about what type of Germain meats you want to try.
Schnitzel, brats, pork, special sausages, Geschnetzeltes – you name it. Even better, they have gluten-free potato pancakes.
Order sides of red cabbage, home-fried potatoes, and steamed vegetables.
For kids, find Spätzle, sausages, and chicken tenders or wings. The service is excellent, and the prices are moderate
Their beer menu even features brews from Slovenia.
Bavaria | 3 186, Noord, Aruba
Yami Yami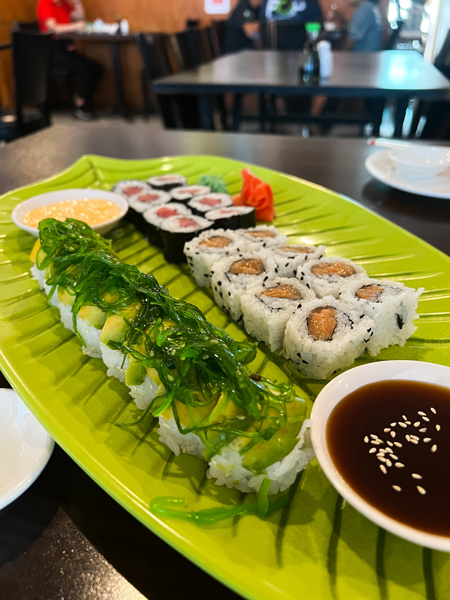 If you are looking for more local places to eat in Aruba – and love Dutch-Chinese, Indonesian, and sushi – Yami Yami is a no-frills but delicious stop between Eagle and Palm Beaches and Oranjestad.
We planned lunch here after a morning of visiting the Donkey Sanctuary and Spanish Lagoon with our eyes on the Butterfly Farm for our return to the coast.
The extensive menu and AC-filled indoor dining will not disappoint along with friendly and island-paced service.
We specifically came for the sushi, with a menu promising both traditional and specialty rolls along with sashimi and salads.
Beautifully prepared and quite fresh, we annihilated our favorite tuna and salmon rolls and loved the extra seaweed salad on top.
Other diners head here for takeout Chinese, including noodles, fried rice, and dumplings. Find all of the Chinese meats and seafood that you crave.
Yami Yami has the best of all worlds and pretty much everything you'd expect from a Chinese restaurant and more. Plus, you'll catch locals on work breaks if you head here for lunch.
Yami Yami | Bubali 69 C, Noord, Aruba
Kalin's Mexican Cuisine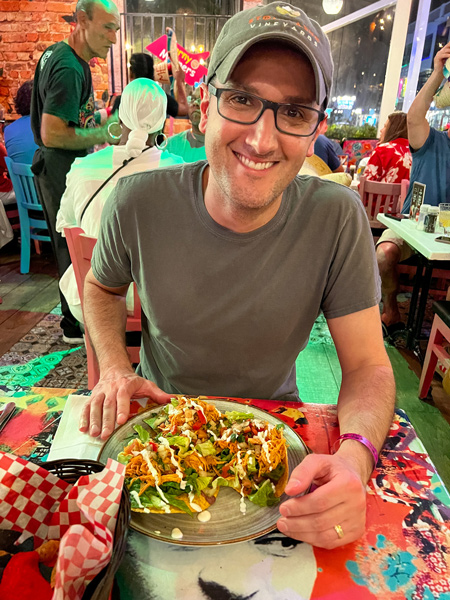 Let's be real: you cannot go to Aruba and not partake in some cheese, which is exactly what Kalin's Mexican promises – literally and figuratively.
Plus, if you are wondering where to eat in Aruba where you might not need reservations that's also a quick step away from Palm Beach, Kalin's is it. Or, get delivery.
Of course, you can make reservations online too.
Kalin's Mexican Cuisine used to be in the Palm Beach Plaza Mall but is now in The Cove Mall along J.E. Irausquin Blvd with Nikkei Sushi.
You might hear this Mexican restaurant before you see it – whether from live music or the stereos. Or, easily recognize it by the Frida decor and funny signs pointing at diners' heads.
For Mexican food in Aruba, select from mouthwatering fish tacos, guacamole and warm chips, and tostadas – our picks. The menu is labeled for GF and vegan/veggie diners.
Of course, Kalin's also has buritos, quesadillas, enchiladas, and fajitas. You know you want to order that large margarita.
Just be forewarned that as the night progresses, they might pop a sombrero on your head and shoot a sugary tequila mixture in your mouth. This is not personally our jam, but the food is worth it.
Kalin's Mexican Cuisine | J.E. Irausquin Blvd (near 384), Noord, Aruba
Take The Uncorked Reading Challenge!
Travel around the world with our Uncorked Reading Challenge. Never be late to the party with unique new book releases. Get the latest movie and book lists straight to your inbox.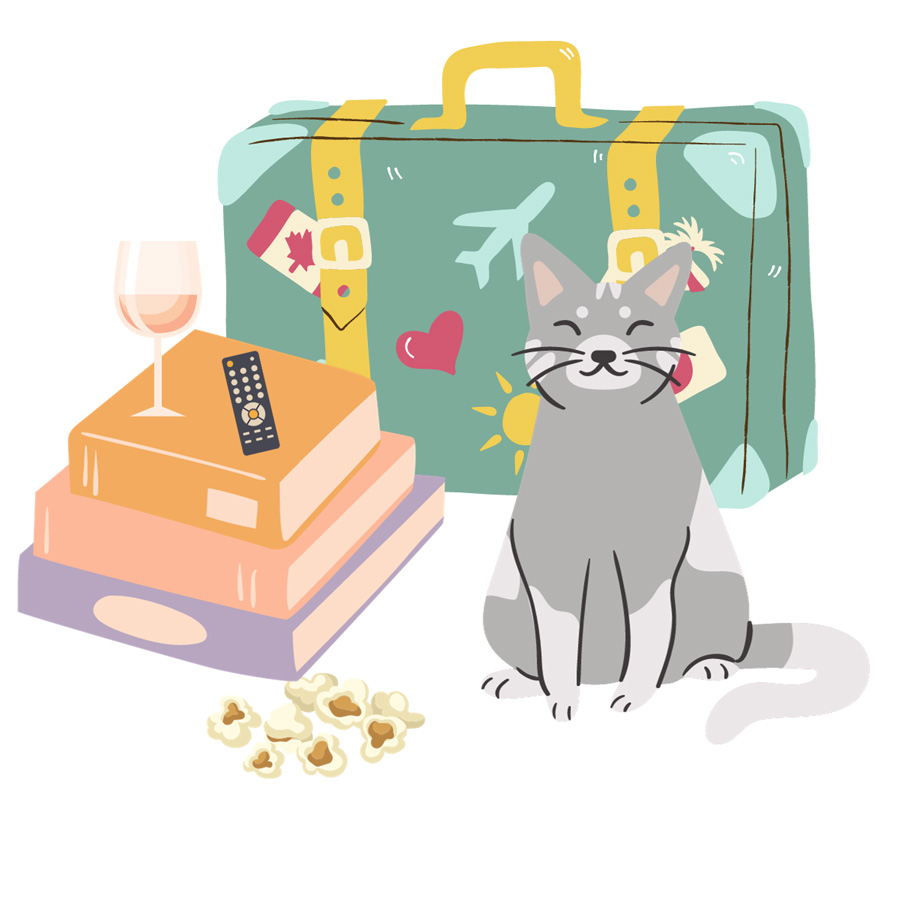 Fireson Brewery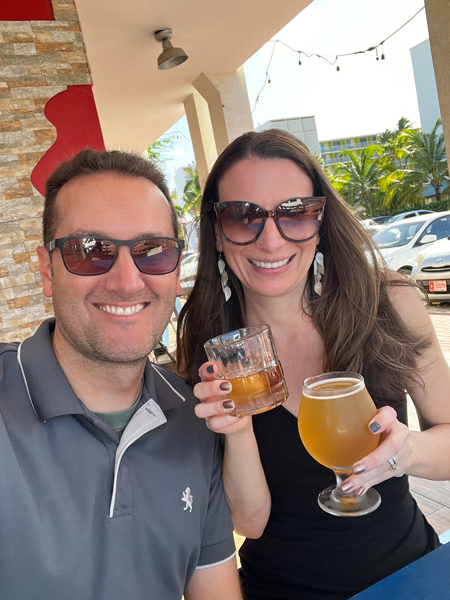 As tipsy travelers, you can bet that one of the first things we search for in a new destination includes wineries and breweries.
Fireson Brewery is the best for both beer and food in Aruba, especially as Aruba's first small-batch craft brewery.
Plus, even though it sits in a touristy area, for restaurants in Aruba near the beach, Fireson Brewery stays rather chill. We suggest going before dinner if you just want drinks.
Fireson's small beer menu frequently changes, and we caught a Vanilla Blonde along with a few IPAs. For non-beer drinkers, find wine and cocktails.
If you are in the mood for pub grub, select from fries loaded with cheese, chicken strips, Caesar salad, and croquettes. Can't decide? Order a sampler platter.
Or, choose from their wide variety of wings: honey BBQ, spicy papaya, and honey garlic, just to name a few possible flavors.
Of course, enjoy chicken, beef, and veggie burgers or quesadillas. Walks in are welcome, and Fireson also takes reservations.
Consider food to go for a beach sunset, too!
Fireson Brewery | J.E. Irausquin Blvd 230, Noord, Aruba
Nikkei Sushi Wok & Bowl Restaurant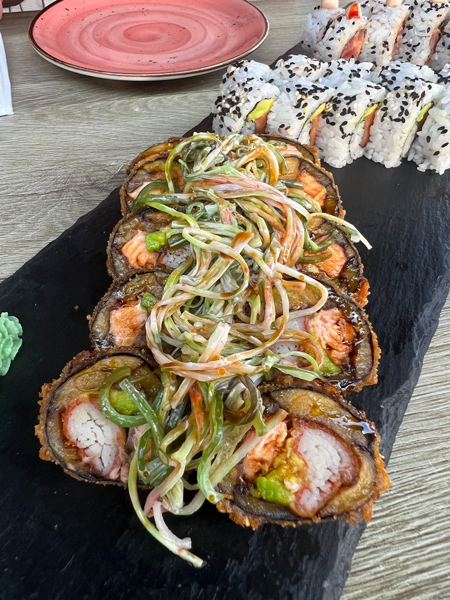 Since we think sushi and ramen should be their own food groups – just like charcuterie – it's no surprise that one of our favorite Aruba restaurants includes Nikkei Sushi Wok & Bowl.
Situated in the trendy Cove Mall, this is your go-to for amazingly fresh and mouthwatering sushi that's a bit higher priced.
Plus – and more unique to the sushi restaurants in Aruba – their food has a Caribbean flair. We loved that sushi roll stuffed with plantains and salmon.
Open for dinner, head to Nikkei for skewers, coconut shrimp, calamari, and dumplings. Select from poke bowls, ceviche, and traditional sashimi and nigiri.
Or, order ramen, stir-fries, and even steak. Plus, they have a kids' menu featuring mini sushi rolls and tempura chicken fingers.
For unique cocktails, sip on a wasabi Bloody Mary and spicy sake cocktails. Nikkei takes both walk-ins and reservations.
Nikkei Sushi Wok & Bowl Restaurant | J.E. Irausquin Blvd 384-A, Noord, Aruba
Oceanside Bar & Grill (Holiday Inn)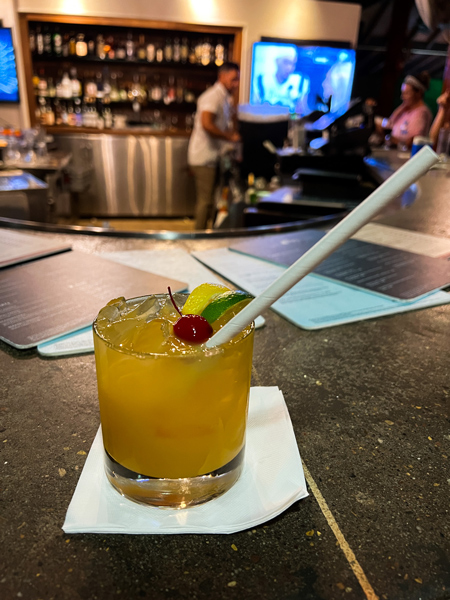 All of the hotels offer delicious and popular places to eat in Aruba – which is why we wanted to include at least one.
We stayed at the Holiday Inn Resort, a family-friendly and slightly less expensive option along Palm Beach. We did not purchase the all-inclusive package, though.
For good Aruba restaurants along the beach, they totally represent with quite a few options.
On our first night in Aruba, we started at the Sea Breeze Restaurant & Bar, which boasts gorgeous sunset beach views but requires reservations for a portion of the night.
However, that didn't stop us from getting fantastic drinks and salads at the bar (it is pricy, though).
We most enjoyed their Oceanside Bar & Grill, especially for lunch after hanging out on the beach. We enjoyed a gluten-free burger along with fish and chips.
For no-frills beach food, they also serve salads, wings, coconut shrimp, chicken tenders, tuna melts, and hot dogs, making them family-friendly.
Take advantage of the bar with beer, wine, and all of those beach cocktail favorites.
For breakfast in Aruba, Corals Restaurant was included with our stay – and that was quite the buffet spread complete with an omelet station.
Oceanside Bar & Grill | Holiday Inn Aruba Resort | J.E. Irausquin Blvd 230, Noord, Aruba
Drunk's Denial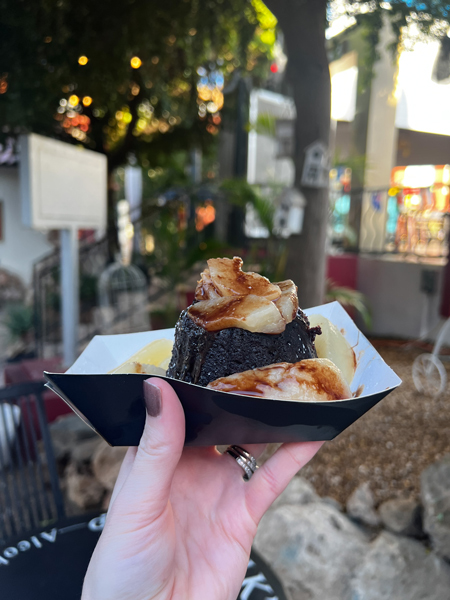 We had to end with one of the most memorable dessert restaurants in Aruba, Drunk's Denial.
This food truck called to us with its giant black and white cupcake kitchen and "drunken" sign.
Located in the quirky Paseo Herencia Mall, head here for boozy and sweet goodness.
In fact, we were so tempted by the treats, we ordered a vegan chocolate cake infused with red wine and topped with whiskey pears less than an hour before our fancy dinner reservations.
Our dessert looked so good, a couple passing by looped twice and eventually followed suit.
Think alcohol-infused everything: fruits, cakes, crepes, coffee, and syrups. It's a tipsy blogger's dream.
We saw rum chocolate fudge, bourbon apples, champagne whipped cream, and tequila and chili honey.
Imagine eating a pina colada bowl with yogurt, pina colada drunken fruit, coconut flakes, and honey or a mimosa crepe covered in champagne sorbet and whipped cream.
Drunk's Denial also has breakfast sandwiches, an egg platter, and omelets.
For beverages, find sugar-free as well as dairy-free options for coffees and milkshakes. Places to eat in Aruba don't get any more indulgent than this.
Drunk's Denial | J.E. Irausquin Blvd 382A, Noord, Aruba
More Restaurants In Aruba Our Readers Love:
Eduardo's Beach Shack
Taste My Aruba
Yemanja Woodfired Grill
Wilhelmina Aruba
Save The Best Restaurants In Aruba For Later: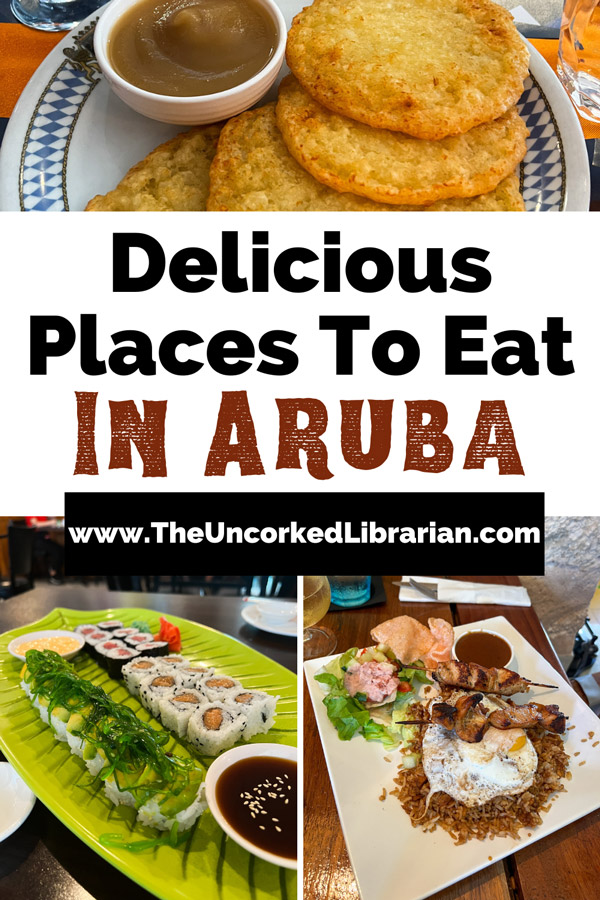 Where To Stay In Aruba
Holiday Inn Resort Aruba – Located in the heart of it all on Palm Beach, this is a family-friendly resort with all-inclusive options, a casino, multiple on-site bars, pools, and restaurants, and pretty much everything you could need on vacation.
Renaissance Wind Creek Aruba Resort – Situated in Oranjestad, Aruba's capital, enjoy adult-only as well as family lodging. Along with the spa and casino – and next to the high-end mall – visit private Flamingo Island. Just keep in mind that the hotel isn't directly on the beach and is at the cruise port.
Hilton Aruba Caribbean Resort & Casino – Another popular Palm Beach resort and casino, this beachfront property has a restaurant, bar, and water sports facilities. Eagle Beach is also close by.
Amsterdam Manor Beach Resort -Located across from Eagle Beach, you'll recognize this resort by its Dutch colonial-style architecture. We would love to stay here on our next visit.
Aruba Marriott Resort & Stellaris Casino – At sunset, we walked by this gorgeous (borderline) Palm and Eagle Beach property almost every night. They boast adult-only amenities, including a pool, and have seven on-site dining options.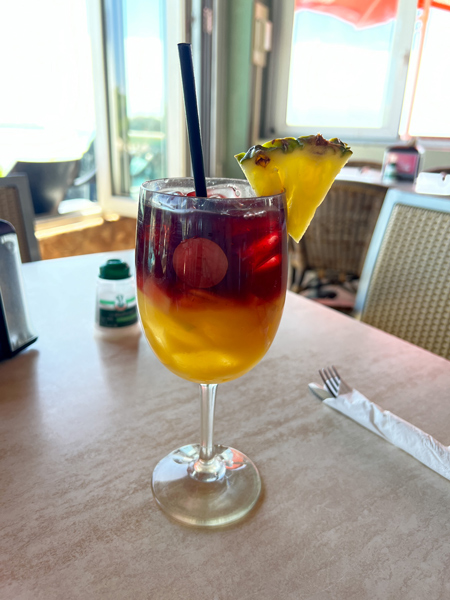 What are your favorite places to eat in Aruba?
If we had to pick our three personal best restaurants in Aruba as travelers, we'd go with Bistro de Suikertuin in Oranjestad for Aruban-Dutch cuisine and ambiance, The Vue Rooftop in Palm Beach for a romantic rooftop dinner, and Rum Reef on Baby Beach for that beach bar experience.
Also, know that the Aruba Ostrich Farm has a restaurant, Savana Bar and Restaurant, where visitors can try an ostrich or emu egg (when in season).
What are your favorite Aruba restaurants? Let us know in the comments.
Find all of our Aruba guides here.
P.S. Since we are also bookish travelers, you might also enjoy these island-set books.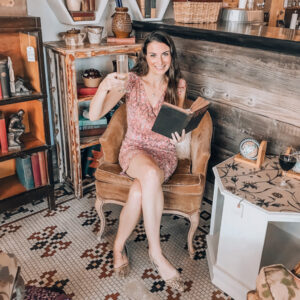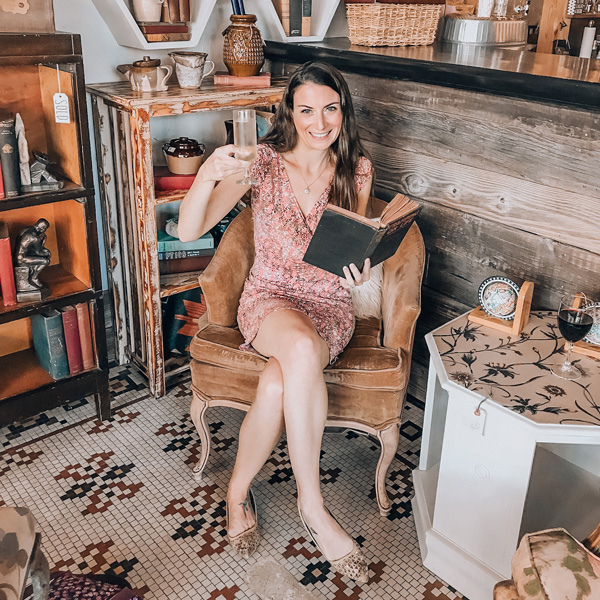 Christine (she/her) is the owner, lead editor, and tipsy book sommelier of The Uncorked Librarian LLC, an online literary publication showcasing books and movies to inspire travel and home to the famed Uncorked Reading Challenge.
With a BA in English & History from Smith College, an MLIS from USF-Tampa, and a U.S. Fulbright Fellowship in Christine's back pocket, there isn't a bookstore, library, or winery that can hide from her. Christine loves brewery yoga, adopting all of the kitties, and a glass of oaked Chardonnay. Charcuterie is her favorite food group.