What are our most anticipated June 2020 book releases? June's new and upcoming books are filled with romance, mystery, and girl power.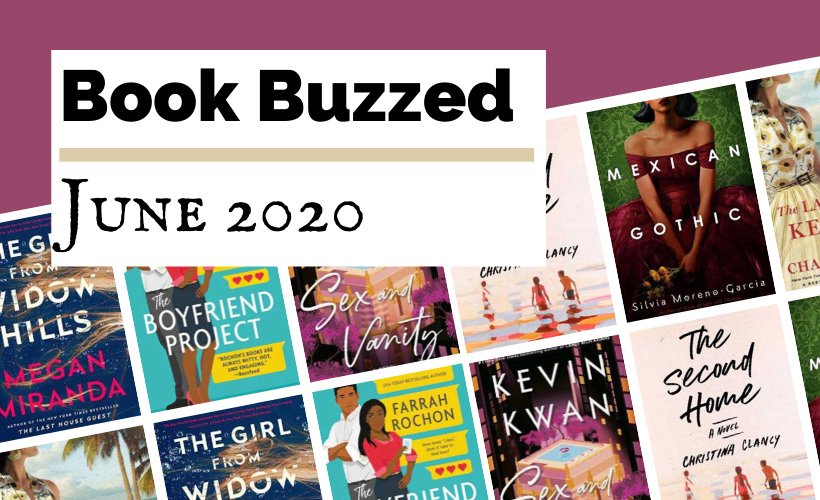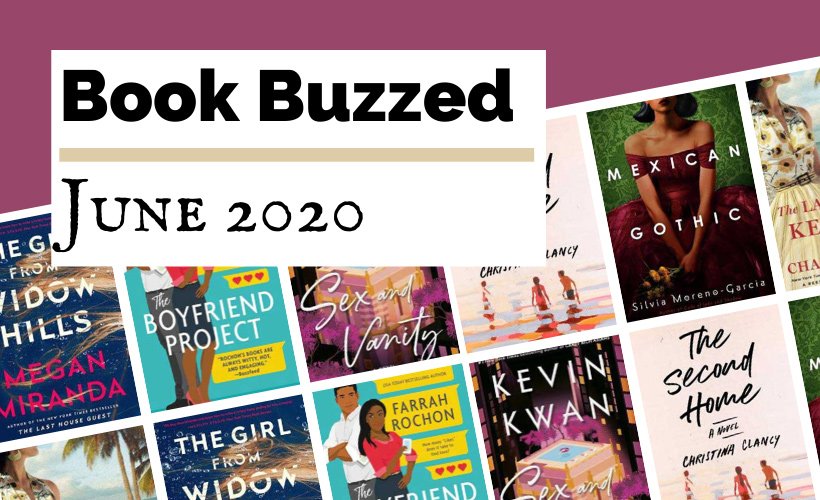 With everything that is going on in the world right now, I feel like we just skipped spring. Anyone else? And while I love the summer, I cannot believe that June is quickly approaching. What books are publishing this June 2020? Which new June releases should you check out?
Our upcoming June 2020 book releases are so eclectic and diverse this round that there is something for everyone. Bestselling author, Emily Giffin, has a new 9/11 romance out that is a little less fluff and a tad more thought-provoking. Another big name, Kevin Kwan from Crazy Rich Asians, is back with his newest title, Sex and Vanity.
If you are looking for historical gothic fiction with creepy AF magical realism set in Mexico, Mexican Gothic will WOW you. The Boyfriend Project is full of strong multicultural representation, romance, and light feminism–plus it was a BOTM selection.
Probably my favorite and most anticipated June 2020 book release is The Girl From Widow Hills, a chilling mystery with dysfunctional families–YASSSS. Bring it on!
So which new June books have we read, and what upcoming books are we eyeing for our readers? Welcome to June 2020's issue of Book Buzzed. Let's get started!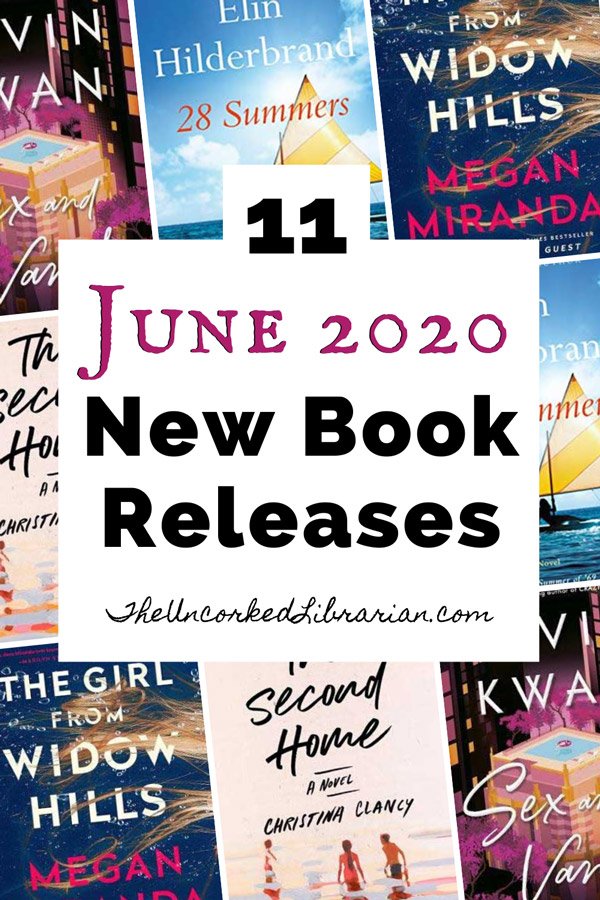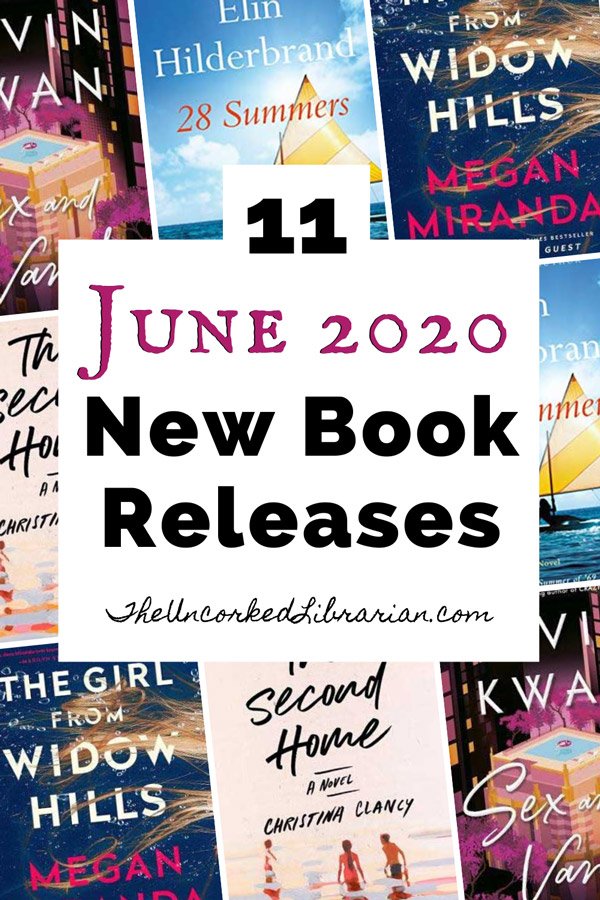 A Preview Into June 2020 Book Releases:
The Lies That Bind by Emily Giffin – A 9/11 romance set in NYC about the true meaning of love, forgiveness, and truth.
The Girl From Widow Hills by Megan Miranda – A murder mystery thriller set in my home state of North Carolina.
Mexican Gothic by Silvia Moreno-Garcia – Spooky gothic historical fiction meets magical realism in a haunted house filled with a horrific past.
The Boyfriend Project by Farrah Rochon – Rom-Com meets technology in this women's powered multicultural story about self-growth and love. You'll love the contemporary work environment.
Sex and Vanity by Kevin Kwan – The author of Crazy Rich Asians is back with a new romance, sparked on the island of Capri.
---
Join The Uncorked Reading Challenge Today
---
Travel around the world with the Uncorked Reading Challenge. Get the best book and movie recs straight to your inbox. Sign Up Now.
---
June 2020 Book Releases We Read
*Books marked with an asterisk are upcoming new June 2020 book releases and ARCs that we requested in exchange for a fair and honest review or were freely gifted/offered by the author or publisher. Please know that dates of publication are subject to change.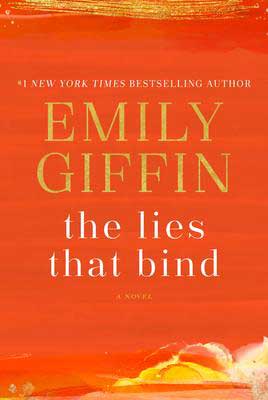 Contemporary Women's Fiction | Book Set In NYC
June 2, 2020*
CW: 9/11; It's no surprise that Emily Giffin's The Lies That Bind was one of our most anticipated June 2020 book releases. Giffin is one of those romance writers who isn't quite fluff but also provides a story you will breeze right through.
In The Lies That Bind, Cecily Gardner is recovering from a breakup with her long-term boyfriend, Matthew, when a mysterious and handsome man at the bar tells her not to call him. Over the course of shots and meaningful conversation, they snuggle in under the sheets together; yet, Cecily doesn't even know his name.
Grant happens to be a trader with a twin brother suffering from ALS. As Cecily falls quickly and deeply for Grant, he tragically goes missing during 9/11, having worked in one of the Towers. When Cecily sees his face on a missing person poster, a reporter friend calls the number. That one call alters Cecily's current reality.
A spiderweb of lies and confusing feelings is at the heart of The Lies That Bind Us. Giffin begs the question of how can we untangle deception and will the truth really set us free? Can we forgive and see our own imperfections, and is love still love even mixed with the lies? Is love ever pure?
I am honestly not sure how readers will react to the 9/11 component, but if you are looking for a classic Giffin novel with deeper themes about love and romance with a twist, The Lies That Bind won't disappoint. Amazon | Goodreads | Book Information→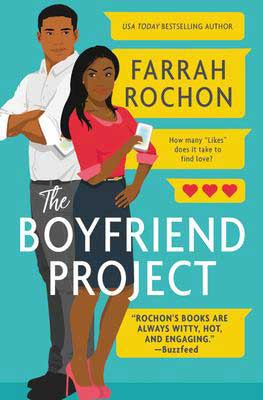 African-American Romance | Rom-Com | Book Set In Austin, Texas
June 9, 2020*
O, The Oprah Magazine named The Boyfriend Project by Farrah Rochon as one of their most anticipated romances of 2020. The Boyfriend Project is also one of May's five selected books for Book Of The Month. Is it worth the hype?
Samiah Brooks finds herself an instant viral YouTube star when she realizes that the man she's dating is also seeing a few other women at the same time. When the truth surfaces via Twitter, Samiah heads to the restaurant to give her 'boyfriend' a piece of her mind. Three of Craig's 'dates,' who are all there, snack on his sushi, tell him off, and decide to spend the evening together with some mules, becoming instant friends.
From that moment forward, London, Taylor, and Samiah decide to start "The Boyfriend Project." They form a pact to take six months off from dating to work on their own projects and hobbies. Samiah's plans are thwarted, though, as a hot new employee starts at her tech office. Little does Samiah know, Daniel is undercover.
While I am not a huge rom-com lover, The Boyfriend Project is a worthy new read for its diversity, including multicultural characters and the attention to how difficult it as a black woman to be taken seriously in the tech world. You also have women competing against women, and even Daniel faces assumptions as a Korean black man.
I loved that all of the women in The Boyfriend Project are portrayed so differently in their careers, motivations, and interests. Not all are good. The contemporary feel with Twitter, app development, and progressive work environments deserves an honorary mention, as well, along with a sexy romance. Amazon | Goodreads | Book Information→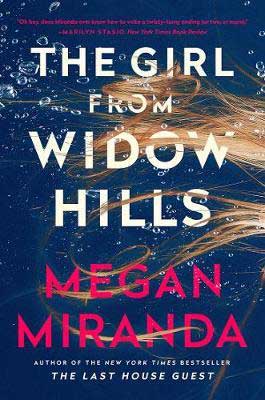 Psychological Thriller | Suspense | Book Set In North Carolina & Kentucky
June 23, 2020*
Another upcoming June 2020 book that I could not wait to read was Megan Miranda's The Girl From Widow Hills. This suspenseful mystery and thriller did not disappoint. I'm pretty sure that you will devour it too. By the end, I could feel my heart racing.
Olivia is trying to move on from her haunting past by starting over in North Carolina. With her mother recently deceased from a drug overdose and the 20-year anniversary of her famous sewer drain rescue, she's hoping to stay hidden in NC. Unfortunately, when Olivia trips over a body in her yard during a sleepwalking episode, her already precarious glass bubble smashes to pieces.
The public eye is pretty scrutinizing, and Olivia not only finds herself as a suspect but also in grave danger. Can she solve the mystery and stay hidden from what she fears the most?
There are so many well-done woven in clues in The Girl From Widow Hills that the ending will blow you away but leave you saying, OH MAN I KNEW THAT! I SAW THAT! THAT MAKES SO MUCH SENSE NOW. I couldn't recommend a more satisfying and mind-engulfing June 2020 book release. Amazon | Goodreads | Book Information→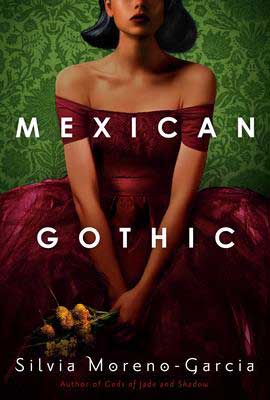 Magical Realism | Historical Gothic Fiction | Book Set In Mexico
June 30, 2020*
As for spooky and suspenseful June 2020 book releases, Mexican Gothic by Silvia Moreno-Garcia has a bit of it all: diverse literature, strong female leads, and one creepy AF haunted house.
Head to the 1950s and the Mexican countryside when Noemí Taboada receives a disturbing letter from her newly wedded cousin at High Place. High Place is like no other: the walls are filled with ghosts and a deadly history. However, is it just the drab atmosphere that is making Catalina and now Noemí feel ill, or is something more sinister at play? The home feels alive with death.
Throughout Mexican Gothic, I kept trying to guess at the poison(s) of choice, especially with hints of mushrooms and symbolic snakes in every room. However, I didn't stand a chance at figuring out the ongoings there, and the plot will entrance and entrap readers similarly to how Noemí finds herself unable to leave this wretched mansion.
Although the pacing and repetition made the novel about 50-75 pages too long for me, the details are dazzling with gore and brilliant golden darkness. Feminists will cheer along with lovers of gothic fiction. Amazon | Goodreads | Book Information→
Discover even more great historical fiction publishing this summer 2020.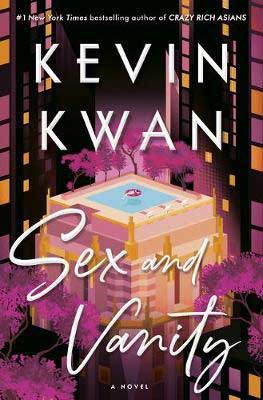 Multicultural Romance | Women's Fiction | Book Set In Italy & NY
June 30, 2020*
One of my last-minute additions and most anticipated June 2020 books includes Sex and Vanity by Kevin Kwan. I loved the Crazy Rich Asians series, and I remember picking up the first book to read at Bradley International Airport (before all of the hype). I had plowed through my other entertainment and needed something new. What a rich and wild find. Kwan writes engagingly and poignantly about Asian-American culture.
Lucie Churchill is in Capri for a wedding when she meets George Zao. Although she doesn't get him, his mother offers to trade rooms. Somehow she finds herself kissing him in the Italian ruins… Years later, they meet again, but Lucie is engaged to someone else. As much as Lucie denies her feelings for George, she cannot stay away.
Since I am just starting Sex and Vanity, I'll have the full update with my thoughts for our June 2020 issue of Currently Reading. Sex and Vanity is said to be a modern-day retelling of A Room With A View, which I read in college but for the life of me cannot remember. I got nothing. Amazon | Goodreads | Book Information→
Upcoming & Most Anticipated June 2020 Book Releases We Think You'll Love: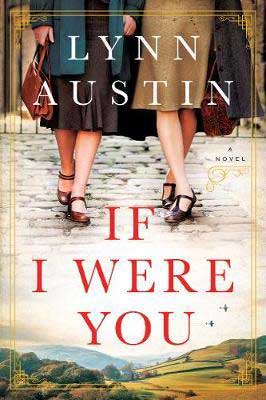 Christian WWII Historical Fiction | Friendship Fiction
June 2, 2020
If you are looking for brand new June 2020 WW2 fiction, try If I Were You by Lynn Austin. Audrey learns that her friend, Eve, has been impersonating her for the last few years. Back in 1940, Eve and Audrey had united in London during the Nazi invasion to help as ambulance drivers. A new release full of deceit, love, and friendship If I Were You sounds like intense women's fiction. Amazon | Goodreads
Find even more brand new Summer 2020 WWII Books here.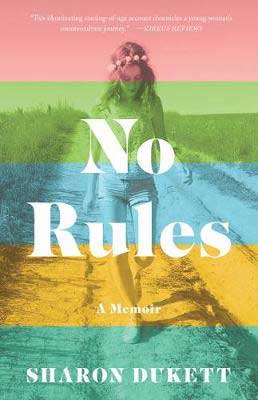 Nonfiction | Memoir | Book Set In CT & CA
June 2, 2020*
An indie press and upcoming summer memoir, No Rules by Sharon Dukett, is set in my home state of Connecticut. A coming-of-age story in the 1970s, Sharon does not want to live the life that society currently dictates for her as a woman. Instead, she decides to join the hippie bandwagon and head off to California. Living in CA on a commune is a huge culture shock, especially when she is forced to grow up more quickly with her adult choices. Sharon was a part of something growing and new along with a wave of feminism and spirituality. I'm hoping to sneak No Rules into my summer reading list ASAP. Amazon | Goodreads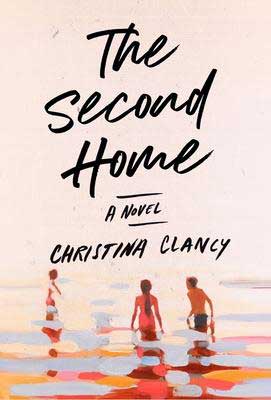 Family Fiction | Book Set In Cape Cod, MA
June 2, 2020
One of the most anticipated books releases this June 2020 that I would love to read is The Second Home by Christina Clancy. Growing up in New England, many of us are nostalgic for a Cape Cod summer. This one sounds much more dramatic, though. Ann Gordon and her brother and sister are torn apart after an awful summer on the Cape. With the death of their parents 15 years later, they must determine the fate of their home that is filled with such terrible memories. Can the process of settling the estate reunite the Gordon siblings? Amazon | Goodreads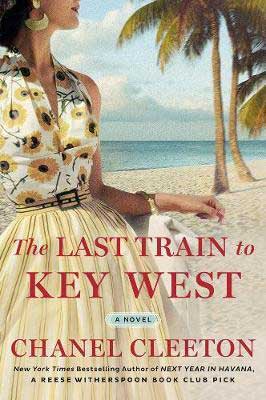 Multicultural Historical Fiction | Book Set In Florida
June 16, 2020
The Last Train To Key West is a summer 2020 historical fiction release that reminds me of summers in our Florida home: Hurricanes, galore. Set in 1935 on Labor Day weekend, three women's worlds collide as a hurricane descends upon the Florida Keys. Each woman's life is filled with trials and tribulations–war, financial ruin, and familial stress. One of these women, Mirta, is honeymooning in the Keys with her husband as part of an arranged marriage. She soon realizes that her new husband is up to no good. Amazon | Goodreads | Read more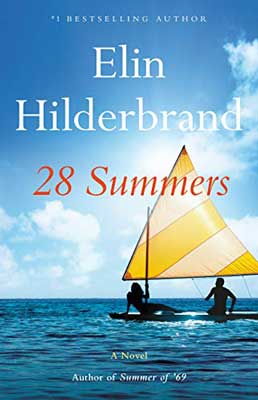 Women's Historical Fiction
June 16, 2020
Based on the film, Same Time Next Year, bestselling author Elin Hilderbrand has a brand new book out this June 2020. 28 Summers examines a one-weekend-ever-year affair in Nantucket that comes to light as Mallory Blessing is dying. Her affair with Jake McCloud certainly complicates their lives as Jake is married to Ursula DeGournsey, the woman who is currently running for President. Amazon | Goodreads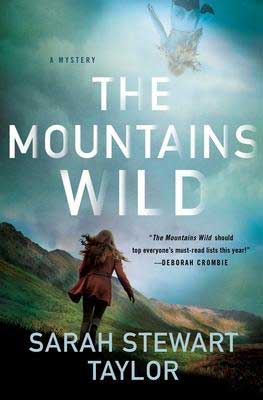 Mystery | Book Set In Dublin, Ireland and Long Island, NY
June 23, 2020
One of the June 2020 book releases that will take you abroad is The Mountains Wild by Sarah Stewart Tyler. Maggie decides to become a cop after her cousin goes missing in Dublin. Maggie had spent weeks in Ireland trying to find Erin to no avail. Although 20 years have passed, when Maggie gets a call that Erin's scarf has emerged, Maggie returns to Ireland to solve the case. Amazon | Goodreads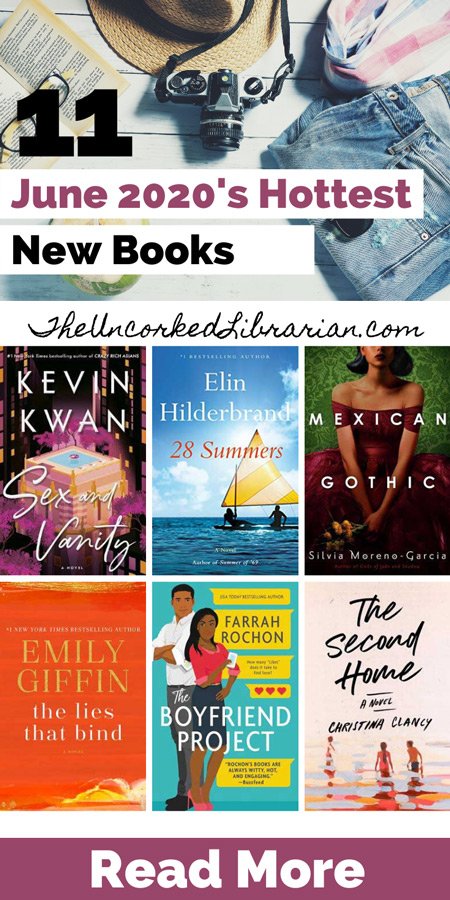 Which of these June 2020 Book Releases are you most looking forward to?
What upcoming June 2020 books are you most excited to read? Which book releases will you skip? Are you eyeing a few that we missed? What does your June and 2020 summer reading list look like?
You May Also Enjoy:
WWII Books Coming This Summer 2020
Best Summer 2020 Historical Fiction
Summer 2020 New Books You Don't Want To Miss
July 2020 Book Releases
May 2020 New Book Releases
2020's Hottest New Books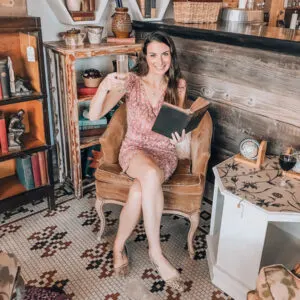 Christine (she/her) is the owner, lead editor, and tipsy book sommelier of The Uncorked Librarian LLC, an online literary publication showcasing books and movies to inspire travel and home to the famed Uncorked Reading Challenge.
With a BA in English & History from Smith College, an MLIS from USF-Tampa, and a U.S. Fulbright Fellowship in Christine's back pocket, there isn't a bookstore, library, or winery that can hide from her. Christine loves brewery yoga, adopting all of the kitties, and a glass of oaked Chardonnay. Charcuterie is her favorite food group.