Are you looking for a unique Blackberry Smash recipe? You'll love this refreshing Where The Crawdads Smash literary cocktail inspired by Where The Crawdads Sing by Delia Owens.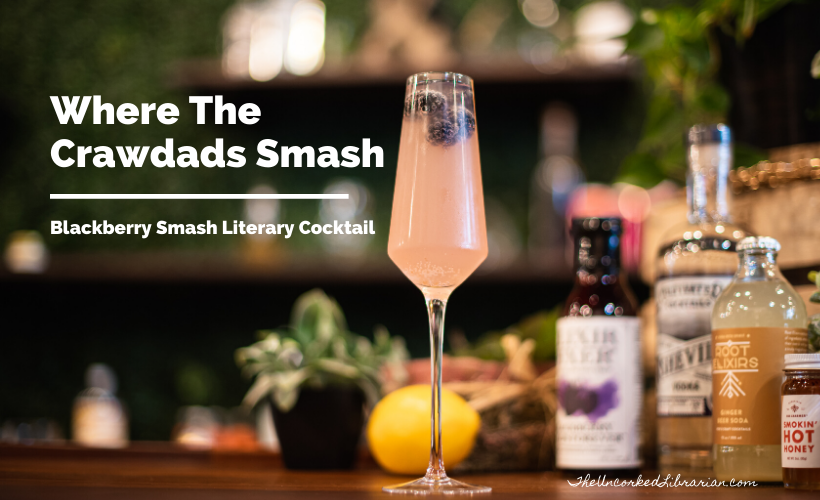 As avid book readers, I am sure that by now you've heard all of the well-deserved hype about Delia Owen's Where The Crawdads Sing. Owens transports readers to the picturesque North Carolina marshland where Kya Clark, the "marsh girl," wants nothing more than to live in peace with nature, fall in love, and gain acceptance from the community.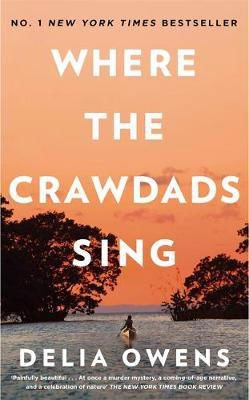 Where The Crawdads Sing takes a surprising twist when the townspeople accuse Kya of murdering beloved pretty boy Chase Andrews. A lyrical novel about prejudices and overcoming hardship that is infused with North Carolinian ambiance, we wanted to create a cocktail to honor this contemporary literary masterpiece.
What type of southern literary cocktail did we dream up? A Blackberry Smash, perfect for those warmer days with colors that match the shimmering NC night skies. Let's not forget those mouthwatering local fruits, too.
It's also no secret that The Uncorked Librarian is much better at drinking cocktails than making them. Full disclosure: I am no boozy expert, which is why I decided to seek out one of my favorite local Asheville distilleries, Cultivated Cocktails, to help design our Where The Crawdads Smash recipe with a few surprises of its own.
Let's get started:
What Is A Blackberry Smash?
If you like Mint Juleps, this Blackberry Smash recipe will sing to you. Popular in the 1800s, the [Whiskey] Smash literally originated from the idea of "smashing" (muddling or shaking) mint into the drink.
While you may choose to muddle up some blackberries for our Smash, flavored or homemade syrup will work just as well.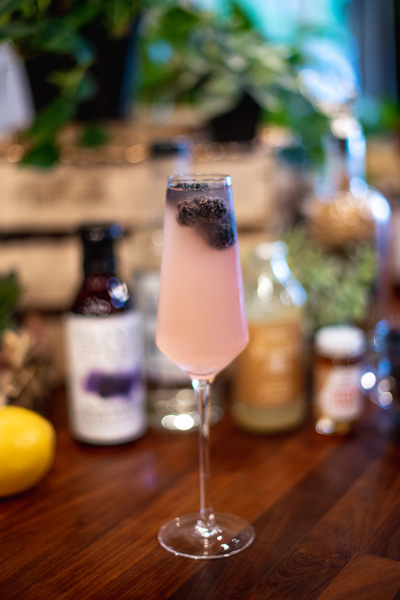 What Makes Our Blackberry Vodka Smash Different?
Our Where The Crawdads Sing inspired Smash invokes a North Carolina sunset over the mountains vibe: Find an invigorating and not too sweet fizzy pink and purple drink. Our Blackberry Smash has some spice just like the Where The Crawdads Sing plotline and our strong female protagonist.
Many people use whiskey or bourbon for the traditional cocktail, but this time, we've enlisted a smooth vodka.
We've also decided to forgo the typical rocks glass and jazz up this Blackberry Smash with a champagne flute–The Uncorked Librarian-style. We fancy over here.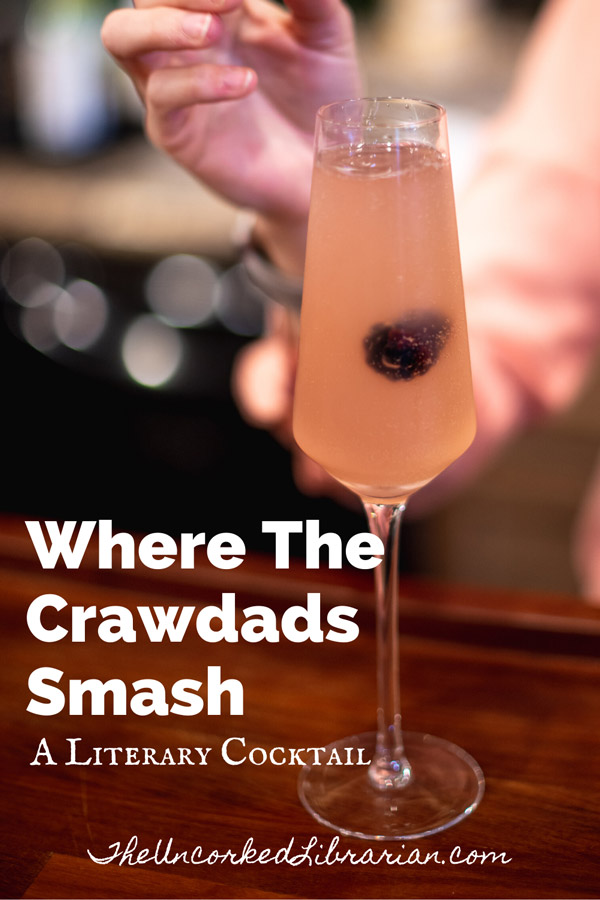 What Cocktail Tools Should You Have Handy?
Here at TUL, we are all about keeping your drinks pretty simple. Less cooking time = more reading time; right?
To make this literary cocktail you will need:
A Cocktail Shaker
We don't own anything special, but you'll definitely want to invest in a cocktail shaker or cocktail kit. Cocktail shakers are a quick way to mix up your bevie.
Double Jigger
Another great cocktail-making investment, a double jigger is a must to measure out your spirits and add-ins. We prefer jiggers that also have the small, incremented measurements notched on the inside, even though I am notorious for eyeballing amounts. A dash of this. A dusting of that. My Sicilian grandma will be proud. I suck at baking, obviously…
Bar Spoon
A bar spoon is great for stirring without getting sticky as well as for measuring your ingredients. If you don't have a bar spoon, though, please don't fret. Just use one teaspoon instead.
What Ingredients Do You Need For This Blackberry Smash?
So, what do you need to stock up on to make our Where The Crawdads Smash cocktail recipe? Nothing too intense, I promise!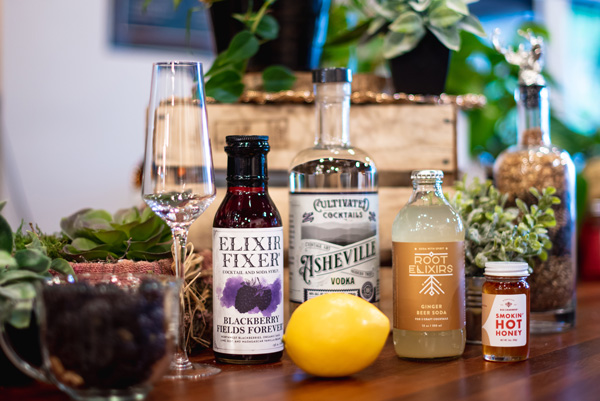 You'll need:
Vodka (we used Cultivated Cocktails newest Vodka spirit)
Blackberry syrup
Lemon juice
Honey
Ice for the shaker
Ginger beer
Fresh blackberries to garnish
AND, don't forget your copy of Where The Crawdads Sing.
How Do You Make This Blackberry Smash?
This cocktail is super easy-peasy, even for the novice home bartender, like me.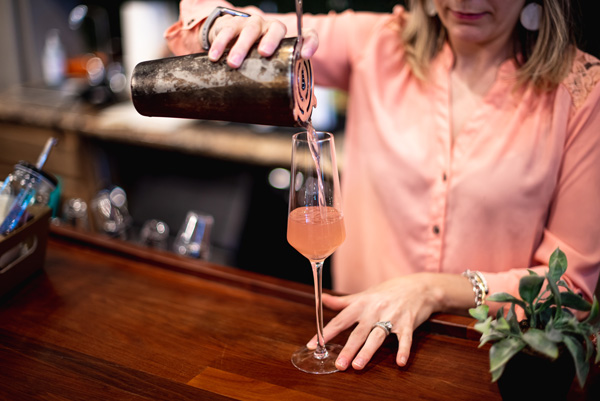 Since we are using a pre-made syrup, you will add the blackberry syrup, lemon juice, honey, and vodka. Shake for at least 30 seconds with ice. Strain and pour the liquid into a champagne flute (or rocks/lowball glass, if you wish to go traditional).
Top with ginger beer, and if you like, add a few fresh blackberries. Ginger will give that bad boy a kick…just like someone did to Chase Andrews. Too soon?! Too soon?!
Book Pairing Recommendations:
Of course, your Blackberry Vodka Smash needs a book (and a cat). If you've already read Where The Crawdads Sing, you might find your next great read in one of our southern book lists: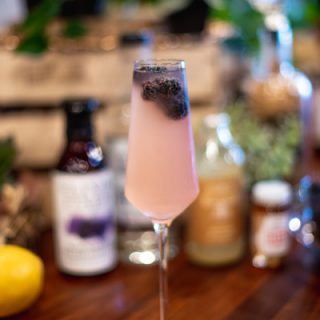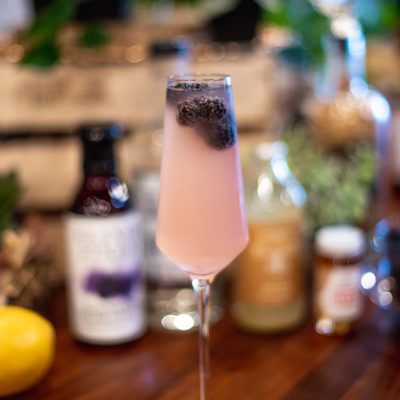 Where The Crawdads Smash: Blackberry Smash
Enjoy our Blackberry Smash cocktail inspired by Where The Crawdads Sing by Delia Owens.
Ingredients
0.75 oz Blackberry Fields Syrup
0.25 oz Lemon Juice
2 Bar spoons Of Honey
2 oz Vodka
Cup Of Ice
1 oz Ginger Beer
3-4 Blackberries To Garnish
Instructions
Combine blackberry syrup, lemon, honey, and vodka into a shaker.
Fill the shaker halfway with ice.
Shake for about 30 seconds.
Strain liquid into a glass.
Top with ginger beer.
Garnish with fresh blackberries.
Notes
You may also substitute the vodka for a more traditional Blackberry Smash with bourbon or whiskey.
Nutrition Information:
Yield:

1
Serving Size:

1
Amount Per Serving:
Calories:

426
Total Fat:

0g
Saturated Fat:

0g
Trans Fat:

0g
Unsaturated Fat:

0g
Cholesterol:

0mg
Sodium:

54mg
Carbohydrates:

79g
Fiber:

1g
Sugar:

54g
Protein:

0g
Nutrition information isn't always accurate and is just an estimate depending on which ingredients you use.
Let Us Know What You Think Of This Literary Libation
Have you read Where The Crawdads Sing? Did you love it, too? AND, did the ending totally SHOCK you? I want to re-read the novel to see if my opinions about everyone change KNOWING WHAT I KNOW. As someone recently trolled on my IG, "I SEE YOU."

If you make our Blackberry Smash, please let us know what you think in the comments. This is our first EVER literary cocktail recipe on The Uncorked Librarian. We are looking forward to making literary libations a regular blog feature. We hope to grow our cocktails and make them better and better.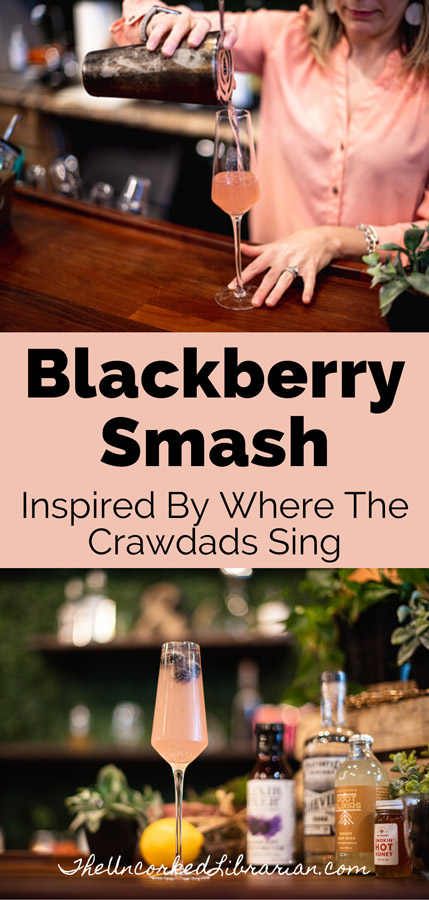 Even More Literary Cocktails For You:
Shades and the Giant Peach: Peach and Gin Cocktail
Smokey Old Fashioned For Book Lovers
More About The Creator Of This Literary Cocktail, Cultivated Cocktails
Cultivated Cocktails is a family-owned distillery with a multigenerational history in the heart of the Appalachian Mountains. They produce award-winning spirits each year.
Beginning in 2012 with the distilling process, Cultivated Cocktails soon launched its first product, Hazel 63 Rum, in 2016. Each product pays tribute to their family or history in Asheville, North Carolina. Crafting products that speak for themselves is an important part of their mission.
A Note About Their Vodka
Cultivated Cocktails' pure vodka is a corn-based neutral spirit infused with the fresh mountain air and filtered through a silver impregnated carbon filter. The rare, specialty filter creates a modern twist on a vintage process, affecting the smooth and crisp feel of the vodka.
A Special Thank You To Sarah Resta Photography
The pictures featured in this post are from our partner, Sarah Resta Photography. Sarah Resta is both a local and international engagement and wedding photographer available for hire. Sarah also works with small businesses and bloggers, like The Uncorked Librarian & Uncorked Asheville. You can find Sarah on Facebook and Instagram. Email: sarah@sarahrestaphoto.com