Are you wondering what November 2020 book releases are worth a read? See which new November books we loved, what we think you'll enjoy, and what upcoming books you might want to skip.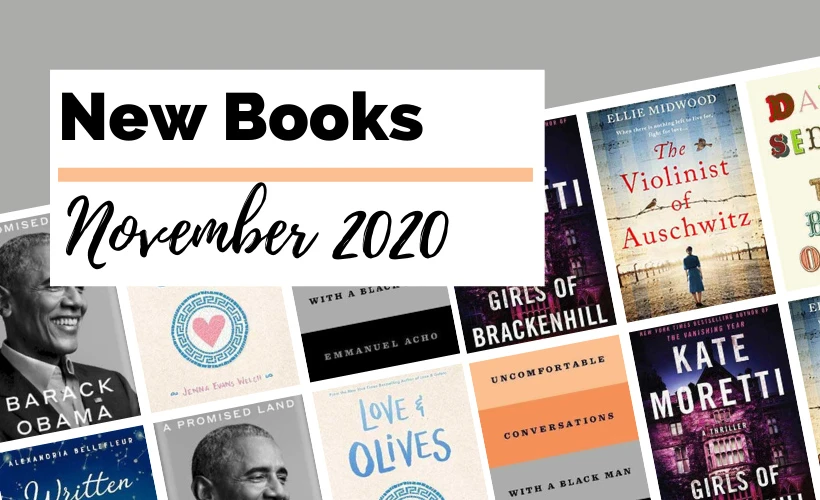 The fall is catching up with me and whereas I usually read a ton of the month's hottest new releases, I only had the chance to pick up a few. But, the new November books I read were worth it, including a WWII historical fiction novel involving wine and a sweet and feel-good YA romance that will transport you to a bookstore in Santorini.
With that said, the nonfiction November 2020 book releases are looking pretty inspiring and educational. David Sedaris, Barack Obama, and Emmanuel Acho all have new titles releasing about politics, racism, and mortality.
There are quite a few historical fiction books I'm eyeing, including a biographical WW2 novel about a violinist along with a magical romance set across Italy.
So, what are our most-anticipated November 2020 new book releases? Which books have we read and recommend? Which new books do we think you'll love as travelers who enjoy books set around the world? Let's get started.
P.S. How can you grab some of the best books of November 2020 for free or discounted?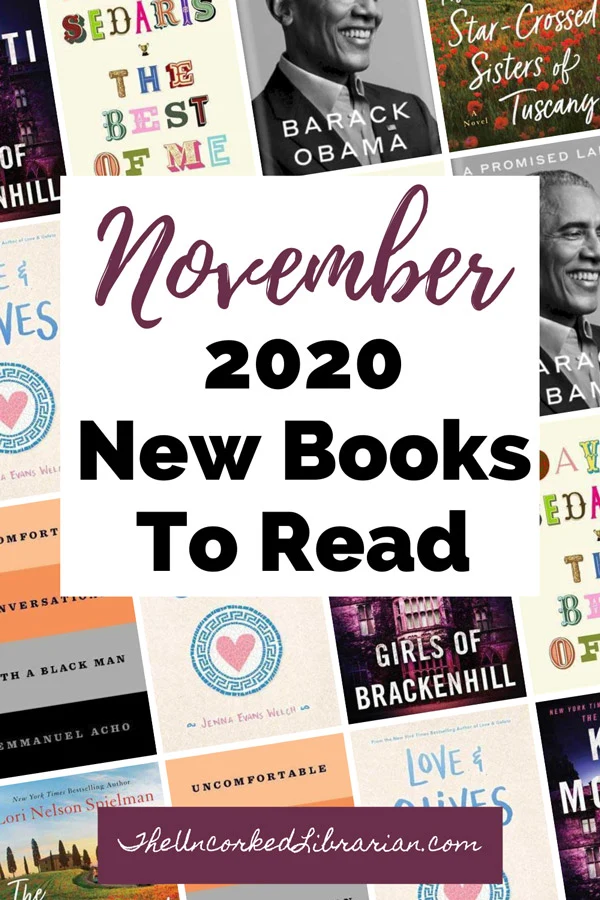 November 2020 Book Releases We Read
*Books marked with an asterisk are upcoming November 2020 book releases and ARCs that we requested in exchange for a fair and honest review or were freely gifted/offered by the author or publisher. Please know that dates of publication are subject to change.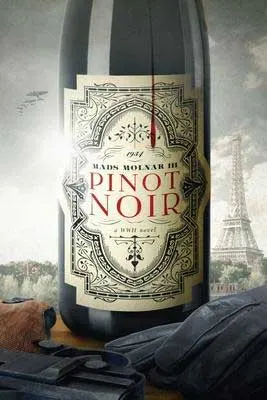 WW2 Historical Fiction
November 1, 2020*
It's no secret that we love biographical WWII historical fiction, and when you pair an intriguing and suspenseful thriller with wine, you get Pinot Noir by Mads Molnar III.
When the Nazis visit a French-German winemaker, his only thoughts are to save his vineyard. He gifts them with a poisoned case of Pinot Noir — sealed with a kiss — and the bottles are shipped across Europe as gifts to the top Nazi commanders.
Detective Mads Molnar is sent to recover each bottle or face his already sentenced death penalty for helping Jewish families escape. However, the mission is not as easy as it seems. Each bottle's owner has a different story and their own agenda. Not to mention, a vengeful Nazi son on the hunt for the murderer — who can smell fear — and a beautiful woman with her own vendetta…
Molnar creates a captivating and fast-paced WW2 detective story filled with twists and turns. Every person we meet has a significant story and persona. No character is too small. Find enthralling romance, egos, and of course, wine. Unique to this WW2 story, Mads Molnar III examines life, death, greed, anger, and loss from a psychological standpoint. Amazon | Goodreads | Book Information→
---
Join The Uncorked Reading Challenge Today
---
Travel around the world with the Uncorked Reading Challenge. Get the best book and movie recs straight to your inbox. Sign Up Now.
---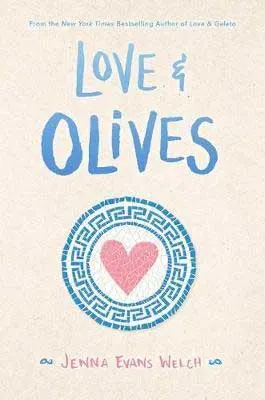 YA | Romance | Book Set In Greece | Love & Gelato Book 3
November 10, 2020*
For YA November 2020 book releases, don't skip Love & Olives by Jenna Evans Welch. I stayed up until midnight finishing this one with tears in my eyes. Santorini literally seeps off of the pages into your imagination, and if you covet stories about dysfunctional families and overcoming mental health issues, you'll champion multiple characters in this novel. I dare you not to be jealous of the bookstore Liv stays in, too.
I haven't read Love & Luck yet (Book 2), but I loved Welch's first, Love & Gelato. You don't need to read any of the previous books before picking up Love & Olives — even though they are marketed as a series.
Liv Varanakis flies out to Greece to help her estranged father work on a National Geographic documentary about his obsessive passion, Atlantis. Although Liv falls in love with Greece and a boy who is not her (gross) boyfriend, she's not sure if she can forgive her father for leaving her — he still has some pretty heavy secrets, too.
An intuitive and sincere story about love, family, and finding yourself, Love & Olives is such a happy and feel good read during this crazy year. The history, bookstores, and Santorini are a bonus. Amazon | Goodreads | Book Information→
November 2020 Book Releases: Mysteries, Thrillers, LGBT+, Romance
Psychological Thriller | Book Set In The Catskills
November 1, 2020
If you are looking for one of the most anticipated thrillers releasing this November, Girls of Brackenhill has been a huge hit. Hannah heads to her family home in the Catskills after her aunt dies in a car accident. She hasn't been home in over 17 years since the disappearance of her sister. This creepy castle is filled with secrets and bones, and Hannah cannot leave the mystery of her sister unsolved…no matter what. Amazon | Goodreads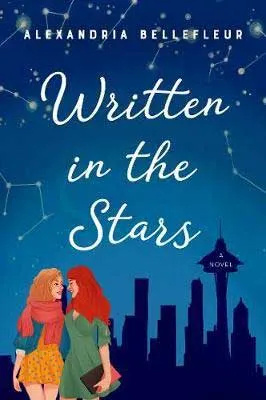 LGBTQ+ | Rom-Com
November 10, 2020
If you are looking for November 2020 book releases set during the holidays, Written In The Stars promises New Year's Eve romance. Darcy Lowell lies to her brother, telling him that she enjoyed his latest match for her; she wants nothing more than for him to stop setting her up on dates. Her plan backfires, though, and Darcy asks that bad date to pretend that they are in a relationship for the holidays. Will this fake relationship turn into something more? Bellefleur answers the age-old question: Do opposites attract? Amazon | Goodreads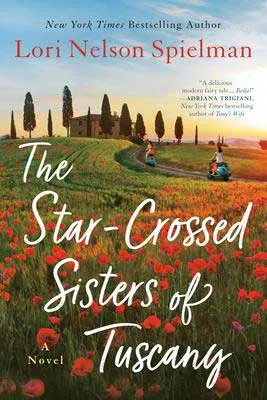 Book Set In Italy | Family Fiction
November 17, 2020
Head to Italy — Venice, Tuscany, and the Amalfi Coast — as the Fontana sisters set out to break a two-century-old curse. None of the three sisters can find true and lasting love since Filomena Fontana set the spell. Not sure if the hex is true or just a myth, when Aunt Poppy says that she can break their anti-romantical curse, the sisters can't resist meeting her in Italy. The promise of love awaits them. Amazon | Goodreads
More Notable Books Releasing In November
The Haunting of Brynn Wilder by Wendy Webb – November 1, 2020 – Brynn Wilder heads to a tourist town on Lake Superior to reflect and start over. She begins falling for Dominic, a man covered in tattoos and who mysterious deaths seem to follow.
The Cipher by Isabella Maldonado – November 1, 2020 – When FBI Special Agent Nina Guerrera is attacked in a park in Virginia, a serial killer decides that this is his second chance to get her via a series of new murders.
Love In Lockdown by Chloe James – November 23, 2020 – Can Jack and Sophia find love from their balconies during a lockdown?
November 2020 Historical Fiction Book Releases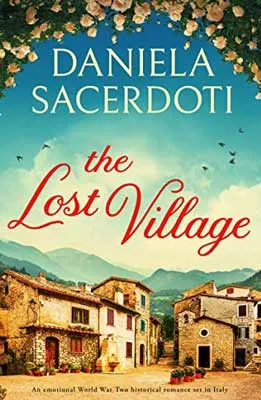 WWII Historical Fiction | Book Set In Italy
November 16, 2020
One of the November 2020 book releases that I haven't heard much about, The Lost Village is a WW2 story about family and a novel that will transport readers to Italy. In 1945, two sisters give birth on the same evening in Bosconero, Italy. The births are on the brink of the Germans entering their village. Flash forward to 2006, where Luce is searching the very same Italian village to figure out who she is and why her mother never talks about the past. It's here, Luce meets her grandmother who is beginning to tell her about the war when an earthquake hits. Amazon | Goodreads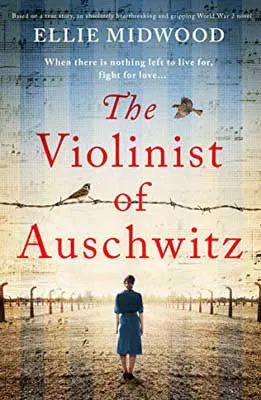 WWII Historical Fiction Based On A True Story | Book Set In Germany
November 18, 2020
For WWII historical fiction books releasing this November, I've been eyeing The Violinist Of Auschwitz. Based on the true story of Alma Rosé – a famous violist interned at Auschwitz – the head of the camp appoints Alma as the orchestra conductor. The orchestra is meant to play for the highest-ranking Nazis as well as prisoners on their way to work. Although initially preferring death over performing, Alma realizes that this position gives her unusual and necessary power to help save lives. Amazon | Goodreads
More November Historical Fiction Book Releases:
These Violence Delights by Chloe Gong – November 17, 2020 – A YA Romeo and Juliet retelling set in the 1920s in Shanghai, find a story about dueling criminals, love, and betrayal.
Nonfiction November 2020 Book Releases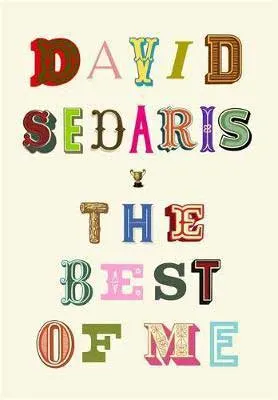 Nonfiction
November 3, 2020
Reflecting back on his life, Sedaris compiles funny yet observant stories into one book about family, love, loss, and aging. He also ponders mortality. Some of these stories you might have read in his other books, but if you haven't read Sedaris yet, this might also be a good starting point, too. Amazon | Goodreads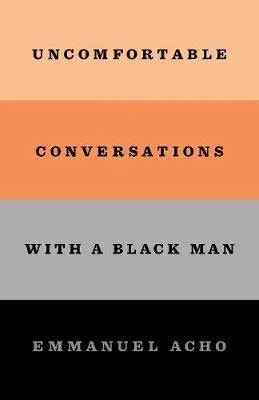 Nonfiction | Book About Racism
November 10, 2020
One of my most-anticipated November 2020 book releases in nonfiction includes Emmanuel Acho's Uncomfortable Conversations With A Black Man. Acho began these engaging and intuitive conversations on Instagram. In his book, Acho discusses systematic racism in America. In collaboration with Oprah, Acho gathers his thoughts and answers to encourage antiracist work. Amazon | Goodreads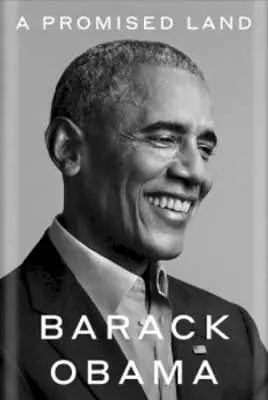 Memoir
November 17, 2020
One of the most-anticipated November 2020 book releases is Presidential memoir, A Promised Land. In over 750+ pages and the first volume, learn about the making of a President. Obama will share his political education, historic win as President, and insight into America's democracy. During a year of turmoil and division, Obama promises to share what unites us all. Amazon | Goodreads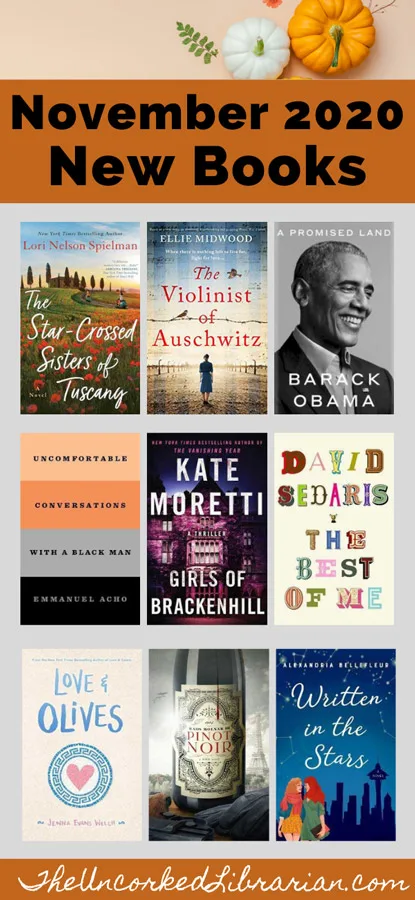 You Might Have Missed These Indie Fall Book Releases:
Rip Current by Jennifer Ann Shore (The Islands of Anarchy Book 2)* – One of my favorite indie authors released her sequel to dystopian YA novel, New Wave. Follow Mol's adventures with the Authority's disbandment.
In The Now by Jennifer Ann Shore – Shore is back with a friends to enemies adult rom-com that I cannot wait to pick up. Olivia heads home to the place she's been avoiding for years and finds herself falling for the high school bully.
The Amorous Adventures of Charlie Meyer: A Novel of the Sixties by Arthur Hittner* – Hittner is another one of my favorite indie authors, and this fall he is back with something new. Head back to the 60s in a hilarious coming of age story.
Which of these November 2020 Book Releases are you most looking forward to?
What upcoming November 2020 book releases are you looking at reading? Which new books will you skip? Are you checking out a few that we missed? Please let us know in the comments.
You May Also Enjoy:
Most-Anticipated Books Releasing Fall 2020
12 New December 2020 Books To Read
Books To Read & Skip This October
September's Newest Books We Loved
Our 2020 Master Upcoming Book Releases List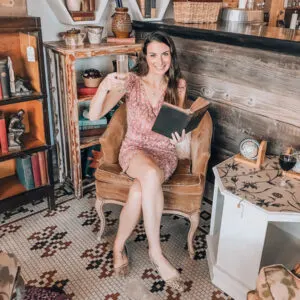 Christine (she/her) is the owner, lead editor, and tipsy book sommelier of The Uncorked Librarian LLC, an online literary publication showcasing books and movies to inspire travel and home to the famed Uncorked Reading Challenge.
With a BA in English & History from Smith College, an MLIS from USF-Tampa, and a U.S. Fulbright Fellowship in Christine's back pocket, there isn't a bookstore, library, or winery that can hide from her. Christine loves brewery yoga, adopting all of the kitties, and a glass of oaked Chardonnay. Charcuterie is her favorite food group.