25 Best Unicorn Books For Kids, Teens, & Adults
Travel to magical lands and across the globe with the best unicorn books for kids, tweens, teens, and adults.
Let's face it: unicorns are pretty timeless as well as captivating. We find them in children's books as well as teen and adult fantasy, sci-fi, and horror books.
Can you remember a terrific unicorn book from your childhood or as a teen? And, what are your favorite books with unicorns as an adult?
It's fair to say that there certainly is no shortage of books about unicorns, which is why we decided to create a "best of" book list for all ages.
Below, start with the funniest unicorn picture books for kids. These gorgeously illustrated stories promise to teach littles about friendship, loyalty, and love.
Then, explore unicorn chapter books for beginner readers that introduce elementary-aged students to fantasy and world-building.
Lastly, discover fun unicorn books for adults.
Don't forget to share your favorites in the comments. Let's get started!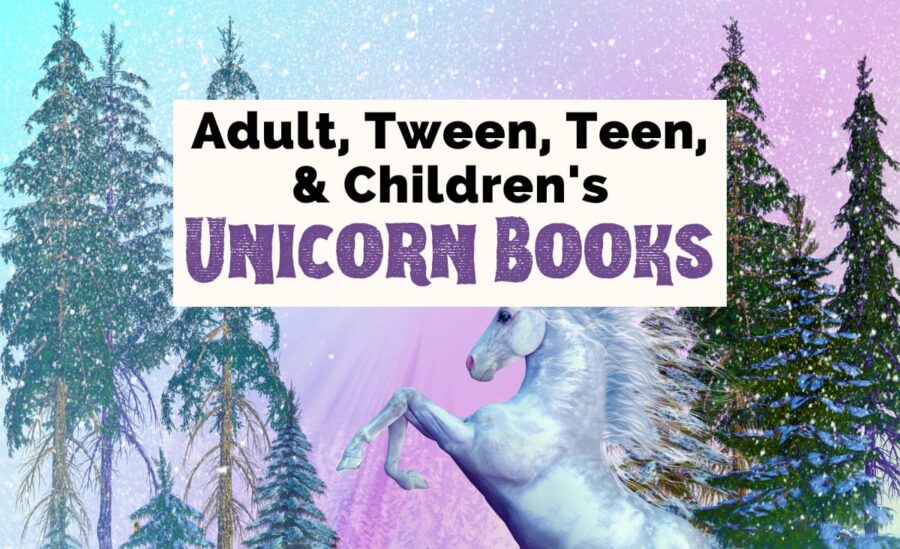 Grab your favorite books about unicorns here:
25 Fantastic Unicorn Books
Unicorn Picture Books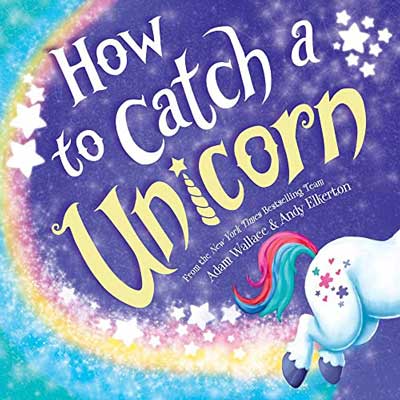 How to Catch a Unicorn by Adam Wallace
Illustrated by Andy Elkerton
Wallace's How to Catch picture books are some of the silliest!
The unicorn book in the series – there are also dinosaur, tooth fairy, and mermaid books – features a group of kids trying to catch a unicorn at the zoo.
With rainbows and glitter, wild traps, and engaging rhymes, it's sure to be a favorite, especially for read-alouds.

Read How to Catch a Unicorn: Amazon | Goodreads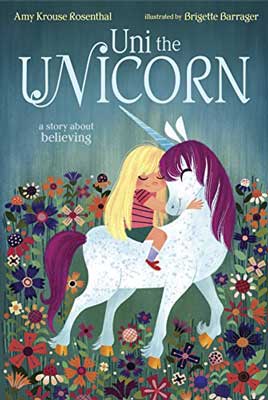 Uni the Unicorn by Amy Krouse Rosenthal
Illustrated by Brigette Barrager
Imagine if unicorns were real, but they believed that people weren't!
Except for Uni – Uni just knows that little girls are real and somewhere a smart, lovable girl is waiting to be her best friend.
Not too far away, there happens to be a girl wishing for a unicorn.
Magic and friendship weave together the beautiful story that sparked one of the sweetest unicorn book series.

Read Uni the Unicorn: Amazon | Goodreads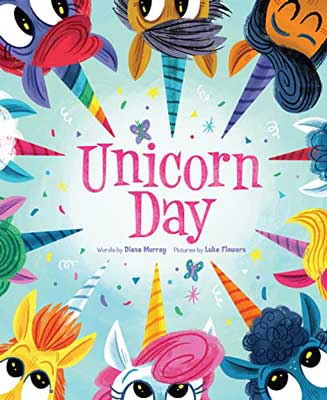 Unicorn Day by Diana Murray
Illustrated by Luke Flowers
The rules for Unicorn Day are simple: be proud, style with flair, and have fun! But what happens when one of their own happens to be a horse?
For unicorn picture books with heartfelt and important lessons, readers will love this story about friendship and acceptance.
And, for a whimsical unicorn bedtime story, Unicorn Night is sure to charm, too.

Read Unicorn Day: Amazon | Goodreads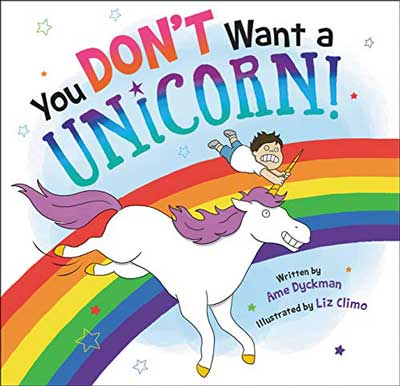 You Don't Want a Unicorn by Ame Dyckman
Illustrated by Liz Climo
This isn't like other unicorn books for kids – get ready to find out how a unicorn can actually ruin your life.
When a boy wishes for a pet unicorn, he has no clue what he's in for. Unicorns shed, poke holes in the walls, and cannot be house-trained…if you know what we mean!
Culminating in a house party, the only conclusion to draw here is that maybe he should've wished for a dragon instead.
Books about unicorns don't get any funnier than this.

Read You Don't Want a Unicorn: Amazon | Goodreads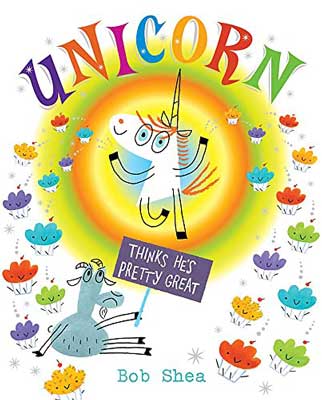 Unicorn Thinks He's Pretty Great by Bob Shea
Goat is feeling out of sorts after unicorn moves into the neighborhood. Unicorn can fly to school, make it rain cupcakes, and even catch bad guys with his horn.
But goat's insecurities are tamed when he realizes unicorn may actually have his own, too.
If this ends up being one of your favorite unicorn story books, don't skip the sequel: Unicorn is Maybe Not so Great After All.

Read Unicorn Thinks He's Pretty Great: Amazon | Goodreads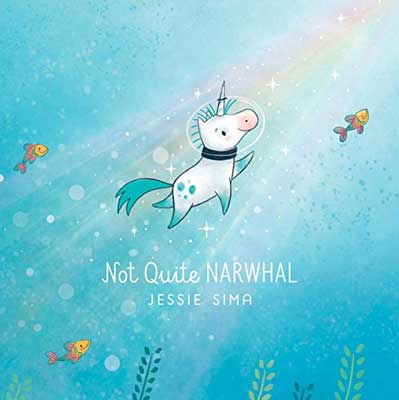 Not Quite Narwhal by Jessie Sima
For kids' unicorn books, it doesn't get much sweeter than Not Quite Narwhal.
Kelp grew up underwater, raised by a family of narwhals. Despite his tusk being smaller and other minor differences, Kelp thought he was just like the rest of the family.
…Until he is swept to the surface where he discovers a creature just like himself. Is he a land narwhal or a sea unicorn, he wonders.
Perhaps, with some ingenuity, he can be both.

Read Not Quite Narwhal: Amazon | Goodreads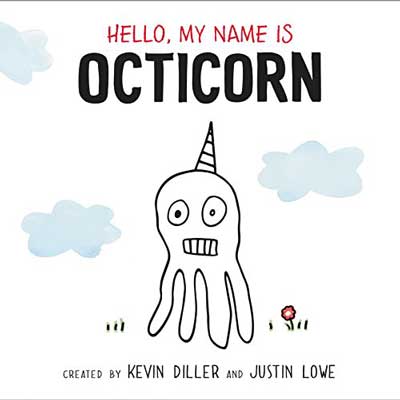 Hello My Name is Octicorn by Kevin Diller and Justin Lowe
Illustrated by Binny Talib
Octicorn is half unicorn, half octopus, and entirely unable to fit in. Is that such a bad thing, though?
Perhaps Octi was born to stand out. Or to at least be a hit at parties with a horn fit for ring toss and tentacles made for juggling.
It is one of our favorite unicorn picture books because readers will not only be drawn in by Octi's looks but also fall in love with his personality.

Read Hello My Name is Octicorn: Amazon | Goodreads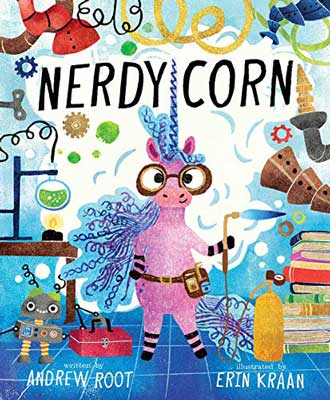 Nerdycorn by Andrew Root
Illustrated by Erin Kraan
Fern is a unicorn who prefers coding and robotics to rainbows and glitter.
And, she is tired of fixing her friends' things when they keep teasing her and calling her nerdycorn.
When the rainbow, confetti, and bedazzler machines all break down before the biggest party of the year, Fern knows she can fix them. But will she?

Read Nerdycorn: Amazon | Goodreads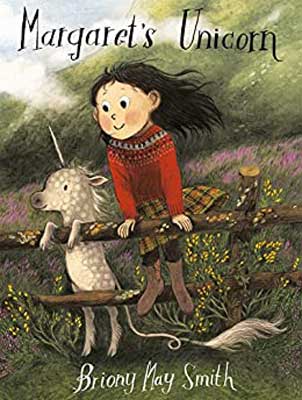 Margaret's Unicorn by Briony May Smith
One of the best unicorn books for kids who dream of one day owning a unicorn, this one will transport readers.
Margaret moves to a cottage by the sea to be near her grandmother.
One day outside, she spies unicorns in the distance. Margaret all but blinks and they are gone. However, they've left behind a baby unicorn.
Lonely herself, Margaret cares for the baby unicorn through the colder months, and the two share many adventures.
When spring comes and the other unicorns return, Margaret knows what she must do.

Read Margaret's Unicorn: Amazon | Goodreads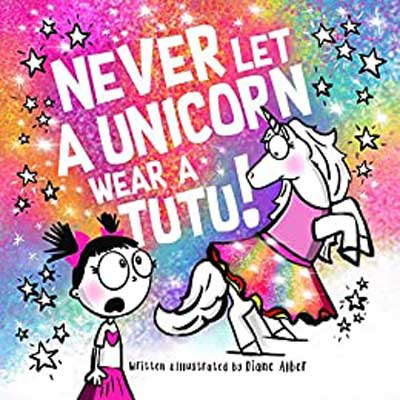 Never Let a Unicorn Wear a Tutu by Diane Alber
A little girl overhears her friend's caution against never letting a unicorn wear a tutu.
But she happens to have just the right tutu for a unicorn and is about to learn why this may go sideways.
Alber's Never Let a Unicorn book series contains additional antics and misadventures sure to charm fans of If You Give a Mouse a Cookie.

Read Never Let a Unicorn Wear a Tutu: Amazon | Goodreads
Unicorn Chapter Books for Kids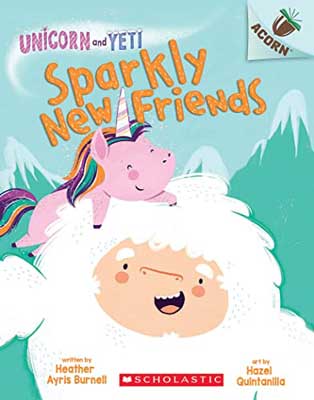 Unicorn and Yeti: Sparkly New Friends by Heather Ayris Burnell
Illustrated by Hazel Quintanilla
For beginner unicorn chapter books, uncover a lovable series with simple text and vibrant artwork.
Unicorn can do magic. Yeti loves snowball fights. They have different strengths and interests, but they both love all things that sparkle!
Follow the two best friends through a hilarious series full of antics, trying new things, and learning to see things through new perspectives

Read Sparkly New Friends: Amazon | Goodreads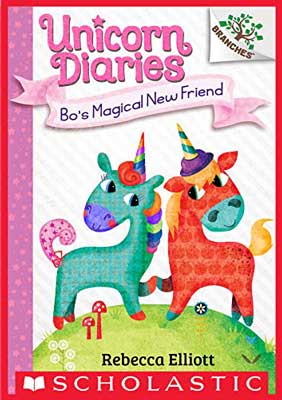 Unicorn Diaries: Bo's Magical New Friend by Rebecca Elliot
Unicorn Diaries is another tender unicorn book series, perfect for emergent chapter book readers.
Follow the adventures of Rainbow Tinseltail and her friends in Sparklegrove Forest.
They'll battle monsters, discover dragons, help a merbaby swim, and of course use their magical superpowers.
With colorful illustrations and engaging stories, Elliot has a knack for creating simple unicorn chapter books that encourage a love of reading.

Read Bo's Magical New Friend: Amazon | Goodreads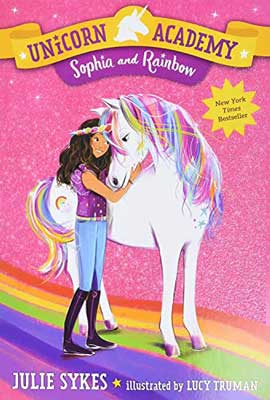 Unicorn Academy: Sophia and Rainbow by Julie Sykes
Illustrated by Lucy Truman
Imagine having a unicorn for a best friend!
At unicorn academy, everyone gets their own unicorn. And each unicorn has its own magic; some fly, some create fire, and some can turn invisible.
But despite everyone's unique abilities, friendship is what holds the magic together in these lovable unicorn books for kids.

Read Sophia and Rainbow: Amazon | Goodreads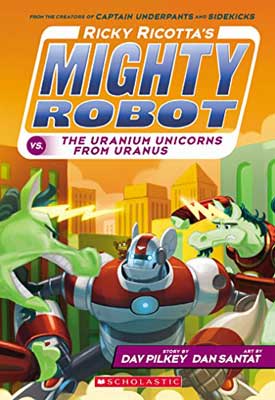 Ricky Ricotta's Mighty Robot and the Uranium Unicorns from Uranus by Dav Pilkey
Illustrated by Dan Santat
It's no secret that kids love Ricky Ricotta and his giant robot best friend. And, if you're looking for books with unicorns for kids not so into rainbows and glitter, this is it.
Evil Uncle Unicorn is concocting a plan to trap the mighty robot and take over the world. It's up to Ricky to save the planet.
Plus he'll learn a thing or two about being a friend.

Read Ricky Ricotta's Mighty Robot and the Uranium Unicorns from Uranus: Amazon | Goodreads
Amelia Fang and the Unicorn Lords by Laura Ellen Anderson
Amelia Fang is everyone's favorite vampire; she loves cuddling her pumpkin and adventuring with her ghoulish friends.
In this installment, Amelia and her friends search beyond The Kingdom of Dark for Glitteropolis. On their way, they meet creatures from The Kingdom of Light, including unicorns and leprechauns.
Discover even more vampire books for teens and tweens.

Read Amelia Fang and the Unicorn Lords: Amazon | Goodreads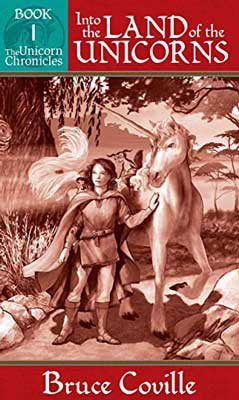 Into the Land of Unicorns by Bruce Coville
Coville is one of the older and most well-known authors of fantasy for kids, including unicorn books.
Cara is instructed to guard her grandmother's amulet and deliver an important message to the unicorn queen.
She finds herself in the land of Luster where she travels with her friends and an adolescent unicorn, only to be attacked by delvers, a dragon, and Cara's own absent father.
The first in the Unicorn Chronicles, Into the Land of Unicorns grips readers and invites more to come in later volumes.
With elements of magic, history, and complex characters, these unicorn chapter books are best suited for fourth graders and up.

Read Into the Land of Unicorns: Amazon | Goodreads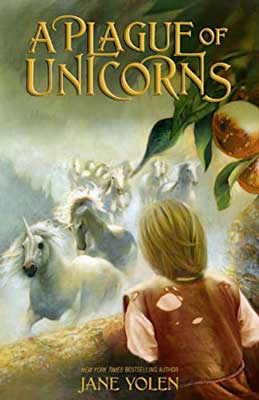 A Plague of Unicorns by Jane Yolen
Illustrated by Tom McGrath
James is the odd son of an Earl whose constant questioning has driven away the last of his tutors. He is sent off to a strict Abbey school soon after.
But the Abbey is in bad shape, and the solution has one barrier in its way: unicorns.
The Abbot plans to save the Abbey by selling cider to raise funding, but the golden apples are a delicacy for unicorns.
Without much success in forming an army against the unicorns, James will offer a final option for success. Will they save the Abbey?
You know with Yolen behind the pen, this is bound to be one of the best chapter books about unicorns for kids.

Read A Plague of Unicorns: Amazon | Goodreads
Books About Unicorns for Tweens and Teens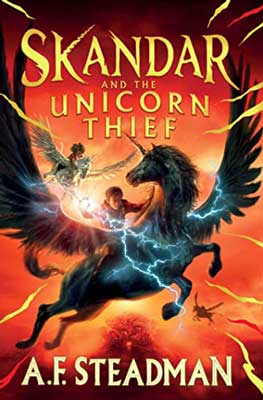 Skandar and The Unicorn Thief by A. F. Steadman
Discover a series where unicorn books meet the likes of Percy Jackson and Eragon.
Skandar wants one thing – to leave the mainland for the secret island where unicorns roam free. He's spent years studying to become a unicorn rider until everything goes wrong during his exam.
Skandar all but gives up hope until a knock at his door thrusts him back in.
With the island in trouble, Skandar's passion is reinvigorated. He finds himself at the center of wild unicorn battles and a mysterious enemy among them.
The lives of Skandar and his new community of riders are in more danger than they realize, though.

Read Skandar and The Unicorn Thief: Amazon | Goodreads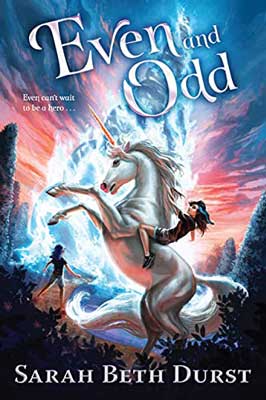 Even and Odd by Sarah Beth Durst
Even and Odd are two magical sisters who couldn't be more different. While Even loves practicing magic, Odd wishes she didn't have to.
When a magical barrier closes between their mystical world of Firoth and the ordinary town in Connecticut in which they live, Even and Odd cannot go home.
They find a friend in a unicorn named Jeremy, and together they discover that a wizard is siphoning magic from the barrier for her own gain.
It's time for Even and Odd to step up – as sisters and with their magic – and become the heroes of this magical yet relatable unicorn book.
Read Even and Odd: Amazon | Goodreads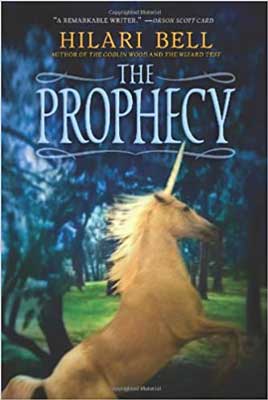 The Prophecy by Hilari Bell
For years, the Kingdom of Idris has been ravaged by a dragon, and Prince Perryndon has searched the library endlessly for a way to slay the dragon.
When he believes he's found the solution, his father pays him no mind. Perryndon has always preferred books to swords. A bookworm is no match for the dragon.
But Perryndon is on to something, and he is now in danger.
With the help of a bard, a unicorn, and a special sword, can Perryndon save Idris, and himself, before it's too late?

Read The Prophecy: Amazon | Goodreads
More YA books about unicorns from Christine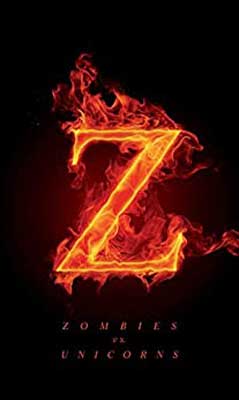 Zombies vs. Unicorns edited by Holly Black and Justine Larbalestier
If you are craving short story unicorn books, Zombies vs. Unicorns is an anthology edited by popular YA author, Holly Black, and Australian-American writer, Justine Larbalestier.
Authors showcased include Libba Bray, Cassandra Clare, Scott Westerfeld, Maureen Johnson, and Meg Cabot.
Get ready for some comedic banter between the editors – as well as a few spooky stories – as Larbalestier tries to convert readers to Team Zombie and Black to Team Unicorn.
Make sure you follow those strict instructions while babysitting even if they seem…odd. Beware of cute and fluffy animals, and maybe don't dig someone up unless you want to marry them.
When you close this book, will you be Team Unicorn or Team Zombie?

Read Zombies vs. Unicorns: Amazon | Goodreads
Take The Uncorked Reading Challenge!
Travel around the world with our Uncorked Reading Challenge. Never be late to the party with unique new book releases. Get the latest movie and book lists straight to your inbox.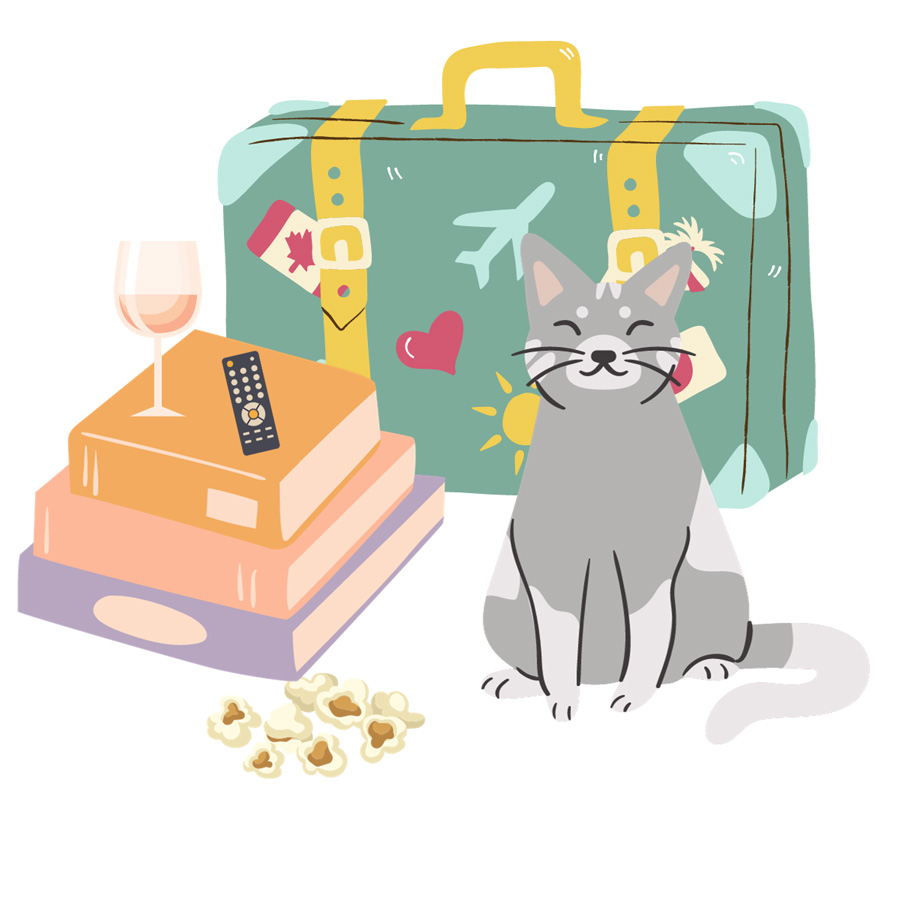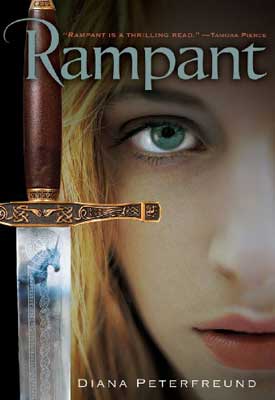 Rampant by Diana Peterfreund
For darker books about unicorns, follow a dangerous story of violent, killer unicorn beasts and the girls that can defeat them.
All her life, Astrid has been told that only virgin descendants of Alexander the Great could defeat the killer unicorns.
Astrid learns the virgin part is untrue, but, like her ancestors, she still possesses every quality of a unicorn hunter. So, her mom sends her off for training.
Astrid is reluctant at first, but her interest is sparked when she begins to learn about The Remedy and its connection to the unicorns.
This popular unicorn book for high schoolers is followed up by a sequel: Ascendant.

Read Rampant: Amazon | Goodreads
Books With Unicorns for Adults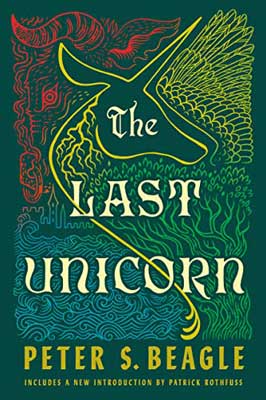 The Last Unicorn by Peter S. Beagle
Perhaps one of the most classic unicorn books for adults and one of the best fantasy books of all time, The Last Unicorn shares the story of the only unicorn left in the world.
Blissfully unaware at first, cruel whisperings hint at her truth, so she decides to leave the enchanted forest to seek out the truth for herself.
With other characters she meets along the way, the novel has a genuine quest feel to it and tells more than just a story of a magical unicorn, but one of life, love, and regret.

Read The Last Unicorn: Amazon | Goodreads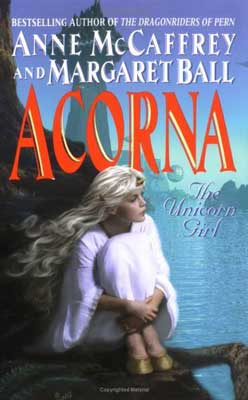 Acorna: The Unicorn Girl by Anne McCaffrey and Margaret Ball
Found in a survival pod in space, Acorna was just a little girl with funny feet, silver hair, and a nob in the middle of her forehead.
She also seemed to have some uncanny powers, including healing abilities and water purification.
The space prospectors who found her bring Acorna to the planet Kezdet where she will be free to grow up unquestioned and away from scientists who want to study her.
But, Kezdet has its own dark secrets involving the child slave trade and a mystery man called The Piper.
Acorna, who has known freedom, takes it upon herself to stop the slave trade, all while the three space prospectors humorously try to keep a reign on her.

Read Acorna: Amazon | Goodreads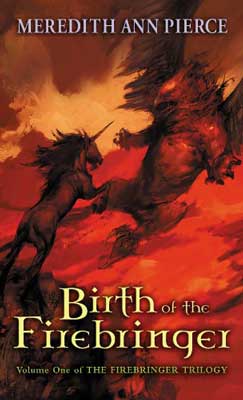 Birth of the Firebringer by Meredith Ann Pierce
For more books with unicorns by popular fantasy authors, Birth of the Firebringer introduces an epic series about a prince, unicorns, danger, and truth.
Jan is the prince of unicorns and son of the mighty Korr. Against his better judgment, Korr allows Jan to accompany other warriors on a pilgrimage.
Jan and his friends are plagued with curiosity, and they find themselves in danger more than once.
But each time they are rescued, Jan begins to wonder if he is the heir to something more.
As he makes his way into unicorn adulthood, he will discover his true destiny.

Read Birth of the Firebringer: Amazon | Goodreads
Save This Unicorn Reading List For Later:
Grab your favorite books with unicorns here:
What is your favorite unicorn book?
What are the best unicorn books for kids, teens, and adults? Do you have favorite unicorn chapter books and unicorn picture books? Let us know in the comments!
You May Also Enjoy:
Alien Books
Mermaid Books
Dragon Books
Witch Books
Ghost Books
This unicorn book list pairs well with Spring 2023 Uncorked Reading.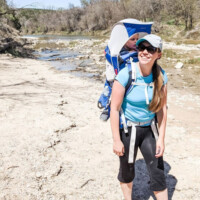 Tori (pronouns: she/her) is a mom to two boys, living in New York but adventuring everywhere, usually with a toddler on her back. She's an avid traveler, nature junkie, and writer, encouraging families to get outside and start exploring the world. When she's not hiking or traveling, you can find her lost in a book, watching Bravo reruns, or obsessively decluttering her home. Tori owns the family and adventure blog, Explore with Tori.