Should I Register My Blog As A Business: LLC For Bloggers Simplified
Thinking of forming an LLC for your blog? Do you need to register your blog as a business? And, how do you go about doing so? Don't miss our LLC For Bloggers Guide from a full-time blogger.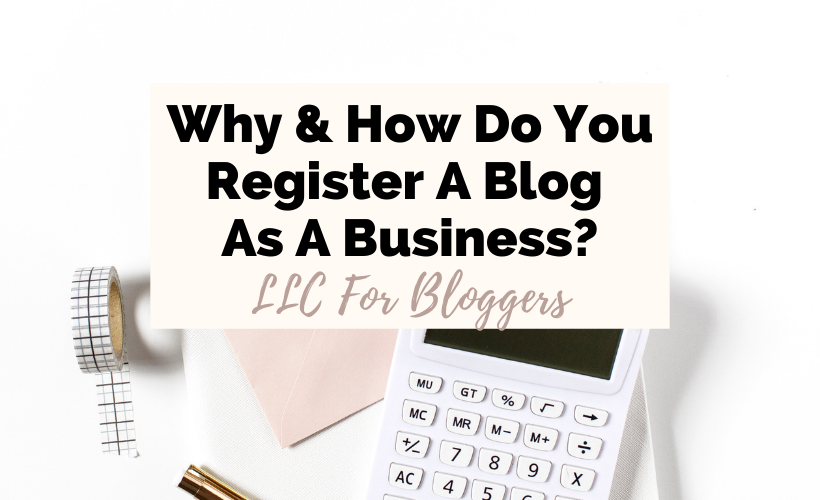 The first questions that I asked myself when I started making money blogging were: 1. Am I blogging legally and 2. Do I need to register my blog as a business? — Should I form an LLC for my blog?
I also started stressing about taxes. Paying estimated quarterly self-employment taxes is rough in the beginning. I'm a blogger — not a lawyer or accountant.
After consulting with lawyer friends, I decided that I should look into LLC for blogs and blogging and register my blog as an LLC and business.
Is this the foolproof way to protect all of your assets? Debatable. But, does LLC status for a blog offer some protections and have benefits? Absolutely.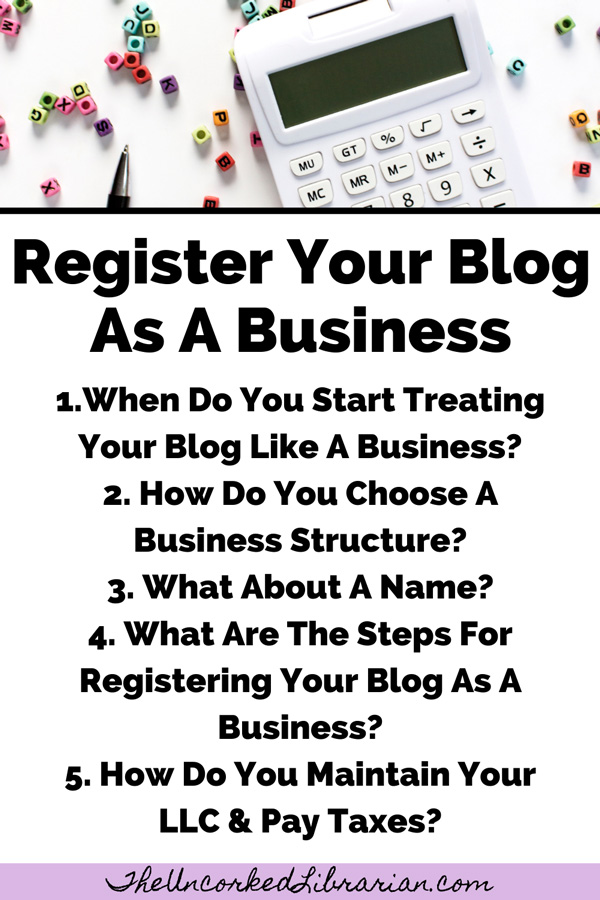 Below, I'll share why I think you should form an LLC for your blog, and how to register your blog as a business. I won't talk about insurance, though, although that's another area to research after this.
**Please remember that I am writing this LLC for bloggers guide as a blogger and from my personal experience. I am not a lawyer, accountant, or CPA. You should always consider seeking additional professional advice in regards to business ventures and taxes. I will also share one lawyer's resources below.
Where I am qualified: I used to co-teach business classes at the library with MBA-professionals, I am a full-time blogger, and I run an LLC.
So, are you ready to form an LLC for your blog and register your blog as a business? Let's get started!
Steps We Will Discuss To Register Your Blog As A Business:
When To Start Treating Your Blog Like A Business
Choosing A Business Structure – For the sake of this article, we are only focusing on LLCs for bloggers but will briefly discuss other options
Picking A Business Name
Steps For Registering Your Blog As A Business
Maintaining Your LLC For Your Blog
Paying Quarterly Self-Employment Taxes
As a bonus, learn a few ways to make money blogging as a business, too.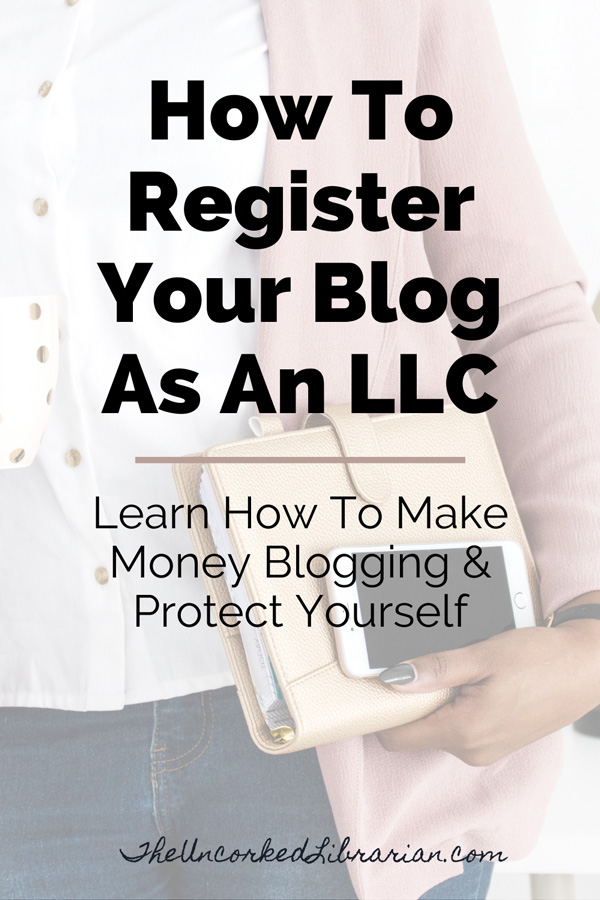 Immediate Tools You Can Use To Register Your Blog As An LLC & Legal Business:
All of these documents are written by a lawyer, 6-figure blogger, and blogging coach, Amira, from A Self-Guru.
LLC Operating Agreement – Amira from A Self-Guru says it best: "This agreement legitimizes your business and separates your business from your personal assets like your personal bank account, car and house." This is an 11-page document that shows the separation of your business from your personal assets.
Legal Bundle For Required Pages On Your Blog – Every blog requires traditional legal pages such as a Disclaimer, Privacy Policy, and Terms & Conditions. Grab these lawyer-written pages here and use the code UncorkedSpecial for $40-$60 off→ P.S. You can preview these pages on the bottom of my site. This is what I use on The Uncorked Librarian LLC and Uncorked Asheville websites.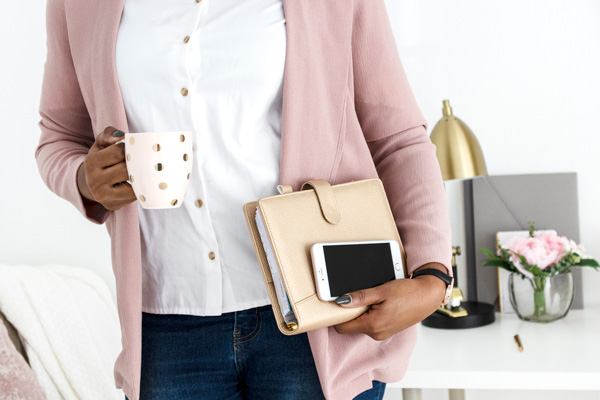 Are You Asking Yourself: Why Should I Form An LLC For A Blog?
I recently decided to protect myself and my assets. As a lawyer seriously put it: I needed to protect my wine fund and register my blog as a business. Many lawyers have told me that you should form an LLC for your blog.
I will add that a CPA I talked to suggested that I look at an S Corps structure. Personally, I didn't feel that I am that big or cool — yet. I'll share more of the pros and cons of business structures below.
I also know that the sound of forming an LLC for a blog can be scary. I am so proud that The Uncorked Librarian is officially an LLC. It's not that bad, really.
Christine, The Uncorked Librarian LLC. Sounds amazing, right? I am a small business owner. See my superhero cape with a bottle of chardonnay on the back? Hear me roar. Let's get you there, too.
When Should You Start Treating Your Blog Like A Business?
Honestly, I started treating my blog like a business from day one. I knew that I wanted to generate income from blogging, and I wanted a professional entity.
Once you move out of the bracket from making $400-ish a year, which is just considered a hobby blog, you are basically running something more intense like a business.
This means that you want to think about protecting yourself and paying taxes. You want to register your blog as a business.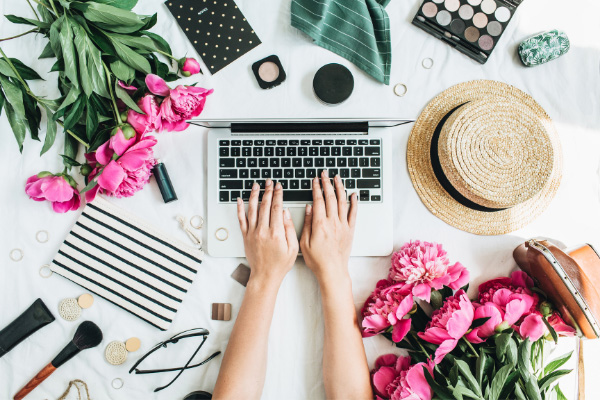 Should I Form An LLC For A Blog? Business Structures For Blogging:
I will not go through the many different types of businesses you can choose to register your blog under, like a partnership or S Corp.
What Is An S Corp, Though?
Simplified, an S Corp offers the protection of an LLC, you would file taxes once a year, there are different tax benefits, and you have investment opportunities.
An S Corp is a little more confusing and requires more paperwork, which is why I consulted a CPA when debating this blog business structure. I've also read that you want to be making over $10,000 to consider this option.
For this post, I am focusing on the two most relevant business structures for newbie bloggers: sole proprietorship and a single-member LLC.
The important piece here: I am the only 'employee' for my LLC. If you are taking on employees, you have more to consider here — including different business structures.
What Is A Sole Proprietorship?
Most bloggers earning money start out as sole proprietors. You are self-employed and do not need any further steps to legally establish yourself as a business.
This is how I started as an affiliate marketer. I blogged, earned a little side income, and picked up odd freelancing jobs. If I made over about $400 that year from my blog, I had to pay taxes.
Sole Proprietorship Cons Vs LLC Status For Bloggers
With a sole proprietorship, you are the business.
Imagine accidentally using an image or a book cover that you thought had free commercial use privileges. A photographer or publisher is outraged and instead of settling one-on-one decides to sue YOU.
Or, what if someone claims you are slandering them and hurting their business with that bad review? Libel. Defamation…
Guess who is getting sued, including all of your personal assets: YOU. You have no protection. This includes your car, house, bank accounts, and WINE FUND — to name a few jaw-dropping assets.
Um, holy sh*t, and no thanks.
Why You Should Consider Forming An LLC For Your Blog:
What Is An LLC For Bloggers?
An LLC is a newer concept in the United States. Not all countries have LLCs, either.
The model is like a corporation with much looser restrictions. The person, me, is no longer the business entity. The Uncorked Librarian becomes the business.
The Pros Of LLC Status For Bloggers
1. Forming An LLC For Your Blog Is Easy
Don't miss the steps for creating an LLC as a blogger below. It's pretty fast and easy to register your blog as a business.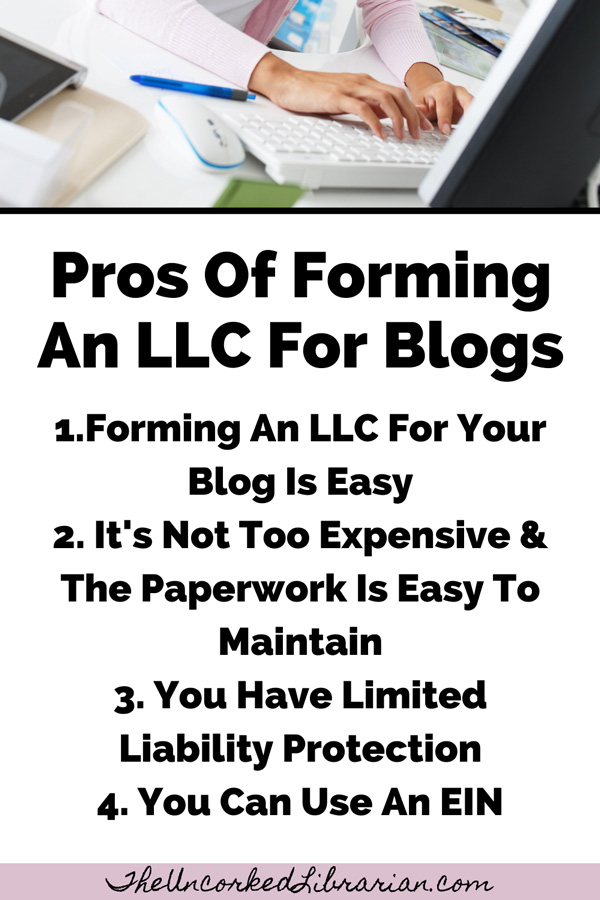 2. It's Not Too Expensive To Form An LLC & The Paperwork Is Easy To Maintain
You can find all of the paperwork online, and it's short and easy to fill out.
Single-member LLCs for blogs still have the tax benefits of a sole proprietor; you will not file corporate taxes. I pay quarterly self-employment taxes online here.
3. You Have Limited Liability Protection
As mentioned above, my main reason for forming an LLC for my blog is that I have more legal protection. Technically, my personal assets are now separated from my business.
This isn't foolproof, though, and again, research insurance for your blog and business.
4. You Can Use An EIN Instead Of Your Social Security Number
A sole proprietor can also apply for an EIN, too, but you don't have to. You can read about if you really need an EIN from the IRS here.
With an LLC for your blog, you can obtain an EIN (Employment Identification Number), open a business banking account, and conduct all business under that entity. For me, I don't have to pass around my S.S. number to big companies like an appetizer anymore.
5 Steps For Registering An LLC For Bloggers:
Before you begin, you can use this Single Member LLC Operating Agreement, perfect for bloggers.  Written by a lawyer who is also a 6-figure blogger, I trust Amira from A Self-Guru to create all of my legal blogging documents.
Please also remember that registering your blog as an LLC and business varies by state. Read your state guidelines. You may use these bullet points as a general idea to get started. This isn't the Bible of LLC for bloggers, though.
1. Choose A Business Name: Check For Trademarks/State Usage & Register Your [Fictitious] Name, If Needed
One of my former coworkers once joked, "Fictitious business names always made me think of detectives in trench coats meeting in dark alleys."
Well, it's trench coat time, baby.  P.S. Really, your fictitious name is your real business name.
First, ensure that the name you want to use is not trademarked. Also, make sure that no one else is operating under your name in that state.
Then, register your fictitious name or business name — depending on where you live. In Florida, for example, I had to head over to the State Division of Corporations at Sunbiz.org.
For other states, visit their government website. Not everyone will have a similar step. In North Carolina, I registered everything all at once under the NC Secretary Of State.
I paid around $125 to register my business, and don't forget you have to renew each year. If you are late, you face up to $400 in penalty fees.
2. Obtain Your EIN Number – If Required
Once your business name is processed, you can apply for your Employer Identification Number (EIN) with the IRS. You can also see if and why you need an EIN from the IRS here.
Even saying the word 'IRS' scares me, but the process takes maybe 10 minutes if you are slow like me and terrified of typing your 'i' dots wrong.
3. Look For Other Registrations: See If You Need A Business Tax Receipt Via The County Or City
For my city and county in Florida, I had to apply for a business tax receipt (formerly known as occupational tax). Just head over to your local county tax collector website.
The county tax collector office should have links for new business owners. I entered through the Revenue Division, but Google is also your friend. My county, at the time, had home occupation clauses as well. I guess the people who live on my street have a right not to get disturbed.
In North Carolina, I did not need this step, although I did check in with the County Register Of Deeds, too.
There may be a few details, more or less, that you still need to look into. Those three registrations should get you off to a solid start.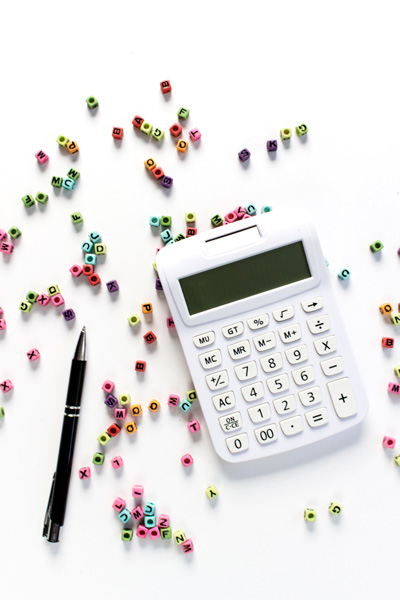 4. Don't Forget To Pay Your Annual Report Dues/Maintain Your Registration
In North Carolina (and when I lived in Florida), I need to pay "Annual Report Dues" by April 15th each year, which is pretty standard for LLCs. I pay $202 online. If you miss the deadlines to maintain your LLC registration, expect hefty fines.
Warning: Please know that you may receive *spam* messages about extra fees or fake places to send this money. Always go directly through your State's proper channels.
5. Pay Your Taxes As A Blogger
Don't forget that if you are earning income — usually over $400 annually — you must pay taxes. I pay estimated quarterly taxes directly to the IRS here.
Be sure to pay attention to all deadlines and definitely don't wait until the end of the year to pay everything that you owe. Penalties are for real.
I track all of my expenses and income in an Excel sheet. I also use Turbo Tax to file each year.
Right now, I can handle my own accounting, but it's my dream to hire a CPA as I continue to grow my LLC and blog.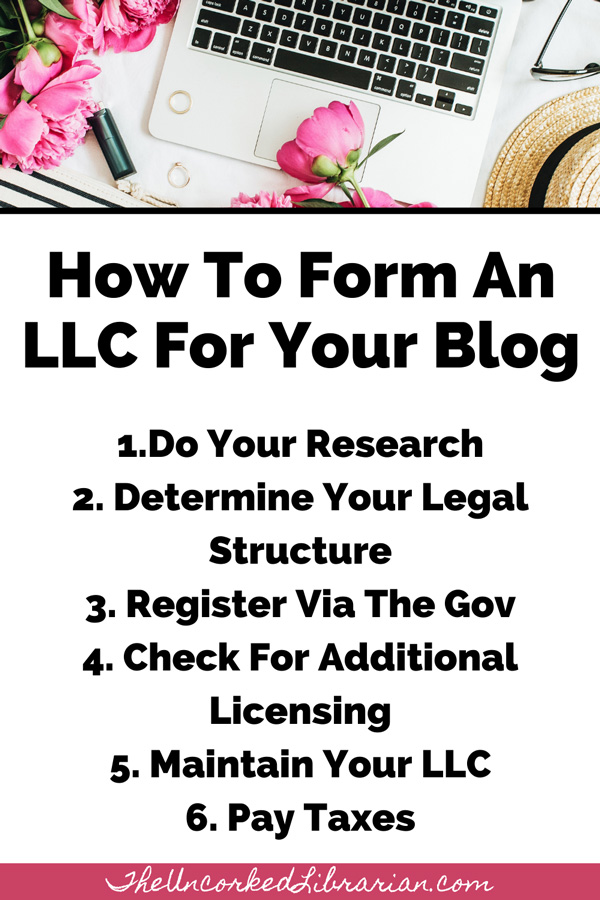 To Summarize Forming An LLC For Bloggers & Blogs:
Do your research.
Make a plan and determine your legal structure like an LLC.
Register appropriately on all government levels.
Check for additional licensing at the state, city, and county levels.
Remember to maintain your LLC status, file the correct paperwork, and pay taxes.
Seek professional advice where needed.
You can also check out these books on Amazon. Never hesitate to visit your local library and see if they have business classes or resources, too.
People start businesses every day having no idea what they are doing, but usually, we all survive the process.  That's what I told myself to sleep well those scary first days.  My mantra worked.
Now making money and keeping your business in the black is an entirely different beast. Keep reading…
Don't Forget These Tools That You Can Use To Register Your Blog As An LLC & Legal Business:
All of these documents are written by a lawyer, 6-figure blogger, and blogging coach, Amira, from A Self-Guru.
LLC Operating Agreement – Amira from A Self-Guru says it best: "This agreement legitimizes your business and separates your business from your personal assets like your personal bank account, car and house." This is an 11-page document that shows the separation of your business from your personal assets.
Legal Bundle For Required Blog Pages – Every blog requires traditional legal pages such as a Disclaimer, Privacy Policy, and Terms & Conditions. Grab these lawyer-written pages here and use the code UncorkedSpecial for $40-$60 off→ P.S. You can preview these pages on the bottom of my site, too. This is what I use on The Uncorked Librarian LLC and Uncorked Asheville websites.
Affiliate Agreement Template & Sponsored Posts Contract – Keep reading to learn how to make money blogging. One way, once you grow, is through sponsored posts and individualized affiliate programs with local businesses. You will need to provide professional contracts like these if a company doesn't provide them for you.
Now That You Formed An LLC For Your Blog, How Can You Make More Money To Offset Those Fees?
Besides the stress of legal repercussions, you might be saying: Hold up, girlfriend?! You can make money blogging?
Yup. You most definitely can. While I will not go into much detail, a few ways that bloggers currently make money are: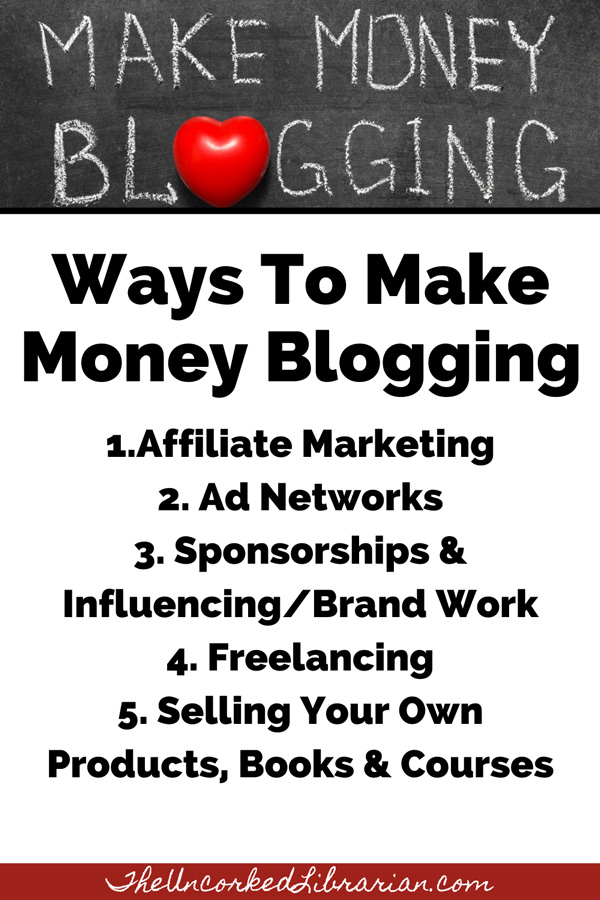 Affiliate Marketing
Think about your favorite places to shop and sites that you always use. Amazon, Barnes and Noble, Awin.com, Booking.com, and Book Depository are a few companies where you can apply for their Affiliate Programs.
Other bloggers use ShareASale or promote services like SiteGround and Flodesk.
For each sale you make, you earn a small commission. Be aware that some affiliates have extremely strict guidelines and policies, and you must always disclose posted affiliate links.
You can check out my favorite affiliate marketing programs for book bloggers to get a better idea of what I use.
Ads
Right now, I have Mediavine ads on my site. Mediavine is a high paying ad management network for bloggers with over 50,000 monthly sessions.
These ads help pay for my salary and offset costs like my annual LLC renewal, hosting, and blog expenses.
Sponsorships, IG Influencing, Brand Work (& Individual Paid Ads)
Companies and brands such as hotels may ask you to write a review or discuss a product on your site.  They might ask you to write content for their service.
On Instagram, brands may ask you to advertise a product.  Avoid spammy offers, though.  Watch out for raging Instagram scams.
Freelancing
You can offer other services such as editing, PR help, VA assistance, or any marketable skill that you have. You might also want to write for other media sites and magazines in your niche. Grab this Freelancing Legal Bundle too→
Selling Products & Courses
Offer courses and sell ebooks. Skilled bloggers teach courses on how to increase traffic, how to make money blogging, and how to blog.
Travel bloggers write ebooks about a destination. Book bloggers sell reading trackers and journals. Others sell Pinterest pin templates, recipe books, and forms you might need to succeed.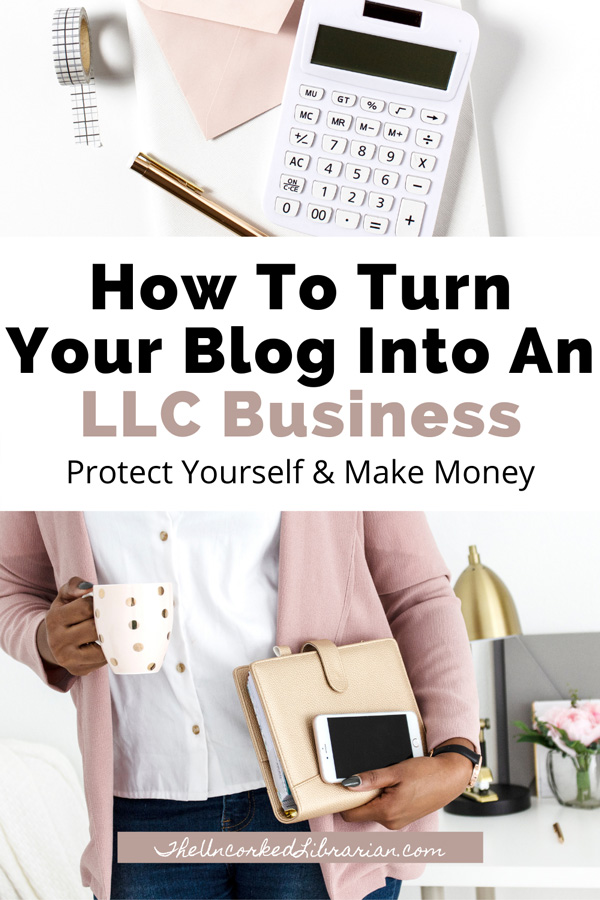 Are You Ready To Form An LLC For Your Blog?
Going LLC for bloggers and blogs is fairly straight forward and easy. Have you considered registering your blog as a business? What are the pros and cons of forming an LLC for your blog?
Don't Leave Without Checking Out These Blogging Tips:
Blogging Resources We Live By
How To Recognize Instagram Influencer Scams
Truth Bomb Blogging Tips & Tricks
What To Do When Someone Steals Your Blog Content
How To Start A Thriving & Money-Making Book Blog
This post originally published in 2018 and is updated for 2021.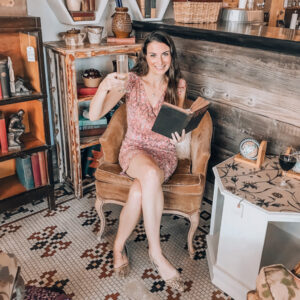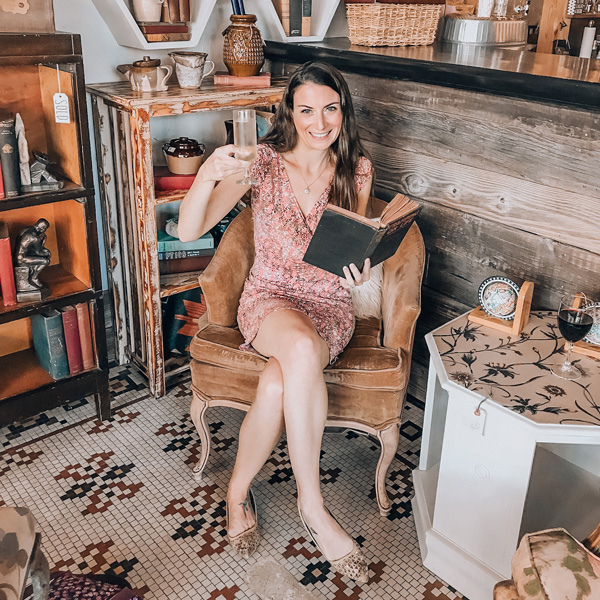 Christine (she/her) is the owner, lead editor, and tipsy book sommelier of The Uncorked Librarian LLC, an online literary publication showcasing books and movies to inspire travel and home to the famed Uncorked Reading Challenge.
With a BA in English & History from Smith College, an MLIS from USF-Tampa, and a U.S. Fulbright Fellowship in Christine's back pocket, there isn't a bookstore, library, or winery that can hide from her. Christine loves brewery yoga, adopting all of the kitties, and a glass of oaked Chardonnay. Charcuterie is her favorite food group.