These California books are sure to have you dreaming of the sun, beaches, and parties. Explore some of the best books set in California to take you there.
If you are traveling via plane or armchair, which books should you read before visiting California?
Below, find our favorite books set in Los Angeles and Malibu along with books about California to teach you more about identity, heritage, and culture.
Some of these Californian novels will make you cry while others will keep you on the edge of your seat.
These titles showcase family relationships, mental health, and chronic illness while others take you to tipsy parties and weddings.
Grab your pink Christmas tree and add "lupper" to your busy schedule.
And, find books set in California for both adults and teens. There are mysteries, rom-coms, and powerful LGBTQ+ novels.
A few of these books you'll finish in days with misty eyes and swelling hearts.
We decided to keep this reading list pretty contemporary with books published over recent years. However, you'll find a few older California books too.
So, what are the best books on California to enhance your next trip or remind you of your last visit? Let's get started.
Don't forget to let us know your favorites in the comments.
Read across America with our 50 States Reading List.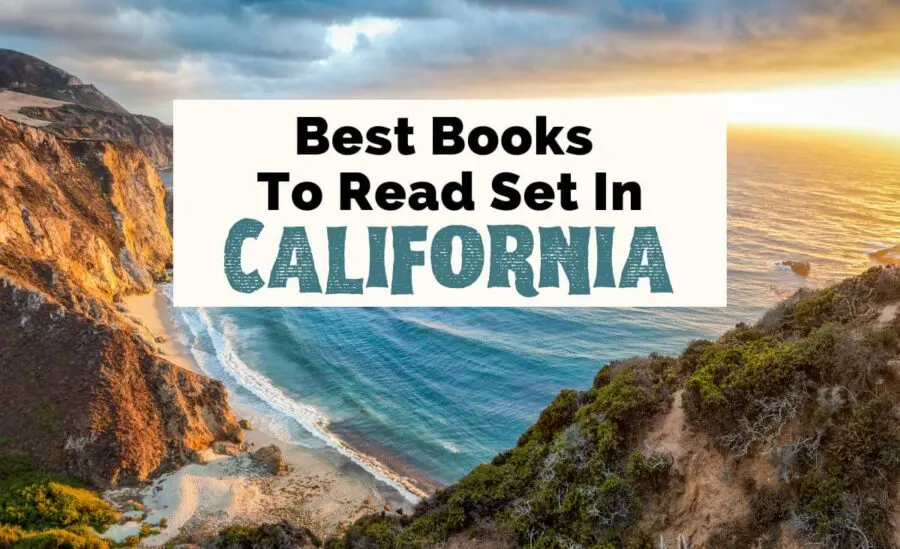 Grab your favorite books on California here:
20 California Books To Love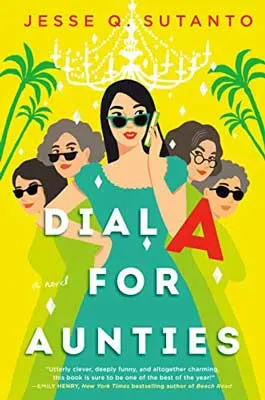 1. Dial A For Aunties by Jesse Q. Sutanto
For multicultural books set in California mixed with a tad of romance and murder, Dial A For Aunties is a must.
This book will crack you up from the moment you read about Meddy's love for eggplant.
It all starts when Meddelin Chan's well-intentioned mother sets her up on a blind internet date. Unfortunately, Meddy accidentally kills her date – twice.
Not sure what to do or who to call, Meddy heads home to her Chinese-Indonesian aunts and mother with a body in her trunk.
With an upcoming wedding for Tom Cruise – well, you'll see – the family needs to hide the body, cover up the murder, and pull off one stellar wedding.
Add in the one that got away – Meddy's first love – and the drunkest groomsmen around, and you have quite the scenario for a wedding disaster.
Can Meddy keep herself out of jail? And, what about her near-perfect ex-boyfriend? Can they rekindle their love?
Having lived in Indonesia for a year – and knowing basic Bahasa Indonesia – we loved seeing familiar phrases throughout this novel.
Meddy's family is the absolute best, and who knew a murder mystery could be a feel-good, comedic hotel novel and wedding romance book too?
Discover more books about Indonesia.

Read Dial A For Aunties: Amazon | Goodreads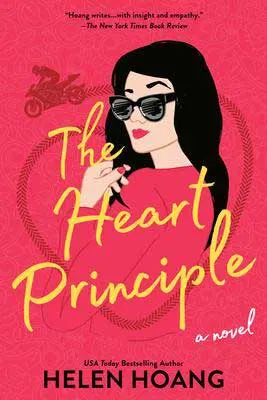 2. The Heart Principle by Helen Hoang
Our readers are huge fans of Helen Hoang and with good reason. You may know Hoang from her first two books in The Kiss Quotient series.
The third in the series, The Heart Principle, may be read as a standalone. Be forewarned, though, that this is one of the most intense romances and books set in California on this reading list.
There are triggers and content warnings such as suicide ideation, depression, toxic families, cancer, and hospice care.
The story is heartbreaking and hard to stomach – at times – but also deeply touching and satisfying. Anna kicks butt.
The plot: Violinist Anna Sun is struggling with her music after one viral performance.
When her therapist suggests that she has ASD, Anna finally feels like she understands herself and her needs. But, can her family?
Anna meets Quan after her boyfriend asks for an open relationship to go sleep around. Recovering from surgery and a cancer-free diagnosis, Quan has a few insecurities but wants to get back into dating.
What was supposed to be a one-night stand turns into so much more.
A family tragedy leaves Anna as a burnt-out and misunderstood caretaker. Readers watch as Anna fights for herself and love.
As Hoang mentions in her author's note, the story is part memoir. Enjoy a deep and emotional romance.
Enjoy even more fantastic books about musicians.

Read The Heart Principle: Amazon | Goodreads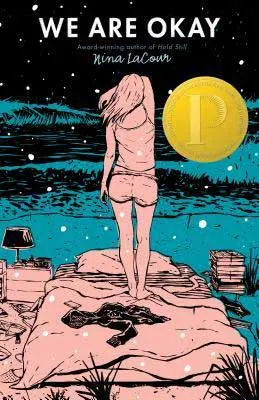 3. We Are Okay by Nina LaCour
Are you looking for a quick read, tear-jerker? Don't skip We Are Okay, one of the award-winning YA LGBTQ+ books set in California.
A 'new adult' story, this emotional & poetic narrative will hit the core of your soul. Uncover themes of grief, mental health, and family.
Readers will appreciate the literary tie-ins as well as the complicated but heartfelt friendship between Marin and Mabel.
Mabel and Marin are best friends growing up in Ocean Beach, CA. An intimate night together solidifies their love, making them more than just friends.
When Marin's grandfather passes away, her life and all that she knows suddenly dissolve into bitter lies. Marin has no one else to care for her — or so she feels.
Marin runs away to New York a month earlier than expected for college. Leaving without saying goodbye, Marin refuses to text back Mabel or clean up her grandfather's hidden and troubling secrets.
When Mabel arrives for a three-day visit to try to reach her, Marin has to reconcile her loneliness, love, and a broken heart. It doesn't help that it's Christmastime.
We Are Okay takes place over the course of three days and one summer. The dual timelines add to the suspense of Marin's future and provide insight into her healing process.
We Are Okay is the winner of the 2018 Printz Award. For YA California books, this is a somber but powerful read.

Read We Are Okay: Amazon | Goodreads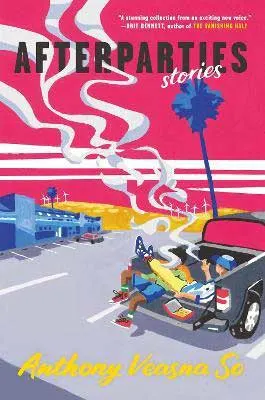 4. Afterparties by Anthony Veasna So
Anthony Veasna So recently passed away at the age of 28, just as the world was falling into the brilliance of his writing.
The New Yorker published a few of his short stories before this collection.
For emotional and dynamic books about California and growing up Cambodian-American, readers follow along with the children of refugees from the Khmer Rouge genocide.
The past and present collide, shaping futures, stories, and families – some more uplifting and hopeful than others.
So examines race, sexuality, and the meaning of success and community. Teens get high, fall in love, and attempt to carve out their careers and adult lives.
Many of the short stories overlap, giving less prominent characters their time in the spotlight.
While not all of the short stories engaged us, we highly recommend reading, "Three Women of Chuck's Donuts," "Superking Scores Again," and "Human Development."
Afterparties is truly a brilliant short story collection about adapting to Californian life in both a comedic and deeply reflective manner.

Read Afterparties: Amazon | Goodreads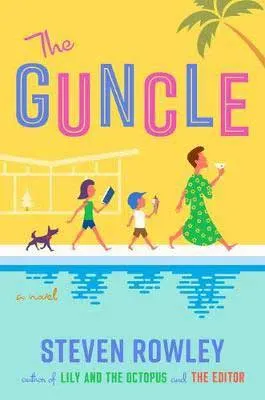 5. The Guncle by Steven Rowley
Travel to Palm Springs, California in a newer book release, The Guncle.
With the death of their mother, Maise and Grant are sent to live with GUP, Gay Uncle Patrick. Their dad is headed to rehab.
Patrick is an out-of-work TV star overcoming his own grief and anxiety after the tragic death of his partner. He's not ready for a house full of kids.
Comedic but also deeply touching, watch everyone change, grow, and fall in love as they navigate all of the utter garbage that life has thrown at them.
You will cry, cheer, and buy a pink Christmas tree in the middle of the year. "Lupper" will also become your new favorite mealtime.
We all wish we had a Guncle like Patrick.
This is one of the most compelling as well as sweetest California books on this reading list about overcoming grief with themes of identity, happiness, and love.
Discover more great books about middle-aged characters.
Read The Guncle: Amazon | Goodreads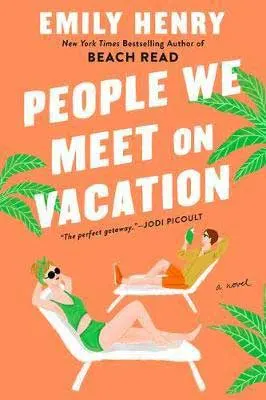 6. People We Meet On Vacation by Emily Henry
Another one of the books set in California on this list that overlaps in NYC, head to Palm Springs, CA.
Find faulty AC in Henry's most-anticipated book of 2021, People We Meet On Vacation. You might remember Henry from one of our favorite rom-coms, Beach Read.
Travel writers will appreciate that Poppy works for a luxury travel magazine. While she has everything that she could ever want – paid-for vacations to beautiful and coveted destinations – Poppy isn't happy.
Poppy's struggling to write about inspiring vacations with her creativity and best friend MIA. The fallout with her vacation partner-in-crime, Alex, has put a cramp in her style.
The terrible AC in Palm Springs and meeting different people from around the world will engage you and make you chuckle out loud. Poppy's boss is also our hero.
One of the most talked-about summer California books of 2021, we didn't exactly 5-star People We Meet On Vacation like others. We are harsh critics over here.
However, we can appreciate that our readers absolutely devoured this novel. Explore even more realistic and funny books about friends.

Read People We Meet On Vacation: Amazon | Goodreads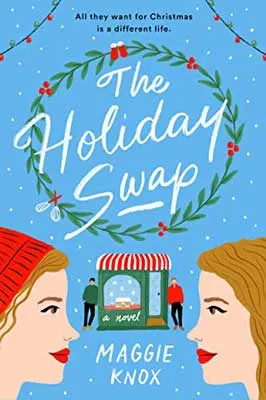 7. The Holiday Swap by Maggie Knox
For sweet romance books set in Los Angeles, California, be sure to pick up Maggie Knox's The Holiday Swap. Plus, this one is an excellent novel for sisters.
When Charlie gets a concussion and loses her sense of smell, she's afraid she'll ruin her one chance of ditching her douchebag co-host for her own baking show.
Enlisting the help of her twin sister, Cass, Charlie heads back to run her small hometown family bakery while Cass takes over for her in L.A.
Very few people know that they switched. Both sisters fall in love while posing as the other.
They also struggle at playing the part of the other while at work; Charlie is confident and assertive while Cass is quiet and plays it safe.
What could possibly go wrong? Let's just say almost everything.
The Holiday Swap is especially fitting if you enjoy foodie fiction, devour The Great British Bake Off, or are in a need of a Christmas novel.
Plus, you'll love the sisterly love along with the juxtaposition of big-city life versus small-town roots. Find feminism, heart, finding yourself, and lovable friends and family.
Forgiveness comes easily in this feel-good story sure to put you in the holiday spirit.
P.S. Maggie Knox is the pen name for the writing duo Karma Brown and Marissa Stapley.
Read The Holiday Swap: Amazon | Goodreads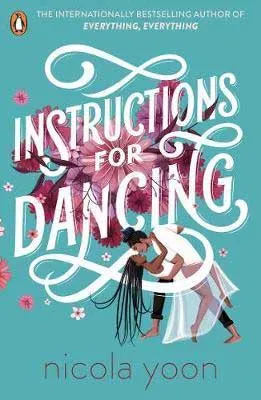 8. Instructions for Dancing by Nicola Yoon
Nicola Yoon is one of our favorite young adult authors, and you may know her from The Sun Is Also A Star – an NYC set novel – as well as Everything, Everything.
One of her newer California books, Instructions for Dancing, is truly a touching story about dancing, living, trusting, and loving.
Evie Thomas possesses the unique power to see other people's romantic destinies before they happen.
When Evie witnesses a couple kissing on the street, she sees how their romance will end. Her dad's recent affair also doesn't help her faith in finding lasting love.
In a PG Dirty Dancing narrative, Evie meets X at La Brea Dance Studio where she is coerced into joining a dance competition.
Evie can't help but fall for X. Will she also experience heartbreak?
We finished Instructions For Dancing in tears. This 2021 book release is a poignant and beautiful heartbreaker.
Yoon also asks the age-old question: Is seeing into the future a gift or curse?
You'll love the chemistry between X and Evie. Find themes of family, forgiveness, and living in the present.
For YA books set in California, this romance promises a sincere and magical narrative about first love.
Read Instructions For Dancing: Amazon | Goodreads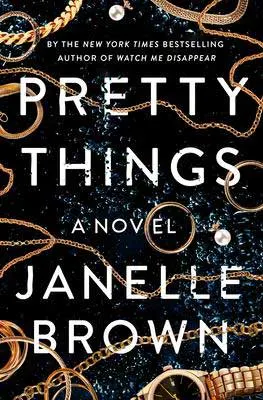 9. Pretty Things by Janelle Brown
If you are looking for a gripping and contemporary psychological thriller, Janelle Brown's Pretty Things will have you on the edge of your seat.
An Instagram influencer with money plus con artists can only equal one thing: Scams with many beautiful and fake things.
Lachlan and Nina are your typical Robin Hood story: they steal from the rich to give to the poor, including Nina's sick mother.
You don't exactly like them, but you don't dislike them as much as their victims. Lachlan and Nina stalk wealthy and corrupt men and women on Instagram.
To run the con, they change their identities, meet up with these unsuspecting people at parties, and ultimately steal and resell their valuables.
Both are pros at exploiting weakness and playing off emotions, fears, and dreams.
Unfortunately, things go wrong with one of their biggest cons yet. Nina takes revenge on a family responsible for ruining her future, but nothing goes as expected.
Pretty Things is one of those books set in California (around CA and Lake Tahoe) where you cannot trust anyone.
Find women's fiction with friendship and mother-daughter relationships too.
Read Pretty Little Things: Amazon | Goodreads | Book Information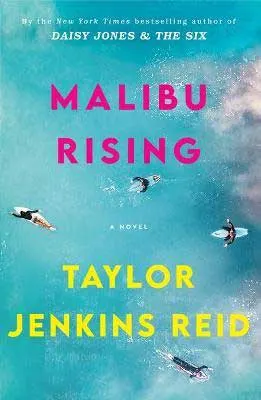 10. Malibu Rising by Taylor Jenkins Reid
From the author of the popular Californian novel, Daisy Jones & The Six, Taylor Jenkins Reid is back at it with one of the most talked-about California books of 2022, Malibu Rising.
Not to mention its 2023 movie hype.
Head back to the 1980s for a tipsy and out-of-control end-of-summer party in Malibu. This is a party that tops Gatsby's.
Four famous siblings are facing their own problems and inner demons. Their infamous father, Mick Riva, has abandoned them for most of his life.
Nina is equally famous and a gorgeous surfer and model. Her brother Jay is a pro surfer, and her other brother Hud is his famous photographer.
Their sister, Kit, is one of the quieter ones with a secret or two as well.
Family secrets, trauma, and affairs surface during this fiery and unforgettable evening. The pressure and scrutiny from the public eye do not help.
By morning, flames will engulf the Riva family mansion. Can this family keep it together? Is the fire symbolic of something else?
Find a deeper exploration of the meaning of family, and champion Nina as she cares for her siblings. Our one gripe, though, is the overabundance of party-goers' stories, which is tedious.
For books on California – life, surfing, partying, and money – this is a solid read, though.
Read Malibu Rising: Amazon | Goodreads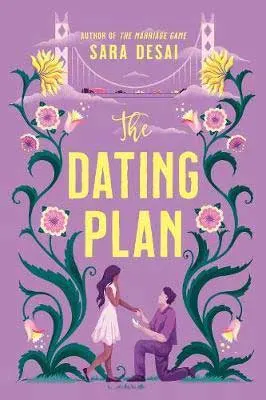 11. The Dating Plan by Sara Desai
If you are in the mood for a sexy, headboard-breaking, and hilarious multicultural romance, don't skip Sara Desai's The Dating Plan.
Out of all of the books set in California on this reading list, we devoured The Dating Plan in less than 2 days. This is also a super sweet and feel-good read with overbearing but loving families.
Daisy Patel is smart, beautiful, and single. Her Indian aunties are determined to find her match, even though she is still overcoming the trauma of being abandoned by the people she loves.
When her Irish-American childhood crush, Liam, comes back into her life and needs a fake wife, they decide to make the arrangement work for them both.
Mind you, Liam stood her up on prom night.
With a shady past and one major rule – no emotions or physical anything – can these two pull off this hoax? And, will they follow their own rule?
The Dating Plan is one of the best escapist California books. You'll love the adventurous, punch-throwing families and the safety net of blissful predictability.
Explore more books about Indian families and books set in India.

Read The Dating Plan: Amazon | Goodreads | Book Information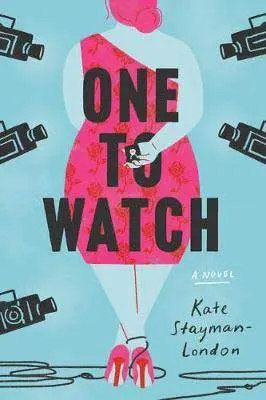 12. One To Watch by Kate Stayman-London
For even more escapist books set in California, be sure to check out Kate Stayman-London's One To Watch.
Although we are not huge fans of The Bachelorette or The Bachelor, we finished this funny but also thoughtful and poignant rom-com and beach read rather quickly.
Plus, content creators and bloggers will appreciate and laugh aloud about the podcast, social media, and blogging references.
Meet Bea Schumacher, a plus-size fashion blogger. Bea is tired of seeing no diversity as well as women who don't look like her on The Bachelorette-like show, Main Squeeze.
After a drunken internet rant, Main Squeeze invites Bea on as the next leading lady. Her acceptance would surprise as well as smash stereotypes for viewers and participants.
Of course, not everyone is accepting – reaching levels of cruelty that make your heart sink and invoke awful high school nostalgia. Even Bea begins to have her doubts.
Although not fully committed to looking for love after her previous heartbreak, Bea suddenly finds herself invested in these men.
Will she end up meeting the man of her dreams? Or, will she find herself thoroughly embarrassed and disappointed?
Most touching is Bea's internal and realistic struggle with loving herself.
While the plot is a tad predictable – true to formulaic reality TV – discover a sexy and lovable female lead who goes through an intense learning process.
This is one of the great body-positive books set in Los Angeles and Malibu on this reading list.
Read One To Watch: Amazon | Goodreads | Book Information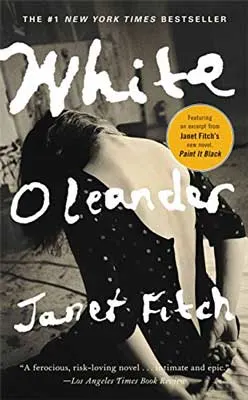 13. White Oleander by Janet Fitch
For books set in Los Angeles that are a tad older, White Oleander (1999) is one you shouldn't skip. It's also a great book with a color in the title.
Astrid's mother, Ingrid, poisons her ex with white oleander flowers. Sentenced to life in prison, Astrid spends years weaving between new homes within the foster care system.
The system is not kind to Astrid. A tumultuous childhood awaits her filled with danger, neglect, heartbreak, and abuse – in households both rich and poor.
Astrid, who once looked up to her mother, suddenly grows more and more resentful. Still, we find a story of resilience and survival.
Can Astrid sort out the past and find herself – even with such unstable settings?
White Oleander is one of the most moving California books on this reading list, as both a coming-of-age story and a tale about mother-daughter relationships.
Discover more top books from the 90s.
Read White Oleander: Amazon | Goodreads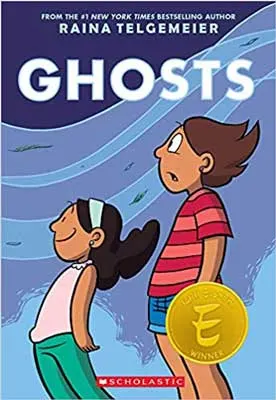 14. Ghosts by Raina Telgemeier
For award-winning books about California, Raina Telgemeier's middle-grade graphic novel, Ghosts, will teach you more about Mexican culture and traditions as well as living with a chronic illness.
Cat's sister, Maya, suffers from cystic fibrosis. Their family decides to move to Northern California for the fresh ocean air.
In Bahía de la Luna, Cat learns about her Mexican heritage – as this is a city obsessed with ghosts. Although Cat is a glass-half-empty kind of girl, Maya is extremely optimistic and energetic.
Maya convinces Cat to go on a ghost tour with a cute boy in town, Carlos, to prove that ghosts do exist.
While on top of a hill at the mission, Maya has a breathing attack and is placed on a machine that limits even more of her daily activities, including trick-or-treating.
With the Day of the Dead quickly approaching, both girls attempt to come to terms with dying and living with the help of ghosts, new friends, and family.
Please read Ghosts with awareness, though, as Telgmeier has faced mixed reviews over the accuracy of her portrayal of missions, ghosts, Day of the Dead, and CF.
Find even more books about Mexico, and explore more ghost novels.
Read Ghosts: Amazon | Goodreads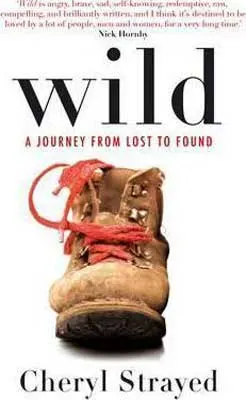 15. Wild By Cheryl Strayed
One of the nonfiction books about California on this list, you may have heard about the infamous Cheryl Strayed, a fantastic travel writer.
Cheryl Strayed takes to the Pacific Crest Trail (PCT) after her mother dies and her marriage fails. She is only 22 years old, but she already feels lost.
Mind you, Strayed is not an experienced hiker and the PCT is not an easy walk through the woods.
Strayed faces an incredibly hard journey while reflecting on her deeply traumatic past. However, she emphasizes love, compassion, growth, and forgiveness.
Fresh air and time to reflect are healing. All of Strayed's life experiences make Wild one of the most honest and vulnerable California books on this reading list.
Wild is also a great book for hikers.

Read Wild: Amazon | Goodreads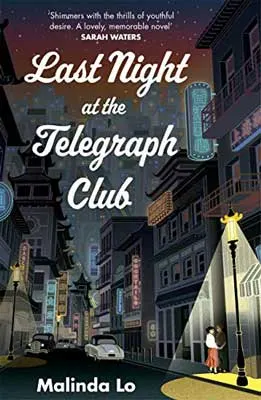 16. Last Night at the Telegraph Club by Malinda Lo
For award-winning books set in San Francisco, Last Night at the Telegraph Club will appeal to historical fiction lovers.
This National Book Award winner for YA literature is also a fantastic coming-of-age and LGBTQ+ novel for teens, new adults, and adults.
Set in the 1950s during the Red Scare in San Francisco's Chinatown, Lily loves studying math and science.
Although her family has different ideas about women's societal roles, Lily wants nothing more than to work with rockets like her aunt.
Judgments and fear, however, are prevalent; Lily is Chinese-American during the Red Scare.
The government is looking for any reason to deport Chinese citizens and is on the lookout for Communist activities.
When Lily's new friend, Kath, introduces her to the Telegraph Club, where a "male impersonator" performs, Lily realizes that she's found her community and identity as a young lesbian in California.
Watch as Lily comes out to her family in a time full of prejudice and panic. For books on California and its raw history, this one will touch your heart, frustrate you, and make you cheer for Lily.
TWs: homophobia, racism, miscarriage, xenophobia, sexism

Read Last Night at the Telegraph Club: Amazon | Goodreads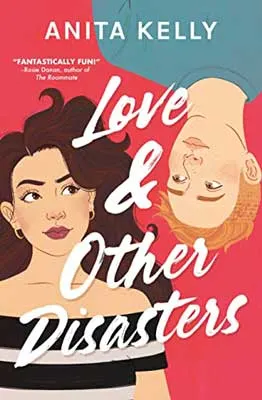 17. Love & Other Disasters by Anita Kelly
One of our favorite 2022 LGBTQ+ romance books set in Los Angeles, California, Love & Other Disasters is perfect for foodie fiction lovers, especially if you follow Top Chef and The Great British Bake Off.
Plus, you'll get to enjoy weekends with Dahlia and London as they sightsee across California – sand in your hair and making out on the beach included.
Meet recently divorced Dahlia Woodson. Leaving behind her job, she heads to L.A. to participate in a competitive cooking show, Chef's Special.
Not only did she just come out to her family, but she also decided she won't follow society's 'expected' narrative and have kids.
While on Chef's Special, Dahlia finds herself flirting with London, a nonbinary, pansexual, and sexy AF contestant.
The two never discuss what will happen when one of them is kicked off the show – and someone will eventually have to go.
Will they stay together? Will their families love them for who they are?
We championed the representation, London standing up to their dad, and Dahlia's strength to live a life true to herself.
For California books, we read Love & Other Disasters in just a few days; it's such an easy, sizzling-hot story with dynamic characters.

CWs: Misgendering, homophobia, nonbinary-phobia, transphobia, sexism, sexual content

Read Love & Other Disasters: Amazon | Goodreads | Book Information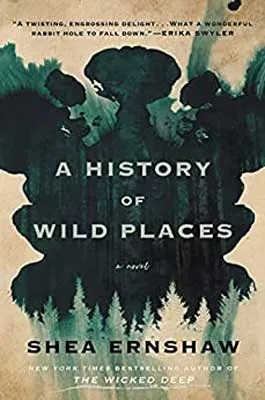 18. A History of Wild Places by Shea Ernshaw
If you are looking for California books about cults, you won't want to miss Shea Ernshaw's debut adult novel, A History of Wild Places.
We just devoured Ernshaw's YA ghost thriller, The Wicked Deep.
Living in Oregon, Ernshaw notes that her story is loosely inspired by Osho (the Indian guru Bhagwan Shree Rajneesh) and his cult, the community known as Rajneeshpuram.
You might also remember this cult from the TV series Wild, Wild Country.
Ernshaw's Pastoral is undoubtedly a cult filled with one narcissistic and power-hungry leader who will stop at nothing to keep his people within the confines of the community.
When famous children's author Maggie St. James disappears into the woods, her family hires an equally lost soul, Travis Wren, to find her.
Like Maggie, Travis quickly drops off the grid, and we enter Pastoral, a community in the forest of the Californian Mountains.
Similar to M. Night Shyamalan's The Village, members fear "the pox." They are told if they leave, they will rot from the inside out.
Is there magic in these woods? Unlikely…
One of the infuriating California novels rich in psychology – where you might already guess what's happening – you'll read A History of Wild Places late into the night waiting to see if Maggie is still alive.
What will become of the members of Pastoral?
Spoiler: People will die. The ending is quite haunting too.
Read A History Of Wild Places: Amazon | Goodreads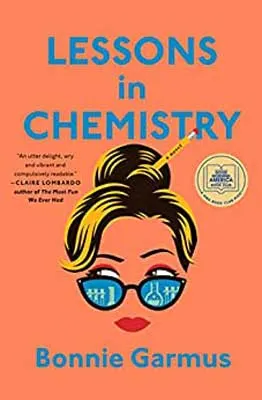 19. Lessons In Chemistry by Bonnie Garmus
Lessons in Chemistry – a top 2022 book release – is a dash of foodie fiction, a sprinkle of romance, and a heavy serving of feminism all in one.
Plus, meet the smartest dog in fiction, Six-Thirty.
Elizabeth Zott refuses to fall victim to the misogyny of the 1960s, including men stealing her work, sexual assault, and gender assumptions.
Falling in love with the top scientist doesn't help, and she is determined to make a name for herself in the chemistry field – and become a great rower.
However, the story starts with Elizabeth as a single mother and cooking show host. What happened?
For books set in California, Lessons in Chemistry is empowering and chock full of community – we wouldn't skip it.
Uncover more books about the 60s on this list.
Read Lessons In Chemistry: Amazon | Goodreads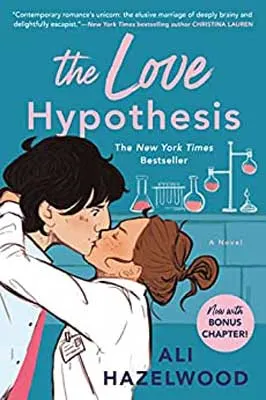 20. The Love Hypothesis by Ali Hazelwood
It's no surprise that many of the science-based books on California are set at Stanford University, and Hazelwood's extremely popular The Love Hypothesis won't disappoint.
Olive is a third-year Ph.D. candidate who wants nothing more than for her best friend Anh to start dating her ex, Jeremy, without feeling guilty.
However, Ahn adheres to a strict friendship code, forcing Olive to grab and kiss the first man she sees to convince Ahn that she is over him.
And, of course, this man happens to be a brooding professor known to annihilate students' science careers and self-esteem.
True to the fake dating trope, what starts as a ruse becomes something more.
For fast-paced California books, while the fake dating trope tends to be less empowering for women and is a bit overdone and predictable, we ate up this novel.
Enjoy sex-positive scenes and a tender love story about believing in yourself and finding the right – and respectful – partner who respects your needs.
Read The Love Hypothesis: Amazon | Goodreads
Save Your Favorite Books Set In California For Later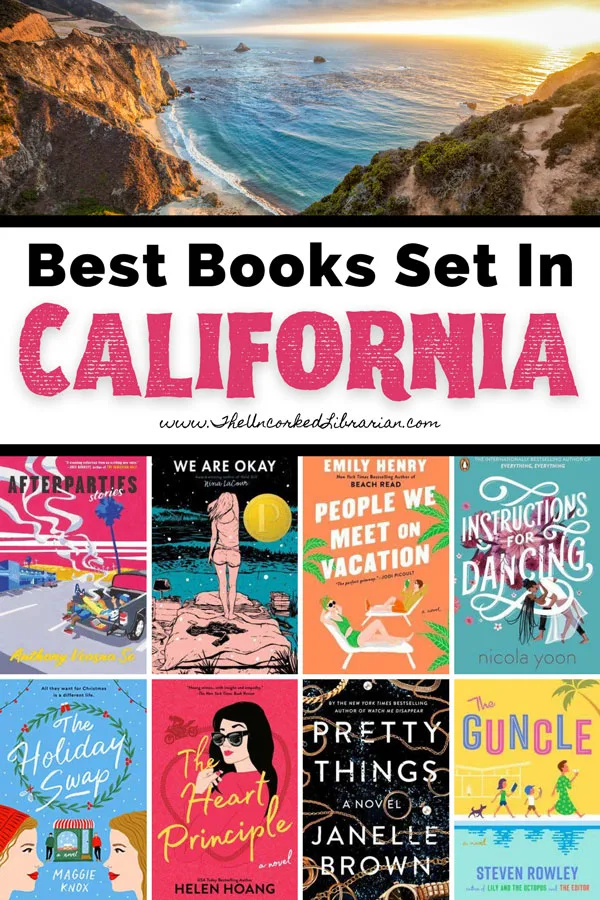 Grab your favorite books about California here:
What are the best books about California to transport you there?
There are so many books set in Los Angeles and California. Which California books are your favorite? Let us know in the comments.
You may also love:
Best Books In Every State
Books About Wine & Vineyards
Books Across North America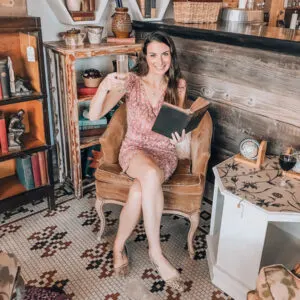 Christine (she/her) is the owner, lead editor, and tipsy book sommelier of The Uncorked Librarian LLC, an online literary publication showcasing books and movies to inspire travel and home to the famed Uncorked Reading Challenge.
With a BA in English & History from Smith College, an MLIS from USF-Tampa, and a U.S. Fulbright Fellowship in Christine's back pocket, there isn't a bookstore, library, or winery that can hide from her. Christine loves brewery yoga, adopting all of the kitties, and a glass of oaked Chardonnay. Charcuterie is her favorite food group.