Travel across Europe with the best books about Scotland sure to teach you more, nonfiction and historical and contemporary fiction included.
If you are looking for books on Scotland to read before your trip or are hoping to do a little armchair traveling, we have just the reading list for you.
Find a variety of fiction and nonfiction Scotland books – set, about, and from there – for both adults and teens.
Some will showcase the beautiful Scottish scenery while others will introduce you to important historical figures. We even have a book about tartan and another on the history of Scottish whisky.
Explore topics about immigration, the witch trials, and important moments in Scotland's history. Plus, enjoy murder mysteries, LGBT+ titles, historical fiction novels, memoirs, and more.
So, what books from Scotland do we recommend?
Keep reading, and don't forget to share your favorites in the comments. Let's get started!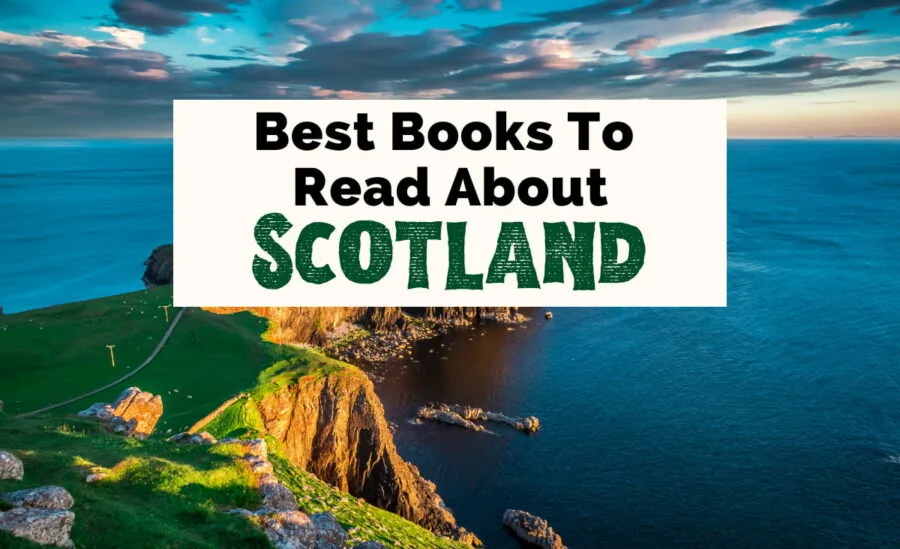 Grab your favorite books and movies here:
Best Nonfiction Books About Scotland
Learn more about the geographical area, whisky, wars, and important figures with these comprehensive Scotland history books.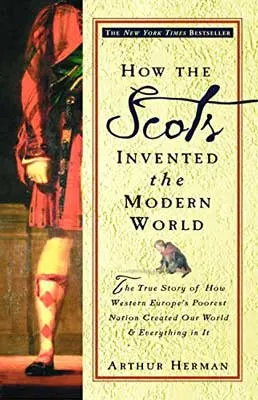 How the Scots Invented the Modern World by Arthur Herman
If you've ever looked into the origins of some of the world's most important leaps forward in civilization, you might be surprised to find that a lot of them came from Scotland.
In fact, this small and sometimes poor country has been responsible for a disproportionate amount of global innovation, both in terms of technological advancements and societal development.
With How the Scots Invented the Modern World, author Arthur Herman delves into the lives and achievements of the individuals from Scotland's history that he believes contributed the most.
During his discussion of the fruits of "Scottish Enlightenment," Herman covers the likes of David Hume, Simon MacTavish, Adam Smith, Sir Walter Scott, Alexander Graham Bell, and more.
Herman attests that Scottish thinkers were responsible for, among other things, the Encyclopaedia Britannica, modern free market capitalism, and the Declaration of Independence, making this one of the best books about Scotland's history.
Read How the Scots Invented the Modern World: Amazon | Goodreads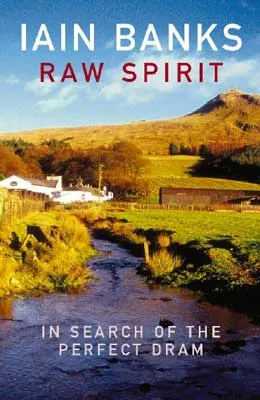 Raw Spirit: In Search of the Perfect Dram by Iain Banks
Whisky has long been an integral part of Scottish identity for many people.
Many books from Scotland will either extol its virtues or, at the very least, mention it in passing, highlighting how much of an everyday staple it is throughout the country.
But for some, whisky is more than just a more expensive inebriation enabler – it is a serious business, with complexity and the potential for extremely pleasant enjoyment.
Taking up the task of traversing the wonderful world of whiskies is none other than Iain (occasionally M.) Banks, one of the most globally known Scottish authors.
This is Banks' first foray into nonfiction books about Scotland, born from a fairly shameless suggestion from his agent, which Banks talks about upfront and early on.
Turning his literary talents to travel writing, we get a descriptive and genial glimpse into the nation of Scotland through one of its most famous commodities.
As well as whisky talk, the book includes diversions discussing the politics of the day and the various vehicles in which he traverses the winding roads of the Scottish Highlands and Lowlands.
While these kinds of subjects are digressions, there is still a lot to enjoy that's on-topic both for whisky experts and complete novices alike.
If you're looking for alternative ways to get an insight into the Scottish mindset, with plenty of great descriptions of the scenery, this is one of the best books on Scotland libations for you.
If you love whisky books, you might also enjoy these books about beer and brewing.
Read Raw Spirit: In Search of the Perfect Dram: Amazon | Goodreads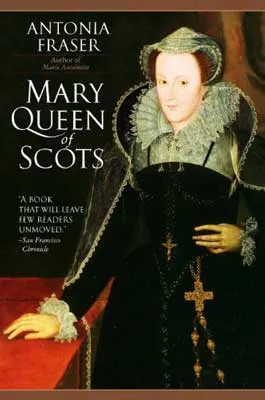 Mary Queen of Scots by Antonia Fraser
She inherited the Scottish throne when she was just 6 days old; she became Queen of France at 16; she was imprisoned for almost 19 years, and finally executed for treason at 44.
It's fair to say that even on the surface, Mary Queen of Scots lived an extraordinary life. But the details of her exploits make for an even more intriguing and rich story.
Author Antonia Fraser's well-researched and moving examination of her subject makes for some engaging reading. Overall, it took her 4 years to complete.
Fraser seeks to answer the question: What was Mary Queen of Scots really like?
Amid the outlandish and sometimes comically nonsensical actions and attitudes of the period, she does an excellent job of highlighting details that give a full picture of this important historical figure.
Mary Queen of Scots is one of the best books about Scotland for those interested in this turbulent period in the history of Scotland.
Read Mary Queen of Scots: Amazon | Goodreads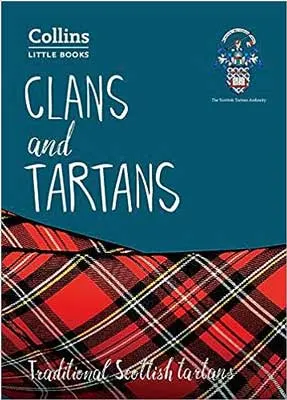 Clans and Tartans: Traditional Scottish Tartans by HarperCollins
No Scotland books list is complete without a book about tartan! And this little gem is the perfect introduction to the iconic Scottish cloth.
Created in association with the Scottish Tartans Authority, Clans and Tartans provides a brief history of tartan, its cultural significance, and how it's used in Scottish national dress.
Additionally, you'll find full-page spreads of the 100 most prominent clans, their crest, motto, Gaelic name, a brief history of the clan, and, of course, their tartan.
In addition to the 100 clans, there is a detailed list of even more clans and family names you can reference to find your own family heritage.
Clans and Tartans is one of the best books on Scotland for anyone with Scottish heritage or an interest in Scottish dress and fashion.
Although this is by no means the most comprehensive book on tartan, it is the perfect introductory book on the topic.
Read Clans and Tartans: Amazon | Goodreads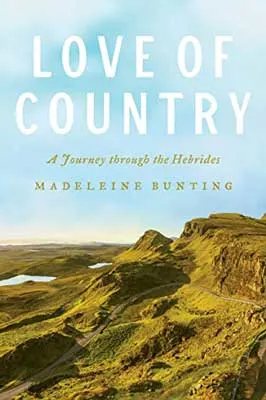 Love of Country: A Hebridean Journey by Madeleine Bunting
Also known as Love of Country: A Journey through the Hebrides
As the subtitle suggests, this is a Hebridean journey through both the Inner and Outer Hebrides – the remote islands off the north-western Scottish coast.
Originally from North Yorkshire, Madeleine Bunting found herself drawn to the Hebrides, returning again and again over the course of many years.
Through these visits, she gets to know the islands and learn more about their tragic past, and the Gaelic culture.
Love of Country is partially a meditation on belonging and home, using the islands' long history of forced migration and displacement to examine Britain's imperial past.
If you are looking for nonfiction books about Scotland that celebrate a unique part of the country's history, landscape, culture, and inhabitants, Love of Country is a must-read.
Read Love of Country: Amazon | Goodreads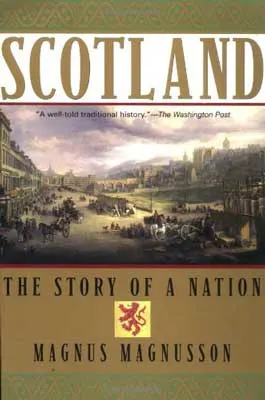 Scotland: The Story of a Nation by Magnus Magnusson
In one of the most comprehensive nonfiction books on Scotland's history, author Magnus Magnusson covers more than 9000 years.
Beginning with the ancient era of 7000 BC and continuing right up to modern-day political movements, Magnusson covers the events that shaped the course of the nation.
Throughout his writing, Magnusson's tone is that of someone with a personal connection to the events.
His opinions, stories, biases, and experiences are interwoven throughout his discussions of these historical events, finding a balance between academic study and human interest.
Magnusson also includes the views of other Scottish historians and experts in his book, lending a very even quality to the proceedings.
This is a great go-to for factual history books about Scotland.
Read Scotland – The Story of a Nation: Amazon | Goodreads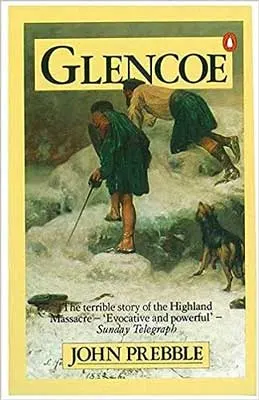 Glencoe The Story Of The Massacre by John Prebble
In one of the most bloody events of the latter part of the Jacobite rising of 1689, 30 members of Clan MacDonald were massacred in Glencoe at the orders of the then-Secretary of State, Lord Stair.
They were only one of the groups who had failed to pledge their allegiance to the new monarchs, William III and Mary II.
Their violent deaths were to serve as an example to others who also had not proved themselves patriotic enough.
Author John Prebble recounts the events of the massacre of Glencoe with a skill that prevents his large amount of research from becoming too academic or passive.
He is an engaging writer, and provides context to the events, both in terms of the day-to-day culture and the mythological beliefs to which the Clan ascribed.
This is one of the most captivating historical books on Scotland.
For further reading, John Prebble also wrote Culloden, considered the definitive history of the Battle of Culloden.
Read Glencoe The Story Of The Massacre: Amazon | Goodreads
Classics & Historical Fiction Set In Scotland
From classic novels about Scotland to some of the most riveting historical fiction, learn more about and travel to Scotland with these great books. Plus, chase Nessie and travel back in time.
And, if you love these books, you might also appreciate these Scotland-themed movies.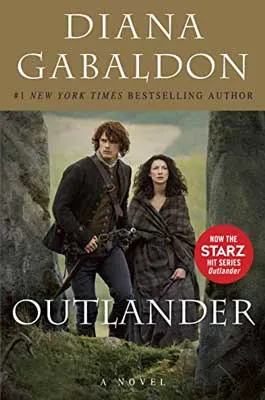 Outlander by Diana Gabaldon
In one of the most popular historical fiction books about Scotland – and set at the start of the Jacobite rising of 1745 – we follow the talented combat medic Claire Randall in a time-traveling adventure.
Having been separated for years during World War II, Claire Randall and her husband decide to take a second honeymoon to Inverness.
Whilst gathering plants near some standing stones, Claire is rendered unconscious, only to find herself waking up in the midst of a skirmish between English soldiers and Scottish clansmen.
Somehow, she has been transported back in time by two hundred years; it's 1743, and she has no idea how she got there, or how to get back again.
It will take the love of a gallant Scots warrior to give her the strength to live in this strange new era, but being torn between this brave man and her husband back in 1946 may be her undoing.
If you're looking for a long series of Scotland historical fiction and fantasy romance novels to get immersed in, the Outlander series is a great set of Scotland books to do it in.
Read Outlander: Amazon | Goodreads | Book Information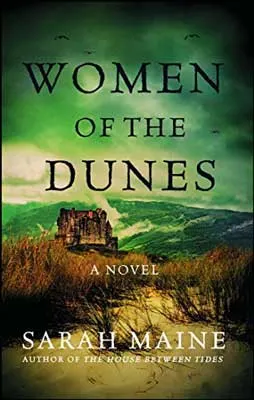 Women of the Dunes by Sarah Maine
Archaeologist Libby Snow has long heard tales of Ulla, the Viking maiden who gave her name to the island of Ullaness.
Now she's armed with the permission she needed to excavate a specific mound on the island, which she hopes will shed light on the life of Ulla, whose unknown fate remains a mystery.
What she finds, though, will shock her to her core; not answers from the 9th century, but instead the remains of an unknown man from the Victorian era.
Who was he? Why is his skeleton buried here? As the questions only pile up, Libby begins to recall memories of family stories, distant relatives, and violent pasts.
If you enjoy historical fiction set in Scotland, the multiple timelines of Women of the Dunes will sweep you along in their narrative wake.
Read Women of the Dunes: Amazon | Goodreads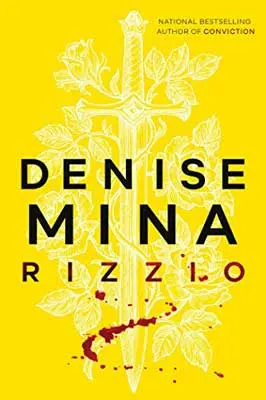 Rizzio by Denise Mina
Delving into an as-yet unsolved historical crime, Rizzio is the fictionalized story of the abrupt end of the life of David Rizzio, private secretary to Mary Queen of Scots.
During the night of March 9th, 1566, David Rizzio was forcibly removed from Mary's chamber and stabbed 56 times by a group of unknown assassins.
Those responsible allegedly threatened the life of the heavily pregnant Mary and her soon-to-be-born child as they dragged Rizzio away.
Author Denise Mina dramatizes this historical crime in her brutal and thrilling novella, straying away from the usual trope of romanticizing 16th-century Scotland in favor of grim realism.
This is a punchy and impactful period crime story, and while it's one of the shortest books about Scotland on this list, it will leave a lasting impression.
Read Rizzio: Amazon | Goodreads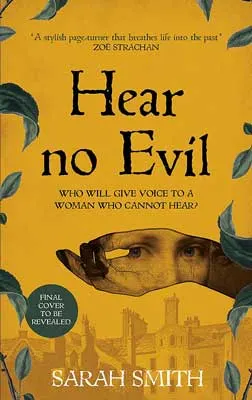 Hear No Evil by Sarah Smith
Glasgow, 1817: When Jean Campbell is witnessed throwing a child from the Old Bridge into the River Clyde, she is immediately taken into custody and imprisoned in the Edinburgh Old Tolbooth.
Even though the river is searched, no trace of the child is found and the authorities struggle to communicate with Jean due to her being deaf and not uttering a word.
Put on the case is Robert Kinniburgh, a teacher from the Deaf & Dumb Institution.
His job is to determine if Jean is fit for trial. If she is, it means either execution if guilty or life in an insane asylum otherwise.
Gradually he and Jean find a means to communicate, and Kinniburgh realizes that there's more than meets the eye in this supposedly open-and-shut case.
While she herself is not deaf, author Sarah Smith worked closely with deaf sensitivity readers and conducted thorough research into this historic real-life case in order to make sure the deaf representation is accurate.
Based on real historic case law from early 1800s Scotland, this is not only one of the most engaging books set in Edinburgh but one of the best books about Scotland overall.
Read Hear No Evil: Amazon | Goodreads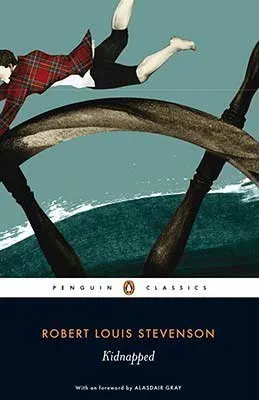 Kidnapped by Robert Louis Stevenson
Young David Balfour is set to inherit a large sum when his conniving uncle tricks him into being kidnapped with the intention of being sold into slavery.
All would have been lost, but fortunately for David, the ship he was being transported on ran into trouble and became shipwrecked.
To the rescue comes the roguish daredevil Alan Breck Stewart; little do either of them know, but as they trek across the Scottish Highlands, a new friendship is born.
Many people know of author Robert Louis Stevenson's more popular work The Strange Case of Dr. Jekyll and Mr. Hyde, but this lesser-known adventurous gem deserves equal attention.
Kidnapped is one of the most genuinely thrilling bona fide classic books about Scotland from one of the country's most famous writers.
Read Kidnapped: Amazon | Goodreads
More recommendations from Christine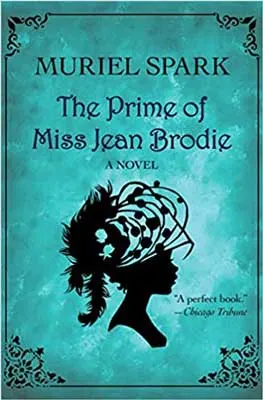 The Prime Of Miss Jean Brodie by Muriel Spark
You know we love a good dark academia story here at The Uncorked Librarian. The Prime Of Miss Jean Brodie is a historical novel set in 1930s Edinburgh.
Miss Jean Brodie is an enigmatic and unconventional teacher at the Marcia Blaine School for Girls. Her group of protégés, known as the "Brodie Set," hang on her radical teachings and strong opinions.
Yet, Miss Brodie's indelible lessons on life and love are not always helpful or even well-intentioned. One of them will even betray her.
At just 150 pages, this relatively short read packs a large punch with its themes of authority and power dynamics, loyalty, and moral ambiguity.
For great books from Scotland, The Prime Of Miss Jean Brodie put Scottish writer Muriel Spark on the map.
Read The Prime Of Miss Jean Brodie: Amazon | Goodreads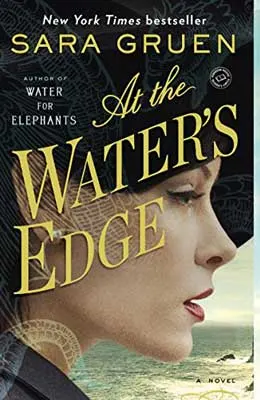 At The Water's Edge by Sara Gruen
Having traveled ourselves through the Scottish Highlands in search of the Loch Ness Monster, you can imagine that we loved reading At The Waters Edge, both an atmospheric and romantic book set in Scotland.
It's WWII when Ellis's father financially cuts him off, forcing Ellis and Maddie – with the help of a friend – to try to get back into his good graces.
Ellis heads to Scotland in search of the Loch Ness Monster, a feat his father failed at. As socialites, you can imagine how these three will fit into small town life.
For Maddie, though, she begins to see beyond the elite high society life she led back in Philadelphia, making new friends and even finding love.
For her, the search for Nessie has become a personal journey. At The Water's Edge is one of our favorite historical fiction books about Scotland and its famous local legend.
Find even more World War II historical fiction novels to read.
Read At The Water's Edge: Amazon | Goodreads
Fictional Scotland Books
If you enjoy literary and contemporary fiction as well as new releases, read even more books from and set in Scotland here.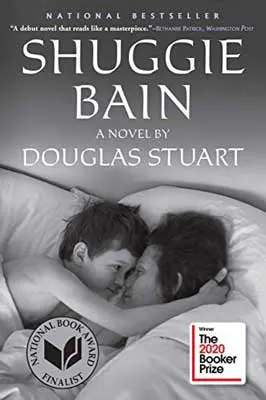 Shuggie Bain by Douglas Stuart
By far one of the most famous books about Scotland, Shuggie Bain is the story of the eponymous Hugh "Shuggie" Bain.
Shuggie is a young Glaswegian from a working-class family struggling to survive in poverty-stricken Thatcher-era Britain.
He is the youngest of three children, all of whom are burdened by their mother Agnes' alcoholism.
However, as the youngest, Shuggie is left to pick up the pieces when his brother and sister leave home; the pain of which is exacerbated when he is bullied for being effeminate.
The book spans both the 80s and 90s, covering Shuggie's childhood and adolescence as well as his own struggles to get away from home and make it on his own.
Shuggie Bain is a heartbreaking queer coming-of-age book and provides a peek into a time many have forgotten.
Readers should be aware that although the book is written in English, the dialogue is in phonetic Scots.
Read Shuggie Bain: Amazon | Goodreads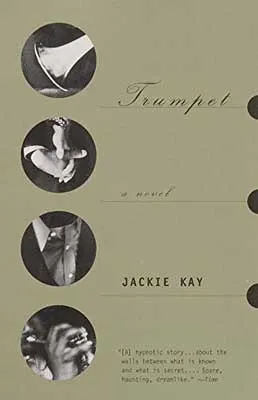 Trumpet by Jackie Kay
When Joss Moody, the legendary jazz trumpeter, passes away, his death exposes a secret previously known only to him and his wife, Millie.
Namely, that he was in fact biologically female, as revealed by the autopsy.
Not even Joss and Millie's adopted son Colman knew about it, which proves to be disastrous when his disbelief crumbles into an indignant rage.
Wanting revenge for the "lie," he agrees to tell all to a tabloid journalist hungry for a sensational topic for their new book.
Fleeing the turmoil, Millie returns to Scotland and her and Joss' holiday home where, with the help of some old acquaintances, she revisits her memories of the man she knew and loved.
Trumpet is a moving story of family love, acceptance, and identity, as well as a poignant comment on the relentless hate of transphobia.
Scottish-Nigerian author Jackie Kay – writing with an informed view as an adopted child herself – gives authenticity and grace to aspects of Colman's upbringing, as well as to the story overall.
This is one of the most moving of these Scotland books to cover the relationship of a son and their trans parent.
Find even more books about musicians, both fiction and nonfiction.
Read Trumpet: Amazon | Goodreads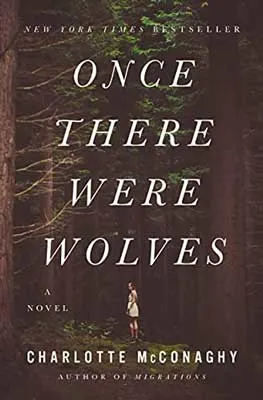 Once There Were Wolves by Charlotte McConaghy
Inti Flynn is a biologist who, along with her twin sister Aggie, has recently arrived in the Scottish Highlands.
Although Inti is in Scotland to work, she also hopes the change of scenery will help heal her sister, who is suffering from trauma.
Inti has been tasked with reintroducing 14 gray wolves into the harsh environment in the hopes of helping the struggling local ecosystem naturally rebuild itself.
Against all odds, the wolves begin to prosper. But then a local farmer is found dead, and Inti knows suspicion will fall on her wolves. She makes a desperate decision to protect them.
Once There Were Wolves is one of the most beautifully written books on Scotland, especially as a tribute to the stunning Scottish landscape.
The novel is full of such lush descriptions of the forests, the wildlife, and the Highlands in general that you'll feel like you're there with Inti.
Read Once There Were Wolves: Amazon | Goodreads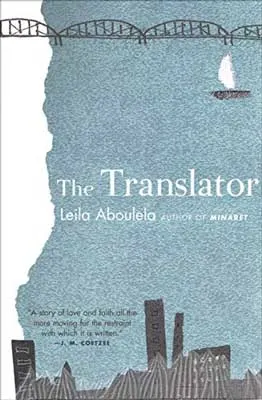 The Translator by Leila Aboulela
It's one thing to lose your partner; it's another to do so in an unfamiliar and distant land. But that's what has happened to Sammar, a young Sudanese widow living in Aberdeen.
Now that her husband has died, life has become especially lonely, especially since her son has returned home to Khartoum.
While Sammar becomes increasingly depressed and despondent, hope is rekindled when she begins to work and translate for Rae, a Scottish scholar specializing in Islam.
The two develop a relationship that moves towards the romantic, but Sammar knows that eventually, they will have to address an impending obstacle.
Namely, while Sammar is a devout Muslim, Rae does not have the faith that she does. Soon Sammar may have to choose between her beliefs and the one she loves.
Told with a restraint that empowers the emotion of the novel rather than detracting from it, The Translator is one of the books from Scotland that will resonate with anyone who has settled abroad.
Read The Translator: Amazon | Goodreads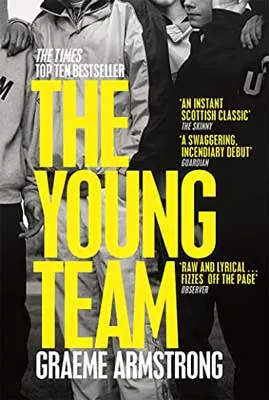 The Young Team by Graeme Armstrong
Life on the streets of North Lanarkshire is fraught with gang fighting, drug taking, and murder. For 14-year-old Azzy Williams, it's just part of the day-to-day.
As part of the Young Team gang, he's ready and looking forward to getting involved as much as he can.
He's out to smoke, drink, pop pills, and deal out some much-deserved violence against anyone who goes against him and his loyal brethren.
But a life lived twice as hard will last half as long, and once Azzy has grown up, he's now ready to leave it all behind… if he can.
Based on the life and experiences of Scottish author Graeme Armstrong, The Young Team shines a light on what can happen when a young person decides to live their life to excess.
There's no Wolf of Wall Street style embellishments and glorification to the proceedings, however.
Armstrong includes no glamorization of drugs; just honesty about what they can do to a person and a community.
Anyone looking for books on Scotland that go in-depth into the darker side of Scottish youth culture will have a lot to experience and appreciate here.
For an extra immersive experience, the book is also written in phonetic Scottish.
Read The Young Team: Amazon | Goodreads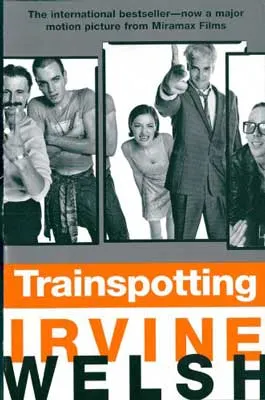 Trainspotting by Irvine Welsh
Trigger warnings for strong language, hard drug use, infant death, and more
In the squalor of the 1990s Edinburgh heroin scene, frequent users Renton, Spud, and Sick Boy spend their time watching videotapes, arguing, and getting high.
They also occasionally socialize with Tommy – who has never tried heroin – and "Franco" Begbie, a violent psychopath who frequently starts fights with those who anger him.
As increasingly chaotic events affect their lives, they variously try to kick the habit and get clean with varying degrees of success.
Can any of these unfortunate "Skag Boys" find release, redemption, and a happy life?
Undeniably one of the most famous Scottish books ever written, Trainspotting rightly comes with quite a reputation and a severe warning for sensitive readers.
Written in extremely strongly accented phonetic Scots, this non-linear, stream-of-consciousness literary achievement is something that has to be experienced to be fully understood.
Even if you only experience it once.
If you enjoy famous books about Scotland like Trainspotting, find even more iconic books published in the 1990s.
Read Trainspotting: Amazon | Goodreads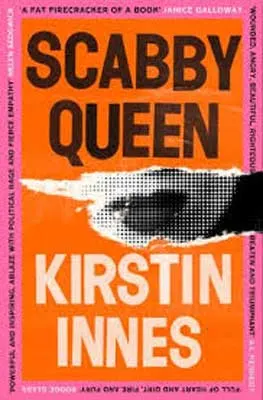 Scabby Queen by Kirstin Innes
Clio Campbell, Scottish folk singer and political activist, is dead. Moreover, she committed suicide, and she did it in the spare bedroom of her long-suffering friend Ruth.
Having started off as a one-hit-wonder in the early 90s, Clio's public image has taken a battering in recent years, thanks to the tabloid press.
However, with her death, she is once again thrust into the public eye, this time as a heroine of politically charged and disruptive times.
But who was the real Clio Campbell?
And why was she treated like a Scabby Queen; a card game where the queen gets passed round and round as everyone tries to discard her as quickly as possible?
Covering events from across the United Kingdom but covering some key moments for modern Scotland, we learn about Clio from those who both loved and hated her the most.
From the Scottish independence referendum and Brexit to protest groups in Brixton and the 2001 G8 riots in Genoa, Scabby Queen covers five decades of British history.
For Scotland books, Author Kirstin Innes has created one of the most vivid characters in recent times, with a supporting cast to match.

Read Scabby Queen: Amazon | Goodreads
More fiction recommendations from Christine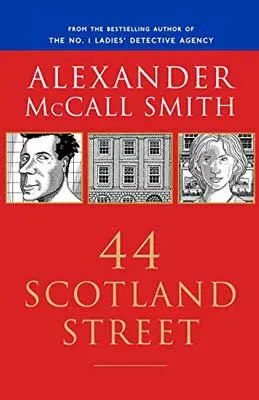 44 Scotland Street by Alexander McCall Smith
We just adore prolific British author Alexander McCall Smith's The No. 1 Ladies' Detective Agency series.
If you are looking for even more series of books about Scotland – everyday life, especially – pick up his endearing 44 Scotland Street series.
Set in the heart of Edinburgh, the story revolves around the lives and interactions of the quirky residents who inhabit the titular building.
Ranging in ages and interests, meet Pat, Bruce, Domenica, Irene, and Irene's son Bertie. Through interconnected vignettes, we watch as they navigate relationships, careers, and dreams.
44 Scotland Street promises a colorful presentation of everyday life in Edinburgh with themes of personal identity and social dynamics.
Yet, in true Alexander McCall Smith-style, enjoy a lighthearted story that gets at the core of what makes us human.
Read 44 Scotland Street: Amazon | Goodreads
Scotland Thrillers, Mysteries, Fantasy, & More
Traverse some of the most beautiful places in Scotland with these thrillers, mysteries, fantasies, and more.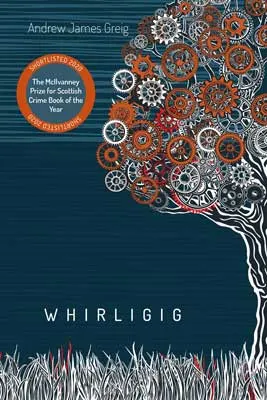 Whirligig by Andrew James Greig
The peaceful atmosphere of a small Highland town is brutally interrupted one day when the body of a local gamekeeper is found hanging from a tree.
But what at first glance looks like a cut-and-dry suicide soon reveals itself to be much more complex when the body is found snared in the same manner as the rabbit hanging beside him.
This is the beginning of a spree, conducted by someone who seems to enjoy playing games with both those they prey upon and those who are dispatched to stop them.
What else could be meant by the intricate clockwork mechanisms left at each crime scene; the ones made of wood and bone?
DI James Corstophine – still grieving from the loss of his wife to cancer – is the leader of a team of police on the trail of this killer.
But time is running out, and seemingly everyone in this tight-knit town wants to keep things to themselves.
While it may get a little gory at times, don't let that put you off, because this tight and twisty thriller is one of the most enjoyable noir books about Scotland for detective fiction fans.
Read Whirligig: Amazon | Goodreads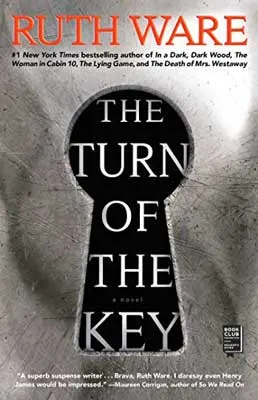 Turn of the Key by Ruth Ware
In this modern retelling of The Turn of the Screw, former nanny Rowan is in prison for the death of a child under her care.
The book is told entirely through very detailed letters that Rowan writes to a lawyer while awaiting trial.
These letters include everything that happened, starting from the time she applied for and accepted the job.
Rowan is surprised to arrive at a remote Scottish home fully fitted with smart technology, and even more surprised to find out most of the former nannies didn't stay long.
Although, as she soon learns, the children aren't exactly the angels she was promised. Nor is she happy about being mostly left alone for weeks at a time with them.
And soon even weirder – possibly paranormal – things start to happen that have Rowan fearing for her life.
Is Rowan responsible for the death under care? And if not, can Rowan unravel the mystery before it's too late?
Turn of the Key is one of the most popular books to read before going to Scotland, with great descriptions of Rowan's surroundings.
The remoteness of the home will make you feel like you're trapped there with her!
Read Turn of the Key: Amazon | Goodreads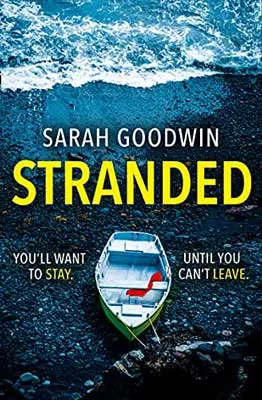 Stranded by Sarah Goodwin
When shy botanist Maddy signed up to participate in a survival reality TV show, she never could have imagined just how spectacularly wrong things could go.
The premise of the show was simple: What would happen if the world ended and these eight people found refuge on a remote island off the coast of Scotland?
All they need to do is make it for a year, and there will be cameras on them the whole time.
There are also two cameramen hidden away on the island, and they start out with a cache of helpful resources.
Each of the eight has unique skills that are essential for survival in a potential apocalypse, especially if they can learn to work together.
But from the minute Maddy arrives on the island, there is tension between the four men and four women – and much of it seems directed at Maddy.
So what exactly happens between the time they are dropped off and over a year later when Maddy is found wandering around on the mainland in rags?
Stranded is an action-packed survival thriller that shows some of the worst sides of humanity. Scotland books don't get twistier than this!
Uncover even more riveting survival books. Or, travel to new islands with this reading list.
Read Stranded: Amazon | Goodreads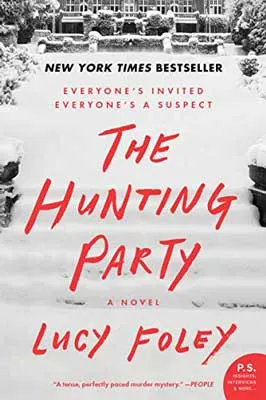 The Hunting Party by Lucy Foley
Every year, a group of friends meets up after Christmas to celebrate New Year's.
This year, they're off to a remote yet cozy estate in the Scottish Highlands. It's quiet and idyllic, and it's a good thing they arrived before the snowstorm that cuts them off from civilization.
Unfortunately, when New Year's Day rolls around, it appears that one of them is dead.
These people met at university, but now they're all in their thirties; old tensions and half-forgiven slights can only be carried for so long before something snaps.
One of these "friends" is a killer, and the race is on to find out who it is before more bodies hit the floor.
Those looking for tense books on Scotland will enjoy author Lucy Foley's thrilling whodunnit, as will fans of the isolated murder mystery genre.
Uncover even more books set during winter.
Read The Hunting Party: Amazon | Goodreads
Join The Uncorked Reading Challenge Today
---
Travel around the world with the Uncorked Reading Challenge. Get the best book and movie recs straight to your inbox. Sign Up Now.
Luckenbooth by Jenni Fagan
On a small, unnamed island in the North Sea, Jessie Macrae and her father have a falling out.
This disagreement is so impactful that Jessie hops straight into a boat and rows her way down to the shores of Edinburgh, seemingly in search of a new life.
Only a few details make this escape remarkable:
1. She rows for 3 straight days
2. Her boat is actually a coffin that she was forced to sleep in by her father
3. Her father is The Devil
After making landfall in Scotland's capital city, Jessie finds herself at No. 10 Luckenbooth Close – a towering 9-floor tenement building.
When Jessie enters into a pact with one of the occupants, the consequences cause a curse to fall on the building that will last one hundred years… and affect everyone who comes to dwell there.
Author Jenni Fagan takes the reader through 9 decades of residents and occult occurrences in one of the most creative and imaginative books about Scotland that fantasy fans will love.
If you enjoy Luckenbooth, find even more books with ghosts.
Read Luckenbooth: Amazon | Goodreads
More recommendations from Christine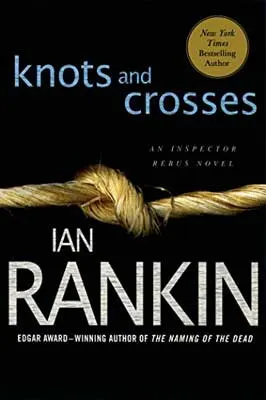 Knots and Crosses by Ian Rankin
For crime thriller and police procedural lovers – and if you are looking for Scotland books with a serial killer on the loose – enter the dark underbelly of Edinburgh in Ian Rankin's Inspector Rebus series.
In the first book, John Rebus investigates a series of murders and kidnappings of young girls. Each victim is left with a cross-shaped knot.
With a daughter himself – as well as his own inner demons – he races against time to find the killer before more lives are taken.
What makes this book series most unique is that Rebus is a deeply flawed character who must work past his own baggage to solve the case.
For good books set in Edinburgh, witness the impact of violence across the system – both victims and investigators.
Read Knots and Crosses: Amazon | Goodreads
Teen & Tween Novels About Scotland
For young adult and middle-grade readers, these are some of the top Scotland books to take you there and teach you more.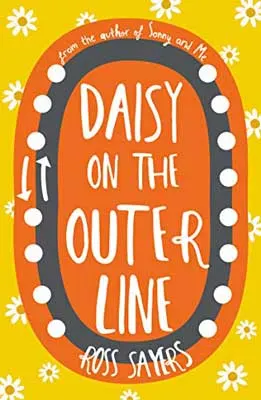 Daisy on the Outer Line by Ross Sayers
It seems like a nightmare situation to make a scene in public and then pass out drunk while waiting for public transport.
But that's exactly what Daisy does, except her public scene happens to be at her stepdad's funeral, which only makes things worse.
Strangely, though, her memories of the previous day are not her top priority right now because she appears to have woken up on the Glasgow subway in someone else's body.
To top it off, she's traveled back in time as well!
It seems as though she's being made to make up for her selfish and destructive behavior by having to save the life of another.
The only problem is, she doesn't know who, or how to go about it.
This metaphysical sci-fi Scottish YA is not one of your typical Scotland books set in Glasgow, but it is a lot of fun.
While Daisy starts off badly, she is still relatable – even before she starts learning how to be a better human.
Read Daisy on the Outer Line: Amazon | Goodreads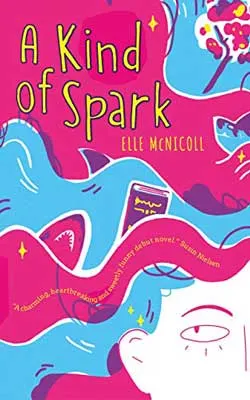 A Kind of Spark by Elle McNicoll
One day during class, 11-year-old Addie learns something gruesome about her small Scottish town from her teacher Ms. Murphy.
Centuries ago, when women across the country were being burned to death during the witch trials, some supposed "witches" were burned in the very town she lives in today.
But this doesn't sit well with Addie. As an autistic girl, she knows what it's like to be considered different from everyone else and to be picked on as a result.
She thinks that these burned "witches" were just misunderstood, like her. Different, like her.
Addie decides something needs to be done to rectify this injustice, and she makes it her mission to see that these mistreated figures from history get the recognition they deserve.
First-time author and fellow neurodivergent Elle McNicoll puts the reader right into Addie's mind and does a great job showing the world through her eyes.
A Kind of Spark is one of the best middle-grade books from Scotland – as well as books with witches – for anyone looking to experience the world from a neurodivergent viewpoint.
If witch trials interest you, explore these books about the Salem Witch Trials in the U.S.
Read A Kind of Spark: Amazon | Goodreads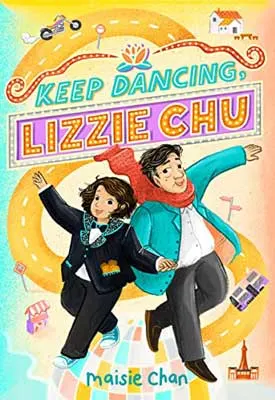 Keep Dancing, Lizzie Chu by Maisie Chan
Ever since her parents died not long after she was born, 12-year-old Lizzie Chu has lived with her Wai Gong (grandfather) in Glasgow.
Lately, though, Wai Gong has been acting strangely; he seems to be becoming more forgetful, and he spends a lot of his time talking to his statue of Guan Yin, the Chinese goddess of kindness and compassion.
He doesn't even seem to enjoy their favorite TV show – Strictly Come Dancing – as much anymore.
But what sends things over the edge is when Lizzie's friend Chi turns up at their house in fancy dress as Princess Leia from Star Wars.
When he sees her, Wai Gong thinks that Chi is the actual Guan Yin!
But then Lizzie gets an idea. Wai Gong has always wanted to go to the Tower Ballroom in Blackpool and now might be the perfect time to take him.
It's only 200 miles to the south – what could possibly go wrong?
This is one of the most heartwarming Scotland books set in Glasgow you can find and a great read for fans of unconventional road trip novels.
Read Keep Dancing, Lizzie Chu: Amazon | Goodreads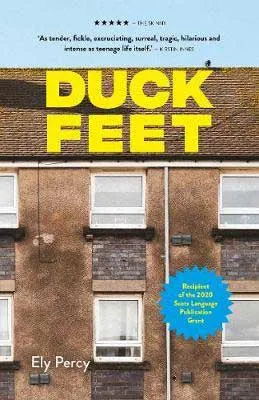 Duck Feet by Ely Percy
In this coming-of-age drama, we follow the lives of 12-year-old Kirsty Campbell and her friends as they navigate the trials and tribulations of growing up in Paisley, Scotland.
We are taken through their most formative teenage years as they move up school grades, encountering the harsh realities of bullying, sexuality, drugs, and teenage pregnancy.
But with the lows also come the highs, as each member of the group gets closer to working out who they are and finding a place for themselves in the world.
For books about Scotland, Duck Feet is a well-realized and immersive celebration of working-class life.
Author Ely Percy uses phonetic Scottish to draw the reader in and make them feel like part of the community, which can be jarring for first-time readers but adds to the authenticity and charm.
Read Duck Feet: Amazon | Goodreads
Grab your favorite movies and books from Scotland here:
Which Scotland books – from, about, and set there – have you read?
Which books about Scotland have you read and enjoyed? Are there any that you recommend for our always-growing TBR pile?
P.S. This Scotland book list pairs well with our 2023 Fall Reading Challenge.
Save The Best Books On Scotland For Later: