Travel to sunnier weather with these vibrant books about Florida. Our books set in Florida reading list is sure to inspire your next Sunshine State vacation.
After living in Florida for eight years, we've seen just about everything. Crocodiles on the side of the road. Bulls running through our yard. Awe-inspiring rocket launches from Cape Canaveral. Hurricanes.
Plus, snowbirds. Snowbirds. Snowbirds. The Sunshine State is infamous for Florida Man. Plus, it's god's waiting room, right? Not to mention a popular spring break destination.
So, what does this mean for books about Florida, exactly? Quite frankly, these classic FL associations warn us that Florida novels are just as wild and unpredictable as its residents.
Enter popular Florida authors like Tim Dorsey and Carl Hiaasen. To be fair, Hiaasen writes fun and educational books for middle graders too — with a strong focus on the environment. No women getting offed on boats there.
We asked some of our favorite book and travel bloggers to recommend the best books set in Florida that showcase the vibrant state.
Many of these novels about Florida are sure to bust your silly Florida myths and memes. Others…well, I make no promises.
Explore Florida classics, books set in Miami, the Keys, and Orlando, and a Florida novel or two that will change the way you look at the world. We'll also share a few truth-bomb nonfiction books about Florida.
Lastly, uncover thrillers and mystery books set in Florida, although much of the state is still a mystery to me…
Let's get started! Please *kindly* let us know in the comments if we missed your favorite Florida novel, too.
Take a road trip across America with our 50 States Reading List.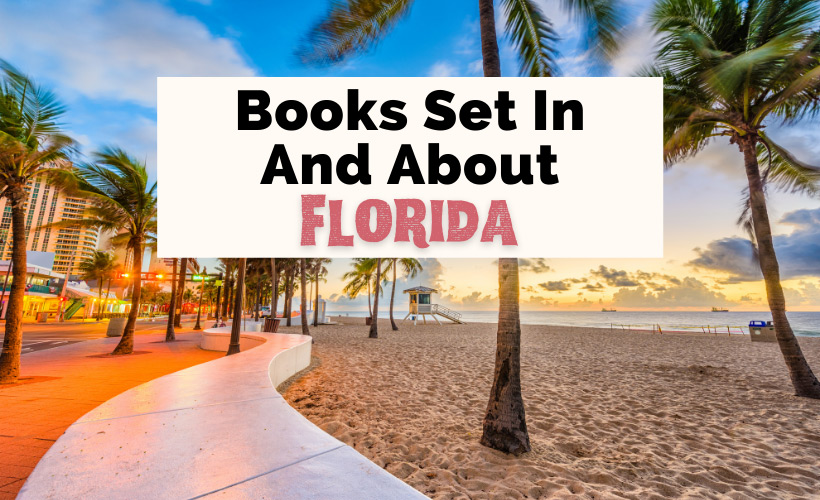 Grab the best books about Florida here:
1. Book of the Month: Get the month's hottest new and upcoming titles from Book of the Month. You might snag an early release or debut author. Along with selecting a book a month, find terrific add-ons, both trendy and lesser-known titles.
2. Audible Plus: From Amazon, listen to Amazon Originals, podcasts, and audiobooks. They add new titles every week.
3. Amazon Prime: Don't miss Amazon First Reads – early access to Kindle books. Get fast delivery as well as movies, music, Originals, shows, and more.
4. Or, start your trial of Amazon Video for movies and tv series on demand.

20 Meme-Busting Books About Florida
Travel down south with these hilarious, poignant, or atmospheric books about Florida. Our books set in Florida list is sure to inspire your sunny vacation.
Save These Books About Florida For Later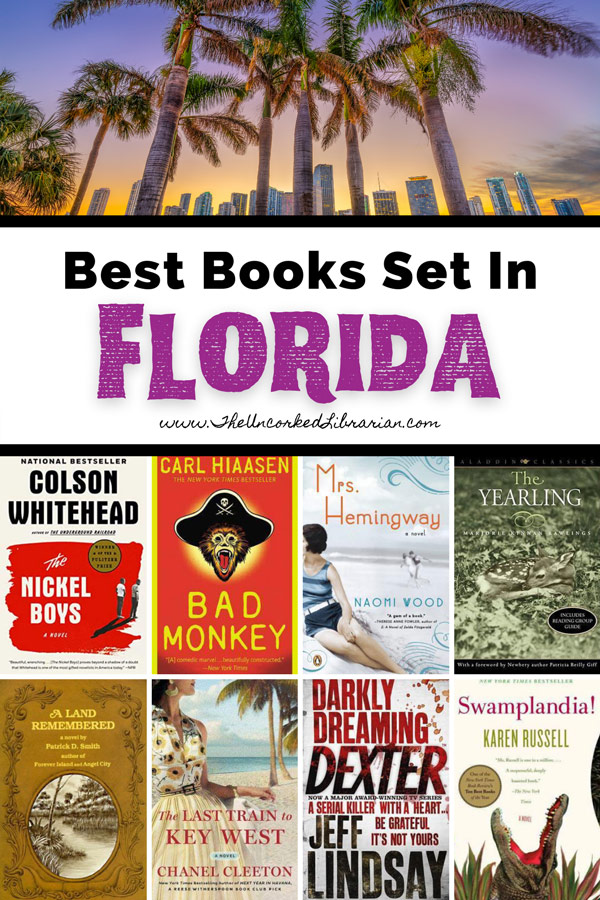 What are you favorite books about Florida? Which Florida writers do you love?
What are the best books set in Florida that you love? Which Florida novel are you eyeing from this list? What's your favorite Florida destination? Let us know in the comments!
Join The Uncorked Reading Challenge Today
---
Travel around the world with the Uncorked Reading Challenge. Get the best book and movie recs straight to your inbox. Sign Up Now.
Travel Around The South With These Reading Lists:
Best Books About The South
Tennessee Reading List
Travel To North Carolina With These Books
Best Books Set In Asheville
Asheville Authors To Love
Or, visit all of our North America-based Reading Lists & Book Lists Set Around The World