This post may contain affiliate links for products and services I recommend. If you make a purchase through these links, at no additional cost to you, I will earn a small commission. Read the full disclosure here.
Are you looking for the most vibrant and best books about Florida? Check out this book list with books set in Florida to inspire your next steamy hot Florida vacation.
After living in Florida for eight years, we've seen just about everything. The Sunshine State is infamous for Florida Man and has a reputation for a mix of rich and poor, soggy humidity, and over-tanned bodies. Plus, it's god's waiting room right?
We won't even get into Confederate flags, the redneck stereotype, and Donald Trump's massive residence.
Radiant Books About Florida For The Sun Goddess In Us All
So what does this mean for books about Florida, exactly? Quite frankly, these classic FL associations warn us that Florida novels are just as wild as its residents.
Enter Florida authors like Tim Dorsey and Carl Hiaasen. To be fair, Hiaasen writes fun and educational books for middle graders too–with a strong focus on the environment. No women getting murdered off boats there.
What books about Florida should you read? I asked some of my favorite book and travel bloggers as well as my literary community to recommend their top books set in Florida that showcase the vibrant state. Many of these books are sure to bust your silly Florida myths and memes. Others…well, I MAKE NO PROMISES.
Find Florida literature, books set in Miami, the Keys, and Orlando, and the most popular Florida books and their authors. Even uncover mystery books set in Florida, although much of the state is still a mystery to me…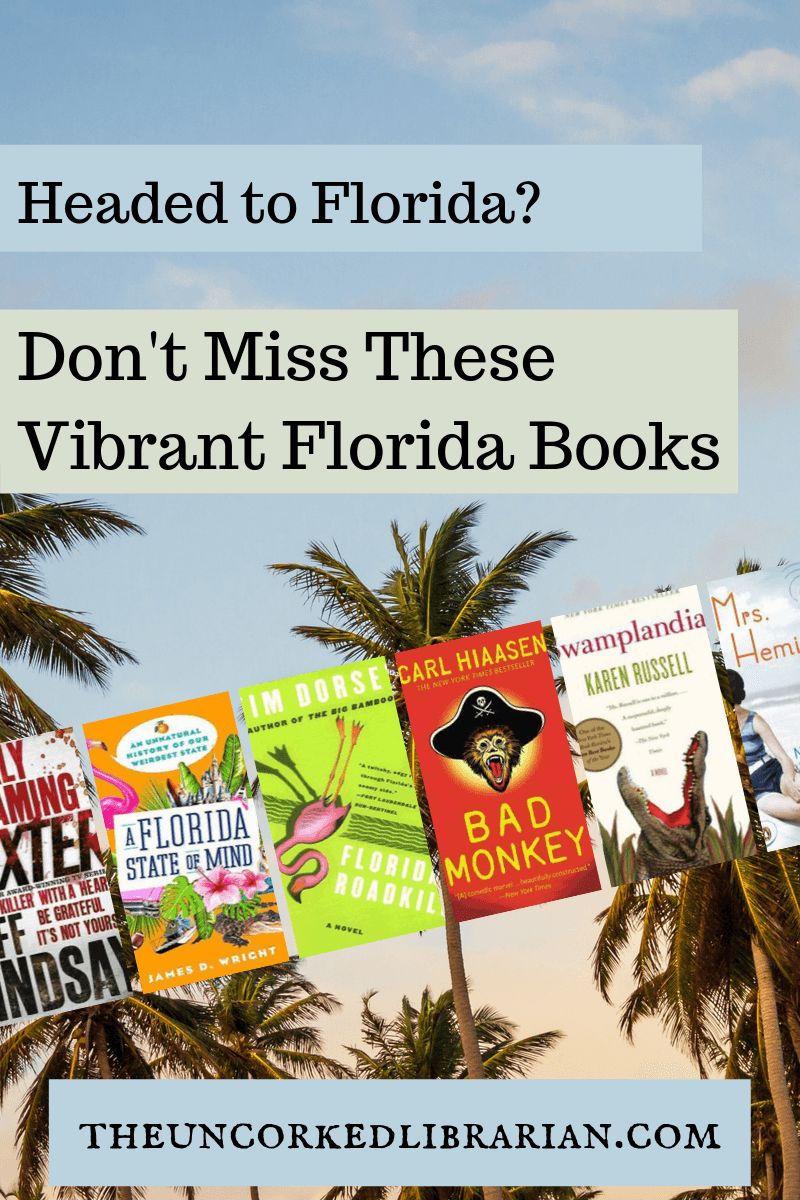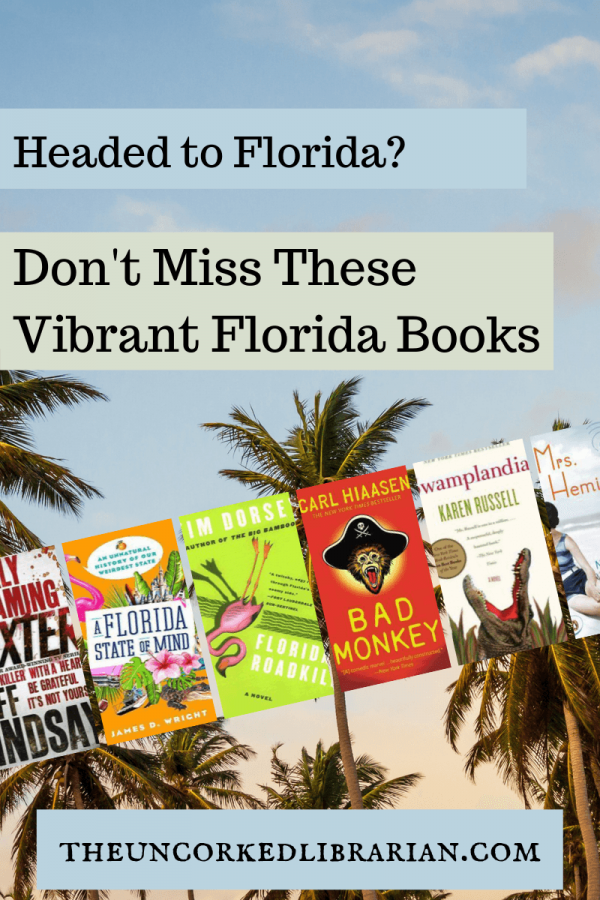 The Best Fiction Books About Florida To Plan Your Palm Tree Getaway
Florida Literature & Novels Set In Florida
Popular Florida Books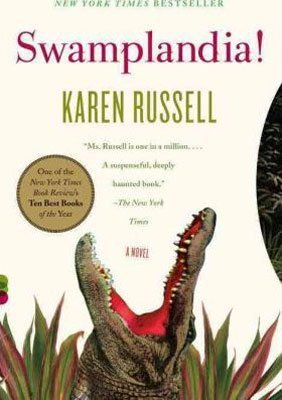 For anyone equally appalled and riveted by the carnival culture that pervades portions of Florida, Swamplandia! is the perfect Florida novel.
Unique and fascinating, this modern-twist on the Southern Gothic novel takes place off the southwestern coast of Florida in the area known as Ten Thousand Islands. Swamplandia! centers around the 'Bigtree' family. They have transformed their gator-infested backyard into a tourist attraction with alligator wrestling. The mother of the family even dives into a pool of alligators as a stunt.
The daughter, Ava, finds herself suddenly taking on the mantle of her family's survival; her mother contends with a cancer diagnosis as other family members unravel. When Ava's sister, Ossie, elopes with a supposed ghost, Ava must set off on a perilous journey through the swampy underworld to rescue her sister.
Swamplandia! is an intriguing page-turner and takes a surprising turn as the storyline unfolds. Russell is able to successfully take what on the surface appears to be extraordinary circumstances and portray universally human experiences and tribulations. Read More→
Contemporary Florida Fiction Submission from Lindsey of To Make Much Of Time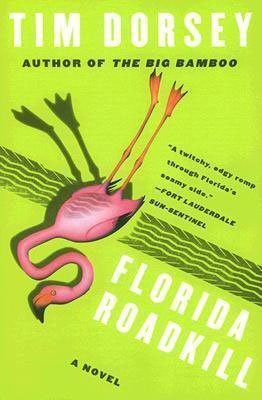 Tim Dorsey's Florida reminds me a lot of Florida Man and his life's triumphs. And yes, Florida Man is for reals.
Meet criminal Serge A. Storms and his druggie partner, Coleman. Serge along with everyone else, including a stripper, is after a suitcase filled with millions. Similar to Hiaasen's adult books, uncover a large array of unlikely and hilariously grotesque characters plus sex, booze, death, and more drugs.
Florida Roadkill spans the state of Florida from Cape Canaveral and Miami to the Florida Keys. This is the first novel in the Serge Storms series.
---
---
Mystery Books Set In Florida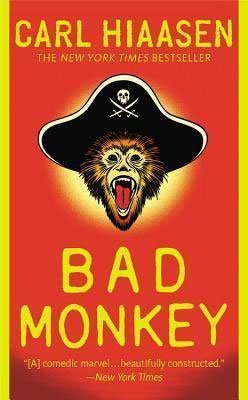 I will never forget the day that Bad Monkey hit the library shelves. Our hold list nearly imploded. Everyone wanted a copy of this 2013 mystery book set in Florida.
Recent former police officer, Andrew Yancy, is trying to figure out where the human arm in his freezer came from. With the hopes of getting his job back, Yancy must solve the murder mystery. Hiaasen throws into the mix his usual hot mess, eccentric characters (well, at least for his adult books).
Check out our favorite Books Set In All 50 States.
Florida Literature
The Yearling is a coming of age novel set in Florida during the 1870s. Encounter Jody's life on a farm with his parents, surviving severe storms, hunting, and also the rescuing of a fawn named Flag.
Jody has a strong relationship with his father, and he grows with the story, becoming wiser and much more mature by its end.
Rawlings was a resident Florida author who lived near Gainsville.
Classic FL Literature Submission, The Yearling, from J.R. at Eternity Books.
A bestselling Florida classic, A Land Remembered follows three generations of MacIveys, a poor family trying to make their own American Dream. What do we sacrifice for that dream, and how can those goals destroy us along with the world we live in?
The MacIveys' story begins in 1858 in the Florida wilderness and ends in 1968 with the overexploitation of the land. Read A Land Remembered as a fictional but realistic book about Florida's history. Watch as greed ends up being the most threatening beast in this timeless saga.
---
---
Graphic Novels Set In Florida
In 1984, Patrick Smith wrote an instant Florida classic that has persevered throughout the last thirty years and resonated with so many readers young and old. Now it's been transformed for a whole new generation.
A Land Remembered: A Graphic Novel centers around the MacIvey family, Florida pioneers struggling to carve out a place for themselves in "The Land of Flowers". The story is spread out across three generations of the family, over the span of 100 years.
During that time, the MacIvey's experience everything from the horrors of the Civil War, to battling cattle rustlers, coexisting alongside Seminole Indians and surviving devastating hurricanes. It's a wild, wild west story set against the backdrop of a North Florida that's been long, long forgotten.
Submission from Florida author, Andre Frattino. Frattino is a Florida-born storyteller and sequential artist. A Land Remembered: A Graphic Novel marks his fourth book with Pineapple Press. In 2018, Andre received the Florida Book Award (Bronze in Visual Arts) for his work on A Land Remembered: A Graphic Novel. Andre's hope for the graphic novel adaptation of Patrick Smith's original novel is that it transcends across generations, entertaining older fans of the original, while engaging younger fans who prefer graphic novels.
Here at Hogwarts is a travel log in graphic novel form. The author vacationed with a friend to Harry Potter World at Universal in Orlando, Florida. Knisley's sketches include a rough map of the park area and details she notices throughout the visit. Read her introspective thoughts along the way.
Having made a similar trip with school friends myself, I found Knisley's account included much of what I remembered from the park. The graphic novel format of her travel log is fascinating because what would have taken me paragraphs of text to express in my own travel log, Knisley neatly expresses in just a few drawings. It left me wanting to read more travel logs in graphic novel form. See the full review from Elizabeth of A Suitcase Full Of Books Here→
Nonfiction Books About Florida For History Buffs
Novels About Florida To Enlighten & Shock
Books About Florida History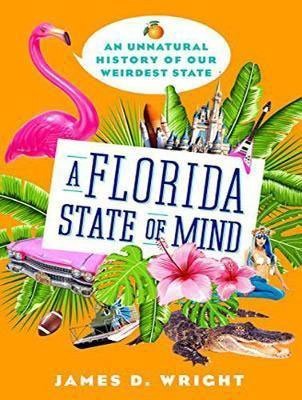 If you are looking for nonfiction books set in Florida and have a FL mindset like me, you will want to check out A Florida State Of Mind. Yes, get ready for talk about Florida Man and all of those amazing Florida memes that we love to laugh at.
Learn fun and funny facts about the development of Florida, including colonialization, snowbirds, and why people are still fascinated with the Sunshine State.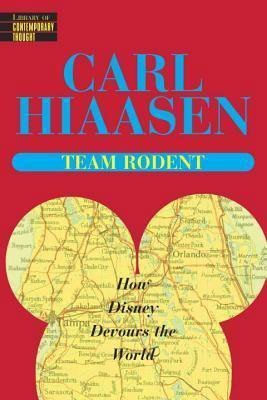 Not everyone loves Mickey Mouse or Disney. This collection of essays takes on Disney, a beloved household name that may have some dark and disturbing tales behind those huggable ears. This one is on my TBR list and sounds a lot like Black Fish–which is much needed.
Headed on a southern road trip? You might love this Tennessee Reading List.
Florida Guidebooks
If you are traveling to Florida, I highly recommend checking out some of my favorite Florida travel guides too:
Books Set In Florida By Popular Tourist Destinations
Find Books Set In Miami & Orlando and Books About The Florida Keys
Books Set In Orlando & Books To Read Before Traveling To Disney
Although the Harry Potter books are not set in Orlando, if you are looking for books that get you in the mood for your Florida vacation, you will, of course, want to pick J.K. Rowlings Harry Potter series. Universal's: The Wizarding World of Harry Potter is a fabulous magical world for Potterheads.
Literary travelers can find butterbeer, rides, wands, and two worlds: Hogsmeade and Diagon Alley.
For books set in and about Orlando, Florida, though, check out these: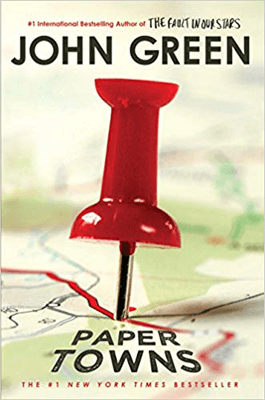 One of those books I re-read for my MLIS and, of course, watched the movie, Paper Towns exemplifies depressing Florida and wanting so much more than a meaningless, cookie-cutter life.
Margo Roth Spiegelman fascinates the somewhat geeky and awkward Quentin. When she snatches Q in the middle of the night for an epic mission filled with revenge, he's pretty much game. Beautiful, mysterious, and with a pained soul, though, Margo suddenly disappears.
I always thought Margo was a tad self-centered and annoying, but Quentin decides to follow the clues to find her. Read More→
You can find Paper Towns on TUL's powerful books that make you think about your life book list.
---
---
While I have read Cory Doctorow before, the one novel that I have to pick up that is set in Orlando is Down And Out In The Magic Kingdom. I am not going to lie: this Florida book is headed to the top of my whacky TBR list. Who doesn't love the 'space opera genre' either?!
Jules lives at Disney World, which is under attack. Someone has taken over the Hall of the Presidents and manipulates guests' minds into thinking they are the Presidents that they are looking at. Can Jules save the Magic Kingdom?
---
---
Florida Novels Set In Miami & The Everglades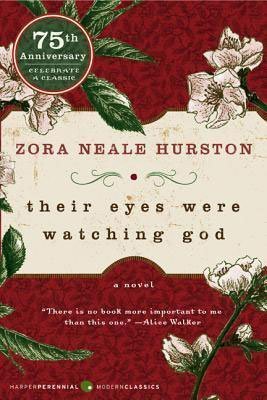 From Eatonville to Miami and the Everglades, if you are looking for one of the best classic novels set in Florida of all time, you cannot miss Their Eyes Were Watching God by Zora Neale Hurston. Hurston, herself, is a Florida author and lived in Eatonville, Florida.
Janie Crawford is a strong woman with her own goals and dreams. She wants to choose who she loves. With destructive and cruel relationships and even worse marriages, Janie constantly finds herself trapped in the town gossip. She transforms from a pretty figure to a politician's wife and eventually an accused murderess.
Watch Janie fight to the bitter end against men, prejudices, and circumstances of her time. Read More→
Dexter Morgan spends his free time conducting vigilante justice. He cleanses the world of criminal vermin that have escaped the justice system. Dexter takes his cues from his morally gray anti-conscience, a persistent voice he calls his "Dark Passenger."
A person from his distant past puts his dubious code of ethics to the test. Is Dexter really as much of an emotionally void monster as he believes himself to be? Or is there a spark of humanity hiding under his carefully crafted mask?
Florida Novel Submission From Bookstagrammer, Jennia.
Did you know that Quentin Tarantino directed the film adaptation of Rum Punch (Jackie Brown) but changed the setting to LA?
A book set in West Palm Beach and parts of Miami, Rum Punch is about Jackie Burke, a flight attendant smuggling cash from a crime boss, Ordell, in Jamaica. Eventually caught and arrested, the police recruit Jackie to help catch Ordell. Of course, Jackie mostly wants to save herself and attempts to double-cross her way out of this impoverished situation. Rum Punch is another popular Florida crime novel.
Books To Read While Visiting Key West
Let's not forget local Florida author, Ernest Hemingway, or his four wives…
Wood takes on Hadley, Pauline, Martha, and Mary–telling their stories through love letters and telegrams. Head to Paris, Key West, and Cuba to watch the affairs, heartache, and passionate romance that never quite lasted in this fictional account of Hemingway's relationships.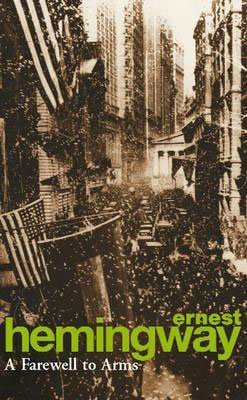 If you are looking for classic literature from a famous author in the Florida Keys, you cannot skip Hemingway's works. Did you know that he even resided in Old Town Key West? I am dying to visit this area of South Florida. Add Hemingway's home to my literary bucket list, please.
A Farewell To Arms is not set in or even about Florida but was revised and proofed there. The novel chronicles Hemingway's time in Italy in 1918 during the war. As an ambulance corps volunteer, Hemingway describes not only wartime but friendship, love, and passion. Adapted into a play, film, and mini-series, this is a World War 1 love story not to miss.
Hopefully, this title gets you in the mood for your Keys visit. You cannot think of the Florida Keys without acknowledging Hemingway or his cats.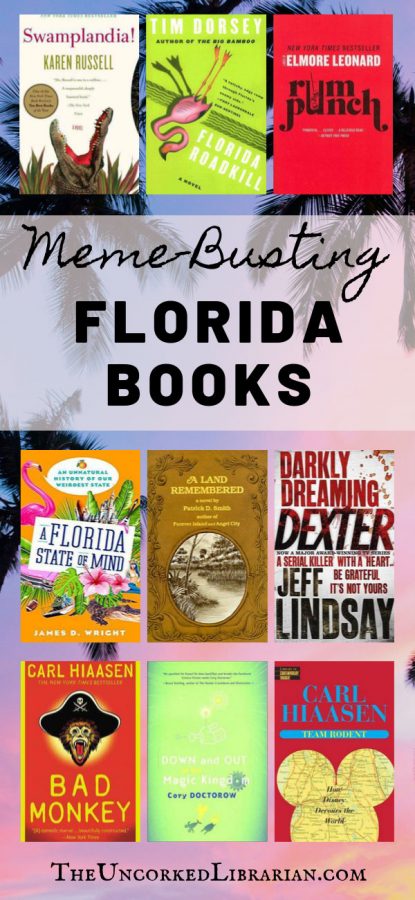 Are These Books About Florida Inspiring Your Next Vacation? Don't Miss These Boozy and Bookish Florida Travel Posts: