This post may contain affiliate links for products and services I recommend. If you make a purchase through these links, at no additional cost to you, I will earn a small commission. Read the full disclosure here.
Are you thinking of moving to Asheville, North Carolina? Here are 11 reasons why we are moving to North Carolina from the sunshine state, Florida. Find vegan restaurants in Asheville, the Biltmore, DuPont State Forest, Asheville breweries, and so much more.
Here I am. I promised myself that I would write a fun article about our recent relocation news about moving to Asheville, North Carolina and not worry about SEO and Google. But, I suck and am a sucker blogger. Head down. You need helpful reasons right?
Soooo one weekend, flights thwarted our plans to fly into Puerto Rico. We ended up in Asheville, North Carolina as our second destination of choice. Within 24-hours, we decided to move to NC. Within the month, we bought a house. Y'all, we don't f*ck around.
So why are we moving to Asheville, North Carolina? How did this happen? Get ready for a personal post with some value for you, Google. Wink, wink.
I promise to disclose the Asheville goodies as well.
11 Reasons Why We Are Moving To Asheville, North Carolina
Why We Are Leaving Florida
Bye, Felicia! Oops, I mean Florida.
Florida has been our home for the past 8 years. When my husband's commercial airline base closed, we decided to move to the next base in Central Florida. There may or may not have been sobbing in a La Quinta hotel room with hysterical not-so-whispers of please don't make me move to Florida.
All of our family is in CT. This New England girl loves her seasons, rolling hills, and uhhhh, let's call it culture. Let's just brush that off and leave it there.
Don't get me wrong, I enjoy Florida's beautiful beaches, having our own pool, and the fact that everything is open 24/7 for snowbirds and retirees. This is God's waiting room after all. Put your thumbs away; I didn't coin that truth.
Want to go to the brewery at noon? Not a problem. Florida is a great vacation destination. A short-term relationship with no commitment. A one-night stand gone right. Friends with all of the benefits; no strings attached. You get it, right?!
The Downsides Of Florida Living
However, I lived in Indonesia, and similarly, Florida is hot AF. My wavy hair hates you, FL.
For me, Florida is semi-hell disguised as a beach. The traffic is insane, and although I am not a fatalist, driving here makes me want to take up religion.
My eyes will never believe seeing Confederate flags proudly hanging in so many windows. Not that you don't see this racism elsewhere. Plus, work pays in sunshine (I can't take credit for that phrase either).
As Tosh.O once said of his birthplace, "Florida is flat, hot, and…" I'll leave the last word out. You can message me. Trevor Noah loves to rank on us too.
We toured Teeling in Dublin, and even the guide zinged us kind-heartedly asking if he was going too fast and needed to spell out words. Did I mention that I tragically and unavoidably hit a gator once too?
I'm laughing with you Florida, not against you. Or so I tell myself…Or am I crying?!
My Florida Gains
I feel like I am a Floridian traitor. Don't think I'm shredding the state or the people that I love here.
We skip hand-in-hand to Disney and Epcot's Food and Wine Festival. There is SO much to do in Florida. I saw my first manatee. The Uncorked Librarian LLC came to fruition. Y'all, I got my first real car, Murray the Murano. I started saying, Y'all.
Oh, and I earned my MLIS. My husband went to college here back in the day. I won't go on and on. But, while we made Florida our home and have a fabulous life here, I always had an exit plan. It's just not for me.
GOD, I WILL MISS YOU FLORIDA MAN. Said no one ever. I will be back for the beach and friends–if I have any left after reading this.
Florida, I am breaking up with you to move to Asheville, NC and here's why: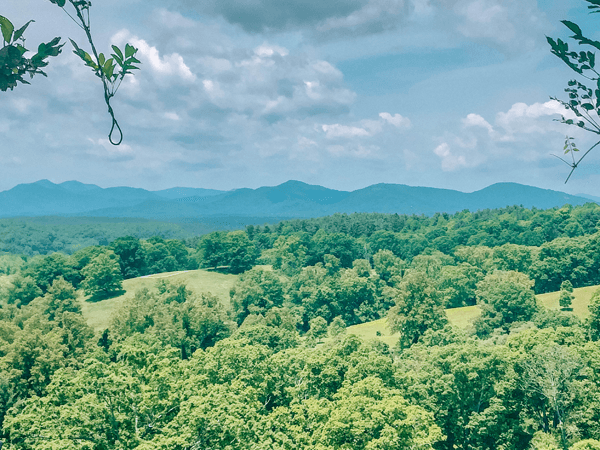 1. The Blue Ridge Mountains
Did you ever fly into a destination and just feel like you were home? The number one reason we are moving to Asheville, North Carolina is because of those bluish-green mountains.
The Blue Ridge Mountains surround Asheville. Their smoke and mist must be some magical drug as I never want to leave them. I find the mountains inspirational, like Johnny Depp in Secret Window before it all goes wrong.
Maybe that's a bad analogy.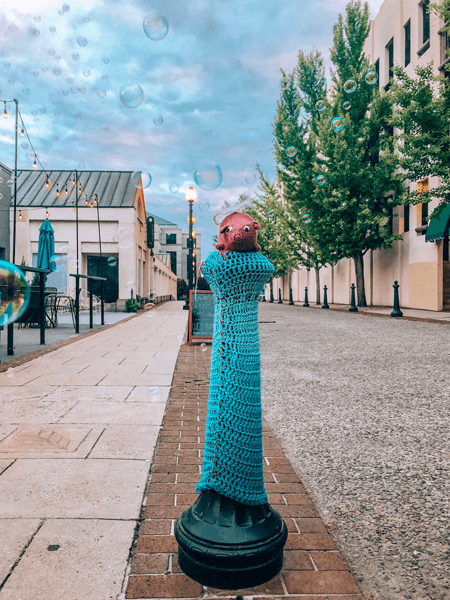 2. Downtown Asheville, NC
The moment the plane landed, I knew that I wanted to live in Asheville. Another deal-sealer: the knit pig on the lamp post with the mountain sunset and bubble machine in front of the board game cafe. That's too many yuppie words for me to comprehend in one sentence. Where the fuck am I, Toto?
I am an old millennial; what can I say? Hello, rock climbing gym, endless restaurants and cafes, a giant iron, and urban street art. Which way should I turn? Dim sum tapas? Beer at which brewery? A drum circle in the square?
It will take me years to date you, Asheville. Bring. It. On.
3. Vegan and Gluten-Free Restaurants
I have UC and my husband is a Celiac. We are both lactose-intolerant. Most Florida restaurants, especially outside of the major cities, could truly care less or lack the education and understanding.
Asheville restaurants have labels on most of the menus. The wait staff knows their stuff and attentively take care of everything without even blinking. Our food options spread in front of us like a deck of cards during some magical foodie trick. Plus, although we are not vegan or veggie, we seek out this cuisine frequently.
Personally, I love Plant and Laughing Seed Cafe.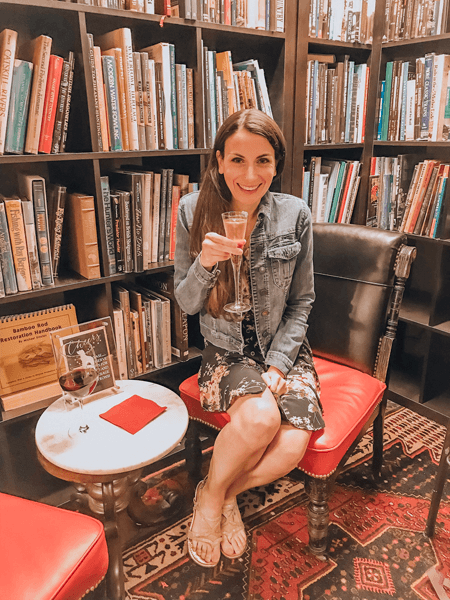 4. Battery Park Book Exchange
Moving to Asheville, North Carolina is a boozy and literary traveler's dream.  Our first night ever in Asheville, we landed at the Battery Park Book Exchange.
Literary cocktails, champagne between the stacks, and books for sale? Um, can I just live here? Plus, we saw a book club meeting along with other gatherings and celebrations. I'd have my 40th here. You in?!
Sold.
P.S. These are my favorite North Carolina books so far.
---
Be Sure To Check Out Our Asheville, NC Travel Blog
Since writing this post, we, of course, moved to Asheville, North Carolina. AND IT'S BEEN THE BEST DECISION EVER! If you are traveling to Asheville, be sure to check out our Asheville-based blog, Uncorked Asheville. Find local tips, boozy itineraries, where to eat, and fun things to do for everyone.
---
5. Breweries Upon Breweries
[Channel Oprah Here] "And you get a brewery, and you get a brewery, and YOU GET A BREWERY." I am a craft beer gal all of the way. Asheville grows breweries like Florida spawns retirees and Florida Man memes. Whoops, did I go there? I am paralyzed with indecision. In fact, Asheville is building even more beer havens as I write this.
A few of my favorites so far include Wicked Weed Brewing, Thirsty Monk, and Bhramari Brewing Company.
Did you know that Sanctuary Brewing in Hendersonville–right outside of Asheville–has beers with lower gluten? If Tom was hesitating to move to NC, this threw him over the edge.
6. Biltmore Mansion and Winery
Biltmore is a symbol of audacious wealth as America's largest private estate and home. While the interior decorating is not for me, I love the beautiful grounds and gardens.
OK, the Biltmore library wins too. I'm stoked that we can trade in our annual Disney passes for Biltmore concerts and access to the grounds for hiking and walking.
Can we talk about their wines, too? We barely wine-tasted or even began to see half of the Biltmore estate on our last trip. A day is not enough. No oaked Chardonnays and Syrahs are safe. You've been warned, Asheville.
See all of the things we love doing at the Biltmore Estate here.
7. Hiking
The second day we landed in Asheville, NC, we booked it to DuPont State Forest in search of The Hunger Games waterfalls. The parks and trails across NC never end. With the weather less severe than Florida, I cannot wait to don my hiking sneakers and pull off the cobwebs on my mountain bike.
Mother Nature, you and I are going to be besties. Just keep those copperheads away from me, please.
8. Seasons
Speaking of weather, I cannot wait to greet the seasons like an old friend. People always bitch about the snow, but when you never see it, you miss it. Yes, I will death-grip the steering wheel and silently sob as I re-learn not only how to drive in snow and ice but also on winding, hilly roads. After 8 years in Florida, I might have to look up "hill" in the dictionary.
I cannot wait to see the fall, either. I know it's not a New England fall, but I'll take any leaves changing colors. And not because they are dying or on fire.
We recently contracted a house, and it has a gas fireplace. I am daydreaming of four kitty stockings hanging on the mantle during a white Christmas.
9. Homes With Personality
I can't complain. My cement, stucco, one-story Florida home saved our asses through multiple scary hurricanes. The house is a tank. I love its modern touches, but I miss older homes. New England houses have character and not just characters lurking outside.
Our new Asheville home is a colonial. Le sigh. The rooms are cozy, and f* me: is that a basement?!?!?!
10. Traffic and Driving
Everyone tells us how bad Asheville traffic is. Um, I dare you to go on I-4 through Orlando, Disney, and the outlets. It could take me TWO TO THREE HOURS to go 20-30 minutes at least once a week. Insert crazy laugh.
We are stoked that within 30 minutes we can be across Asheville and into other happening cities as well as the airport. Most places are 5-15 minute drives from us. In Florida, it's an hour to get to a good doctor (and don't get me started on Florida's healthcare).
Granted, staying in my lines for those turns is a challenge. Whereas in Florida I am a speed demon to stay alive with the aggressive and awful drivers, in NC, I am humbly slow.
11. Everything! Quality Of Life, Culture, Community
This goes without saying, but we are moving to Asheville, NC because it rocks.
I love the vintage pinball museum, liberal vibes, and community-oriented, local support. People are friendly, including mountain-giddy tourists.
Outdoorsy folk thrive as well as artists, digital nomads, and writers. There is so much to see and do. I can't even begin to describe it so you better visit us to see for yourself.
We are thrilled to call Asheville our new home. You can see how living in Asheville worked out here on Uncorked Asheville, our sister site.
If you live in Asheville or go there frequently, tell me all. The same for NC and neighboring states. If you want to collaborate, please email me too: hello [at] theuncorkedlibrarian [dot] com. See what I did there, SPAMMERS?!
And thanks, Florida; it's been real. Real hot.
Thinking About Moving to Asheville, North Carolina? Pin It For Later: