13 Undeniable Reasons For Moving To Asheville, North Carolina
Are you thinking of moving to Asheville, North Carolina? Here are 13 reasons why we are moving to North Carolina from the sunshine state, Florida. Find vegan restaurants, Biltmore, DuPont State Forest, Asheville breweries, fall foliage, and so much more.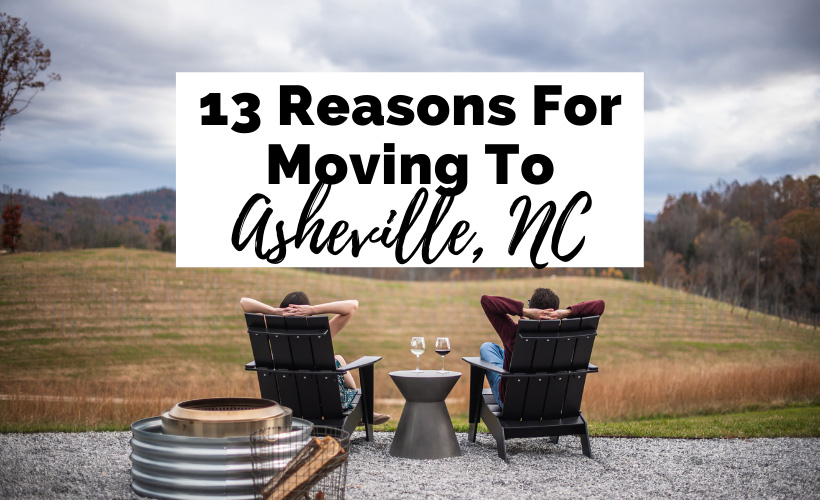 We had no intention of moving to Asheville, NC. None at all. Native New Englanders, we didn't love living in Florida, but we had accepted our career fate.
But then, one weekend, flights thwarted our vacation plans to Puerto Rico. We ended up in Asheville, North Carolina as our second destination of choice.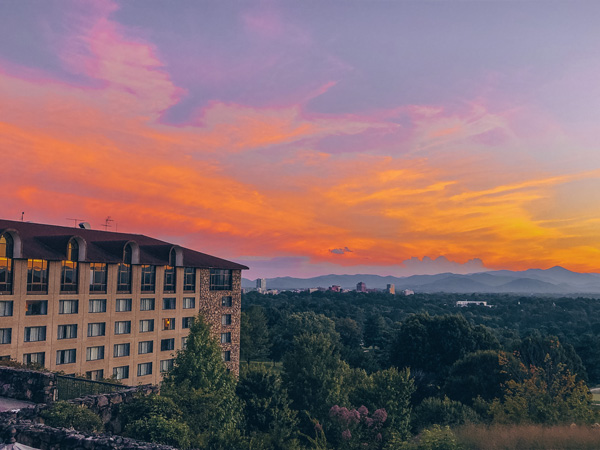 Within 24-hours, we decided to move to Western North Carolina. Within the month, we bought a house in an established AVL neighborhood. Y'all, we don't mess around.
So, why are we moving to Asheville, North Carolina? How did this happen virtually overnight? Asheville bewitched us with beer, bookstores, culture, and hiking. I blame the Blue Ridge Mountains.
We are sharing our reasons for moving to Asheville, and will hopefully better inform your questions and decisions if moving to Asheville is right for you.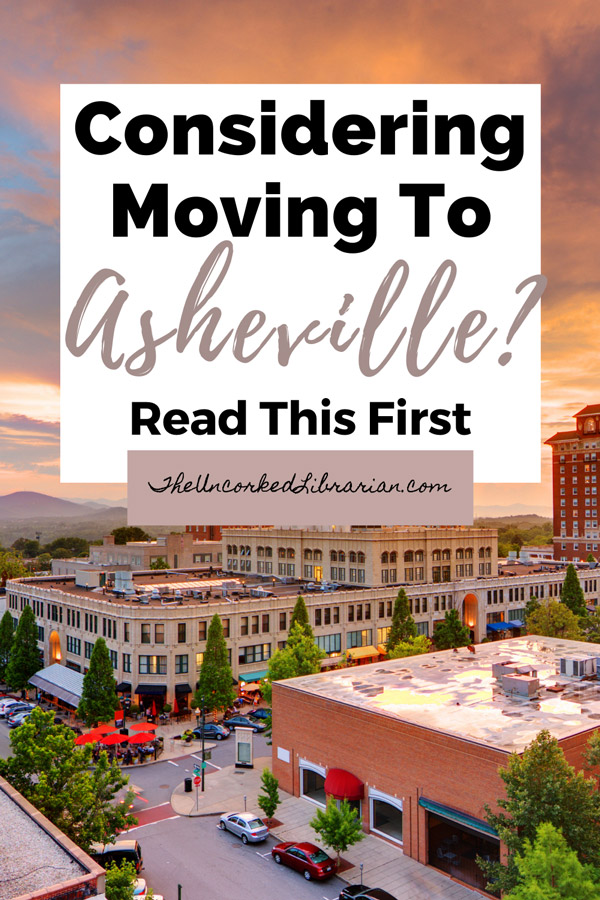 But First, Don't Miss Our Asheville Travel Blog, Uncorked Asheville
Since moving to Asheville over a year and a half ago, we started an Asheville travel blog, Uncorked Asheville. Experience Asheville like a local. That's our goal — sharing the magic of Asheville, NC with you.
You can sign-up for Asheville updates — including new restaurants, fabulous waterfall hikes, and authentic local recs — here. This Asheville blog is perfect for Asheville newbies, vacationers, travelers, and anyone considering a move to Asheville, NC.
You also don't want to miss this post about what it's actually like living in Asheville, NC now. If you are visiting Asheville, be sure to enjoy these Airbnb stays, too.
Why Did We Considering Moving To Asheville In The First Place? One Word: Florida
Bye, Felicia! Oops, I mean Florida.
Florida was our home for the past 8 years. When my husband's commercial airline base closed, we decided to move to the next base in Central Florida. There may or may not have been sobbing in a La Quinta hotel room with hysterical not-so-whispers of please don't make me move to Florida.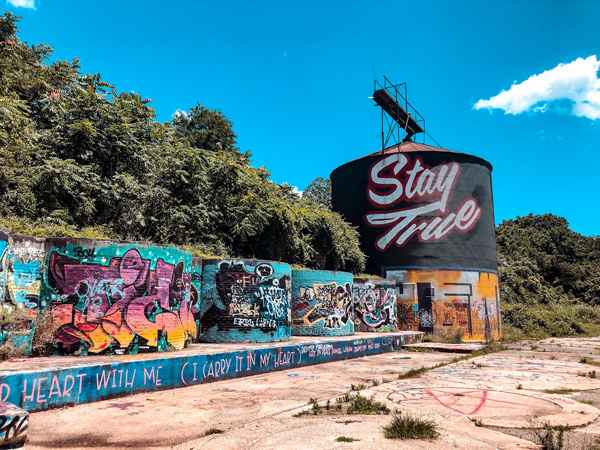 All of our family is in CT. This New England girl loves her seasons, rolling hills, and uhhhh, let's call it culture. Let's just brush that off and leave it there.
For me, Florida is semi-hell disguised as a beach. The traffic is insane, and although I am not a fatalist, driving there makes me want to take up religion. No one has ever said that they will miss Florida Man, either…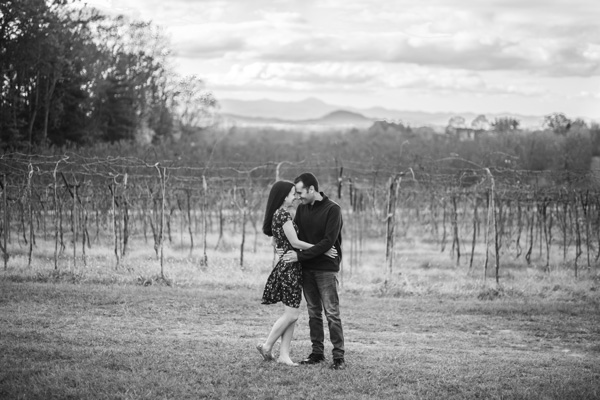 My eyes will never believe seeing Confederate flags proudly hanging in so many windows — which you will also see in Western North Carolina. Can everyone read Caste by Isabel Wilkerson, please?! Plus, work pays in sunshine (I can't take credit for that phrase either).
Don't get me wrong, I enjoy Florida's beautiful beaches, owning a pool, and the fact that everything is open 24/7 for snowbirds and retirees. It is God's waiting room, after all. Put your thumbs away; I didn't coin that truth.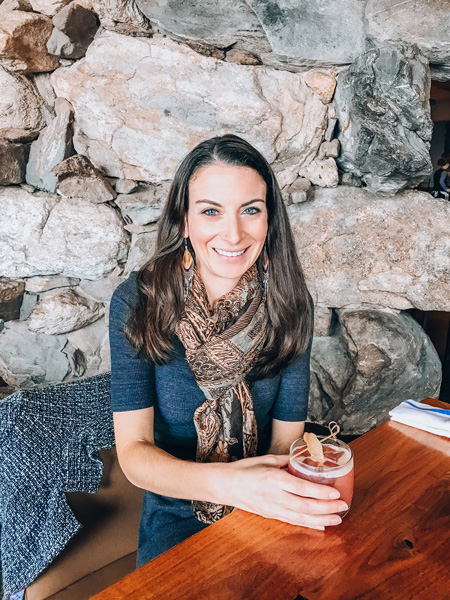 Want to go to the brewery at noon? Not a problem. We lived for Epcot's Food and Wine Festival. Florida is a great vacation destination. A short-term relationship with no commitment. A one-night stand gone right. Friends with all of the benefits; no strings attached. You get it, right?!
I will be back for the beach and friends — if I have any left after reading this.
So, Florida, I am breaking up with you to move to Asheville, NC and here's why:
13 Reasons Why We Are Moving To Asheville, North Carolina
1. The Blue Ridge Mountains
Did you ever fly into a destination and just feel like you were home? The number one reason we are moving to Asheville, North Carolina is because of those bluish-green mountains.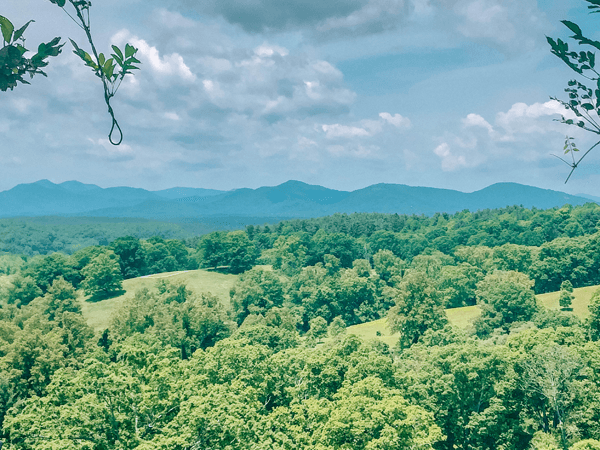 The Blue Ridge Mountains surround Asheville. Their smoke and mist must be some magical drug; I never want to leave them. I find the mountains inspirational just like Johnny Depp in Secret Window before it all goes wrong.
Maybe that's a bad analogy.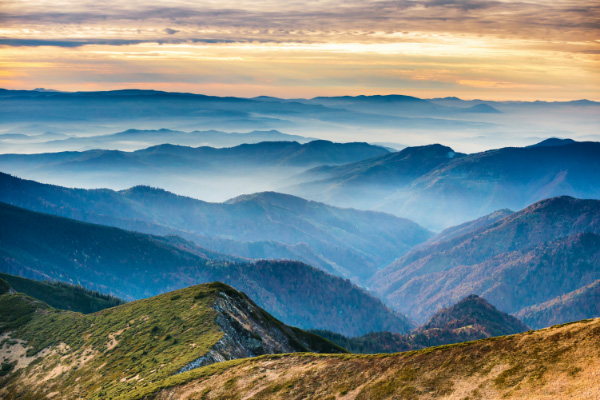 Another way to look at it: George Vanderbilt decided that while some of his family members and the elite were settling in thriving cities like New York City, Paris, and Newport, he fell in love with Asheville, NC. In fact, George enjoyed Asheville so much that he built America's largest home, Biltmore Estate.
F. Scott Fitzgerald also came to Asheville for vacations — staying at The Omni Grove Park Inn — while Zelda resided at Highlands Hospital, improving her mental health. Unfortunately, Zelda perished in the Highlands Hospital fire — so maybe moving to Asheville wasn't so great for her.
2. Downtown Asheville, NC
The moment the plane landed, I knew that I wanted to live in Asheville. One of the deal-sealers: the knit pig on the lamp post with the mountain sunset and bubble machine in front of the board game cafe (which sadly closed in 2020). That's too many yuppie words for me to comprehend in one sentence.
Where am I, Toto?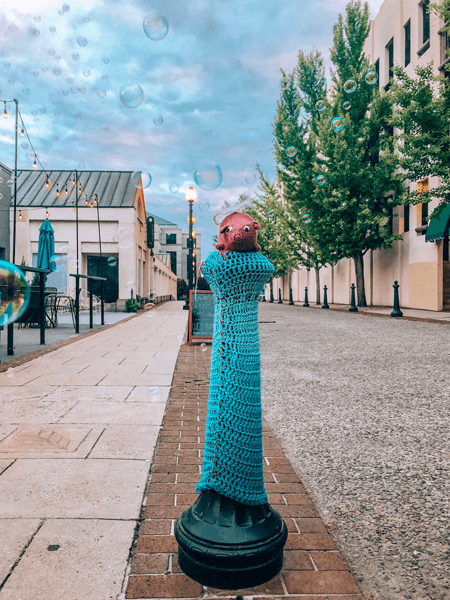 I am an old millennial; what can I say? Hello, rock climbing gym, endless restaurants and cafes, a giant iron, and urban street art. Which way should I turn? Dim sum tapas? Beer at which brewery? A drum circle in the square?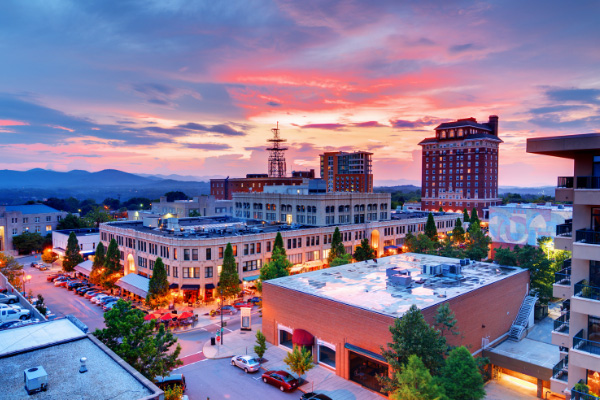 It will take me years to date you, Asheville. Bring. It. On.
---
---
3. Vegan and Gluten-Free Restaurants
Did you know that Asheville is called Foodtopia? The city is a foodie's dream.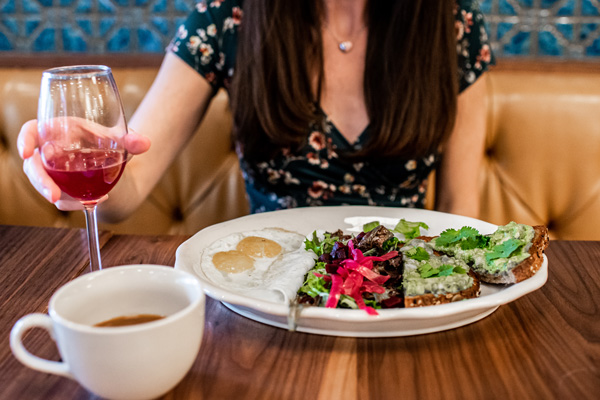 I have UC and my husband has Celiac Disease. We are both lactose-intolerant. Most Florida restaurants, especially outside of the major cities, completely disregarded our severe food intolerances. It was frustrating as heck.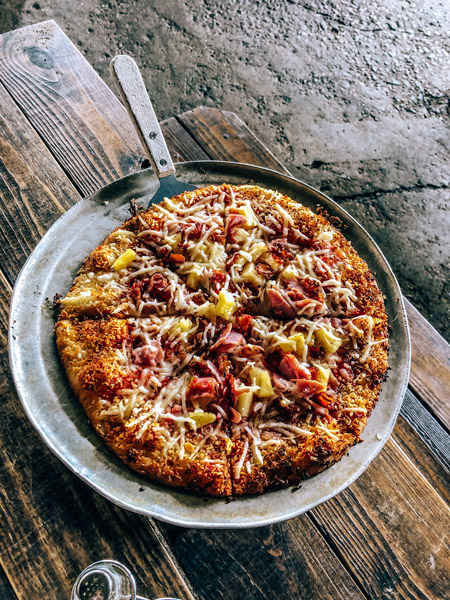 Asheville restaurants have dietary labels on most of the menus. The wait staff knows their stuff and attentively take care of everything without even blinking.
Our food options spread in front of us like a deck of cards during some magical foodie trick. Plus, although we are not vegan or veggie, we seek out this cuisine frequently.
Personally, I love Plant and Laughing Seed Cafe.
---
---
4. Battery Park Book Exchange
Moving to Asheville, North Carolina is a boozy and literary traveler's dream. Our first night ever in Asheville, we landed at the Battery Park Book Exchange.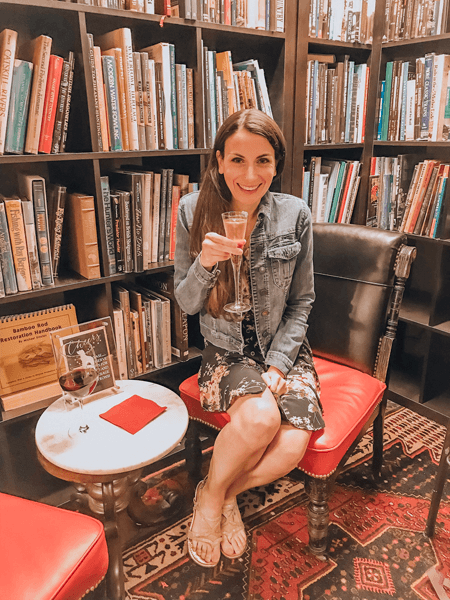 Literary cocktails, champagne between the stacks, and books for sale? Um, can I just live here? Plus, we saw a book club meeting along with other gatherings and celebrations. I'd have my 40th here. You in?! Sold.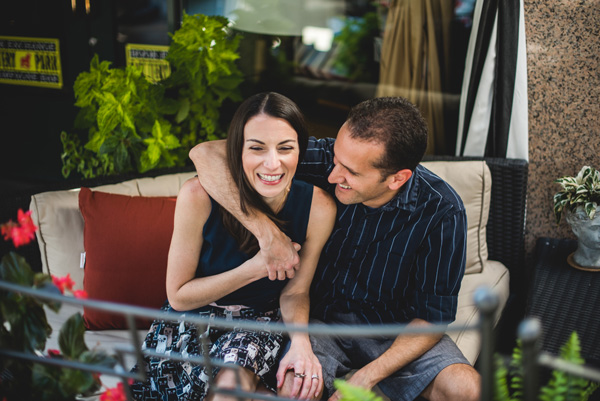 P.S. These are my favorite North Carolina books so far.
---
Be Sure To Check Out Our Asheville, NC Travel Blog
Since writing this post, we, of course, moved to Asheville, North Carolina. AND IT'S BEEN THE BEST DECISION EVER! If you are traveling to Asheville, be sure to check out our Asheville-based blog, Uncorked Asheville. Find local tips, boozy itineraries, where to eat, and fun things to do for everyone. Sign-up for updates here.
---
5. Breweries Upon Breweries
[Channel Oprah Here] "And you get a brewery, and you get a brewery, and YOU GET A BREWERY." I am a craft beer gal all of the way.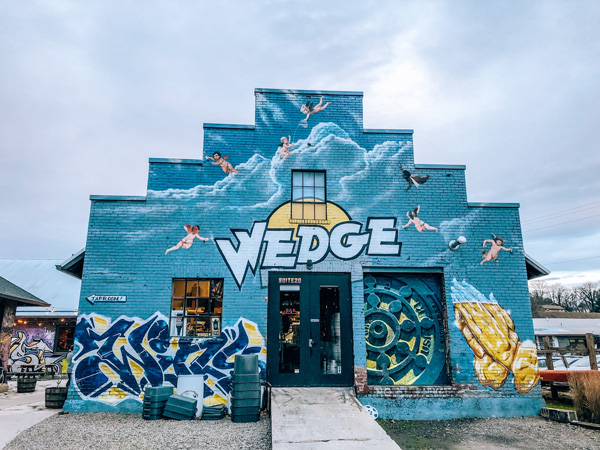 Asheville grows breweries like Florida spawns retirees and Florida Man memes. Whoops, did I go there? I am paralyzed with hoppy indecision. In fact, Asheville is building even more beer havens as I write this.
A few of my favorite Asheville breweries include Wicked Weed Brewing, Thirsty Monk, Wedge at Foundation, Zillicoah, and Bhramari Brewing Company.
---
---
6. Biltmore Estate and Winery
Did you know that Biltmore is said to be America's largest private estate and home? George Vanderbilt built this stunning icon, including an indoor swimming pool, bowling alley, and gorgeous library.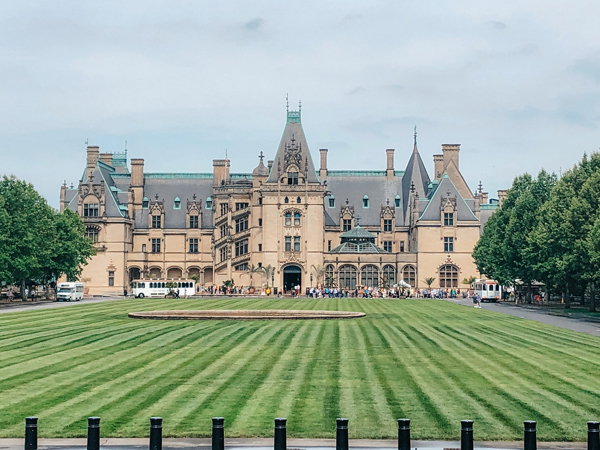 After moving to Asheville, we traded in our annual Disney passes for Biltmore concerts and access to the grounds for the 22-miles of hiking, biking, and walking trails.
Can we talk about Biltmore Winery, too? One day is not enough to see and experience it all. No oaked Chardonnays and Syrahs are safe. You've been warned, Asheville.
---
---
7. Hiking & Waterfalls
The second day we landed in Asheville, NC, we booked it out the door to DuPont State Forest in search of The Hunger Games waterfalls.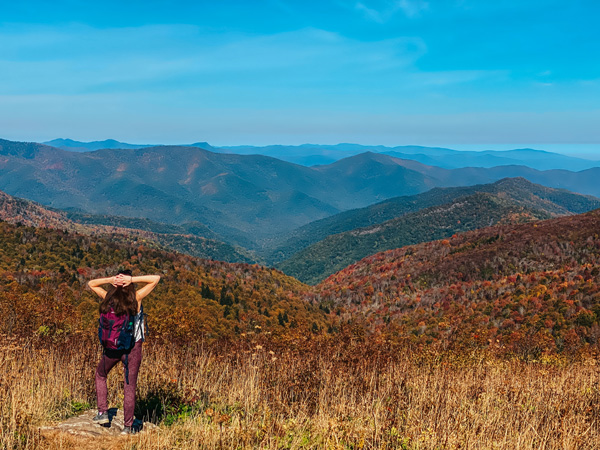 Did you know that Transylvania County is known as the "Land of Waterfalls?" There are over 200+ waterfalls in Western North Carolina. Asheville (NC Micropolitan Statistical Area) and Brevard fall into some of this area.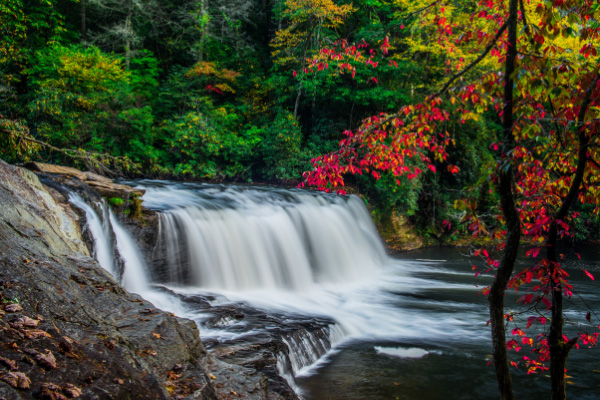 With gorgeous weather almost year-round, moving to Asheville means living in outdoor clothes 24/7 — if that's your jam. The hiking trails across Western North Carolina never end. Asheville also has beautiful parks and gardens.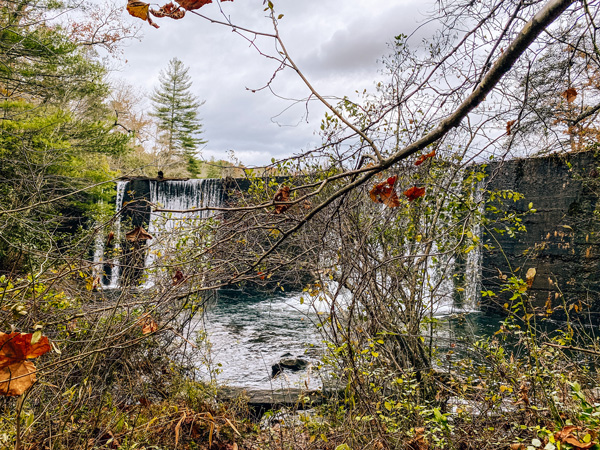 Mother Nature, you and I are going to be besties. Just keep those copperheads away from me, please.
8. Seasons
Speaking of weather: Hello, seasons; my old friend. People always complain about the snow, but when you never see it, you miss it.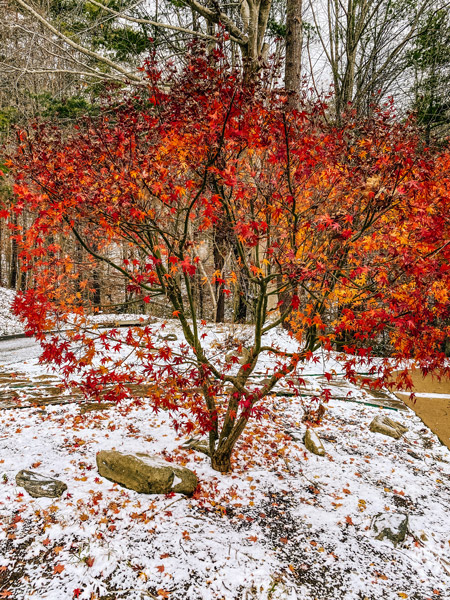 And yes, I will death-grip the steering wheel and silently sob as I re-learn not only how to drive in snow and ice but also on winding, hilly roads. Driving in Iceland may have prepared us a little bit, but after 8 years in Florida, I still have to look up "hill" in the dictionary.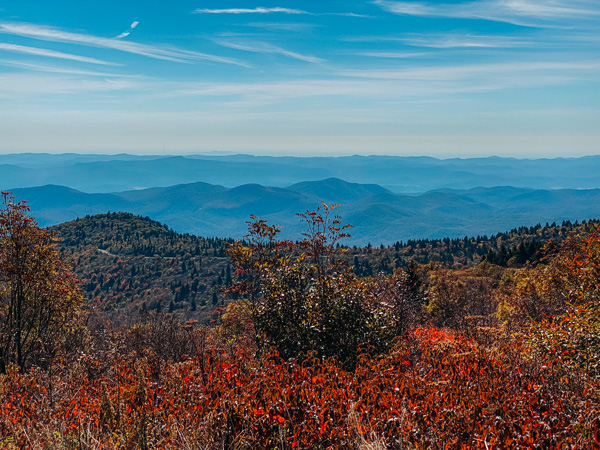 Plus, you know about fall in Asheville, right? People flock to see the gorgeous Blue Ridge Parkway foliage. You also have the famous Hendersonville apple orchards with cider donuts and slushies.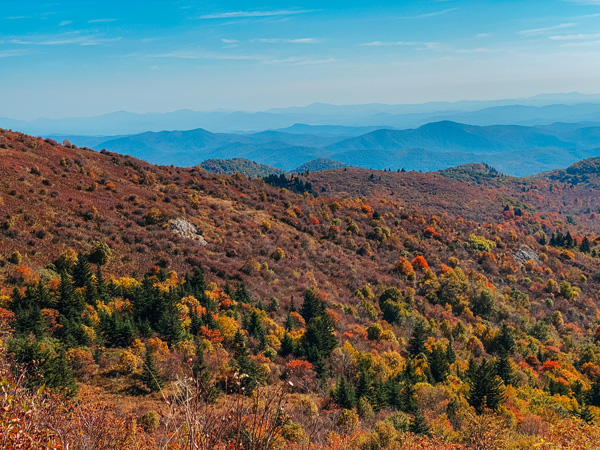 Lastly, since moving to Asheville, we bought a house. It has a gas fireplace. Imagine four kitty stockings hanging on the mantle during a white Christmas — which we had in 2020. It snows in Asheville, but it's usually a light dusting.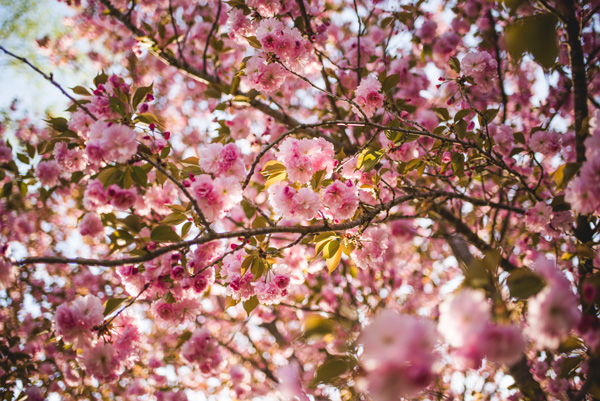 9. Homes With Personality
I can't complain. My cement, stucco, one-story Florida home saved our butts through multiple scary hurricanes. The house was a tank.
I loved its modern touches, but I miss older homes. New England houses and Asheville homes have character and not just characters lurking outside.
Our new Asheville home is a colonial. Le sigh. The rooms are cozy, and f' me: is that a basement?!?!?!
10. Traffic and Driving
Everyone tells us how bad Asheville traffic is. Um, I dare you to go on I-4 through Orlando, Disney, and the outlets. It could take me two to three hours to go 20-30 minutes at least once a week. Insert hysterical laugh.
We are stoked that within 30-minutes, we can be across Asheville and into other happening cities as well as the airport. Most places are a 5 to 15-minute drive from us, including the eye doctor, dentist, and GI. In Florida, it's an hour to get to a good doctor (and don't get me started on Florida's healthcare system).
Granted, staying in my lines for those turns is still a challenge. Whereas in Florida, I was a speed demon to stay alive with the aggressive and awful drivers, in NC, I am humbly slow. P.S. Motion sickness is for real in the Asheville mountains.
11. Wine
Wait, what?! Isn't Asheville home to all of the craft beer? It is, but there is also WINE. Of course, this isn't CA, and the number one question I receive from Californians moving to Asheville (and yes, there are a lot of you), is if the wine is any good.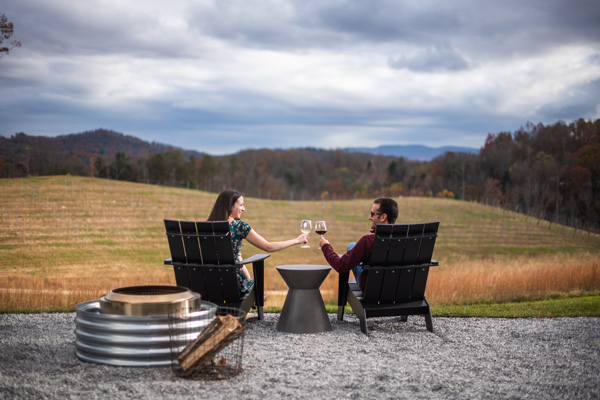 In the U.S., I am not sure if anything compares to CA wine. But, there are a ton of wineries near Asheville, especially in Hendersonville and Flat Rock. We missed having good wineries while living in Florida.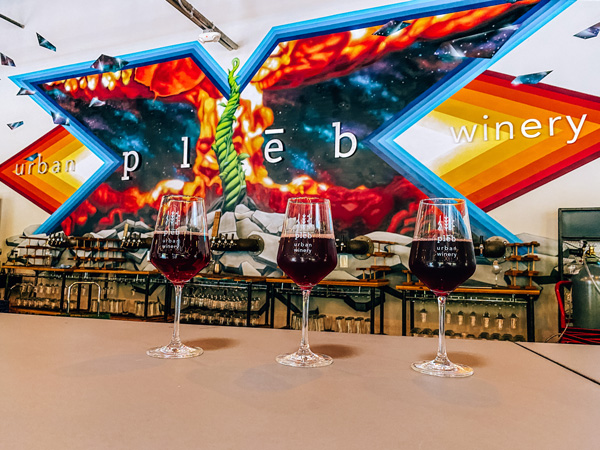 Like Florida, the muscadine grape — which I don't particularly care for — grows in North Carolina. However, unlike Florida, we have more than those fruity wines, too. Our favorite wineries in WNC include Stone Ashe and Marked Tree Vineyards.
12. Blue Ridge Parkway
The Blue Ridge Parkway (BRP) has been named one of the prettiest spots in the United States. In the fall, the BRP lights up with gorgeous foliage.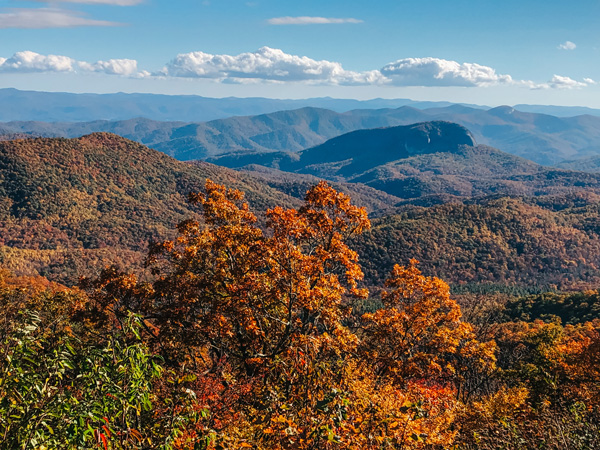 This winding two-lane road is home to scenic overlooks, wildlife, hiking trails, waterfalls, and cabin getaways. The entire Parkway spans from Cherokee, North Carolina — home to the elk — all the way to Virginia.
Bikers, motorcyclists, road trippers, RVers…you name it…all take to the BRP for the peaceful views. Parts of the Parkway will close in the winter for ice — just in case you are visiting Asheville then.
13. Everything! Quality Of Life, Culture, Community
This goes without saying, but we are moving to Asheville, NC because it rocks.
I love the vintage pinball museum, liberal vibes, and community-oriented, local support. People are friendly, including mountain-giddy tourists.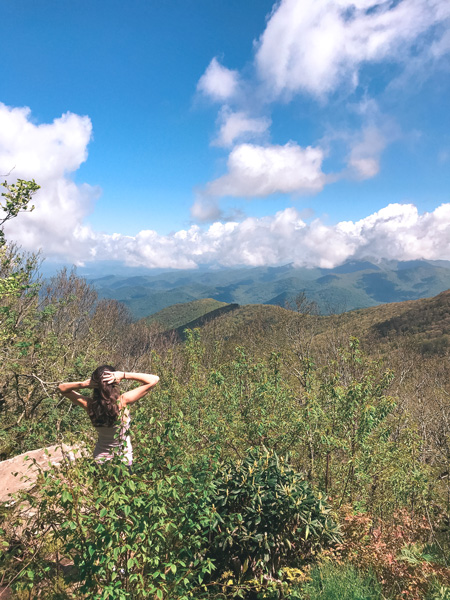 Outdoorsy folk thrive as well as artists, digital nomads, and writers. There is so much to see and do. I can't even begin to describe it; so, you better visit us to see for yourself.
Considering moving to Asheville? Want to check out WNC? Where can you stay?
Don't miss these Asheville Airbnb stays→
Aloft – Downtown Asheville – If you are looking to stay in the heart of downtown Asheville, the Aloft hotel is newly renovated as of 2020. You'll love the brilliant local murals, updated rooms, and trendy public areas, including a rooftop pool, bar, and ledge overlooking all of Asheville.
Hampton Inn And Suites Asheville Biltmore Area – Although this hotel is on busy Brevard Road – NC-191 – across from the Asheville Outlets, we stayed here before moving to Asheville. Clean, updated, and in the middle of everything, you can easily access downtown, Biltmore, and the Blue Ridge Parkway.
1898 Waverly Inn Bed and Breakfast — While looking for houses in Asheville, we stayed at this sweet B&B in Hendersonville, NC (35-40 mins from Asheville closer to DuPont State Forest). We loved their social happy hour and friendly hosts. You can walk into downtown Hendersonville.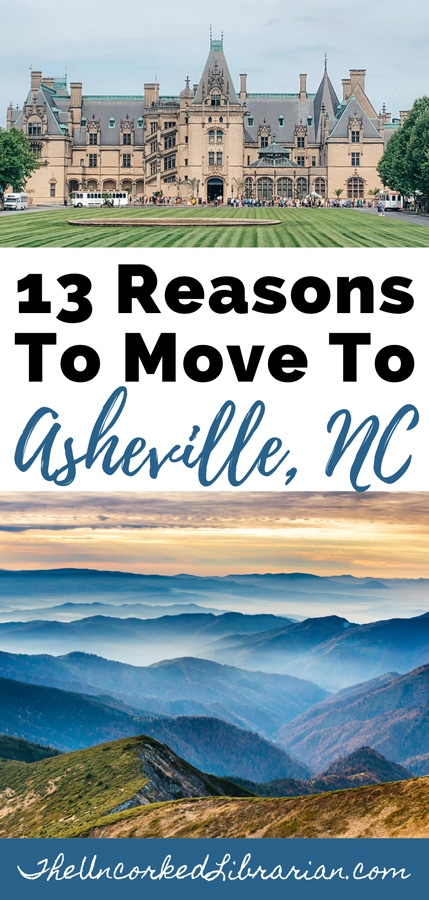 So, are you moving to Asheville, NC?
We are thrilled to call Asheville, North Carolina our new home. You can see how living in Asheville worked out here on Uncorked Asheville.
Let us know if you have any questions or are visiting Asheville. If you hate that I ranked on Florida, well, don't let me know.
And thanks, Florida; it's been real. Real hot.
We originally published 13 Reasons For Moving to Asheville on June 12, 2019 & have updated this post for 2021.
If You Are Visiting Asheville, Don't Miss These Top Posts:
Asheville Food & Drinky-Drink Guide
Ultimate Guide Of Things To Do In Asheville: Hiking, Waterfalls & Biltmore
Book Posts Related To Asheville, NC:
Books To Read Before Visiting The South
Best Books Set In North Carolina
Famous Asheville Authors
Fantastic Books Set In Asheville
Asheville Photo Credits
Did you love many of the pictures in this post? Sarah Resta is an international and local Asheville engagement and wedding photographer for Sarah Resta Photography. As a partner, we highly recommend Sarah. Tell her that Christine, The Uncorked Librarian, sent you when you book her.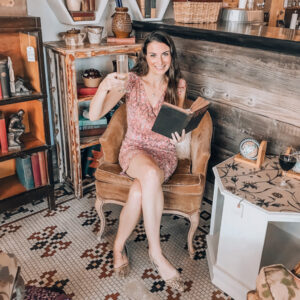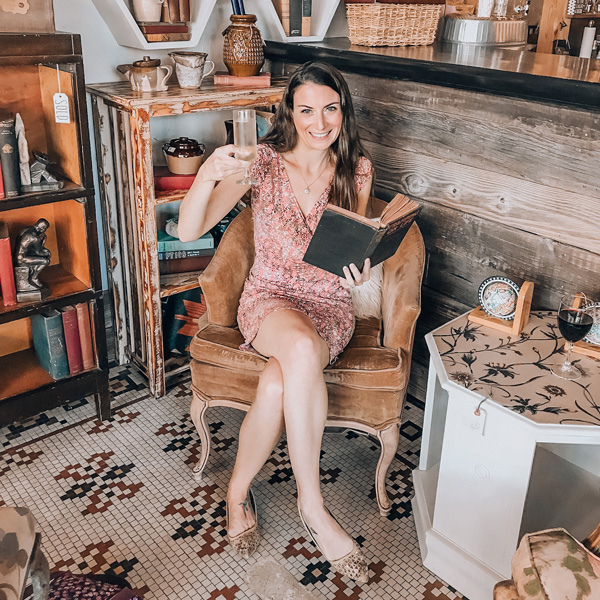 Christine (she/her) is the owner, lead editor, and tipsy book sommelier of The Uncorked Librarian LLC, an online literary publication showcasing books and movies to inspire travel and home to the famed Uncorked Reading Challenge.
With a BA in English & History from Smith College, an MLIS from USF-Tampa, and a U.S. Fulbright Fellowship in Christine's back pocket, there isn't a bookstore, library, or winery that can hide from her. Christine loves brewery yoga, adopting all of the kitties, and a glass of oaked Chardonnay. Charcuterie is her favorite food group.