Craving delicious mead cocktails? Don't miss these easy mead cocktail recipes made in collaboration with a few crafty local North Carolina meaderies.
Here in North Carolina, we love a refreshing and fruity beverage, especially in the summer. Nothing beats a sweet mead cocktail on a warm day with a good book.
In case you are newer to the mead family, mead is an alcoholic beverage created by fermenting honey with water and sometimes fruits and spices.
We love mead for my Celiac/gluten-free hubby — although occasionally, meadmakers might add in a glutenous product or two.
Mead is especially fun to mix into cocktails instead of or even with hard liquor.
Below, we worked together with some of our local North Carolina meaderies to create both literary-inspired and summery mead cocktails.
Find easy-to-make mead cocktail recipes with flavored meads and many ingredients that you already have in your home bar and fridge. If you don't have the exact same mead, don't worry; just find a mead with a similar flavor.
Grab a good book, and flop in a hammock. Let's get started.
Don't miss all of our Cocktail Recipes Here.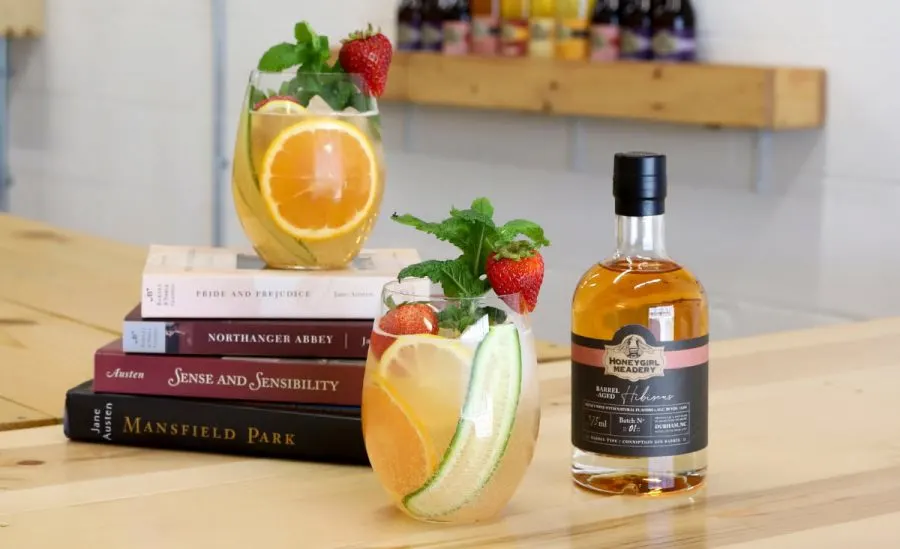 *This blog post is a collaboration with Tabletop Media Group in celebration of NC Wine Month to showcase North Carolina's incredible meaderies. Thank you so much to the participating meaderies who created cocktails for TUL website and gifted us a bottle or two of free mead to make our own.
9 Mead Cocktails To Inspire Your Summer Reading
1. The Lady Jane
Literary Mead Cocktail by Honeygirl Meadery
Address: 105 Hood St #6, Durham, NC 27701
Website: https://www.honeygirlmeadery.com/
Honeygirl's mead cocktail is inspired by meadmaker and author, Jane Austen. Using Honeygirl's Gin Barrel Aged Hibiscus Mead, this recipe is their twist on Pimm's Cup.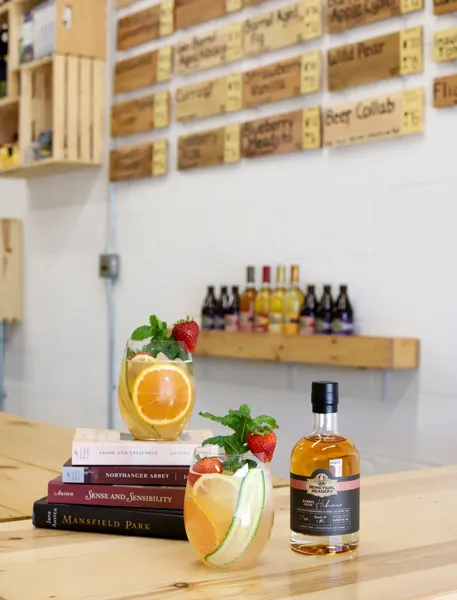 Ingredients
4 oz Honeygirl Gin Barrel Aged Hibiscus Mead
1 oz Conniption American Dry Gin
Dash of Angostura orange bitters
Sparkling lemonade
Garnishes: Strawberries, orange, lemon & cucumber slices, mint
Directions
In a shaker or pitcher, combine gin and mead. Add a dash of bitters and stir. Add sliced cucumbers, oranges, and lemons. Top with half a bottle of sparkling lemonade. Let fruits infuse for 10-20 minutes.
Fill a glass with ice and pour in mixture. Top off with more sparkling lemonade. Garnish with fruits and mint.
Not Quite Thirsty? Save These Mead Cocktails For Later: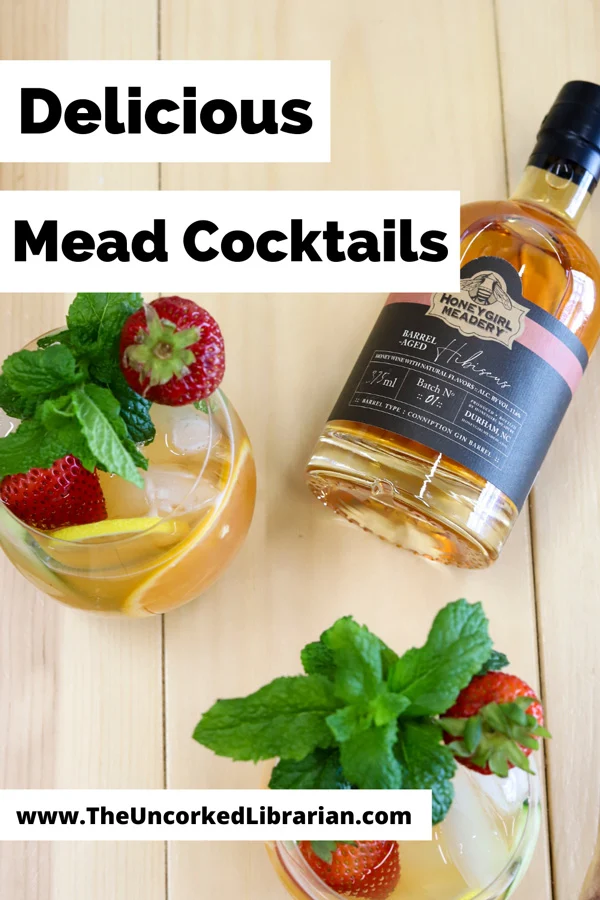 2. Orange Blossom Margarita
Mead Margarita by Honeygirl Meadery in Durham, NC.
Ingredients
1.5 oz Silver Tequila
1.5 oz freshly squeezed lime juice
2 oz Honeygirl Orange Blossom Mead
1 lime wedge for garnish
Salt for rimming the glass
Directions
Combine tequila, lime juice, and mead into a cocktail mixing glass. Gently stir with a bar spoon. Rim glass with salt, pour in mixture, and garnish with lime.
3. Ariadne's Glimmering Bellini
As Ariadne marries Dionysus, he throws her crown in the sky, suspending her jewels as constellations.
With an abundance of wine on the sparkling island of Naxos, Ariadne by Jennifer Saint first and foremost celebrates sisterhood. We think Ariadne deserves some bubbly topped with a crown.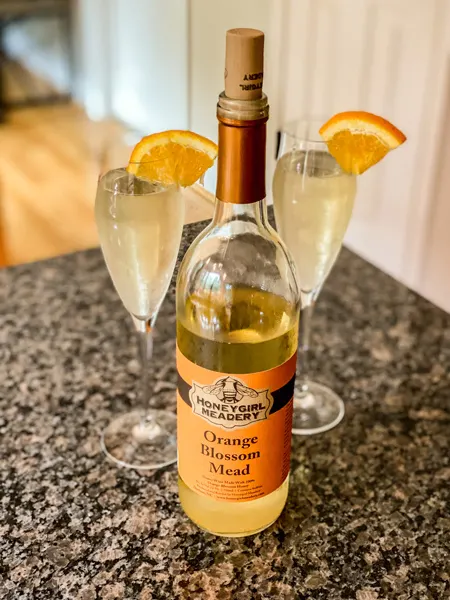 Ingredients
4 oz Champagne
2 oz Honeygirl Orange Blossom Mead
Sliced orange to garnish
Directions
In a champagne flute, add champagne to mead. Garnish with an orange slice.
4. Raspberry Peach Sangria
Mead Cocktail by Starrlight Mead
Address: 130 Lorax Ln, Pittsboro, NC 27312
Website: https://www.starrlightmead.com/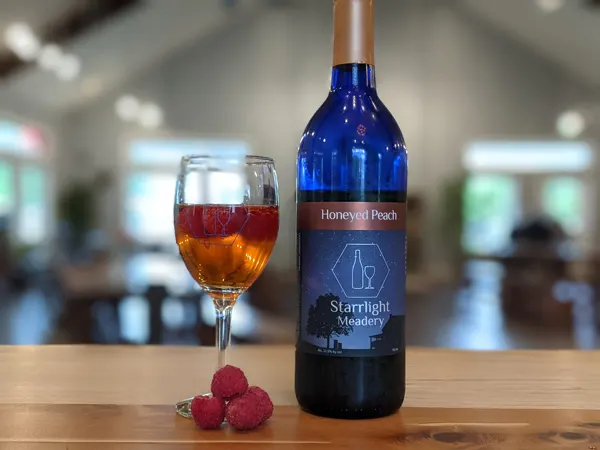 Ingredients
2 bottles Starrlight Mead's Honeyed Peach
3 cups sliced peaches
3 cups raspberries
Optional – Add spiced rum or Chambord
*You may also use frozen fruit*
Directions
Combine 1 bottle mead with fruit. Place in the fridge overnight. Before serving, scoop out some of the fruit to add to glasses. Mix in the second bottle of mead for sweetness.
5. Nella's Black Widow Martini
Are you ready for a woman apothecary who poisons men that cheat on or abuse their wives? Nella will enchant you.
In honor of The Lost Apothecary by Sarah Penner, enjoy our Black Widow Mead Martini…if you dare. See where to find The Lost Apothecary reviews on TUL→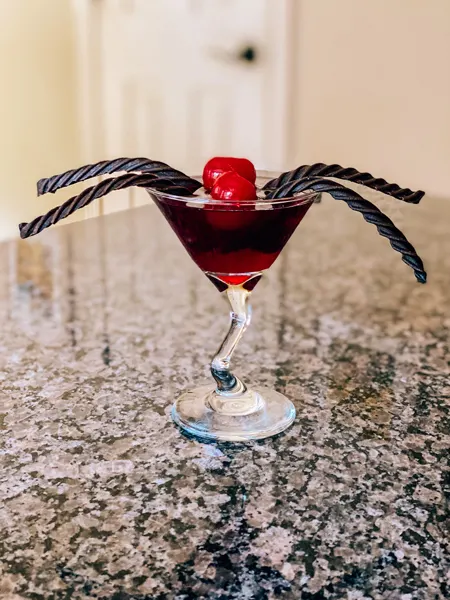 Ingredients
1.5 oz Starrlight Mead's Honeyed Nordic Blend (licorice overtones)
1 oz Pomegranate juice
1 oz vodka
Garnishes: Red cherries & black licorice
Directions
Add licorice mead, pomegranate juice, and vodka into a cocktail mixing glass. Gently stir. Pour into a martini glass, slice twisted black licorice into spider legs, and add two cherries on a toothpick.
6. Gilded 'Rum & Coke'
Learn more about the history of drinks and cocktails in Cecelia Tichi's Gilded Age Cocktails recipe book. There are quite a few literary references, too.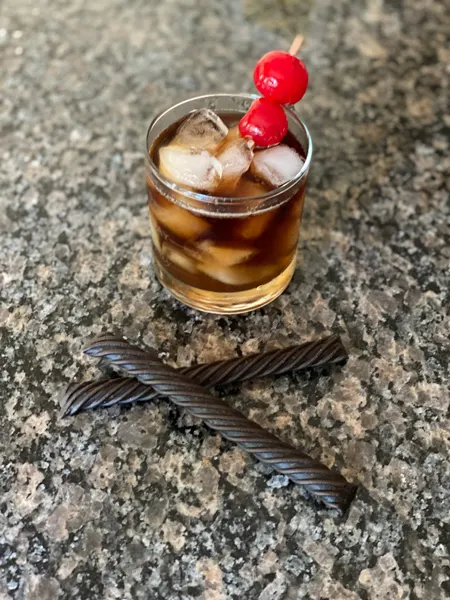 Ingredients
2 oz Starrlight Mead's Honeyed Nordic Blend
7.5 oz Coke Zero
Cup of ice
Directions
In a cocktail mixing glass, add in licorice, mead, and soda. Stir gently with a bar spoon, and pour over ice in a lowball glass.
7. Lunar Legerdemain
Mead cocktail by GoodRoad CiderWorks
Address: 117 Southside Dr, Charlotte, NC 28217
Create a mead cocktail inspired by the book, Fool Moon, from The Dresden Files series by Jim Butcher.
The protagonist, Harry Dresden, makes a Stimulant Potion with coffee as the active ingredient. Enjoy a loosely inspired Port-Coffee Martini.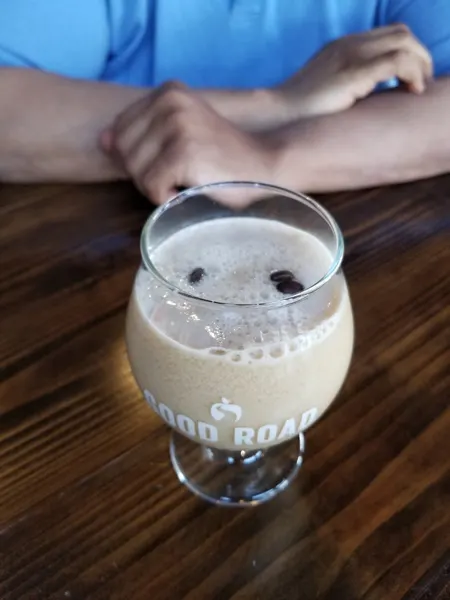 Ingredients
3 oz GoodRoad CiderWorks Sweet Mead
2 oz Cold brew coffee
1 oz Vanilla coconut almond creamer
Garnish: Coffee beans
Directions
Add mead, cold brew coffee, and creamer to a shaker with ice. Shake, and then strain into a glass. Garnish with coffee beans.
8. Orange Ya Glad To Be Reading Old Fashioned
It's a librarian's worst nightmare: "Can you help me find this book? The one with the orange cover…"
Why not pair our orange-infused old fashioned with a book with an orange cover?
A few ideas: A Burning by Megha Majumdar (political fiction set in India), The Martian by Andy Weir (science fiction set in space), Homegoing by Yaa Gyasi (historical fiction set in Ghana and America), or Where The Crawdads Sing by Delia Owens (literary fiction set in North Carolina).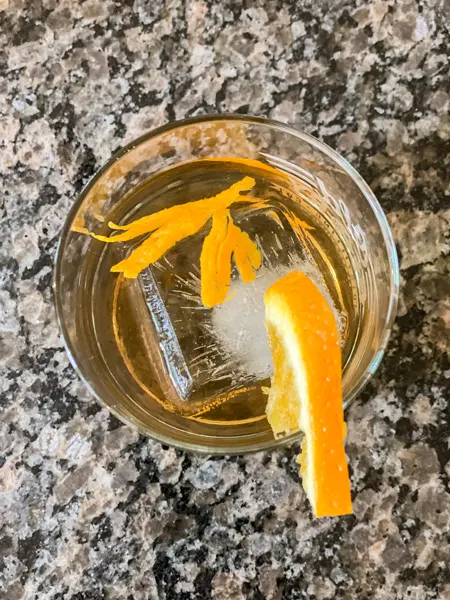 Ingredients
1 oz GoodRoad Grove De L'Orange Mead
1 oz Whiskey
.5 oz Simple syrup
1-3 drops Angostura bitters
1 Square ice cube
Garnish: Orange slice and zest
Directions
In a cocktail mixing glass, add orange mead, whiskey, simple syrup, and bitters. Lightly stir, and pour into a rocks glass over a large square ice cube. Garnish with orange slices.
9. High Place Mojito
Noemí leaves behind her life of cocktail parties to head to the Mexican countryside. She must save her cousin from the terrifyingly haunted mansion, High Place.
Find an intoxicating story in Mexican Gothic by Silvia Moreno-Garcia where the supernatural walls become a kaleidoscope of colors just like this dizzying mead mojito.

If you love gothic thrillers and mysteries, read more about Mexican Gothic on TUL→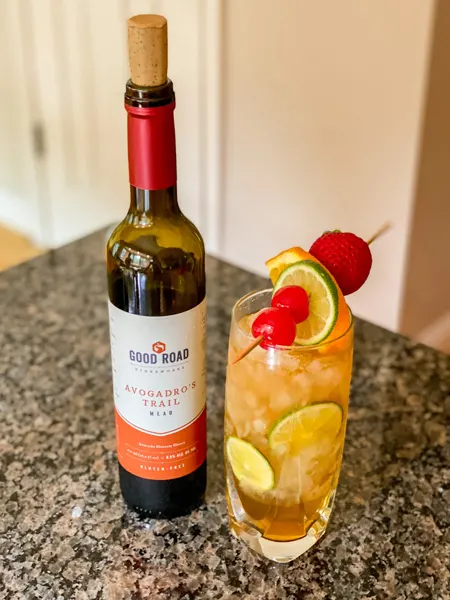 Ingredients
2 oz GoodRoad Avogadro's Trail Mead
2 oz Tequila
1 oz Simple syrup
2 tsp Lime juice
Cup of ice
Garnishes: Strawberries, lime and orange slices, and cherries
Directions
In a cocktail mixing glass, combine avocado-flavored mead, tequila, simple syrup, and lime juice. Stir and pour over ice. Garnish with strawberries, lime and orange slices, and cherries.
What are your favorite mead cocktail recipes?
Have you made any mead cocktails before? What are your favorite mead cocktail mixes? Let us know in the comments!
You May Also Enjoy:
Cocktails For Book Lovers
Easy Peasy Cocktails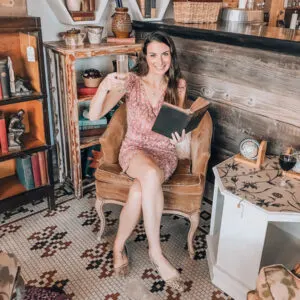 Christine (she/her) is the owner, lead editor, and tipsy book sommelier of The Uncorked Librarian LLC, an online literary publication showcasing books and movies to inspire travel and home to the famed Uncorked Reading Challenge.
With a BA in English & History from Smith College, an MLIS from USF-Tampa, and a U.S. Fulbright Fellowship in Christine's back pocket, there isn't a bookstore, library, or winery that can hide from her. Christine loves brewery yoga, adopting all of the kitties, and a glass of oaked Chardonnay. Charcuterie is her favorite food group.