Explore the best hotel novels to inspire your next getaway. These books about hotels are sure to make you think twice about where you stay.
Along with reading books set in destinations, we devour any books about travel. Recently, we've found a love for books set at hotels.
Some of these hotels are quite creepy and full of paranormal activity – OK, and maybe a few dead bodies.
Other resorts welcome ritzy guests and host extravagantly obnoxious wedding celebrations.
After all, hotels are the perfect setting for drama, relaxation, illicit affairs, and falling in love.
Of course, because this is TUL, we also blur the lines of "hotels" to include inns, retreats, motels, and similar stays around the world.
So, which hotel novel should you read first?
Uncover our favorite books about hotels to make you laugh, hide under the covers, and want to hop on a plane for an immediate vacation.
There are so many hotel novels out there, we'd love to hear your favorites in the comments too. Let's get started!
You might enjoy these movies set at hotels and motels.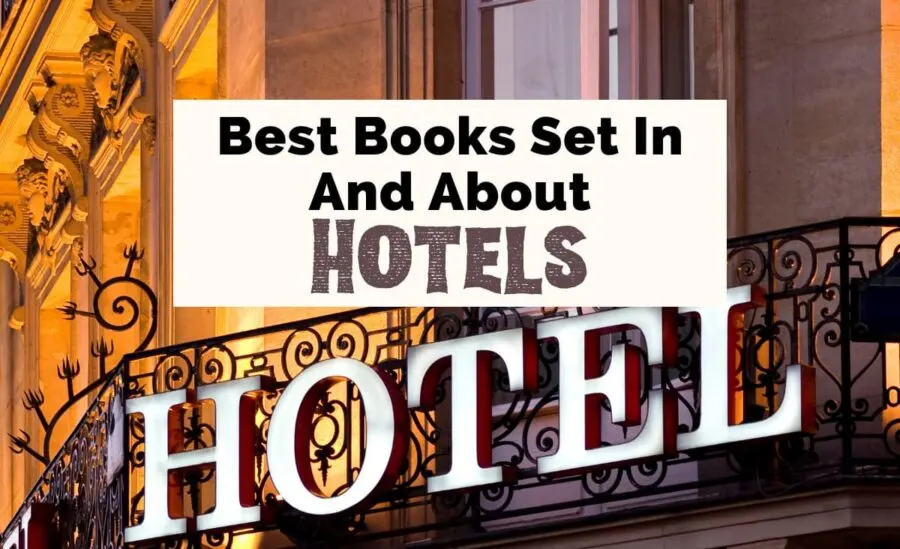 Grab your favorite novels set in hotels here:
1. Book of the Month: Get the month's hottest new and upcoming titles from Book of the Month. You might snag an early release or debut author. Along with selecting a book a month, find terrific add-ons, both trendy and lesser-known titles.
2. Audible Plus: From Amazon, listen to Amazon Originals, podcasts, and audiobooks. They add new titles every week.
3. Amazon Prime: Don't miss Amazon First Reads – early access to Kindle books. Get fast delivery as well as movies, music, Originals, shows, and more.
4. Or, start your trial of Amazon Video for movies and tv series on demand.

20 Best Hotel Novels For Getaway Wanderlust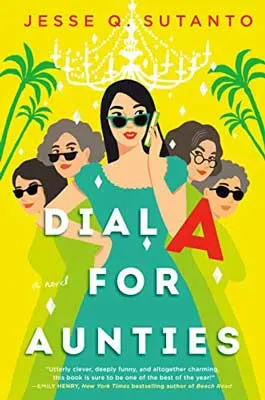 Dial A For Aunties by Jesse Q. Sutanto
Did you ever think that a hotel novel could be both a rom-com and a murder mystery? Dial A For Aunties promises laughs, love, and murder with just a little foodie fiction.
Plus, for books about Indonesian culture, families, and immigration, Dial A For Aunties will warm your heart and teach you some Bahasa Indonesia.
Meddy's family is Chinese-Indonesian. She's grown up navigating multiple languages, different cultures, and moving to America.
Now living in California, her aunts and mother run a prosperous wedding business.
Guilted into working as a photographer for the family business and set up on a blind date by her mother, Meddy's life grows more interesting when she accidentally kills her date, twice.
Who else can you call with a dead guy in your trunk? Of course, your aunties.
With an upcoming ritzy hotel wedding, the family needs to dispose of the body and pull off the wedding of the century without getting caught.
Of course, Meddy's first love just happens to be the hotel manager.
For California books set at hotels, this light read promises endless entertainment that will make you want to call your family ASAP.
Read Dial A For Aunties: Amazon | Goodreads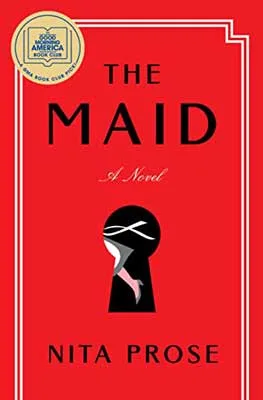 The Maid by Nita Prose
One of the most talked-about 2022 book releases, The Maid is a murder mystery meets Eleanor Oliphant is Completely Fine.
Molly enjoys her job as a maid for the high-end Regency Grand Hotel, finding solace in cleanliness, proper etiquette, and routine.
She works hard but finds herself the butt of jokes that she doesn't always understand.
Grieving the loss of Gran, who looked out for and lived with her, Molly does not always read situations or intentions correctly.
When Molly finds wealthy entrepreneur Charles Black dead in his suite, she becomes entangled in a murder mystery, finding herself framed as the police's number one suspect.
Her fainting spells don't help.
With the help of sincere friends, can Molly prove her innocence? And, while Molly may be innocent of murder, is Molly as guiltless as we are led to believe?
The Maid is filled with both suggested and in-your-face plot twists- some that are more predictable than others.
You'll adore Molly and her newfound community while wanting to slug the bad guys.
For books about hotels, The Maid promises both frustration and heart. The story is character-rich and emotional.
While it is never stated that Molly may be Autistic or otherwise Neurodivergent – and we don't want to make assumptions about her character – some reviewers, including many who are Neurodivergent, have criticized the representation of Molly while others have praised it.

Read The Maid: Amazon | Goodreads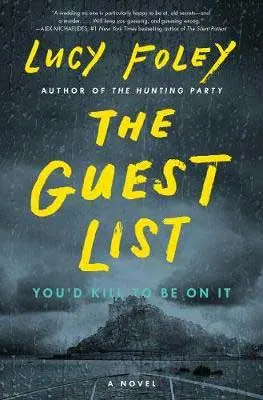 The Guest List by Lucy Foley
Of course, you cannot have a hotel novels reading list without stories that transport you to islands – even deadly ones.
Set off the Connemara coast of Ireland, travel by boat to a creepy island that is home to a menacing graveyard and bog.
Get ready for Gatsby-proportioned wedding festivities – with a similar outcome.
A story with alternating timelines and perspectives, this wedding turns murder mystery as a waitress screams with the discovery of a body.
All of the guests are detestable as rich, entitled, spoiled, and boozy snobs. The ushers are part of a childhood cult-like prep school and have never grown up.
The women have destructive and poisonous relationships with the men in their lives. Everyone has secrets and a motive. Who is the killer?
For Agatha Christie lovers looking for a more modern tale, The Guest List may appeal to you, especially if you seek out books that take place in Ireland or fun books about weddings.
Fast-paced, thrilling, and a tad cliche, novels set at hotels and inns don't get any more dramatic and obnoxious than this.

Read The Guest List: Amazon | Goodreads | Book Information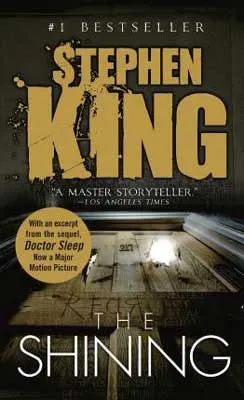 The Shining by Stephen King
One of the most famous classic books set in a hotel, The Shining is for horror readers.
Stephen King is all about those pet cemeteries, creepy clowns, killer cars, and high school blood baths. Plus, he wrote some of the best books of the '70s.
Head to the Colorado Rockies, home to the Overlook Hotel resort. It is here that recovering alcoholic and writer Jack Torrence is hoping for a fresh start.
No such luck when you are trapped in a King novel…
Jack accepts an off-season position as a caretaker for the Overlook Hotel, moving his family onto the atmospheric and historic grounds.
Uniquely, Jack's 5-year-old son Danny has 'special' abilities unbeknownst to his parents along with the cook.
When weird and deadly occurrences start happening at the hotel, especially as winter rolls in to further isolate them, what forces will Danny see?
For chilling and thrilling hotel novels, Stephen King's The Shining will make you think twice about traveling during those low seasons.
You might also enjoy The Shining as one of the best haunted house films and favorite hotel horror movies of all time.

Read The Shining: Amazon | Goodreads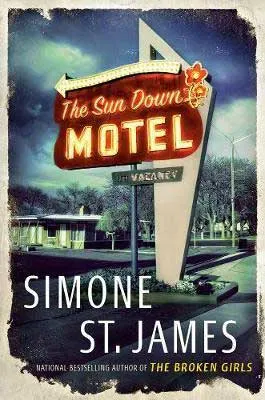 The Sun Down Motel by Simone St. James
For seriously spooky books about hotels, you cannot go wrong with the paranormal thriller, The Sun Down Motel.
Simone St. James is a go-to for well-developed ghost stories, haunted house books, and murder mysteries.
In 1982 in upstate New York, Carly Kirk's Aunt Viv mysteriously disappears from the Sun Down Motel.
With Carly's love of true crime and her mother's recent death, she travels to the cursed town of Fell to investigate her aunt's disappearance.
In a chilling timeline, jumping between Carly's story in 2017 and her Aunt Viv's in 1982, meet the creepy ghosts of the Sun Down Motel.
You'll smell random cigarette smoke, get locked in with the candy machine, and watch drug deals and affairs go down as a young boy runs for the pool.
Will Carly uncover the mystery of her aunt's disappearance before getting caught up in a deadly tragedy of her own?
One of our top books of 2020, if you are a fan of the My Favorite Murder podcast, you'll eat up The Sun Down Motel.
Read The Sun Down Motel: Amazon | Goodreads | Book Information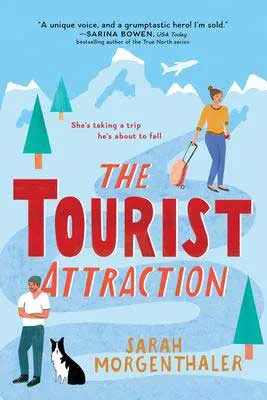 The Tourist Attraction by Sarah Morgenthaler
Read across the 50 States and head to Alaska with one of our new favorite rom-com authors, Sarah Morgenthaler, and her hotel novel, The Tourist Attraction.
Get ready for the ultimate tourists versus locals read.
Graham runs a delicious hole-in-the-wall restaurant, The Tourist Trap.
Originally meant for locals, The Tourist Trap now sees visitors lining up outside in search of that boozy and gross-sounding Growly Bear.
Moose Springs seethes with hostility aimed at these rich and, oftentimes, inconsiderate guests who drive under the influence and terrorize the wildlife.
Can we please stop taking selfies with moose?
Graham despises the tourists the most until he meets Zoey, a two-week vacationer who is unlike any other guest he's ever encountered.
Maybe it's her cute glasses or penchant for getting caught up in disaster.
For travelers looking to tour a chilly climate via armchair and for those who appreciate conscious tourism, The Tourist Attraction is one of the sweetest romance and escapist books about hotels on this list.
And, for more books set in hotels and about tourism, be sure to check out Morganthaler's second and third books in the series: Mistletoe & Mr. Right and Enjoy The View.
These books may also be read as standalones, and we've read all of them.

Read The Tourist Attraction: Amazon | Goodreads| Book Information
Join The Uncorked Reading Challenge Today
---
Travel around the world with the Uncorked Reading Challenge. Get the best book and movie recs straight to your inbox. Sign Up Now.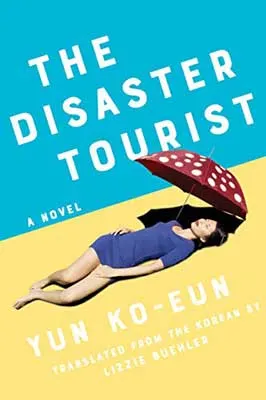 The Disaster Tourist by Yun Ko-Eun
Translated in English by Lizzie Buehler & TW for sexual assault
For our dark tourist travelers and those inclined toward global activism, The Disaster Tourist is one of the most intense books about hotels and tourism on this list.
Plus, it's an intriguing Korean novel in translation.
Yona works for the Seoul-based Jungle travel agency, a company that sends visitors to destinations that have been heavily impacted by disasters and tragedy.
One day in the company lift, Yona's boss sexually assaults her.
With the threat of demotion, she takes a paid trip to Mui, an island off the coast of Vietnam, to evaluate one of the company's failing trips.
It doesn't hurt that this "disaster itinerary" also has the best – although weirdest – hotel.
With themes about the environment, #metoo movement, sustainability, safety, locals vs tourists, and job loss – just to name a few – will Yona continue to work for such a cold-hearted, destructive company or move on to better things?
More importantly, can she move on?
The narrative takes a bizarre turn about halfway through the novel, essentially splitting the book into almost two seemingly different stories.
Find yourself examining how we travel and the consequences of tourism. This novel won't be for everyone, though.
Uncover even more books set in Korea and about Korean culture abroad.
Read The Disaster Tourist: Amazon | Goodreads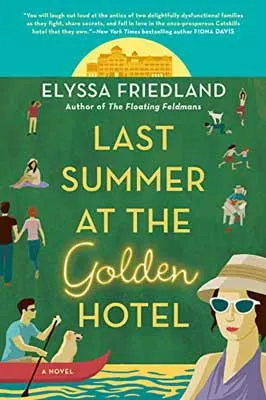 Last Summer At The Golden Hotel by Elyssa Friedland
It's no surprise that many of the best books set in hotels take place in New York. Last Summer At The Golden Hotel is no exception.
One of our most-anticipated 2021 book releases, head to the Catskills for a generations-old but now failing hotel. Fading glory is a prominent theme in hotel novels.
New England's elite used to flock to The Golden Hotel for reunions, cheesy contests, and a detox from the real world.
Unfortunately, The Golden Hotel's two managing families, the Goldmans and Weingolds, have failed to keep up with the times. Seriously, there's no WiFi?
With the hotel's bottom line glaring bright red, the owners must decide if they should sell this iconic Catskill getaway or try something new.
As the families meet for an ominous vote, their secrets and dreams unfold. Is this hotel sadly destined to become a casino? Can someone save it?
More importantly, we meet the owners' children. Can these Millenials preserve the legacy of their youth? Do they even care? Who will they become?
If you enjoy slow-burn books set in New York, generational family stories, and childhood nostalgia, Last Summer At The Golden Hotel is the best hotel novel for you.

Read Last Summer At The Golden Hotel: Amazon | Goodreads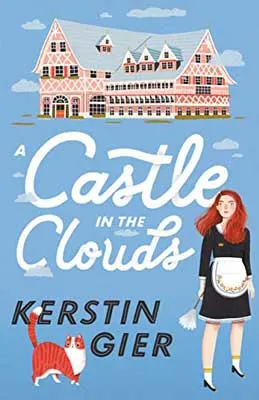 A Castle In The Clouds by Kerstin Gier
Translated into English by Romy Fursland
Travel to the Swiss Alps with YA romance and hotel novel, A Castle In The Clouds.
As fans of Gier's Ruby Red series – perfect for historical fiction and time travel readers – this cozy mystery promises a heartwarming romance and a fun gaggle of characters.
Sophie is a hotel intern and a high school dropout. When tasked with taking care of the hotel's recent surplus of child visitors on top of her other duties, Sophie finds herself trying to survive – literally.
Between housekeeping, paranormal activities, and an immortal cat, Sophie is in for one adventure, including a little love.
Not to mention, the hotel is struggling to stay afloat and there might be a criminal (or two) on the loose.
Can Sophie help save herself, her heart, and the hotel?
Read A Castle In The Clouds: Amazon | Goodreads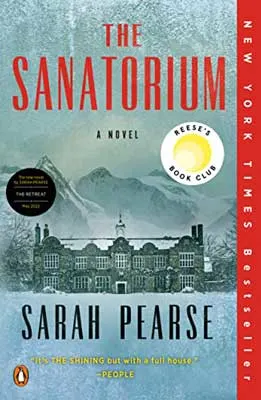 The Sanatorium by Sarah Pearse
If you are looking for books set at hotels that are atmospheric and creepy, The Sanatorium is the perfect murder mystery and thriller for you.
Once a controversial sanatorium for women with Tuberculosis, architects have renovated the building into a beautiful hotel in the Swiss Alps – with a gross fetishization of its history.
Even spookier, the lead architect went missing years ago. Something is off here.
Enter Elin Warner and her boyfriend who are traveling to Le Sommet for her somewhat estranged brother's engagement party.
Elin is determined to confront Issac about the death of their younger brother from their childhood. As an avalanche traps them at the hotel, Elin realizes that a serial killer is on the loose.
Can Elin catch the killer before more people die? And what really happened at this sanitorium?
Find even more great books set during the winter.

Read The Sanatorium: Amazon | Goodreads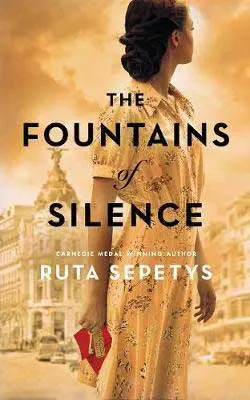 The Fountains of Silence by Ruta Sepetys
We have yet to meet a Sepetys book that we don't like, and if you are looking for YA hotel novels, The Fountains of Silence promises to be an unforgettable one.
Travel to Spain via your armchair following the Spanish Civil War as fascist dictator General Francisco Franco rules the country.
Finally having let (rich) Americans into the country – but mostly at the ritzy hotel, Castellana Hilton, and under close watch – we witness how the country's leadership affects the lives of Spain's youth, including Ana, Daniel, Rafa, Fuga, and Puri.
Texan Daniel Matheson wants nothing more than to be a photojournalist while his father insists he takes over the family oil business.
Daniel knows that Ana, their beautiful hotel maid, can help him create the best story with his pictures to win a college scholarship. Their chemistry is incredible too.
Throughout the novel, we meet Ana's struggling family and watch as her brother, Rafa, works with his best friend Fuga to become a famous matador.
When Ana's father tells Daniel to take photos of the local orphanage, he is a bit confused. Puri, their cousin who works there, is also seeing misleading behaviors.
It's clear that Spain has a dark secret that has the potential to change all of their lives. In a time period that rewards silence and obedience, see what happens when we speak the truth.
And, don't let the length scare you off – it's worth it! This is one of the most well-researched historical fiction novels set in hotels.
Find more books from Ruta Sepetys on our Baltics reading list.
Read The Fountains of Silence: Amazon | Goodreads
More Books About Hotels, Airbnbs, Resorts, Cottages, Rentals, Inns, & Unusual Stays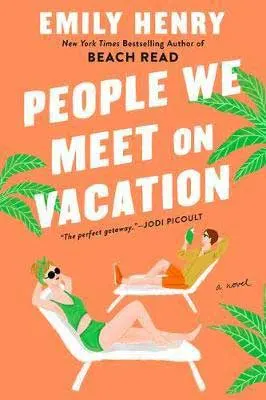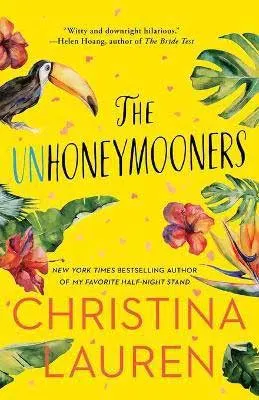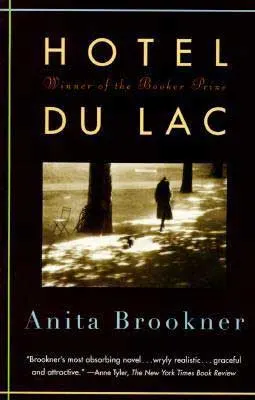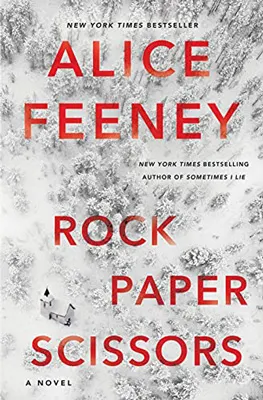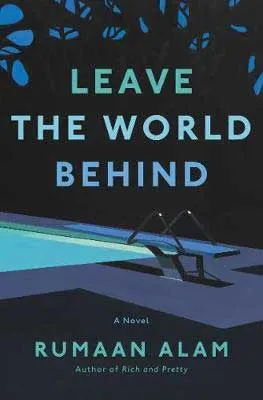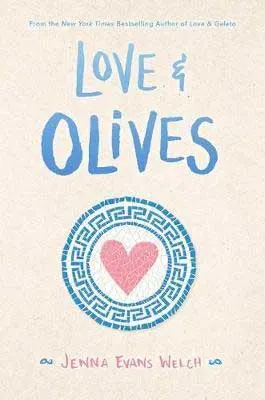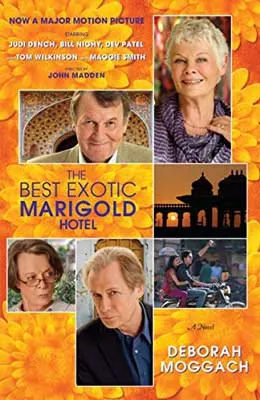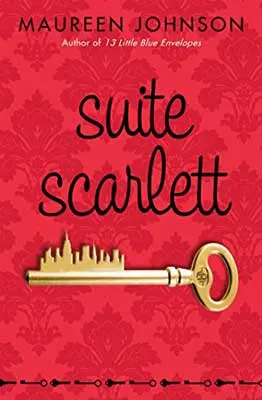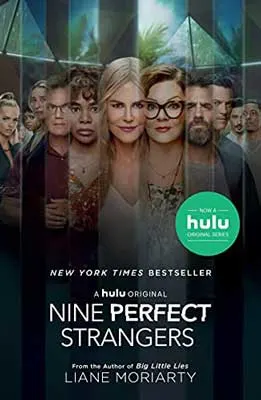 Grab your next favorite hotel novel here:
1. Book of the Month: Get the month's hottest new and upcoming titles from Book of the Month. You might snag an early release or debut author. Along with selecting a book a month, find terrific add-ons, both trendy and lesser-known titles.
2. Audible Plus: From Amazon, listen to Amazon Originals, podcasts, and audiobooks. They add new titles every week.
3. Amazon Prime: Don't miss Amazon First Reads – early access to Kindle books. Get fast delivery as well as movies, music, Originals, shows, and more.
4. Or, start your trial of Amazon Video for movies and tv series on demand.

Save Your Favorite Books Set In Hotels For Later: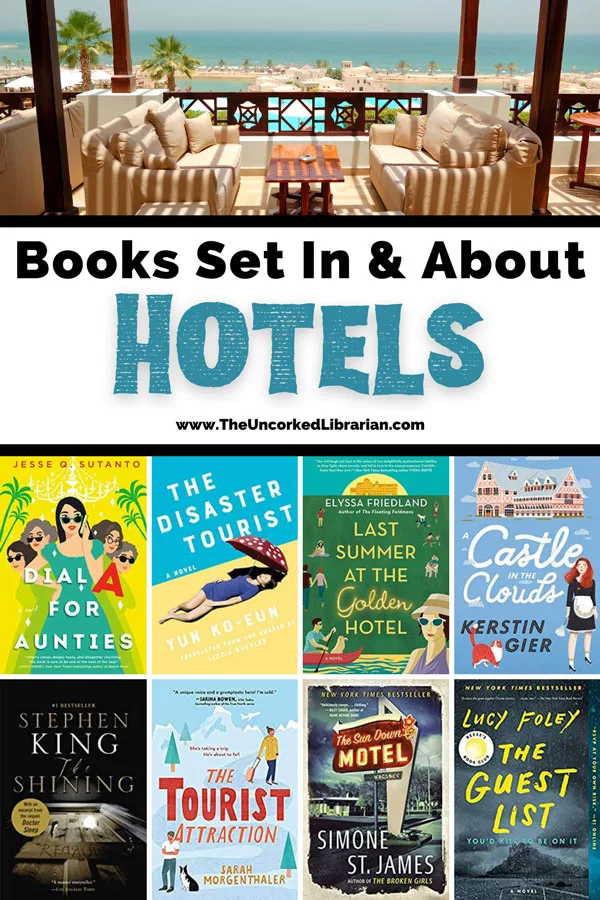 What is your favorite hotel novel?
From the classics to endless contemporary novels, there is a plethora of books about hotels. We certainly can't name them all. What are your favorites?
Also, what is your favorite or most memorable hotel that you've ever stayed at?
We loved La Foresteria Planeta Estate on the Sicilian vineyards and Ambassade Hotel in Amsterdam with its gorgeous book bar.
Already booked your hotel? Enhance your vacation with these international travel books.
You may also enjoy:
Books Set On Vineyards & About Wine
Hiking Adventure Books
Books For Road Trips
This reading list is part of our 2023 Bingo Reading Challenge.