16 Fiery & Best Dragon Books
Especially for our fantasy lovers, uncover the best dragon books set across the globe.
From mermaids and aliens to werewolves and ghosts, we just love reading books about fantastical and paranormal creatures and beings.
And books about dragons certainly fall into that category, including sweet and benign dragons along with deadly and vengeful ones.
With so many dragon fantasy books out there for adults, teens, and even our youngest readers, how do you choose?
Below, uncover just a few of the best books with dragons, including manga, graphic novels, novellas, and fictional books.
These titles promise to transport you to new lands, imaginary and real.
Be sure to let us know your favorite dragon book in the comments. Let's get started.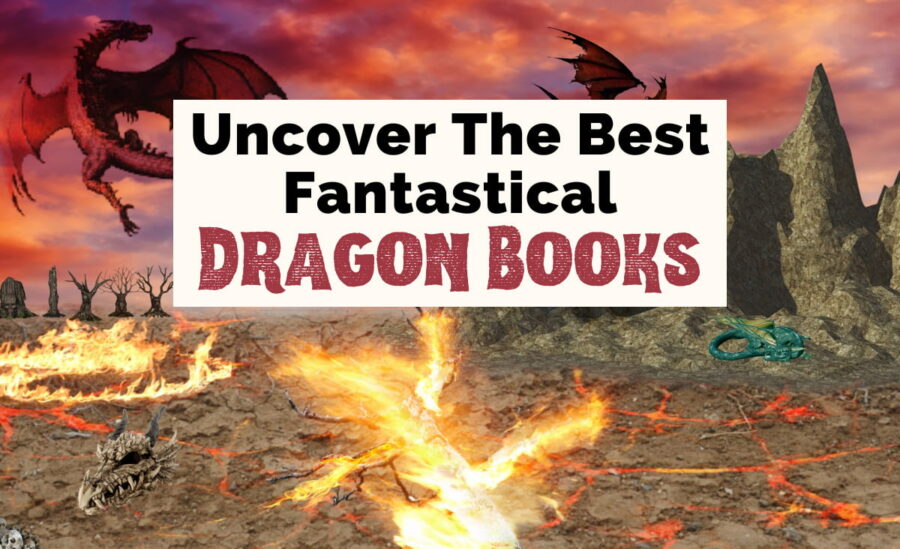 Grab your favorite books about dragons here:
16 Best Dragon Books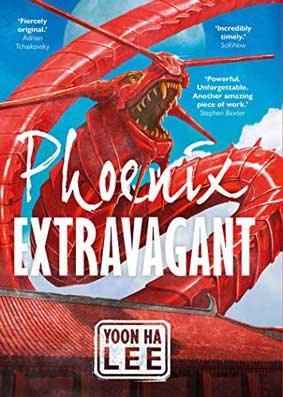 Phoenix Extravagant by Yoon Ha Lee
Since the invading Razanei defeated and occupied their country, Gyen Jebi has neither rebelled against nor collaborated with their new rulers.
As an artist, they just want to make a living through painting.
But when a last-ditch attempt to enter a prestigious art school goes down the drain – taking their savings with it – Jebi is forced to turn to the occupiers in order to avoid starvation.
It's very fortunate that they have a use for Jebi at all, and things get even more intriguing when they learn that they'll be working underground in a secretive government facility.
In a laboratory deep in the bowels of the earth, Jebi will get to work on Arazi, a dragon automaton that just might be powerful enough to finally give the Razanei a taste of their own medicine.
With a nonbinary protagonist, some excellent world-building, and a huge amount of creativity, Phoenix Extravagant is one of the most innovative dragon books on this list.
Try out more LGBT fantasy books!
Read Phoenix Extravagant: Amazon | Goodreads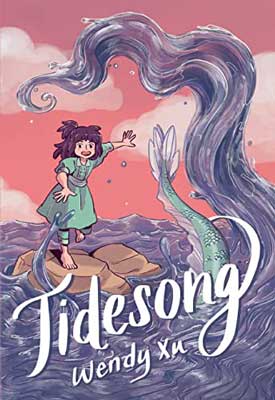 Tidesong by Wendy Xu
We just love graphic novels about witches and dragons.
Like many magically inclined parents, Sophie's mother and grandmother want her to attend the best magic school in the realm: the Royal Magic Academy.
But unfortunately for Sophie, her magic isn't up to the standard the academy expects.
So she's been sent away to live with her Cousin Sage and Great-Aunt Lan, and to train in magic under their guidance.
It doesn't help that she's never met them before or that all they do is give her mundane chores.
And, things definitely do not improve when an exasperated Sophie tries some magic on her own and accidentally traps a water dragon on land.
The water dragon in question is named Lir, although that's only one of a limited number of things he can now remember since the accident. He definitely can't remember where he came from.
With his help, can Sophie get into the academy? And with her help, can Lir find his way home?
Drawn and colored with charm and whimsy, Tidesong is one of the best middle-grade graphic novels about dragons to hit the shelves in recent years.
Discover even more fantastic graphic novels for teens!

Read Tidesong: Amazon | Goodreads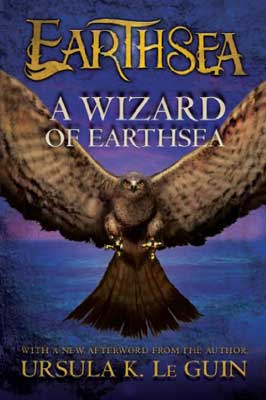 A Wizard of Earthsea by Ursula K. Le Guin
While the great sorcerer Ged is the most powerful magic wielder in all Earthsea today, in his youth he was a proud young upstart named Sparrowhawk.
Eventually, his magical prowess at such a young age brings him the attention of the powerful mage Ogion.
Through Ogion, Sparrowhawk gets his true name – Ged – and gains access to the powerful wizard school on the island of Roke.
But Ged's pride proves to be his downfall when, having challenged a condescending student to a duel, he accidentally summons a shadow creature that scars his face and causes the death of another.
Now Ged must atone for his reckless behavior, and he sets out on a quest that will involve many challenges.
Near the top of that list will be to try and defeat an ancient dragon responsible for the occupation of the nearby island of Pendor.
This is the first in author Ursula K. Le Guin's renowned Earthsea series, often spoken about in the same conversation as C.S. Lewis' The Chronicles of Narnia and J.R.R. Tolkien's The Lord of the Rings.
Books with dragons rarely come with as much pedigree as this.

Read A Wizard of Earthsea: Amazon | Goodreads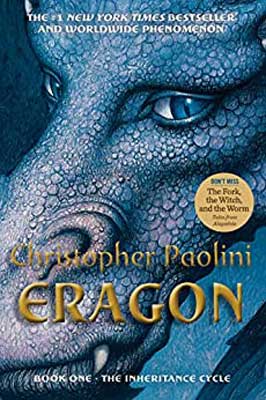 Eragon by Christopher Paolini
On a farm near the village of Carvahall lives Eragon, a fifteen-year-old boy who was left at birth to be raised by his Uncle Garrow.
While out hunting one day, Eragon witnesses a strange explosion and finds a mysterious object: a polished blue stone.
Thinking that perhaps he has struck it lucky and can sell the stone to buy food for the winter, he is surprised when the stone breaks open to reveal a baby dragon.
As unusual an event as this is, it is just the beginning of Eragon's adventures – and his troubles.
When evil henchmen come to Carvahall and cause chaos and tragedy, Eragon swears vengeance and begins a journey that may mean the upheaval of the entire Empire.
The Inheritance Cycle stories (of which Eragon is the first) are some of the best dragon books for enticing first-time fantasy readers into the genre.
If you find yourself loving fantasy, you might also enjoy this monster-themed reading list.

Read Eragon: Amazon | Goodreads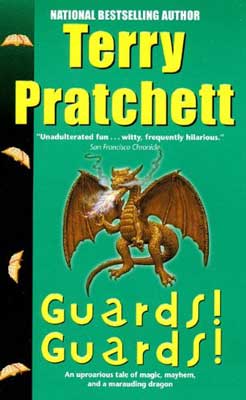 Guards! Guards! by Terry Pratchett
Something deadly is stalking the city streets of Ankh-Morpork – something large and scaly, and that can fly and seemingly breathes fire.
The consensus of the people is that the long-thought-extinct dragons have returned, and one has started picking off citizens one by one.
This is bad news for everyone, but especially for Captain Sam Vimes of the Night Watch. It's his job to find out what's been killing people and arrest it, which he does not think will go well.
Perhaps the Night Watch's latest recruit will be able to help; he's a human brought up as a dwarf (which was difficult because he's 6'6'') and he genuinely believes there's good in everyone.
Set in author Terry Pratchett's phenomenally successful Discworld series, Guards! Guards! is the eighth book in the series but the first to feature the characters of the Watch.
As such, it can be read as a standalone novel, and although some minor characters may have appeared briefly in previous books, it doesn't pull the reader out of what is one of the best comedic books about dragons.
Just bear in mind that some of the humor is very British.

Read Guards! Guards!: Amazon | Goodreads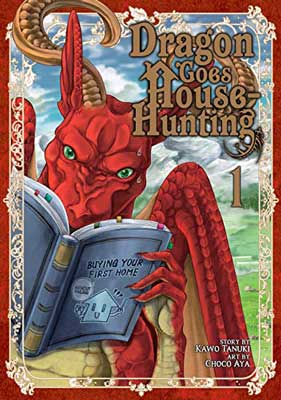 Dragon Goes House-Hunting by Kawo Tanuki
Art by Choco Aya
Sometimes dragon books come out of the left field, and that's certainly the case with this Japanese manga.
Also known as Dragon, le o Kau (literally, "Dragon, Buy a House"), this charming series from author Kawo Tanuki and Choco Aya is set in an RPG or RolePlaying Game world.
Our protagonist dragon is Letty, a timid and meek red dragon with generally low stats (which is bad for an RPG) who is kicked out of his own family for being too cowardly and un-dragon-like.
This starts Letty off on a mission to find a place of his own, but it isn't long before a group of heroes tries to vanquish him.
Fortunately, he is saved from certain death by Dearia, a powerful elf magician and – more importantly for Letty – a skilled architect and real estate agent.
Together, can they find Letty his perfect home-away-from-home?
Dragon Goes House-Hunting is definitely not your usual manga and is one of the more original and unusual dragon fantasy books on this list.

Read Dragon Goes House-Hunting: Amazon | Goodreads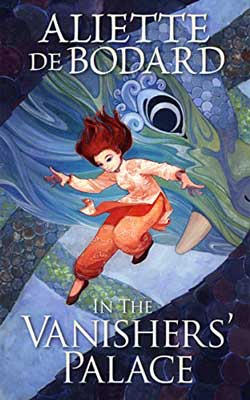 In the Vanishers' Palace by Aliette de Bodard
Things are not looking good for Yên.
She's failed at being a scholar and expects nothing but torture and death after being sold by her village to Vu Côn, one of the last dragons walking the earth.
However, she is surprised when her presumed painful end does not in fact come to pass. Instead, she has a new purpose: to act as a tutor to Vu Côn's rowdy children.
To begin with, Yên finds Vu Côn to be a cold and harsh mistress. Yet, over time, she begins to see her warmer side and even finds herself developing feelings for this seemingly deadly owner.
Can love blossom in the depths of an endless prison of servitude?
This queer fantasy romance novella from award-winning author Aliette de Bodard is based on Vietnamese culture and is perfect for anyone who loves surreal and dreamlike books about dragons.

Read In the Vanishers' Palace: Amazon | Goodreads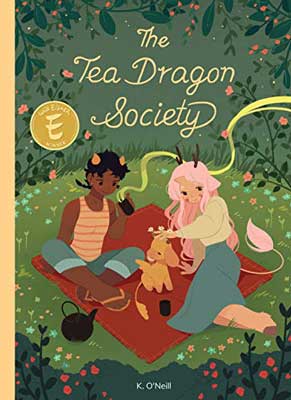 The Tea Dragon Society by Kay O'Neill
Young Greta is a blacksmith apprentice learning the ancient and almost forgotten ways of sword-making from her mother.
One day, while returning from running errands, she comes across a strange creature in the marketplace that has been cornered by other hungry animals.
After rescuing the poor creature and taking it home, her father explains that it is a tea dragon and that she should take it back to its owner Hesekiel, who runs the local tea shop.
Over time, Greta takes to visiting the tea shop, its owners Hesekiel and Erik, and their young ward Minette.
From them, she learns about the Tea Dragon Society, and her life starts to become a little brighter.
This short yet engrossing LGBT graphic novella is perfect for anyone looking to encourage young readers into the realm of fantasy literature and, of course, dragon books!

Read The Tea Dragon Society: Amazon | Goodreads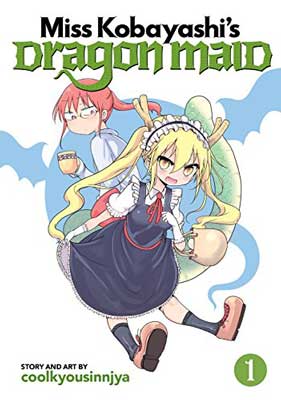 Miss Kobayashi's Dragon Maid by coolkyousinnjya
Kind-hearted Miss Kobayashi is just your average office worker. Sure, she can get a little wild when she's been drinking, but even then, she looks out for other people.
One morning, as she's getting ready for work, she is surprised to find a dragon on her doorstep; even more so when the dragon transforms into a human girl in a maid's outfit.
The creature says her name is Tohru and, because Miss Kobayashi drunkenly came to her aid in the mountains the night before, will repay her kindness with servitude … whether she likes it or not.
Miss Kobayashi's life is about to get a lot more stressful!
This popular Japanese manga has spawned no less than 4 different spinoff book series, as well as being adapted into an anime series for television.
The vibe here is warm, cute, and cuddly, combining plenty of manic domestic situations with a fantastical twist.
If you like your dragon books to come high energy, this should be right up your street.

Read Miss Kobayashi's Dragon Maid: Amazon | Goodreads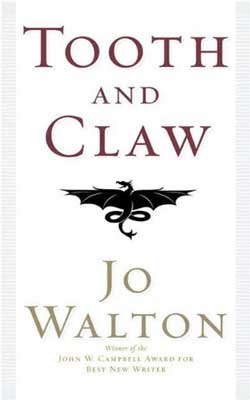 Tooth and Claw by Jo Walton
When the patriarch of a wealthy family dies, it brings together the other members of the family for the funeral. Everyone is dealing with the death in different ways.
One son is distraught following his father's deathbed confession; the other son decides to go to the courts in order to get his inheritance.
While one of the daughters sacrifices herself for her husband, the other joins the abolition movement.
What sets everything apart from your everyday Victorian romantic drama is that none of the characters is human.
They are all dragons, for whom killing and eating weaker members of their bloodline is commonplace, not least the recently deceased.
With a plot not dissimilar to that of an Anthony Trollope novel and for dragon fantasy books, Tooth and Claw will have you looking at the period drama trope in a whole new way.

Read Tooth and Claw: Amazon | Goodreads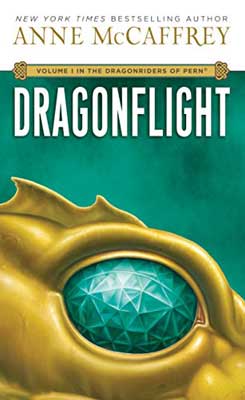 Dragonflight by Anne McCaffrey
The planet Pern, many years from now…
Having lived a life of servitude under those who betrayed her father and stole his lands, young Lessa is determined to take back her birthright.
But what is she to do when she is nothing but a lowly kitchen girl?
Enter the queen dragon – a powerful beast with whom Lessa develops a strong and unbreakable bond. Together they can win back that which was taken from Lessa and her family.
But first, they must protect the world from the Thread; an evil, destructive substance that falls from the sky like rain.
When the first humans colonized Pern, they rode the dragons and protected people from the Thread. Can Lessa now do the same?
Dragonflight is the first in a long series called Dragonriders of Pern – it is one of the most popular series of dragon books ever made.
Author Anne McCaffrey won the Hugo Award for Best Novella and the Nebula Award for Best Novella for this book, making her the first-ever woman to win either award.

Read Dragonflight: Amazon | Goodreads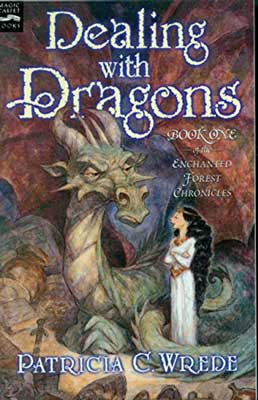 Dealing with Dragons by Patricia C. Wrede
Illustrated by Peter de Sève
The life of a princess is not always exciting.
In fact, for Princess Cimorene, it is downright dull, and all the fencing and magic lessons she demands to be taught aren't enough to stave off the boredom.
When she learns that she is to be married off to an annoying prince from a neighboring kingdom, she decides that enough is enough and runs away to become the "captive" princess of a dragon.
The dragon she chooses is the powerful and dangerous Kazul, with whom she becomes friends.
But soon people start turning up and trying to rescue her, and she finds out that an unboxing life is not exactly a stress-free one.
Dealing with Dragons is an exciting read with plenty of good humor and a strong feminist message.
Any fans of YA looking to get into books with dragons would do well by starting here.

Read Dealing with Dragons: Amazon | Goodreads
Take The Uncorked Reading Challenge!
Travel around the world with our Uncorked Reading Challenge. Never be late to the party with unique new book releases. Get the latest movie and book lists straight to your inbox.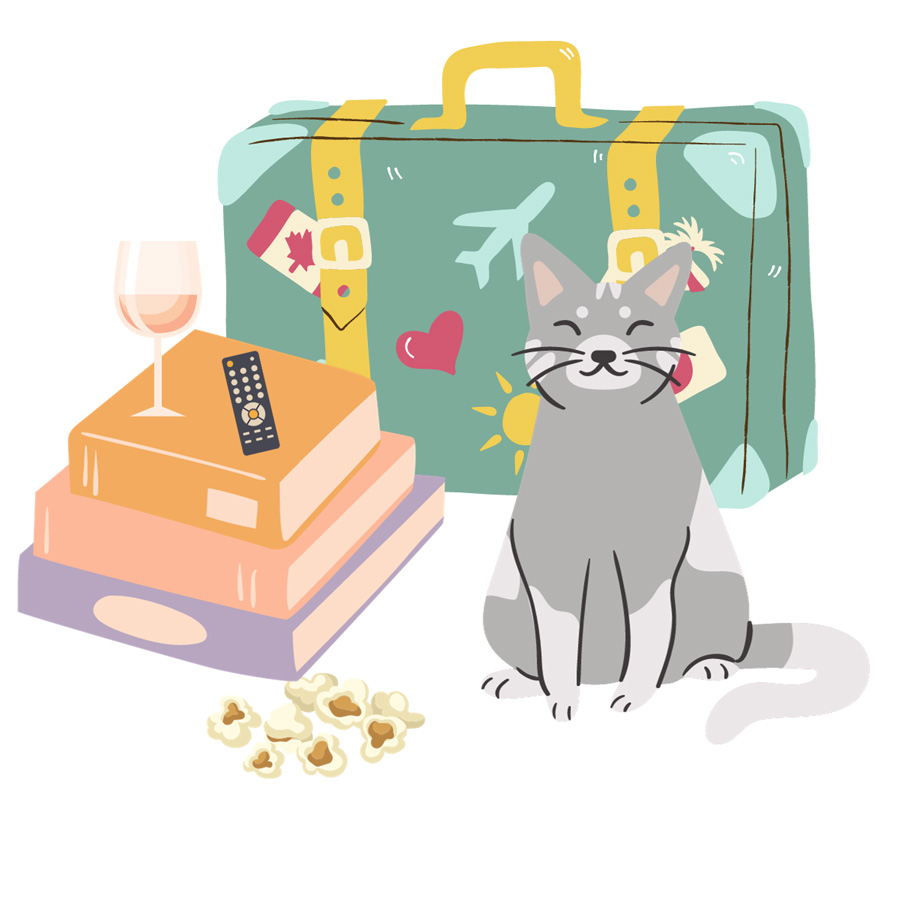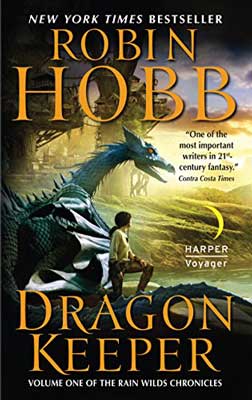 Dragon Keeper by Robin Hobb
In ages past, the last dragon Tintaglia guided the sea serpents up the Rain Wilds River to a place where they might cocoon and eventually emerge as dragons themselves.
When they finally do emerge, however, these "dragons" are weak and deformed, and cannot fly. They must be moved, the local Trader folk decides, for the safety of everyone.
But doing so requires a group of dragon keepers to go with them – and dragon keepers rarely live long.
Young Thymara of the Trader cities is fascinated by these creatures. Born with unnatural physical features herself, including black claws and scaling, she and a select group take up the task of their transportation.
Although no one knows if their destination – Kelsingra – even exists at all.
Author Robin Hobb's novels about dragons are some of the most well-known and celebrated in the world, with Dragon Keeper being the first in a series of four.

Read Dragon Keeper: Amazon | Goodreads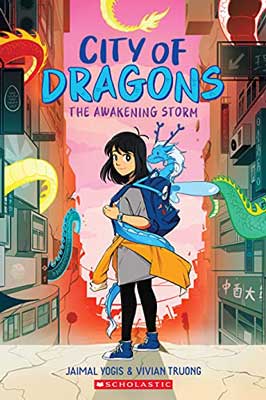 The Awakening Storm by Jaimal Yogis
Illustrated by Vivian Truong
After a family tragedy, Grace, her mom, and new stepdad move to Hong Kong. Grace is nervous about starting over in a new school.
But she needn't have worried, because Grace makes some of the coolest friends at her new place of study.
And when she is given a strange egg by an enigmatic woman – one that unexpectedly hatches a dragon – these new friends are all in for an epic adventure!
Heavily steeped in Chinese and Hong Kong mythology, The Awakening Storm is one of the best graphic novels about dragons.
The artwork is truly stunning and really pops, making the fantastical world that Grace suddenly finds herself in come to life.
Of course, most importantly, the dragons within are the stars of the show!
Although the target demographic is kids, this book can definitely be enjoyed by dragon aficionados of any age.
A mild warning: the book does deal with some heavier topics, including racism and the death of a parent.

Read The Awakening Storm: Amazon | Goodreads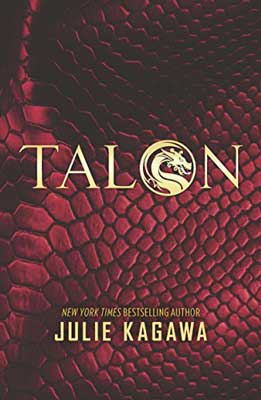 Talon by Julie Kagawa
Ember Hill is a part of Talon, an organization of dragons who have learned to take human form in order to survive.
While Ember enjoys a summer of being human and relishing in everyday human experiences, she is being hunted by Garret Xavier Sebastian.
Garrett is part of the Order of St. George, a secret ground of dragonslayers who are dedicated to eradicating dragons before they take over the world.
Determined to prove himself, Garrett goes head-to-head with Ember but gets a bit more than he bargained for.
Talon is the first in a series of fantastic YA dragon books set in the modern world about an underground dragon war.
Read Talon: Amazon | Goodreads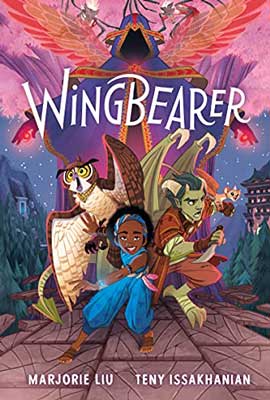 Wingbearer by Marjorie M. Liu
Illustrated by Teny Issakhanian
One of the most fun dragon fantasy books for kids, Wingbearer follows a young Black girl named Zuli as she goes on an extraordinary journey.
Zuli is the only human to be raised in the Great Tree (seemingly somewhat akin to the Tree of Life) by the bird spirits who live within it.
The souls of the birds are kept safe inside the tree until they are ready to be reincarnated back into the world.
Though Zuli wonders if there are other people like her, she is happy amongst the birds and the Great Tree.
That is until the plants around the tree start to die or bloom lifeless, and Zuli and the birds suspect something sinister is affecting the power of the tree itself.
To save her home, Zuli and her guardian owl, Frowly, must leave the only home she's ever known and face the unknown.
Along the way, Zuli meets many mythical creatures, including dragons, goblins, and griffins, some of whom aid in her journey.
Wingbearer is a beautiful middle-grade graphic novel that will teach kids about protecting and loving the planet with a heroine they can relate to.
In addition to the wonderful story by Marjorie M. Liu, the art by debut artist Teny Issakhanian is a beautiful feast for the eyes.

Read Wingbearer: Amazon | Goodreads
Save These Books About Dragons For Later: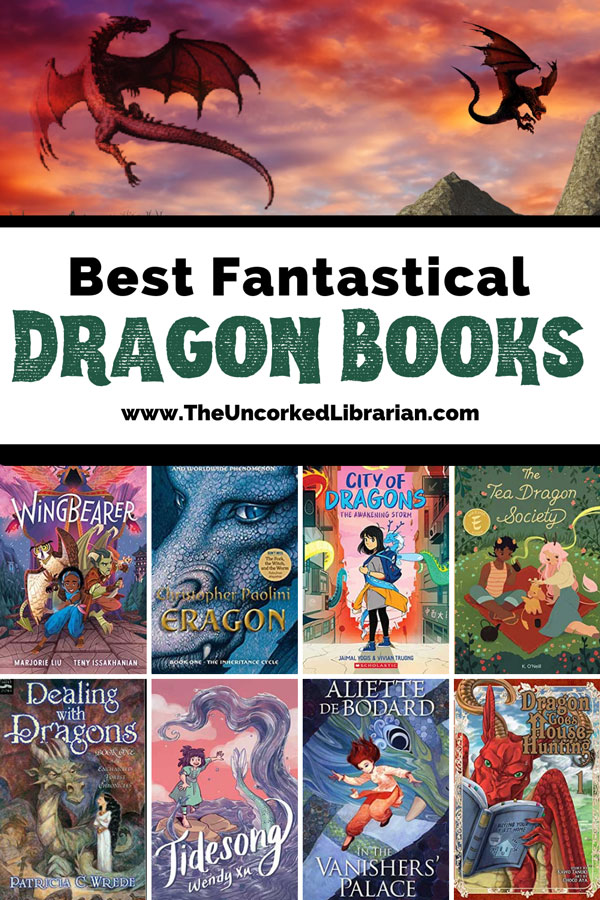 Grab your favorite dragon books here:
Which dragon fantasy books do you love?
What are your favorite books with dragons? Let us know in the comments.
This reading list pairs well with the 2023 Uncorked Reading Challenge's "Monster" theme.
You May Also Enjoy: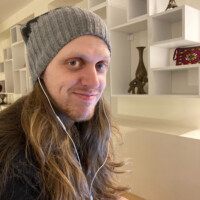 Jeremy (pronouns: any) is an autistic writer, hobbyist, and movie buff, as long as that movie is Labyrinth. Since leaving the corporate world behind in 2018, he has read more books than he thought possible. True to his British upbringing, his first instinct in any given situation is to put the kettle on.