Travel across North America with the best Canadian books that are sure to teach you more and transport you there.
If you are hoping to read more Canadian literature this year, we have just the reading list for you.
Below, explore famous Canadian books, including books set in, about, and from Canada. Meet terrific Canadian authors too – both new and old; famous and lesser-known.
Many of these Canadian novels will take you on adventures, make you think more deeply, and show you the future. Of course, a few will make you laugh or cry.
Others promise to transport you to Canada, NYC, Mexico, magical lands, and back in time.
The literature of Canada is also diverse, and we've pulled together a reading list filled with Indigenous authors, short stories, books about racism, and favorite genres, including science fiction, graphic novels, and memoir.
Just be forewarned that some of these books are difficult to read and may contain trigger warnings.
So, if you are looking for the best Canadian books, where should you start? Let's get started, and be sure to let us know your favorites in the comments.
Read across North America.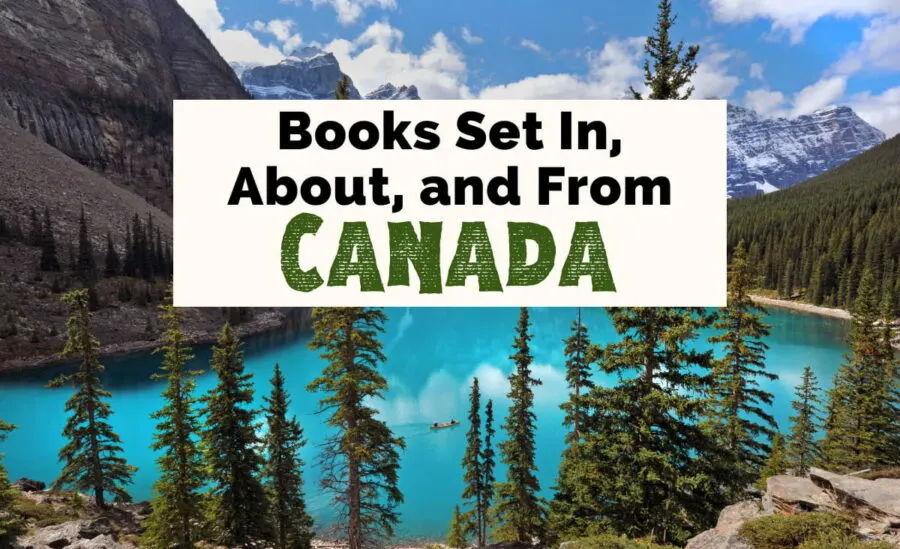 Grab your favorite Canadian novels here:
22 Best Canadian Books To Read
By Jeremy Paterson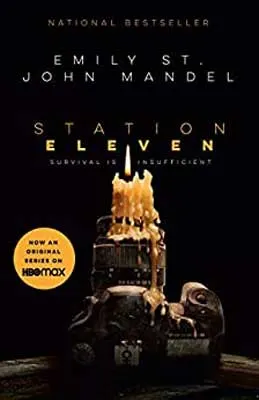 Station Eleven by Emily St. John Mandel
What began as a relatively normal production of Shakespeare's King Lear takes an unexpectedly surprising turn, in more ways than one.
Shortly into the performance, the lead actor – famous Hollywood figure Arthur Leander – suffers a heart attack and dies on stage, despite the efforts of one paramedic audience member.
Little did anyone else in the theater know, however, that soon many of them would be dead as well, as the world becomes consumed by a deadly flu epidemic.
Twenty years later, Kirsten (who was in that theater) travels with a group called The Traveling Symphony, moving from community to surviving community, trying to keep the torch of art and music alive.
But when the group encounters a firebrand prophet in a place called St. Deborah by the Water, it may be the end for them all.
With a narrative that moves back and forth through time – connecting the events together – and plenty of material that hits a lot closer to home given recent global developments, Station Eleven is one of the most topical post-apocalyptic Canadian books available right now.

Read Station Eleven: Amazon | Goodreads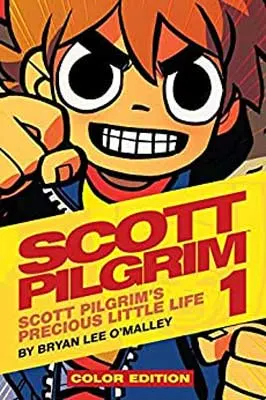 Scott Pilgrim's Precious Little Life by Bryan Lee O'Malley
Scott Pilgrim is dating a high-schooler! *gasp*
This is the latest scandalous action from the awesome bass player, video game enthusiast, and "between jobs" 23-year-old Scott Pilgrim.
It may be a reaction to having had his heart torn out and paraded around by his ex; it may be because he's just desperate for love. In any case, his friends have mixed reactions.
Fortunately (but not for his new high-school girlfriend), Scott's world is about to be rocked by the arrival of the mysterious Ramona Flowers.
Did they meet because she found a convenient hyperspace shortcut through the empty space in his head? Will he have to defeat her seven (yes, seven) evil exes in order to date her?
And, is she really American? The answer to that is yes.
Scott Pilgrim might well come out of this as one of Canada's greatest folk heroes. If only he wasn't so stupid!
This is the first in writer/creator/artist Bryan Lee O'Malley's series of seven colorful graphic novels, and together they make for some of the most entertaining of all of the literature of Canada.
Music book lovers will especially enjoy this one.

Read Scott Pilgrim's Precious Little Life: Amazon | Goodreads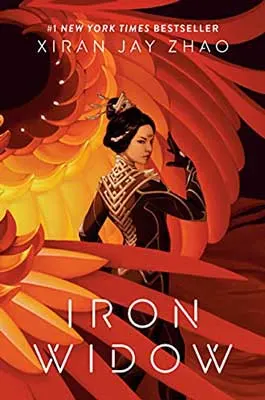 Iron Widow by Xiran Jay Zhao
In their war against alien hordes, humanity's greatest weapons are the Chrysalises; enormous transforming robots piloted by the most elite soldiers Huaxia has to offer.
However, piloting these robots comes at a cost: the mental drain is severe, and for the male pilots to succeed in their missions, they must have a female copilot to draw upon.
These subservient girls do not last long – some have even died on their first mission from the mental strain.
However, to be chosen as a male pilot's partner is something many girls (and especially their families) dream of.
18-year-old Zetian dreams of being chosen, but only to exact revenge on the pilot who used and killed her sister.
But her quest for vengeance will have unexpected consequences, both for her and for the entire nation of Huaxia.
Anyone looking for an action-packed, ass-kicking, feminist sci-fi/fantasy novel should seek out Iron Widow immediately.
It's one of the best creative books Canadian literature has produced in recent years.

Read Iron Widow: Amazon | Goodreads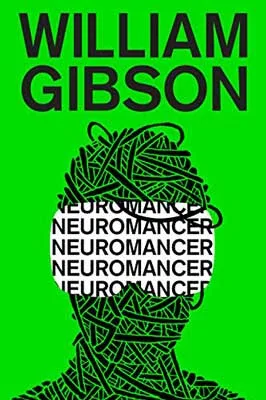 Neuromancer by William Gibson
He used to be the best in the business; now he's been handpicked for one last job…
But Henry Dorsett Case is wise to be wary of this once-in-a-lifetime opportunity. The last time he fell afoul of those who hired his hacking skills, they broke his nervous system.
Despite his apprehensions, Case is on the fast track to an adventure he might never have thought possible.
This heist will test the skills of both him and his team as they take on one of the most powerful business clans in the world.
Author William Gibson's Neuromancer is one of the most famous Canadian books in the science fiction world.
It is one of the foundational pillars of the cyberpunk genre; Gibson was the first to coin the term "cyberspace," for example.
The influence of Neuromancer can still be seen through science fiction media today, which is notable considering the novel was published in the 1980s.

Read Neuromancer: Amazon | Goodreads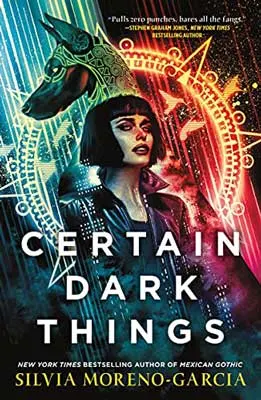 Certain Dark Things by Silvia Moreno-Garcia
Set in an alternate present where vampires revealed themselves to the world in the 1970s, Certain Dark Things takes us into a reimagined Mexico City.
Here, vampire families and cartels wage a not-so-secret war on the streets.
On these streets, struggling to make a living, is the young Domingo, who happens to come across the mesmerizingly attractive Atl and her canine companion Cualli.
Atl is on the run and needs a speedy exit from the city.
Unfortunately for her, there are more than vampires on her trail; with the bodies she's been leaving behind, she's also attracted the attention of a tenacious police detective.
Things are about to get bloody.
Vampire book lovers will appreciate the distinct traits and powers of each of the different vampire groups, helping add depth to Mexican-Canadian author Silvia Moreno-Garcia's dark and dangerous noir novel.
A mild warning: for some reason, this book has been listed as YA by some reviewers, but potential readers should know that it is very much one of the adult Canadian books.
If you are looking for more teen-appropriate content, check out our YA vampire reading list.
And, if you enjoy Moreno-Garcia or are looking for more books that take place in Mexico, we recommend her gothic haunted house novel, Mexican Gothic.

Read Certain Dark Things: Amazon | Goodreads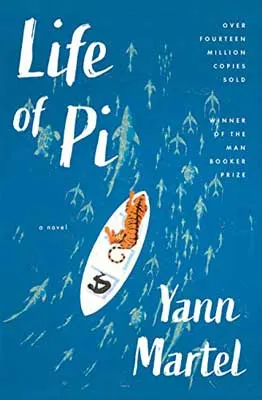 Life of Pi by Yann Martel
If you are craving books about boats, we have just the suggestion for you.
Young Pi Patel lives a relatively content life with his family in Pondicherry, India in the 1970s.
He's not your usual child; his full name is Piscine Molitor Patel (named after a French swimming pool).
He's a devout Hindu, Muslim, and Christian, and his family operates a zoo.
However, when political unrest escalates, Pi's father decides to sell the zoo and relocate the family – and the zoo animals – across the sea to Canada.
During the voyage, disaster strikes: a storm sinks the ship they are sailing on, eventually leaving Pi alone in a life raft save for one other companion – Richard Parker, the zoo's tiger.
What follows is an extraordinary tale of survival, as man and beast attempt to coexist in a small space, both lost at sea with seemingly no chance of rescue.
Life of Pi is one of the most celebrated Canadian novels and was given an even bigger boost upon the release of the visually arresting film adaptation in 2012.
Uncover even more books about cats, big and small. And, find even more books that take place in India.

Read Life of Pi: Amazon | Goodreads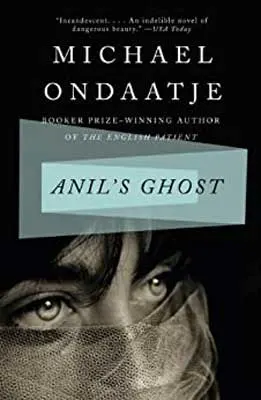 Anil's Ghost by Michael Ondaatje
Having been absent from her home nation of Sri Lanka for 15 years, young Anil Tissera has finally returned.
She is now a forensic pathologist and has returned as part of an international rights group to investigate murders believed to be related to the civil war that is ravaging the country.
One day, whilst on an archaeological expedition, Anil discovers that one of the supposedly 6th-century skeletons at the site is not as old as the others.
As she attempts to identify the skeleton, which is nicknamed Sailor, she finds the threads that lead to a mystery, one that is much larger – and more dangerous – than she imagined.
Love, war, despair, and hope are all intermingled in this award-winning novel from Sri Lankan-born Canadian author Michael Ondaatje, who also wrote The English Patient, among others.
Those looking for Canadian books with strong themes and harsh realities will have much to appreciate here.

Read Anil's Ghost: Amazon | Goodreads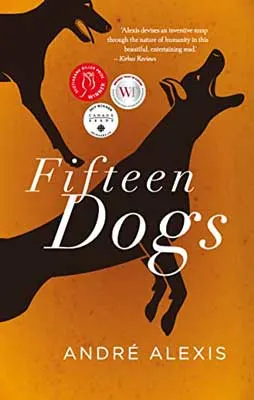 Fifteen Dogs by André Alexis
When Greek gods make bets with each other, something extraordinary usually follows.
That's exactly the case when Hermes and Apollo get into a discussion about animals while out drinking at the Wheat Sheaf Tavern in Toronto (as Greek gods often do).
Hermes wonders what animals would be like if they had human intelligence. Apollo thinks they'd be even more miserable than humans are.
And so, with some divine intervention, all the dogs at a nearby veterinary clinic suddenly have the ability for complex thought.
With their newfound intelligence, they make short work of escaping the clinic and head off to start their own society.
However, factions start to develop between those who want progress and those who want to return to the "old ways."
Though it amounts to only 160 pages, expect to have your expectations defied multiple times in that short runtime.
This is one of the best Canadian books for dog lovers and philosophers alike.

Read Fifteen Dogs: Amazon | Goodreads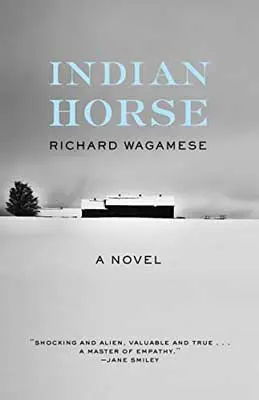 Indian Horse by Richard Wagamese
After a binge, Saul Indian Horse is put in a center for alcoholics and told he can't move forward if he doesn't face his past. So, he tells his story.
As a young First Nations kid in 1960s Canada, Saul is forced into a residential school where he is abused and has his culture ripped from him.
When he grows into a teen, he shows promise as a hockey player and finds solace in the game.
But despite his talent, he struggles to be accepted and escape the everyday racism he has endured his whole life.
Written by Ojibway author Richard Wagamese, Indian Horse is easily one of the most important Canadian books out there.
Not surprisingly, this isn't an easy read, but it shines a light on an often overlooked [by White people] part of Canadian history.
Whether you want to learn more about the residential schools or Ojibway culture, Indian Horse is must-read Canadian literature.
If you enjoy Indian Horse, find another Richard Wagamese novel, Him Standing, on our folk horror reading list.

Read Indian Horse: Amazon | Goodreads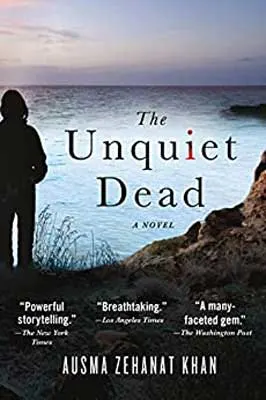 The Unquiet Dead by Ausma Zehanat Khan
An accidentally fatal fall from a cliff in the Scarborough Bluffs of Toronto does not seem on the face of things as suspicious to Detective Rachael Getty.
Her department handles cases that are minority-sensitive, so when her boss Esa Khattak asks her to investigate and offers very few details, she has to take a lot on faith.
However, while working on the case, it emerges that the deceased may have been operating under an assumed name and that he may have been a war criminal with connections to the Srebrenica Genocide of 1995 in Bosnia.
Getty now knows why her department became involved.
But each new avenue of investigation only raises more questions, and soon it is unclear just how deep into the community this case goes.
This is the first in a series of crime procedural Canadian novels featuring the Getty Khattak team.

Read The Unquiet Dead: Amazon | Goodreads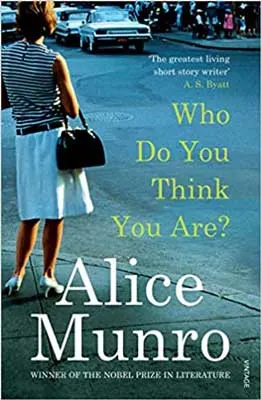 Who Do You Think You Are? by Alice Munro
In this collection of short stories from Nobel Prize-winning author Alice Munro, we follow the life and trials of two characters: Rose, and her stepmother, Flo.
Beginning with Rose's childhood and schooling, and then moving through her adolescence and adulthood, we see their relationship change and evolve.
Rose herself undergoes many difficulties, partly from a mixture of her higher-than-average intelligence (which is looked down upon by the society of the time, particularly by men) and her naivety when trying to navigate adult situations.
Munro's careful character study gives the reader a well-rounded view of each of her subjects, both inside and out.
Because the short stories follow the same characters and are linear in terms of time, the line between short story collection and novel is a little blurred here.
Whatever your interpretation of the form, if you're looking to connect with some three-dimensional characters on a very human level, this is the Canadian literature for you.

Read Who Do You Think You Are?: Amazon | Goodreads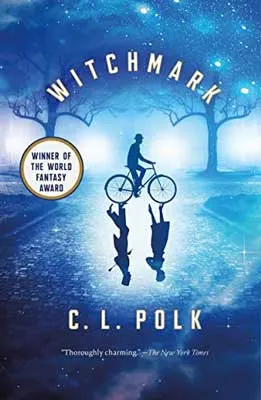 Witchmark by C.L. Polk
Aeland is a realm in which magic is not only real but strictly controlled; each of the noble families uses their unique magical abilities to help shape the course of history and the development of nations.
With such great power comes a very strict set of rules – rules that Miles Singer refuses to follow.
Born into one of the noble houses, Miles has had his life planned out from the beginning. Determined to be his own person, he leaves to go to war and comes back reinvented, albeit secretly.
Now working in a veteran's hospital and using his inherited magical powers secretly, his life is thrown into turmoil when he receives a dying patient who says that he was murdered.
Before he can investigate, the body is cremated; now, Miles must risk his newfound freedom in order to find out who committed the crime.
An interesting blend of fantasy, murder mystery, and romance, Witchmark is one of the Canadian novels you shouldn't miss out on.

Read Witchmark: Amazon | Goodreads
The Skin We're In by Desmond Cole
During the course of one year, author and anti-racism activist Desmond Cole documented his and other marginalized groups' experiences in Canada.
The year was 2017, a time in which there was a call for tighter border controls to stop Black migrants from being able to enter Canada via Manitoba from the United States.
There was also the planned "Canada 150" to celebrate Canada's 150th birthday, an event strongly opposed by Indigenous land and water protectors.
It was also a time when police brutality was highlighted with the savage beating of Dafonte Miller at the hands of an off-duty police officer and his brother.
Throughout it all, Cole sought to bring these racist injustices into the public eye, even to the point of being arrested for refusing to leave a police board meeting unless the issue was addressed.
When evaluating the literature of Canada, The Skin We're In is one of the most powerful and important Canadian books of our time.

Read The Skin We're In: Amazon | Goodreads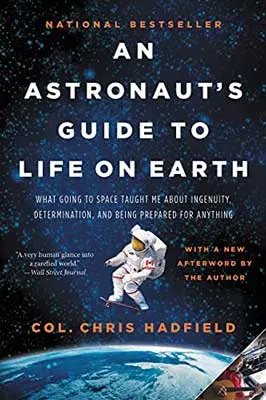 An Astronaut's Guide to Life on Earth by Chris Hadfield
Dealing with a live snake while piloting an aircraft. Breaking into a Space Station with a Swiss army knife. Making a David Bowie music video in zero gravity.
These are some of the many things that I – and, I imagine, most other people – have not done. But author Col. Chris Hadfield has, and he's here to tell you about them in this book.
To give it its full title, An Astronaut's Guide to Life on Earth: What Going to Space Taught Me about Ingenuity, Determination, and Being Prepared for Anything is quite an uplifting and positive read.
Hadfield has led quite the life, and while going into detail about some of the more impressive aspects of it, he encourages the reader to also make positive changes in order to further their goals of who/what they want to be in life.
This is one of the most inspirational nonfiction Canadian books on this list.

Read An Astronaut's Guide to Life on Earth: Amazon | Goodreads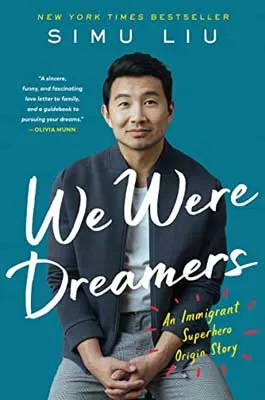 We Were Dreamers by Simu Liu
From the streets of Harbin, China to the front and center of one of Hollywood's most famous franchises, actor/author Simu Liu's biographical memoir is touching, heartfelt, and extraordinary.
Having originally been placed in the care of his Chinese grandparents, Simu is unceremoniously spirited away to Canada by his father at the age of 4.
Now growing up as a Canadian in a much stricter household, he leads the life that is expected of him: getting straight A's and making his parents proud.
But the rigid framework of his upbringing and the pressure of expectation are at odds with his desire to be his own person.
When he loses his first job just 1 year out of college, it looks like the beginning of the end of his working career. However, the best is yet to come.
Memoirs can sometimes be a little self-congratulatory and long-winded; fortunately, Liu tells his story with plenty of humor and wit, making this one of the more enjoyable nonfiction Canadian books on this list.

Read We Were Dreamers by Simu Liu: Amazon | Goodreads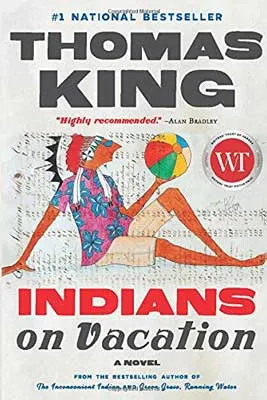 Indians on Vacation by Thomas King
After discovering a series of postcards sent nearly one hundred years beforehand, Indigenous couple Bird and Mimi decide to take a trip to Europe.
They want to track down Mimi's long-lost Uncle Leroy and the medicine bundle he took with him all those years ago.
Unfortunately, while the pair start off in high spirits on their fun romp, the realities of common unpleasantness begin to creep in.
Protests, refugees, petty thieves, and appropriation all rear their ugly heads, and the glamour of the continent's famous capitals fades under the glare of their complicated histories.
Cynical, optimistic, witty, and poignant, author Thomas King calls it as it is in this wise observational novel and gem to Canadian literature.
Travel to Europe with even more books set there.

Read Indians on Vacation: Amazon | Goodreads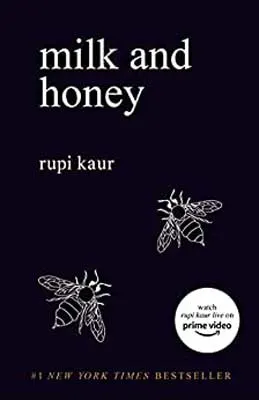 Milk and Honey by Rupi Kaur
When it comes to poetry, many people find it can be too dense, insular, cryptic, or sometimes nonsensical to be understood, let alone appreciated.
This is not the case with the work of poet and author Rupi Kaur. In fact, her minimalist style lends itself to immediate interpretation and enjoyment, sometimes to her detriment.
Kaur is a polarizing poet. There are many who believe her works – some of which are only a sentence long – are so basic as to be infuriating. To each their own.
Out of all of the literature of Canada – and whatever your views on poetic brevity – Milk and Honey could be one of your new favorite Canadian books.

Read Milk and Honey: Amazon | Goodreads
Join The Uncorked Reading Challenge Today
---
Travel around the world with the Uncorked Reading Challenge. Get the best book and movie recs straight to your inbox. Sign Up Now.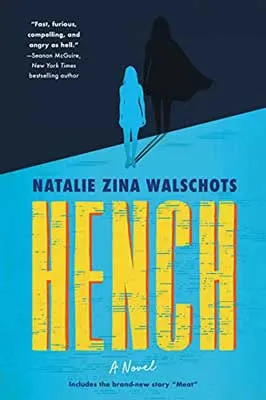 Hench by Natalie Zina Walschots
Everyone cares about the superheroes that protect the public from the supervillains, but does anyone ever care about the henchpeople?
No, they don't.
That's the harsh reality for "henches for hire" like Anna, who has to spend her time picking up odd jobs at a temp agency for low-level villains who need people like her to do their admin.
It looks to Anna like things couldn't get much worse, living so close to the poverty line as she does.
But, when she is seriously injured by a superhero's collateral damage, she decides enough is enough.
Anna starts a blog, cataloging all of the damage that superheroes do while they go about saving everyone.
Before long, the data begins to add up, and her findings catch the attention of a particularly high-level supervillain.
Will Anna get her revenge on those who think themselves (figuratively and literally) bulletproof?
Hench is a great twist on the superhero novel and is a great addition to Canadian literature.

Read Hench: Amazon | Goodreads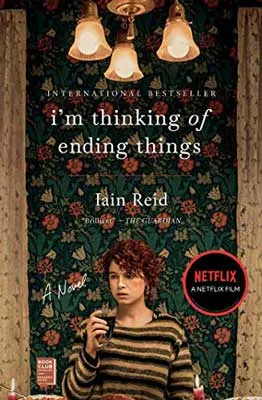 I'm Thinking of Ending Things by Iain Reid
Are you looking for great audiobooks for a road trip?
Our unnamed narrator and her boyfriend are driving through a cold, snowy night to see his parents for Thanksgiving.
But, as we know from the title and the first line… she's thinking of ending things. We don't know why, and neither does she, really.
Even though she seems to really care about him, something just isn't right. And as the night progresses, things get even weirder and unnerving.
The more you read, the more unsettled you'll feel. The dread will just sort of creep in and stay with you until the end.
I'm Thinking of Ending Things is a strange book, and if you don't like ambiguous endings, you probably won't like this.
But if you're looking for creepy Canadian novels that make you think and make you a little uncomfortable, this is the one for you!
Find even more books that take place around wintertime.

Read I'm Thinking of Ending Things: Amazon | Goodreads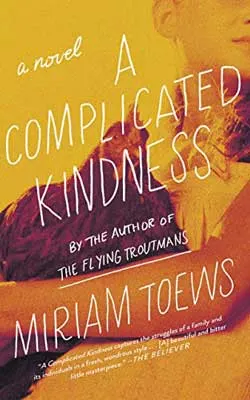 A Complicated Kindness by Miriam Toews
One of the best coming-of-age Canadian books, A Complicated Kindness follows a young Mennonite girl, Nomi Nickel, as she grapples with what it means when she comes of age.
16-year-old Nomi lives in East Village, a fictional religious Mennonite town (modeled after Toews' own hometown) in Canada.
Both Nomi's mom and older sister have left East Village, and now it's just her and her dad, Ray, a devout member of the community.
Nomi spends her days wondering why her mom and sister left and wishing she lived in the East Village in NYC.
She dreads working for the local chicken processing plant and marrying a good Mennonite boy.
A Complicated Kindness isn't always an easy read as we feel the reach of Naomi's oppressive upbringing, but thanks to her sardonic wit, there are many funny moments throughout.
Author Mariam Toews – herself raised Mennonite – is one of the best Canadian authors if you want Canadian literature that explores issues of otherness and fundamentalism.

Read A Complicated Kindness: Amazon | Goodreads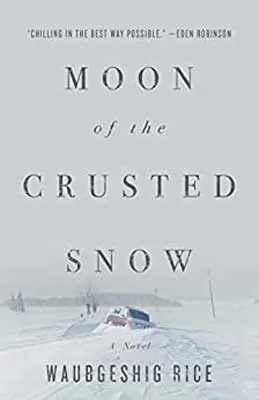 Moon of the Crusted Snow by Waubgeshig Rice
It's not all that unusual when the power goes off and the mobile phones stop working in the small Northern Canada Anishinaabe community where this post-apocalyptic book takes place.
After all, this isn't unheard of, and they're used to living fairly off the grid.
But the longer the community goes without any power or word from the outside world, the more concerned they become.
Soon people are starting to panic and all the food in the local store gets sold.
Evan, the main protagonist, and other community leaders do their best to keep everyone calm through the approaching winter.
But this is all threatened when outsiders show up seeking assistance – and bring word of what has happened elsewhere.
Don't expect a fast-paced story; Moon of the Crusted Snow is a slow-burn atmospheric read that transports you to the Northern Canada Anishinaabe community in which it takes place.
This shorter horror novel is one of the best works of Canadian literature in modern history and is also perfect if you're looking to pick up more books by Indigenous authors.
A highly anticipated sequel is set to publish in 2023.

Read Moon of the Crusted Snow: Amazon | Goodreads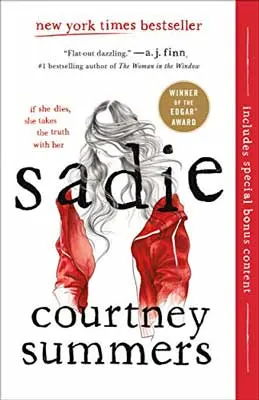 Sadie by Courtney Summers
Although Sadie actually takes place in Colorado, it's definitely one of the most famous Canadian books to come out in recent years.
This incredibly popular YA mystery thriller and book about sisters is set in the small town of Cold Creek following the murder of a young girl named Mattie and the disappearance of her teenage sister, Sadie.
The story has two protagonists: Sadie, as she searches for her sister's killer in order to enact her revenge, and podcaster West McCray, who is trying to help the family find out what happened to Sadie – and, of course, making a podcast in the process.
As West uncovers more and more clues, it's impossible not to worry about Sadie and just what she's gotten herself into.
If you like audiobooks, this one is read with a full cast that acts out the full podcast element, so it's a great listen.
However, the book itself is a difficult read and deals with a lot of hard topics.

Read Sadie: Amazon | Goodreads
Save Your Favorite Canadian Novels & Nonfiction Titles For Later: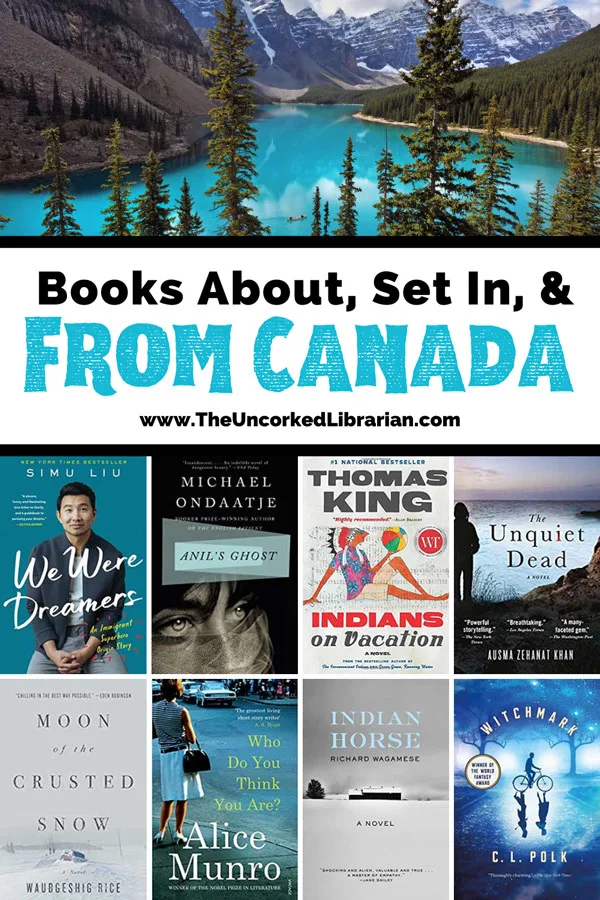 Grab famous Canadian books here:
Thank you to TUL contributor, Jeremy Paterson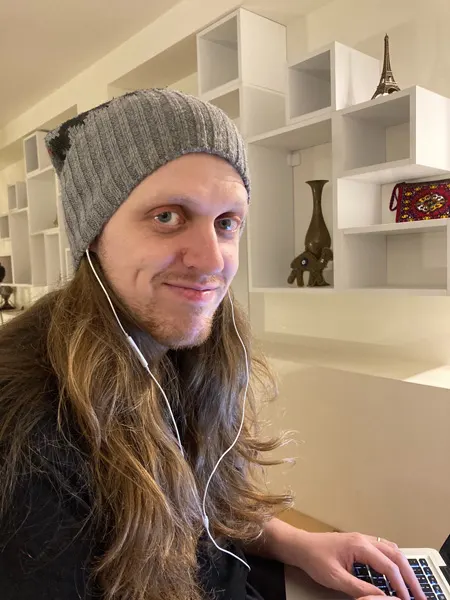 Jeremy (pronouns: any) is an autistic writer, hobbyist, and movie buff, as long as that movie is Labyrinth. Since leaving the corporate world behind in 2018, he has read more books than he thought possible. True to his British upbringing, his first instinct in any given situation is to put the kettle on.
What Canadian literature have you read?
What famous Canadian books have you read and loved? Are there any that we should add to our ever-growing TBR pile?
Who are your favorite Canadian authors? Let us know in the comments!
P.S. This Canada reading list is a theme on our Uncorked Reading Challenge for 2023.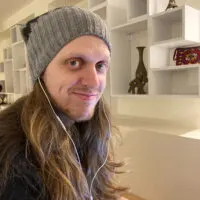 Jeremy (pronouns: any) is an autistic writer, hobbyist, and movie buff, as long as that movie is Labyrinth. Since leaving the corporate world behind in 2018, he has read more books than he thought possible. True to his British upbringing, his first instinct in any given situation is to put the kettle on.