16 Best Fantasy Audiobooks
Your ears will just love these fantasy audiobooks for adults and teens, including the best fantasy audiobooks on Audible.
Are you looking for something great to listen to while driving, doing house chores, or just hanging out?
Nothing beats a fantastic fantasy audiobook meant to transport you abroad, especially when there's music, star-quality narration, and a fast-paced plot.
We love narrators that change up voices, sing, and have just the right inflection and accents.
Below, we are sharing just a few of the best fantasy audiobooks to listen to for adults and teens.
Plus, uncover good fantasy audiobooks for family road trips, powerful LGBTQ+ stories, and adult-oriented, chilling tales – vampires included. Let's get started!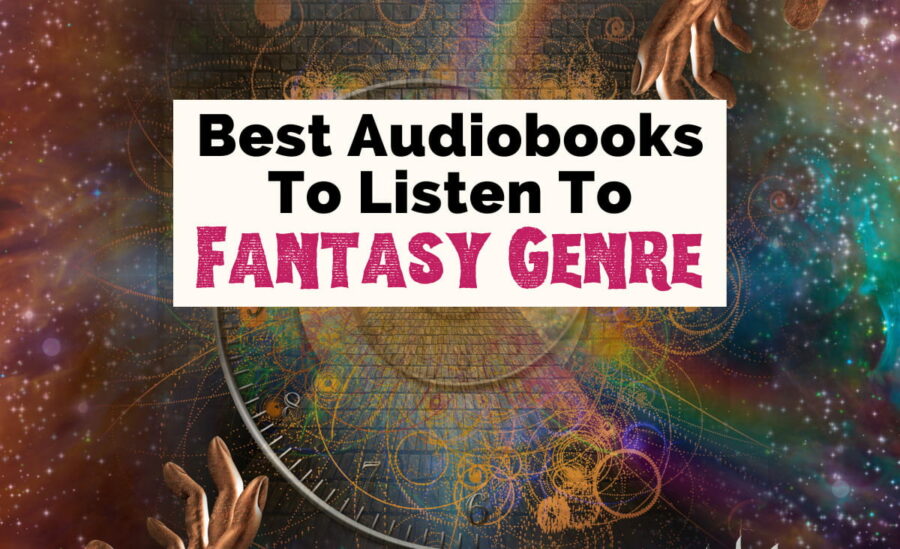 Grab the top fantasy audiobooks and books here:
16 Best Fantasy Audiobooks
By Jeremy Paterson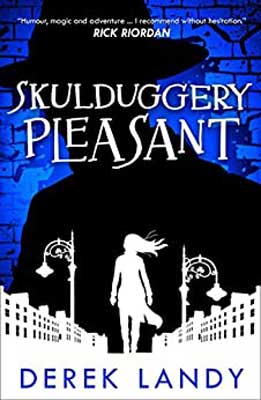 Skulduggery Pleasant by Derek Landy
Narrated by Robert Degas*
When Stephanie Edgley's Uncle Gordon dies, she is shocked to learn the famous author has left her a pretty sizable inheritance – even if she was his favorite niece.
But even more unexpected is the fact that the stories in Gordon's books might not have been so fictional after all.
And what's more, one of his dear friends – a strange man at the will reading – appears to be a skeleton by the absurd name of Skulduggery Pleasant.
Skulduggery suspects foul play in Gordon's death, and soon Stephanie is along for the ride, exploring the secret magical world of Ireland – and beyond.
The first four books in the Skulduggery Pleasant series are easily some of the best fantasy audiobooks available and will suck you straight into this wonderful fantastical world.
Not only will you get the melodic Irish lilt of the narrator, but he does distinct voices for all the characters – including accents for non-Irish characters.
Each chapter also starts with atmospheric transitional music.
*Robert Degas narrates the first four audiobooks, and they are truly fantastic. After this, the narrators switch a few times between Brian Bowles, Stephen Hogan, and Kevin Hely.
While these other narrators grow on you and do different voices, none are anywhere near as engrossing or fun as Robert Degas.
Read more great books about Ireland.
Listen to Skulduggery Pleasant: Amazon | Goodreads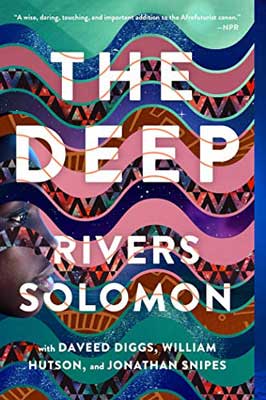 The Deep by Rivers Solomon
With Daveed Diggs, William Hutson, and Jonathan Snipes
Narrated by Daveed Diggs with music from Clipping
Thrown overboard to die, thousands of pregnant African slave women drowned, but they gave birth to a race of mermaid-esque creatures called wajinru.
Most of the wajinru leave peacefully and are unaware of their cruel origins, or any traumatic memories within their lineage. All except for Yetu.
Yetu is the appointed historian and memory keeper responsible for remembering so that everyone else can forget the pain. But bearing the pain of her people is too much for Yetu.
Looking for answers, or some relief, she heads to the surface. What she finds may change everything.
Narrated by Daveed Diggs and featuring music from the rap group Clipping, The Deep is a hypnotic and powerful tale that is easily one of the best fantasy audiobooks available.

Listen to The Deep: Amazon | Goodreads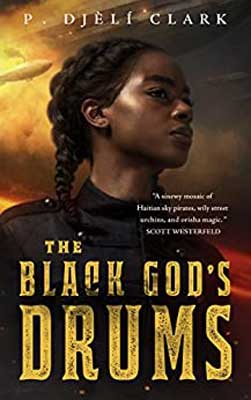 The Black God's Drums by P. Djèlí Clark
Narrated by Channie Waites
On the streets of an alternate New Orleans that is still struggling under the weight of the American Civil War, young girl Creeper lives day to day by her wits and her ability to climb.
But what she really wants is to rise above it all. Literally.
Creeper wants to escape New Orleans aboard one of the many airships that come in and out of the city.
But escaping becomes more complicated when Creeper learns of a secret weapon called the Black God's Drums – a weapon that everyone seems to think will bring about some kind of doomsday.
Fortunately, Creeper has a secret weapon: Oya, the African orisha of the wind and storms, who speaks to her in her head and may or may not govern her destiny.
This steampunk fantastical novella is brought to life with some highly engaging and evocative narration from Channie Waites.
Anyone looking for good fantasy audiobooks with strong female leads will enjoy this alternative period adventure.
Explore more books set around the U.S. South.

Listen to The Black God's Drums: Amazon | Goodreads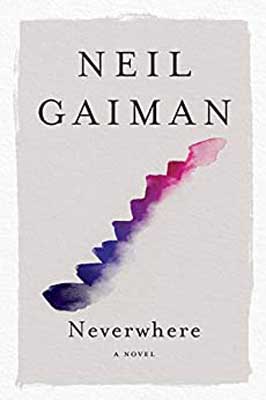 Neverwhere by Neil Gaiman
HarperAudio version narrated by Neil Gaiman
A random act of kindness can go a long way. Unfortunately for Richard Mayhew, it may well be the death of him.
When he almost literally bumps into a young girl, wounded and pretty immediately unconscious, he decides to abandon his evening plans and help her.
What he doesn't know is that the girl, whose name is Door, is not from the London that Richard lives in.
She is from London Below – a city beneath the city and a whole world in and of itself; a world that Richard is now unwittingly a part of.
He's now got two particularly brutal and bloodthirsty henchmen on his tail, and only Door and her select group of unusual allies can help him get back home alive.
Never mind the story (which is excellent), the BBC Radio Full-Cast Dramatization alone makes Neverwhere one of the best fantasy audiobooks available: James McAvoy, Benedict Cumberbatch, Natalie Dormer, Christopher Lee? Yes, please.
In fact, it is worth noting that Neil Gaiman's other audio adaptations are usually of exceptional quality, with many also having full casts of renowned vocalists.
Read even more books about London.
Also, find Neil Gaiman on our best audiobooks for road trips list.

Listen to Neverwhere: Amazon | Goodreads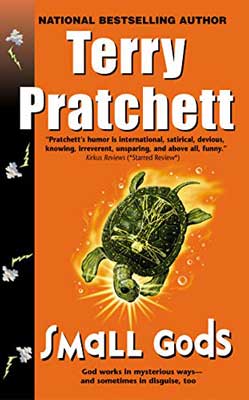 Small Gods by Terry Pratchett
Narrated by Andy Serkis, Bill Nighy, and Peter Serafinowicz
You know how it is; one moment you're happily tending to your melon patch, the next you're being whisked off to foreign lands on a mission from God. Or at least, from one of the Gods.
There are plenty of Gods that are worshipped by those who live on the Disc, and this particular one is called Om.
He's got a prophecy to fulfill, but annoyingly no one seems to be paying Him much attention. Possibly because He's manifested as a turtle.
Only one person seems to be able to hear Him: the simple yet obedient Brutha. They're an unlikely pair, and Brutha seems to be Om's only chance. But is he as simple as he seems?
Even though Terry Pratchett's Discworld series has over 40 books, Small Gods can be read as a standalone novel.
This adaptation is read by some extremely big hitters in the British voice acting community (Andy Serkis, Bill Nighy, and Peter Serafinowicz).
I am a biased Discworld fan, but this and the rest of the adapted books in the series truly are some of the best fantasy books on Audible.

Listen to Small Gods: Amazon | Goodreads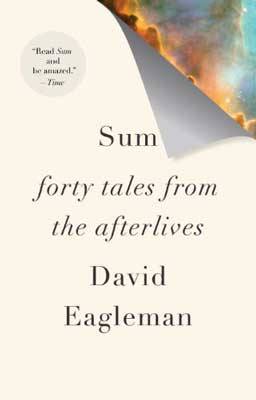 Sum by David Eagleman
Narrated by Gillian Anderson, Emily Blunt, Nick Cave, Jarvis Cocker, Jack Davenport, Lisa Dwan, David Eagleman, Noel Fielding, Kerry Fox, Stephen Fry, Clarke Peters, Lemn Sissay, and Harriet Walter
Written by neuroscientist David Eagleman, Sum explores forty possible scenarios for what the afterlife might be like.
From failed experiments and mirror worlds to reliving your time on Earth out of order, Sum will definitely give you something new to ponder.
Each story is read by one person, but Eagleman somehow manages to rope in a whole cast of famous names (especially in the UK), including Stephen Fry, Emily Blunt, and Nick Cave!
Eagleman even reads a few himself.
With such an impressive lineup, this is undoubtedly one of the best fantasy audiobooks, and one that will stay with you long after you finish listening.
Explore even more books that will make you think.
Listen to Sum: Amazon | Goodreads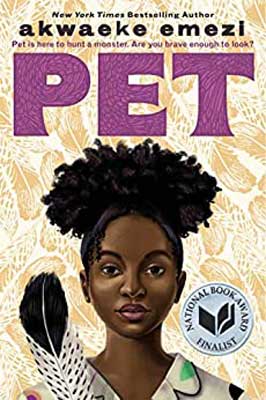 Pet by Akwaeke Emezi
Narrated by Christopher Myers
In the utopian city of Lucille, there are no monsters.
Thanks to the efforts of their parents and their generation, young Jam and her best friend Redemption have grown up in a world without crime, inequality, or inflicted pain.
Or so they've been led to believe.
But one day, Jam accidentally cuts herself on one of her mom's paintings and the blood causes a creature to climb out of the canvas.
At first, Jam thinks this must be a monster. However, the creature – who goes by the name of Pet – says that he is actually a monster hunter and Jam must help him hunt down the monsters in Lucille.
Jam doesn't want to believe Pet about there being monsters, but what if he's right? And what if someone she loves is in danger?
Although this is a good book for any age reader, if you are looking for great fantasy audiobooks for kids and teens that discuss difficult topics, Pet is excellent.
It also has casual trans and selective mutism rep.
Christopher Myers' phenomenal narration brings the characters – especially Pet – to life with his booming, jovial voice and makes listening to this fantasy audiobook an unforgettable experience.
Discover even more great LGBTQ+ books for teens and tweens as well as top LGBT fantasy books.

Listen to Pet: Amazon | Goodreads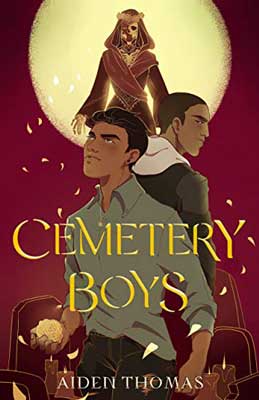 Cemetery Boys by Aiden Thomas
Narrated by Avi Roque
In Yadriel's traditional Latinx family, there are clearly defined roles for the men and the women.
The male brujos are the wardens of the dead; they summon the ghosts, and they help them find rest when they need it.
Despite having come out as his true gender, Yadriel can't seem to convince his family that he's a real brujo. So, he's going to take matters into his own hands.
When his cousin is tragically killed, Yadriel decides he will be the one to perform the brujo ritual that will retrieve his ghost.
He and his best friend Maritza attempt the ritual, but there's good news and bad news. The good news is that Yadriel summoned a ghost; the bad news is it's the wrong one. And he won't leave Yadriel alone.
This is one of the best fantasy audiobooks for trans and nonbinary representation: a trans protagonist, written by a trans nonbinary author, and narrated by a trans nonbinary narrator.
Read even more of the best books with magic and witches.

Listen to Cemetery Boys: Amazon | Goodreads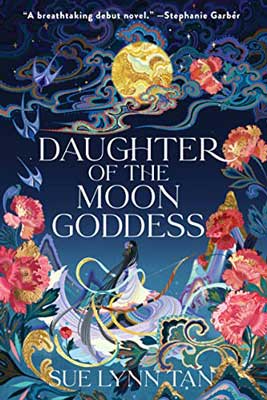 Daughter of the Moon Goddess by Sue Lynn Tan
Narrated by Natalie Naudus
Having been banished to the Moon by the Celestial Emperor, Chang'e raises her daughter Xingyin in secret, for fear of what will happen should someone discover her existence.
But when Xingyin begins to develop magic of her own, she is forced to flee her mother and everything she's ever known.
Escaping to the Celestial Kingdom, Xingyin hides her true identity and manages to enter the Emperor's court.
While she hones her already formidable combat skills and earns the trust of soldiers and royals alike, Xingyin dreams of how to return to the Moon and rescue her mother from captivity.
As a debut novel and one of our most-anticipated 2022 book releases, author Sue Lynn Tan's vibrant tale of loyalty and love is one of the best fantasy audiobooks for new listeners to the genre.
And, if you enjoy books with fantasy world maps, Daughter of the Moon Goddess will most certainly appeal to you.
See what other great books released in 2022.

Listen to Daughter of the Moon Goddess: Amazon | Goodreads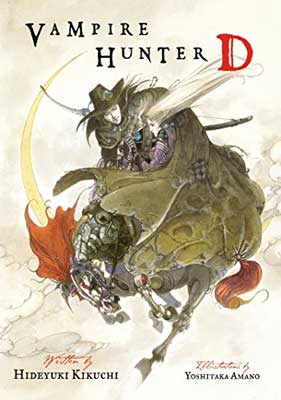 Vampire Hunter D by Hideyuki Kikuchi
Translated by Kevin Leahy
Narrated by Scott McCormick, David Cui Cui, Laura C. Harris, Ryan Carlo Dalusung, Eric Singdahlsen, Rob McFadyen, Amanda Forstrom, Jenna Sharpe, Peter Holdway, Terence Aselford, Eric Messner, Michael John Casey, Ken Jackson, Kay Eluvian, Megan Poppy, Jillian Levine-Sisson, James J. Johnson, Matthew Schleigh, and Nanette Savard
In 12,090 A.D., humanity is just starting to recover from a nuclear war and 300 years of oppression under a vampire race called Nobility that ravaged the lands and people.
We follow D, a half-human, half-vampire, who is searching for the creator of all vampire-kind: Dracula. D is one of the famed vampire hunters, and he seems to encounter trouble wherever he goes.
Adapted from a graphic novel series, this dark fantasy-horror isn't for the faint of heart.
But if you don't mind a good dose of violence in your vampire books, this is definitely one of the top fantasy audiobooks for horror fans.
The audiobook for Vampire Hunter D is produced by GraphicAudio, a studio that aims to create "a movie in your mind" – and they succeed.
With a full-cast narration that includes sound effects and music, a vivid image indeed emerges as you listen!
Enjoy even more books with monsters like Vampire Hunter D.

Listen to Vampire Hunter D: Amazon | Goodreads
Take The Uncorked Reading Challenge!
Travel around the world with our Uncorked Reading Challenge. Never be late to the party with unique new book releases. Get the latest movie and book lists straight to your inbox.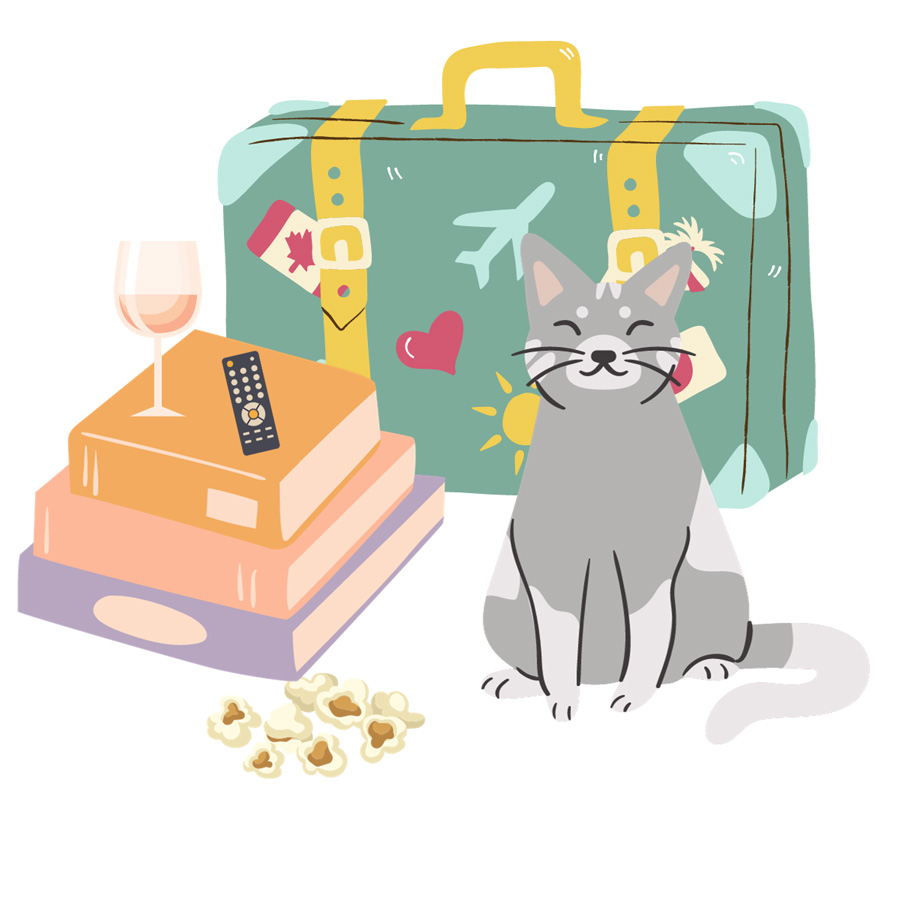 The Starless Sea by Erin Morgenstern
Narrated by Dominic Hoffman
While studying in Vermont, graduate student Zachary Ezra Rawlins discovers a mysterious book hidden among the stacks.
As he peruses fairytales and snippets of the lives of prisoners, collectors, and acolytes, he is amazed to find stories about himself.
Little does he know that this book will set him on a path that will lead to a world he always hoped had existed: a world of magic.
Far below the surface of the Earth, a secret doorway leads to an ancient hidden library, where Zachary will find his true purpose.
Told in a non-linear, appropriately dreamlike manner, The Starless Sea is one of the most metaphorical and conceptually challenging fantasy audiobooks on this list.
It also makes for a great dark academia novel.

Listen to The Starless Sea: Amazon | Goodreads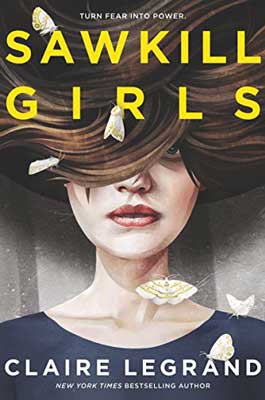 Sawkill Girls by Claire Legrand
Narrated by Lauren Ezzo
Following a tragic loss, Marion, her mum, and her sister move to the remote island of Sawkill hoping for a fresh start.
But whether she likes it or not, Marion is now one of the Sawkill Girls, and she soon finds herself unwittingly involved in a sinister local legend that seems to be responsible for the many girls that disappear on the island.
In addition to Marion, there is Zoey, another transplant whose best friend disappeared last year, and Val, the daughter of the island's most powerful family, who also happens to be Marion's mum's new employer.
Can this unlikely trio put a stop to the monster that haunts the island?
Anyone looking for good fantasy audiobooks with a suspenseful twist and a bit of horror will enjoy Lauren Ezzo's engaging narration.
She does an excellent job of creating a creepy, unsettling atmosphere that pairs perfectly with Legrande's poetic prose.
She also differentiates between the different characters with various voices and accents.
Uncover even more spooky books as well as books set on islands.

Listen to Sawkill Girls: Amazon | Goodreads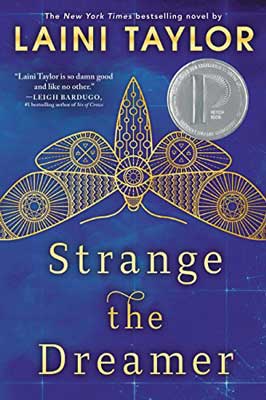 Strange the Dreamer by Laini Taylor
Narrated by Steve West
As a child, the orphaned Lazlo Strange had fantasies about a land called Weep – a place thought lost on the other side of a great desert.
Having managed to leave behind the stern monks to whom he was delivered as a baby, Lazlo has grown up reading everything and anything to do with that lost city.
Some might consider him an expert on the subject.
So when a cadre of soldiers claiming to come from Weep arrive in his city looking for experts to accompany them back across the desert, what else can he do but join them?
But even though the journey to Weep is perilous enough to claim the lives of most who try to make it, what awaits Lazlo at his destination is far more deadly.
Creative concepts, engaging characters, and great narration make Strange the Dreamer one of the top fantasy audiobooks you can listen to.
Be warned: this is the first book of a duology, and the climax will have you wanting to jump straight into the sequel.

Listen to Strange the Dreamer: Amazon | Goodreads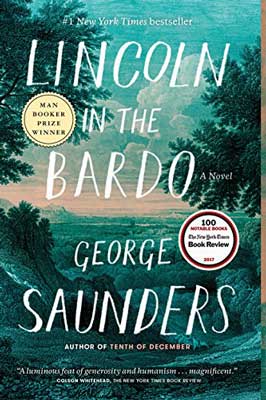 Lincoln in the Bardo by George Saunders
Narrated by George Saunders, Nick Offerman, David Sedaris, Carrie Brownstein, Don Cheadle, Lena Dunham, Bill Hader, Kirby Heyborne, Keegan-Michael Key, Julianne Moore, Megan Mullally, Susan Sarandon, Ben Stiller, and more.
February 1862: With the Civil War ravaging the United States, Willie Lincoln – the eleven-year-old son of the President – lies gravely ill in bed.
But despite the prognosis of a full recovery, within days, Willie passes away.
Having been laid to rest in a Georgetown cemetery, Willie's body is visited multiple times by his grief-stricken father, who just wishes to hold him.
While this premise is heartbreakingly true to history so far, author George Saunders then begins to tell a tale of Willie's time in the bardo – a transitional place, full of other spirits quarreling with each other.
This is undoubtedly one of the largest and most prestigious casts for any of the fantasy audiobooks on this list, featuring Keegan-Michael Key, Julianne Moore, Nick Offerman, Megan Mullally, Susan Sarandon, Bill Hader, Ben Stiller, and more.
There are 166 different characters, after all, and if you enjoy ghost novels, this book recommendation is for you.

Listen to Lincoln in the Bardo: Amazon | Goodreads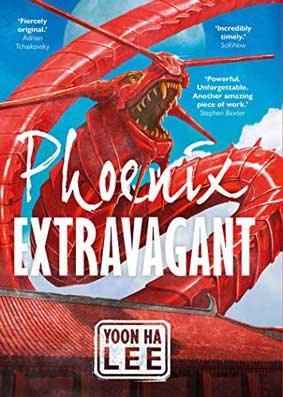 Phoenix Extravagant by Yoon Ha Lee
Narrated by Emily Woo Zeller
Gyen Jebi is seriously down on their luck.
They've just failed to get into a prestigious art school, and their sister doesn't know that they just used up most of their family's savings to do so.
After wandering the streets of their city in despair, Jebi finds themself outside a military base of the Razanei – the nation that has conquered and occupied their land.
Jebi is even more surprised to be offered a position there, and because of their dire financial situation, they accept.
Now Jebi is working deep underground, using their artistic expertise to help the Razanei military improve their magical scripts which they use to power the automatons that patrol the city streets day and night.
But perhaps Jebi will find a way to rise up against this oppressive regime, with the help of a large and unusual automaton kept hidden away, and which may be yearning for its own freedom.
The world of Phoenix Extravagant is very rich in cultural texture, with plenty of great queer representation, making it one of the best fantasy audiobooks on Audible.

Listen to Phoenix Extravagant: Amazon | Goodreads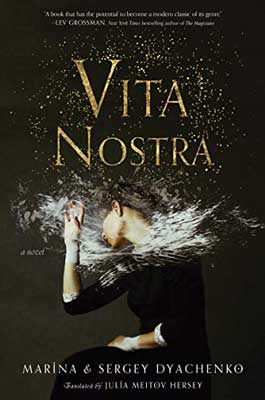 Vita Nostra by Marina Dyachenko & Sergey Dyachenko
Translated by Julia Meitov Hersey
Narrated by Jessica Ball
While on vacation with her mother, young student Sasha Samokhina finds herself continually running into a strange man who eventually sets her an equally strange task.
She is rewarded with a gold coin when she completes this task each day.
Once Sasha has enough coins, she learns that she can use them to enter something called the Institute of Special Technologies.
While she is apprehensive about attending, especially considering what she has had to do to gain entrance, Sasha decides this is what she must do.
Upon arriving, everything at first seems normal, if a little boring; lessons, meals, and activities at set times all week, dormitories with other student roommates, and so on.
But there is also something unnerving about the older students.
Why do some of them move in a jerky, hampered fashion? Why can't they talk to younger students about their lessons? And what exactly is this place preparing them all for anyway?
Like many of the darker great fantasy audiobooks, Vita Nostra has an excellent creepy atmosphere and plenty of abstract ideas that twist the reader's preconceptions about reality.
Explore even more books about, from, and set in Ukraine.

Listen to Vita Nostra: Amazon | Goodreads
Save These Fantasy Audiobooks For Later: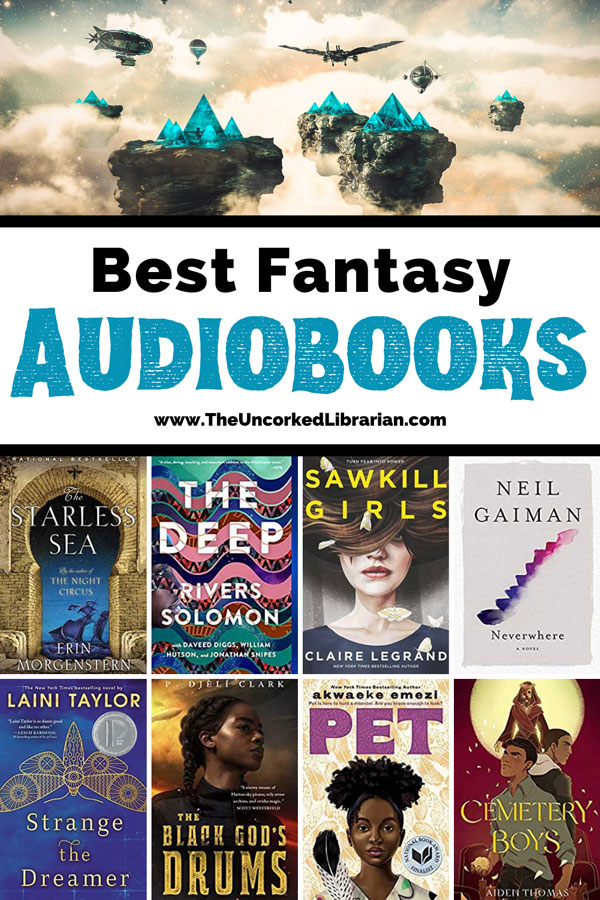 Grab the best fantasy audiobooks on audible and more here:
Thank you to TUL contributor, Jeremy Paterson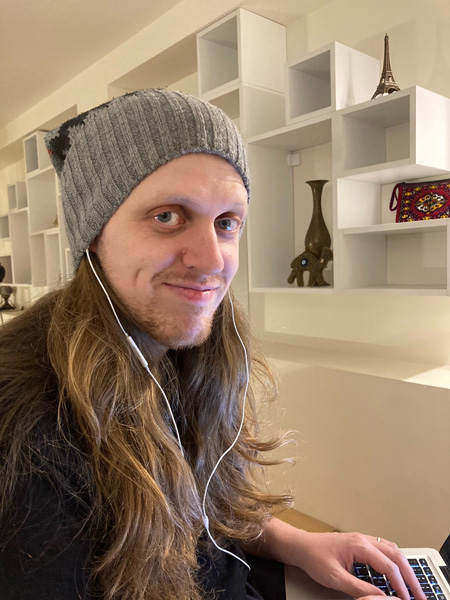 Jeremy (pronouns: any) is an autistic writer, hobbyist, and movie buff, as long as that movie is Labyrinth. Since leaving the corporate world behind in 2018, he has read more books than he thought possible. True to his British upbringing, his first instinct in any given situation is to put the kettle on.
What are your top fantasy audiobooks?
Which fantasy audiobooks do you enjoy and recommend? What do you look for in a narrator? Let us know in the comments!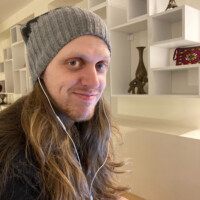 Jeremy (pronouns: any) is an autistic writer, hobbyist, and movie buff, as long as that movie is Labyrinth. Since leaving the corporate world behind in 2018, he has read more books than he thought possible. True to his British upbringing, his first instinct in any given situation is to put the kettle on.