21 Great Beer Books To Read Now
Travel via hops with the best beer books to teach you more and take your taste buds around the globe.
Here at The Uncorked Librarian, you know that we love our wine – it's in our name, after all.
However, we also appreciate a terrific brew, especially with Christine living in Asheville, NC – home to a ridiculous amount of craft breweries – which Tori visits with her while in town.
And, while we enjoy drinking all of those craft beers, we also appreciate knowing what is behind them.
Show us all of the great books on beer drinking as well as brewing. Of course, with capitalism, comes controversy – and there are quite a few books on this too.
So, what are the best books about beer and beer making, including its history, fermentation, and role in society? What part did women play in the process?
Lastly, what are helpful beer brewing books, and which beer recipe book will get you started at home?
Keep reading to find out, and don't forget to share your favorite beer book in the comments. Let's get started!
Not a beer drinker? Try these wine and vineyard books.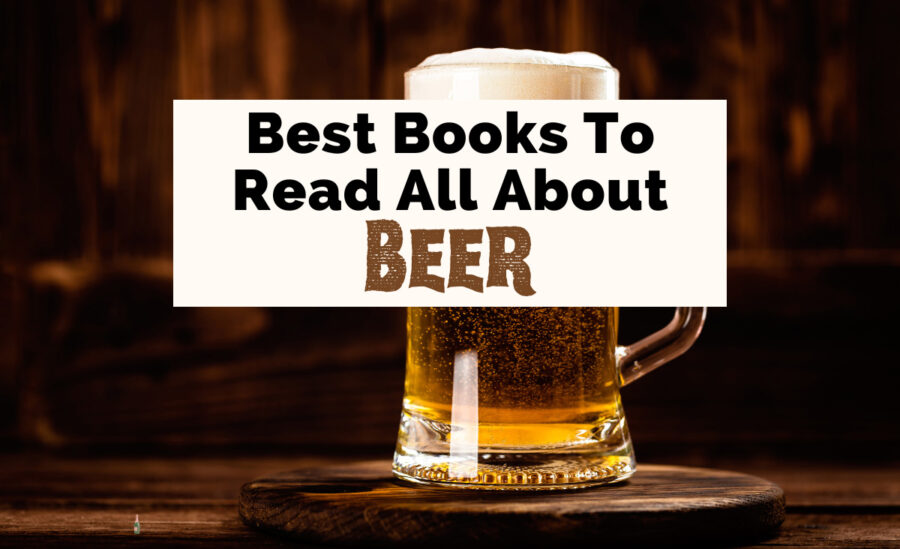 Grab your favorite books about beer here:
21 Best Beer Books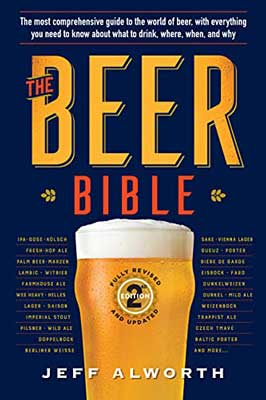 1. The Beer Bible by Jeff Alworth
A quintessential, bestselling beer book, The Beer Bible celebrates everything about beer.
Considered the "ultimate guide" of the beer world, Alworth covers the history of brewing malt, hundreds of varieties and recommendations, beers around the world and beer tourism, and, of course, the pleasure of drinking a brew.
Somehow, Alworth manages to deliver a book about beer that is perfect for drinkers of all knowledge levels, from beginners to connoisseurs.

Read The Beer Bible: Amazon | Goodreads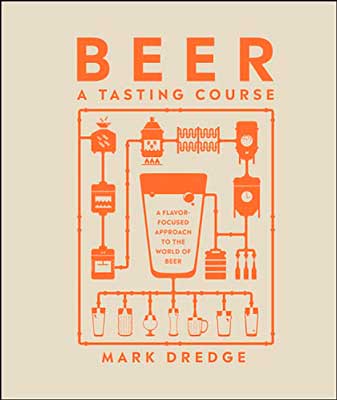 2. Beer A Tasting Course by Mark Dredge
From sour ales to hoppy IPAs and smoky lagers, Dredge's guidebook will walk readers through over fifty types of beer.
Uncover the ingredients and unique brewing processes that go into each beer style. Beer A Tasting Course will also cover the best examples of each brew from around the world.
Travel through time and across the world to discover your flavor preference.
And, because this is one of the most comprehensive beer books, learn how to cook with and pair your favorites as well!
You might also enjoy these foodie fiction books.

Read Beer A Tasting Course: Amazon | Goodreads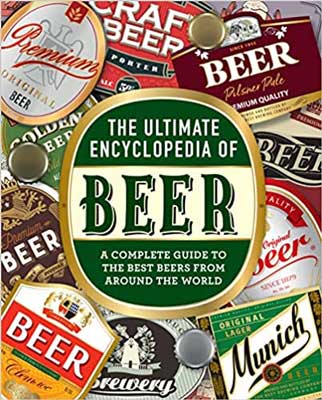 3. The Ultimate Encyclopedia of Beer by Bill Yenne
Yenne compiles one of the best books about beer around the world, covering well-known strongholds like Belgium and the UK as well as lesser-known brewing regions, such as the Middle East.
He covers various brewing styles, ingredients, glassware, and even museums dedicated to the art of beer.
With the inclusion of maps, tables, and charts, The Ultimate Encyclopedia of Beer is a true treasure for boozy travelers.

Read The Ultimate Encyclopedia of Beer: Amazon | Goodreads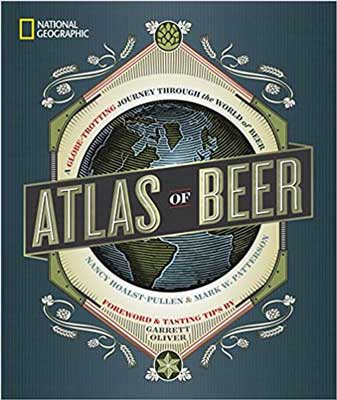 4. National Geographic Atlas of Beer by Nancy Hoalst-Pullen and Mark W. Patterson
Of course, there are dozens of globally inspired books on beer tasting and making; so what sets this one apart?
This volume – literally an atlas of beer – includes more beers and countries than any of its competitors, including banana beer in Tanzania and beer brewed in wine barrels in Argentina.
You'll find more history within each section as well as how and where to order pints and tastings around the globe in fourteen different languages!
This is a great gift for the beer lover in your life.

Read National Geographic Atlas of Beer: Amazon | Goodreads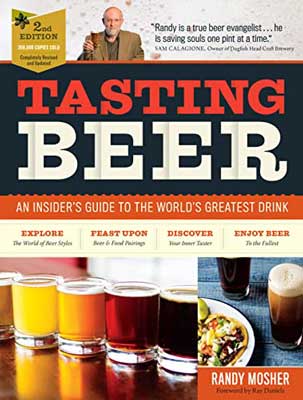 5. Tasting Beer by Randy Mosher
A craft beer book by an award-winning master brewer is bound to be one of our "must-reads."
Mosher writes with ultimate authority, covering all of the intricacies of brewing.
Uncover answers to many of the beer questions you may or may not have, including where the different colors, scents, and styles of beer come from.
Considered one of the best beer books ever written, Tasting Beer will propel readers into the world of flavor, sensory guidelines, draft systems, and more nuances associated with becoming an expert beer taster.

Read Tasting Beer: Amazon | Goodreads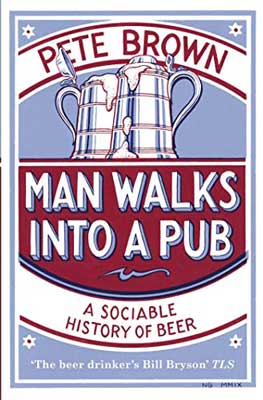 6. A Man Walks into a Pub by Pete Brown
A Man Walks into a Pub is an excellent option if you are looking for books about beer history.
From Egyptian and Medieval beginnings to your Friday night pint, embark on an epic journey around the world, through the history of one of the world's most beloved drinks.
Read tales of explosions and fires, teetotalers, breweries established in bombed-out buildings, and government controversy.
Plus, you'll read about modern-day beer and the bigger brands we've come to know and love.

Read A Man Walks into a Pub: Amazon | Goodreads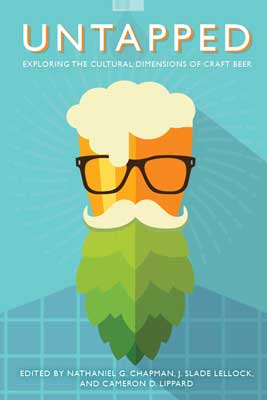 7. Untapped edited by Nathaniel G. Chapman, J. Slade Lellock, and Cameron D. Leppard
Are you looking for a unique angle when it comes to beer books? Untapped is a collection of twelve essays on craft beer from a cultural and societal perspective.
With the rise of independent and craft breweries and brewing, the industry has seen a reverse in corporate consolidation.
The essays attempt to answer or analyze the ways in which the craft beer movement is intertwined with society, especially when it comes to race, gender, and class.
Find an absolutely unique and eye-opening perspective, perfect for anyone with an interest in socioeconomics.

Read Untapped: Amazon | Goodreads
8. The Complete Beer Course by Joshua M. Bernstein
Are you ready to go from newbie to expert in twelve tasting classes? This beer book is proudly self-proclaimed as a "boot camp for beer geeks!"
The variety of beer out there can feel overwhelming and daunting. Where to begin? What to order? What does this taste like?
Bernstein breaks down the flavor profiles of different types of beer in a series of twelve "classes."
You'll learn about IPAs, sours, pilsners, Belgian styles, stouts, international beers, and so much more. You'll even learn how to start your own beer cellar!

Read The Complete Beer Course: Amazon | Goodreads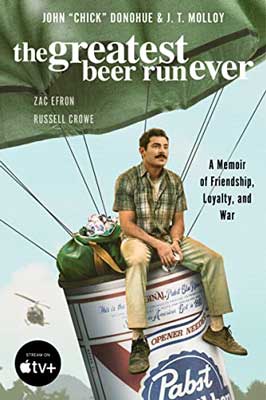 9. The Greatest Beer Run Ever by John "Chick" Donohue and J. T. Molloy
Amidst anti-war protests in 1967, a veteran and his buddies came up with a wild idea: deliver beer to their pals overseas in Vietnam.
John "Chick" Donohue, a former U.S. Marine, hopped on a cargo ship the very next day, with a backpack full of alcohol ready for the greatest beer run ever.
The epic and often dangerous journey, which included the Tet Offensive, would be worth it if Donohue could just deliver support to the men still overseas.

Read The Greatest Beer Run Ever: Amazon | Goodreads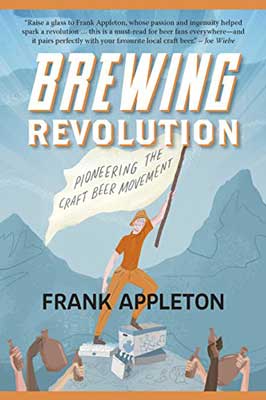 10. Brewing Revolution by Frank Appleton
In the early 1970s, three major players owned ninety percent of Canada's beer market. Accounts and investors called the shots – not the brewmasters.
In what was considered a brewing revolution, Appleton himself spearheaded a craft beer movement and opened the first cottage brewery in Canada.
His efforts would lead to hundreds of brewmaster-owned pubs and microbreweries in both the U.S. and Canada.
Brewing Revolution is also great for an introduction to beer brewing books.
Appleton includes some of his own advice and technical suggestions for embarking on your own craft beer brewing journey.
Find even more great Canadian books.

Read Brewing Revolution: Amazon | Goodreads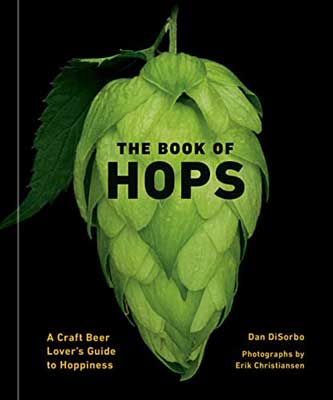 11. The Book of Hops by Dan DiSorbo
For niche books on beer, discover an entire volume dedicated to hops, the most important ingredient in craft beer.
DiSorbo dives deep into fifty of the most sought-after hops worldwide, from flavor profiles, origin, and use in brewing.
Why do these little flowers make beer taste so good?
Discover all you never knew you needed to know about the star of modern craft brews.
Of course, the author will also share some of the best beers that showcase each kind of hop, though the "best" is entirely subjective as we all have our own unique preferences.
While this is definitely not an introductory beer book, it is ideal for anyone who loves bitter beer or wants to expand their knowledge of the craft beer industry.

Read The Book of Hops: Amazon | Goodreads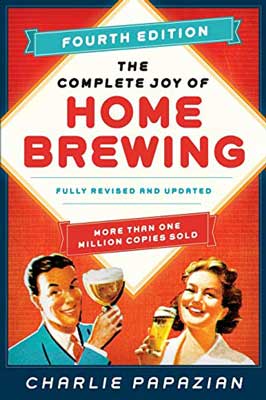 12. The Complete Joy of Homebrewing by Charlie Papazian
With over one million copies sold, The Complete Joy of Homebrewing is one of the best and most informative beer brewing books out there.
With easy-to-follow instructions, simple recipes, and information on what you need to start your own home brewery, you'll be ready to get brewing in no time.
Charts and graphs help make the homebrewing process approachable, while the history and science included in the book keep the interest alive.
Anyone, even the homebrewing novice, will be ready to roll out their own original ales.
Read The Complete Joy of Homebrewing: Amazon | Goodreads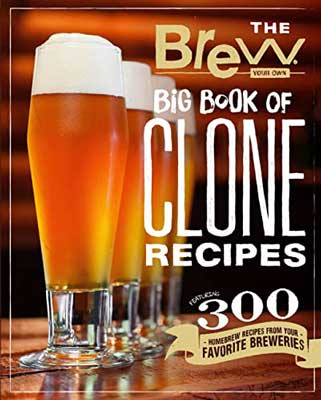 13. The Brew Your Own Big Book of Clone Recipes by Brew Your Own
One of the best beer books for homebrewers, learn how to close your favorite ales, pilsners, lagers, stouts, IPAs, and more, courtesy of the go-to Brew Your Own magazine.
In their epic beer recipe book, discover all the beers you wish to replicate, organized by style.
Included are classics and newer brews from famous craft breweries like Brooklyn Brewery, Firestone Walker, Stone Brewing Co., Tröegs, and many, many others.
European recipes are also included.
Whether you're looking for inspiration or to mirror your old favorite, this is the place to start and end.

Read The Brew Your Own Big Book of Clone Recipes: Amazon | Goodreads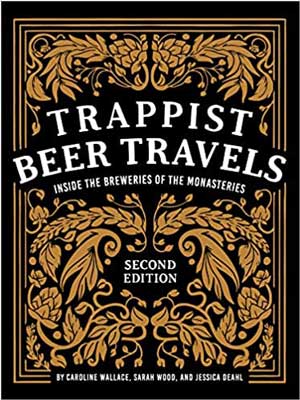 14. Trappist Beer Travels by Caroline Wallace, Jessica Deahl, and Sarah Wood
Trappist Beers, or beers brewed within the walls of an abbey, under the supervision of monks, are one of the most intriguing aspects of the beer realm.
Part journal, part history book, Trappist Beer Travels provides an inside look at the legendary Trappist breweries.
Three beer writers deliver the history of the Trappist religious order and its unique relationship with the art of brewing.
Then, travel by armchair to eleven Trappist breweries around the world, including Westvleteren, Tre Fontane, and America's first Trappist brewery in Massachusetts.
We think this is one of the best books about beer for travelers and history lovers looking for something unique and exciting.

Read Trappist Beer Travels: Amazon | Goodreads
Take The Uncorked Reading Challenge!
Travel around the world with our Uncorked Reading Challenge. Never be late to the party with unique new book releases. Get the latest movie and book lists straight to your inbox.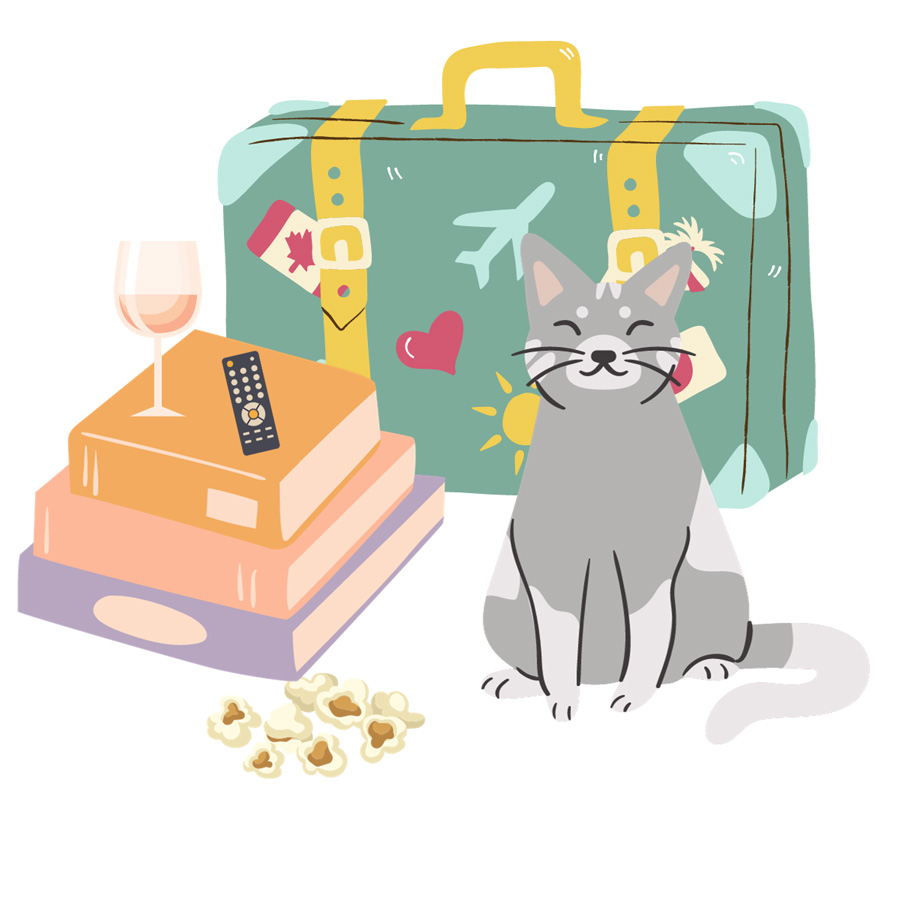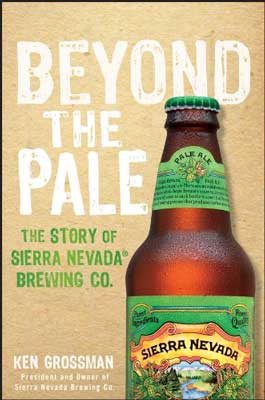 15. Beyond the Pale: The Story of Sierra Nevada Brewing Co. by Ken Grossman
An autobiographical tale, Beyond the Pale shares Ken Grossman's unlikely journey from home brewer to owner of one of America's most successful beer brands.
While many simply know of Sierra Nevada as a big player, Grossman candidly shares his trials and tribulations as a small brewer trying to make it big.
Though sitting on millions now, the journey to success was not always an easy one.
Even today, Sierra Nevada faces challenges other small craft breweries do not while continuing to fight for small, family-owned breweries.
With a quality-of-quantity mindset, Grossman and the Sierra Nevada family (it's still a family-owned operation) are continually committed to sustainability and top-notch ingredients, despite producing around 800,000 barrels annually with high-quality ingredients.
If you like stories of underdogs, work ethic, and memories, this beer book will find a well-loved place on your shelf.
If you are headed to Asheville, NC – the land of craft breweries – you can tour Sierra Nevada too! It

Read Beyond the Pale: Amazon | Goodreads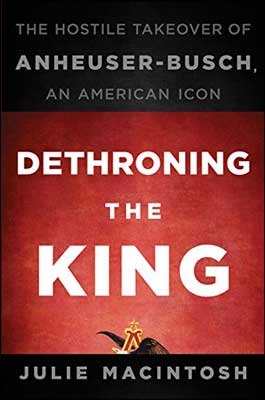 16. Dethroning the King: The Hostile Takeover of Anheuser-Busch, an American Icon by Julie MacIntosh
How did the Belgian company InBev manage to take over Anheuser-Busch with barely a fight?
In 2008, as the world entered an economic crisis, the very family that sat behind one of America's quintessential companies contributed to its takeover.
MacIntosh chronicles the timeline, the missteps taken by both the Busch family and the Anheuser-Busch board, and whether or not the company had a chance to save itself; the author argues that they just may have.
If you are a fan of Succession, this is one of the best books on beer, corporate greed, and America's – not just Anheuser-Busch's – fall as a player in global economics.

Read Dethroning the King: Amazon | Goodreads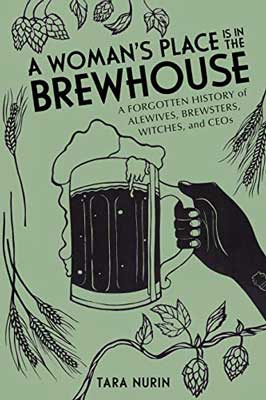 17. A Woman's Place in the Brewhouse by Tara Nurin and Teri Fahrendorf
For more intriguing beer books, get ready to chuck your brew-master stereotypes out the window. It was actually women, not men, who brewed through much of history.
From early Mesopotamian civilizations to Cleopatra and witches in Europe, women have always had a place in the brewhouse.
It is an interesting, yet demeaning one.
As is true with many other sectors, as brewing grew profitable, men and capitalism have pushed women out of the industry while simultaneously taking away their independence, equity, and respect.
To end on a positive note, the authors note a new shift; with more breweries than ever before, women are once again reclaiming their place and currently operate or own over one thousand of them.

Read A Woman's Place in the Brewhouse: Amazon | Goodreads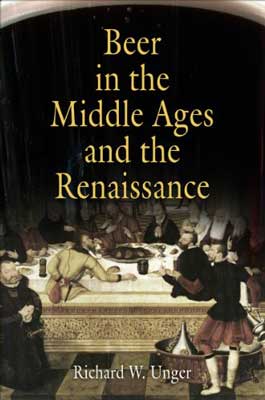 18. Beer in the Middle Ages and the Renaissance by Richard W. Unger
Can you tell that we love books on beer history?
This unique volume, though, focuses on how modern beer as we know it today is actually vastly different from the drink of the Middle Ages.
Unger takes us back in time to the days when beer was a major source of tax revenue, often a viable option for those without safe water.
Beer back then was also used as medicine and was seen as safe for daily, frequent consumption – even by children.
And, as is discussed in A Woman's Place in the Brewhouse, was a large part of a housewife's duties.
Unger describes how the practice of brewing became commercialized and dominated by capitalism and urbanization.
One thing is certain; beer has a rich history and the Middle Ages were some of the most unique aspects.

Read Beer in the Middle Ages and the Renaissance: Amazon | Goodreads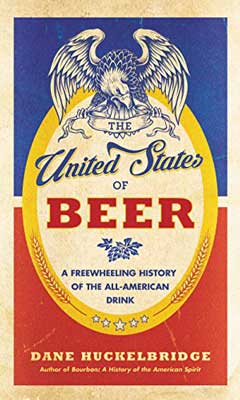 19. The United States of Beer by Dane Huckelbridge
Take a ride through the history of America in one of the funniest books about beer.
According to Huckelbridge, America has been "under the influence" at almost every stage of history.
Drawing on little-known sources, he chronicles early Native American corn brewers, immigrants who brought their own European brewing styles, and today's craft brew craze.
From Plymouth Rock to Mount Vernon and Prohibition, beer and American culture are almost synonymous.
While styles, ingredients, and consumption have changed, one thing has remained the same: Americans love their beer.

Read The United States of Beer: Amazon | Goodreads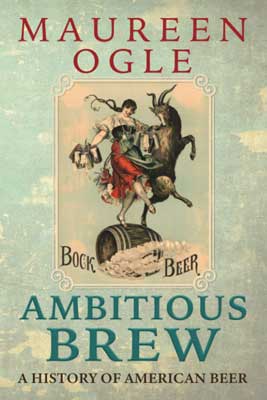 20. Ambitious Brew: The Story of American Beer by Maureen Ogle
Another take on the hoppy history of America, uncover a slightly controversial yet comprehensive look into American beer.
While some are up in arms over the players she leaves out, Ogle chooses instead to focus on the aspects and individuals you may not know or associate with beer.
Ogle tells the stories of 1844 Milwaukee, German immigrants looking to revive Biergartens, industrial brewing, baseball, prohibition, and the microbrew movement.
She covers the rivalry between Anheuser-Busch and Pabst, as well as Fritz Maytag, Jack McAuliffe, and Jim Koch's brewing ventures.
Lastly, she weaves in WWI, prohibition, and the marketing side of beer, all in a very unique and academic way, making Ambitious Brew one of the most unique beer books on this list.

Read Ambitious Brew: Amazon | Goodreads
More from Christine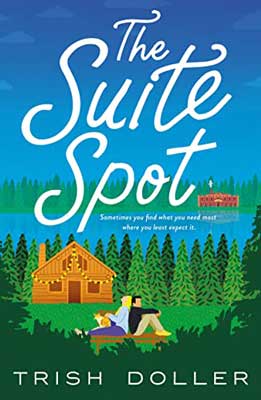 21. The Suite Spot by Trish Doller
Not all fictional books about beer have to be so serious. If you are looking for something fun, feel-good, and swoon-worthy to read featuring all of the hops, we have just the recommendation for you.
Although the second in a series – that can be read as a standalone or out of order – The Suite Spot is one of the best novels set at a hotel with a brewery tie-in.
The story focuses on the budding romance between Rachel Beck, a recently fired hotel manager hoping to find a great hotel job, and Mason, a sexy brewer building a hotel around his love for beer.
For romance lovers, you'll find growth, family, and a story about overcoming trauma and grief.
For beer lovers, you'll see endless nods to craft brewing, beer podcasts, beer styles, and more. Who knew fictional beer brewing books even existed?
Read The Suite Spot: Amazon | Goodreads
Grab your favorite beer books here:
Save The Best Books About Beer For Later: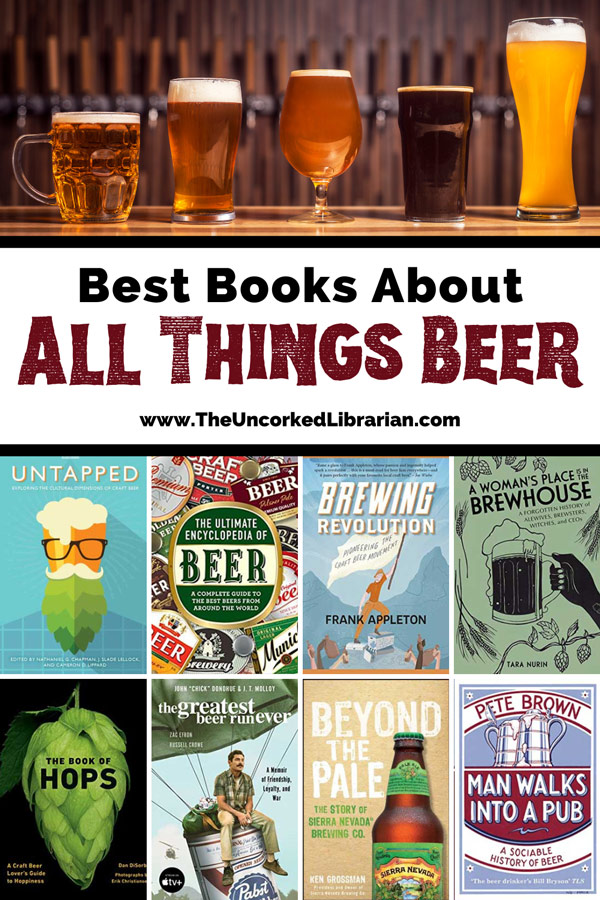 What are your favorite books on beer brewing and drinking?
Do you have a favorite craft beer book? How about a homebrewing guide or beer recipe book? What are your favorite books about the history of beer? Let us know in the comments.
This book list pairs well with our Oct. to Dec. 2023 Reading Challenge.
Related Tipsy Posts: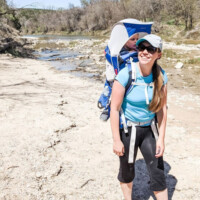 Tori (pronouns: she/her) is a mom to two boys, living in New York but adventuring everywhere, usually with a toddler on her back. She's an avid traveler, nature junkie, and writer, encouraging families to get outside and start exploring the world. When she's not hiking or traveling, you can find her lost in a book, watching Bravo reruns, or obsessively decluttering her home. Tori owns the family and adventure blog, Explore with Tori.