Are you looking for more information about Wicked By Gregory Maguire? Read more about the Wicked novel series and author.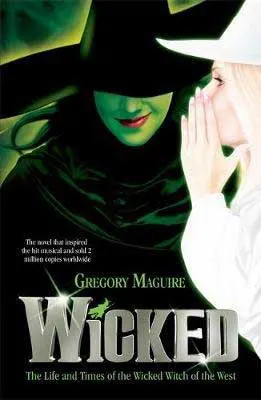 This post may contain affiliate links: If you purchase through my link, I will receive a small commission at no additional cost to you. I only recommend products/services that I approve of. See my full Disclosure Policy.
Wicked: The Life and Times of the Wicked Witch of the West
Author: Gregory Maguire
Series: Wicked Years
Genre: Paranormal | Fantasy | Witch Books
Pages: 512
Publisher: Harper Collins
Publication Date: 2004
Find more great books here:
Summary of Wicked by Gregory Maguire
This is the book that started it all!

The basis for the smash hit Tony Award-winning Broadway musical, Gregory Maguire's breathtaking New York Times bestseller Wicked views the land of Oz, its inhabitants, its Wizard, and the Emerald City, through a darker and greener (not rosier) lens.

Brilliantly inventive, Wicked offers us a radical new evaluation of one of the most feared and hated characters in all of literature: the much maligned Wicked Witch of the West who, as Maguire tells us, wasn't nearly as Wicked as we imagined.

Harper Collins
Join The Uncorked Reading Challenge Today
---
Travel around the world with the Uncorked Reading Challenge. Get the best book and movie recs straight to your inbox. Sign Up Now.
About Gregory Maguire
Gregory Maguire is a New York Times bestselling author. He writes books for all ages, including young children and adults.
Maguire has worked as a literature professor and also co-founded a nonprofit organization, Children's Literature New England, Inc. Read more about Gregory Maguire.
TUL Book Lists Featuring Wicked