Are you looking for more information about Wicked By Gregory Maguire? Read more about the Wicked novel series and author.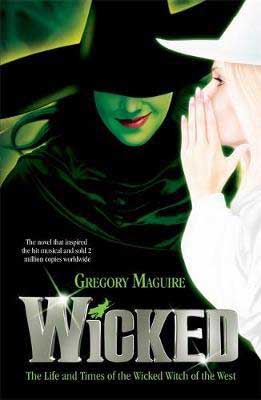 This post may contain affiliate links: If you purchase through my link, I will receive a small commission at no additional cost to you. I only recommend products/services that I approve of. See my full Disclosure Policy.
Wicked: The Life and Times of the Wicked Witch of the West
Author: Gregory Maguire
Series: Wicked Years
Genre: Paranormal | Fantasy | Witch Books
Pages: 512
Publisher: Harper Collins
Publication Date: 2004
Find more great books here:
1. We get the month's hottest new and upcoming titles from Book of the Month.
2. Try Audible Plus.
3. Find books via Kindle Unlimited Membership Plans.
4. As a member of Amazon Prime, don't miss Amazon First Reads — early access to Kindle books.
Summary of Wicked by Gregory Maguire
This is the book that started it all!

The basis for the smash hit Tony Award-winning Broadway musical, Gregory Maguire's breathtaking New York Times bestseller Wicked views the land of Oz, its inhabitants, its Wizard, and the Emerald City, through a darker and greener (not rosier) lens.

Brilliantly inventive, Wicked offers us a radical new evaluation of one of the most feared and hated characters in all of literature: the much maligned Wicked Witch of the West who, as Maguire tells us, wasn't nearly as Wicked as we imagined.

Harper Collins
Join The Uncorked Reading Challenge Today
---
Travel around the world with a book a month as part of our Uncorked Reading Challenge. Never be late to the party again with the best new book releases. Get book recs straight to your inbox. Sign Up Now.
About Gregory Maguire
Gregory Maguire is a New York Times bestselling author. He writes books for all ages, including young children and adults.
Maguire has worked as a literature professor and also co-founded a nonprofit organization, Children's Literature New England, Inc. Read more about Gregory Maguire.
TUL Book Lists Featuring Wicked