Head to rural Odessa, Texas in Valentine by Elizabeth Wetmore. Read a Valentine summary, book information, book reviews, and book lists featuring this heartbreaking women's fiction title.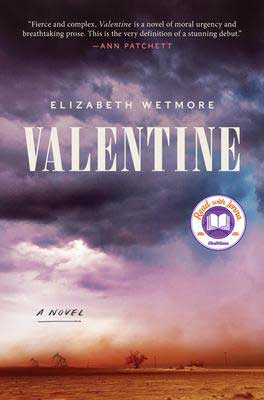 This post may contain affiliate links: If you purchase through my link, I will receive a small commission at no additional cost to you. I only recommend products/services that I approve of. See my full Disclosure Policy.
Author: Elizabeth Wetmore
Genre: Coming of Age | Book Set In Texas | Women's Fiction
Pages: 320
Publisher: Harper
Publication Date: March 2020
Buy Now: Amazon
Book Of The Month Selection
Find more great books:
Valentine by Elizabeth Wetmore Summary
Mercy is hard in a place like this . . .

It's February 1976, and Odessa, Texas, stands on the cusp of the next great oil boom. While the town's men embrace the coming prosperity, its women intimately know and fear the violence that always seems to follow.

In the early hours of the morning after Valentine's Day, fourteen-year-old Gloria Ramírez appears on the front porch of Mary Rose Whitehead's ranch house, broken and barely alive. The teenager had been viciously attacked in a nearby oil field—an act of brutality that is tried in the churches and barrooms of Odessa before it can reach a court of law. When justice is evasive, the stage is set for a showdown with potentially devastating consequences.

Valentine is a haunting exploration of the intersections of violence and race, class and region in a story that plumbs the depths of darkness and fear, yet offers a window into beauty and hope. Told through the alternating points of view of indelible characters who burrow deep in the reader's heart, this fierce, unflinching, and surprisingly tender novel illuminates women's strength and vulnerability, and reminds us that it is the stories we tell ourselves that keep us alive.

Harper
Join The Uncorked Reading Challenge Today
---
Travel around the world with the Uncorked Reading Challenge. Get the best book and movie recs straight to your inbox. Sign Up Now.
More About Author, Elizabeth Wetmore
A native of West Texas, Wetmore has done a bit of it all. Valentine is Elizabeth Wetmore's debut novel. She lives in Chicago and is a graduate of the Iowa Writers' Workshop. Read more about Elizabeth Wetmore.
Where You Can Find Valentine Reviews On TUL
Looking for more books set in Texas? Don't miss our bookish road trip across the United States on this America reading list.
Are you looking for some of the best books set in and about the South? Don't miss our Southern novels reading list filled with contemporary titles like Valentine, A Good Neighborhood, Transcendent Kingdom, The Vanishing Half, The Nickel Boys, and Where The Crawdads Sing. Find famous Southern authors, too.
Don't miss our full review of Valentine on our June 2020 reading list. Find other diverse and bestselling titles, too.