Untamed by Glennon Doyle – Inspirational & Powerful LGBTQ+ Nonfiction
If you are looking for courage and inspiration, don't miss Untamed by Glennon Doyle. Uncover an Untamed summary, book information, and book reviews featuring this motivational nonfiction biography.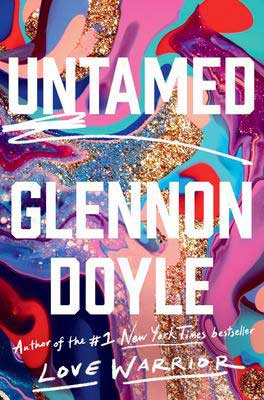 This post may contain affiliate links: If you purchase through my link, I will receive a small commission at no additional cost to you. I only recommend products/services that I approve of. See my full Disclosure Policy.
Author: Glennon Doyle
Genre: Women's Nonfiction | Inspirational Self-Help | Biography
Pages: 352
Publisher: The Dial Press
Publication Date: March 2020
Buy Now: Amazon
Find even more fabulous books like Untamed by Glennon Doyle here:
Untamed by Glennon Doyle Summary
This is how you find yourself.

There is a voice of longing inside each woman. We strive so mightily to be good: good partners, daughters, mothers, employees, and friends. We hope all this striving will make us feel alive. Instead, it leaves us feeling weary, stuck, overwhelmed, and underwhelmed. We look at our lives and wonder: Wasn't it all supposed to be more beautiful than this? We quickly silence that question, telling ourselves to be grateful, hiding our discontent—even from ourselves.

For many years, Glennon Doyle denied her own discontent. Then, while speaking at a conference, she looked at a woman across the room and fell instantly in love. Three words flooded her mind: There She Is.

At first, Glennon assumed these words came to her from on high. But she soon realized they had come to her from within. This was her own voice—the one she had buried beneath decades of numbing addictions, cultural conditioning, and institutional allegiances.

This was the voice of the girl she had been before the world told her who to be. Glennon decided to quit abandoning herself and to instead abandon the world's expectations of her. She quit being good so she could be free. She quit pleasing and started living.

Soulful and uproarious, forceful and tender, Untamed is both an intimate memoir and a galvanizing wake-up call. It is the story of how one woman learned that a responsible mother is not one who slowly dies for her children, but one who shows them how to fully live.

It is the story of navigating divorce, forming a new blended family, and discovering that the brokenness or wholeness of a family depends not on its structure but on each member's ability to bring her full self to the table.

And it is the story of how each of us can begin to trust ourselves enough to set boundaries, make peace with our bodies, honor our anger and heartbreak, and unleash our truest, wildest instincts so that we become women who can finally look at ourselves and say: There She Is.

Untamed shows us how to be brave. As Glennon insists: The braver we are, the luckier we get.

The Dial Press
About The Author, Glennon Doyle
Glennon Doyle is a New York Times bestselling author. She is the founder and president of a nonprofit, Together Rising, and is known as an activist and inspirational speaker. She currently lives in Florida with her family. Read more about Glennon Doyle.
More Books By Glennon Doyle
Where You Can Find Untamed By Glennon Doyle Book Reviews On TUL
Don't miss these powerful books to make you think differently about the world. Find books like Untamed by Glennon Doyle along with other inspirational authors like Elizabeth Gilbert and her book, Big Magic. You may also enjoy Cathy Heller's Don't Keep Your Day Job. Grab all of the recommendations for inspiration, better travel, books that teach you about racism, and books that will increase your workflow here.
We read so many inspirational books in 2020, including Untamed by Glennon Doyle. If you are looking for even more fabulous titles, check out our top picks on this 'best of' reading list. In nonfiction, find mini book reviews for Joy At Work and The Beauty In Breaking. Plus, we are sharing the best books in literary and historical fiction, LGBTQ+, YA, indie, thrillers, romance, and so much more.
TUL read Untamed as part of June 2020's issue of Currently Reading. See what we thought along with other great reads including, Valentine and Ask Again, Yes.