Are you looking for a vampire book set in Paris? Undead As A Doornail by William F Aicher is the first in the Phoenix Bones: International Monster Hunter series.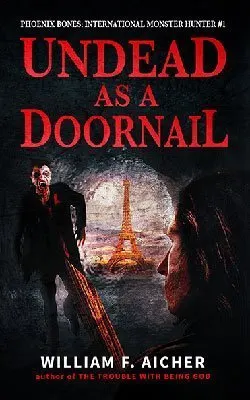 Undead As A Doornail By William F Aicher Book Information
Title: Undead As A Doornail
Author: William F Aicher
Genre: Vampires | Murder Mystery | Books Set In Paris | Suspense & Thrillers
Indie Published: August 2019
Pages: 282
We would like to thank William F Aicher for sending us a free copy in exchange for a fair and honest review.
Grab Your Copy Of Undead As A Doornail by William F Aicher Here: Amazon
Find more great books here:
Undead As A Doornail by William F Aicher Summary
Phoenix Bones is a little bit of a boozer who does animal control during the day — hello, cute raccoons and wimpy guys — and monster-hunting at night.
That's right, you heard us correctly: monster-hunting…well maybe monster-killing, too. Parasitic fairies: smooshed. Vampires: exploded all over. Pop!
Phoenix is an enigma: his twin sister disappeared in youth, and he possesses an odd, immortal quality. While you can stab Phoenix through the heart to off him, eventually he comes back to life.
That's truly our worst kind of ex-boyfriend. More so, though, sd wonder: Will whiskey have these effects on us?! *Glass clinks in the background.*
When Phoenix temporarily dies, he crosses over into another realm and can pretty much travel the world. He sounds like our soulmate, right? Aicher came at us aggressively with this plot, clearly.
With the disappearance of a young girl, Phoenix lands in the catacombs of Paris in a vampire bloodbath to solve the mystery. His accidental sidekick, possessing drugs that my cat Sukha loves after a tooth extraction, joins him to find even more missing women.
Of course with vampires, there comes attraction, drugs, sex, and death. Lots of death. And barfing.
Can Phoenix solve the case without adding fangs to his immortality?
Join The Uncorked Reading Challenge Today
---
Travel around the world with the Uncorked Reading Challenge. Get the best book and movie recs straight to your inbox. Sign Up Now.
Undead As A Doornail Review
Aicher has yet to disappoint us. And thanks a lot: Now we have a new favorite indie series in our queue.
Know that Phoenix Bones: International Monster Hunter will not be a just vamp series. The next book promises werewolves. Something tells me they aren't like Jacob either…
Undead As A Doornail is a mix of Charlaine Harris' Sookie Stackhouse and Evanovich's Stephanie Plum series. You see a little world-building paired with memorable characters.
You are drawn into the thrilling but not literature-dense plot: More than junk food but still a satisfying, quick read.
Undead As A Doornail is a tad grotesque, and Phoenix, man, you have a stomach like us. Weak. We love his rough edges.
Even more appealing, you know that we appreciate a good book set abroad. Bones tries to eat his way through Paris and even heads to Bulgaria for some castle-spying. We feel the mood and destinations.
Not-in-your-face romance greets readers, but mostly you'll fly right through the novel wondering how this will all end. And trust me, the story ends with a BOOM.
Hilarious, witty, and light, Undead As A Doornail will leave you laughing, gagging, and hoping for a new HBO series. We cannot wait for Book Two.
More About The Author, William F Aicher
William F Aicher is an independent author who not only champions and helps the indie author community but also self-publishes a diverse range of novels for adults.
His titles are a mix of philosophical sci-fi and thrillers ranging from monsters to a look into the future. We also reviewed Aicher's The Unfortunate Expiration of Mr. David S. Sparks.
Aicher has degrees from the University of Wisconsin in journalism and philosophy. Follow along with William F Aicher.
Where You Will Find
Undead As A Doornail

Reviews On The Uncorked Librarian

Sink your fangs into these vampire romances, novels, and series.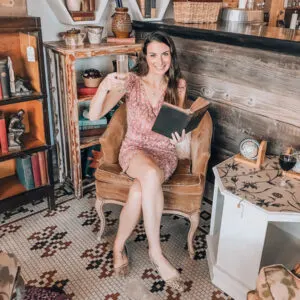 Christine (she/her) is the owner, lead editor, and tipsy book sommelier of The Uncorked Librarian LLC, an online literary publication showcasing books and movies to inspire travel and home to the famed Uncorked Reading Challenge.
With a BA in English & History from Smith College, an MLIS from USF-Tampa, and a U.S. Fulbright Fellowship in Christine's back pocket, there isn't a bookstore, library, or winery that can hide from her. Christine loves brewery yoga, adopting all of the kitties, and a glass of oaked Chardonnay. Charcuterie is her favorite food group.