If you are looking for a multicultural romance, don't miss Ties That Tether by Jane Igharo. Set in Canada, watch as Azere defies her family's traditional beliefs to live her truest life. Find a Ties That Tether summary, book information, and book reviews here.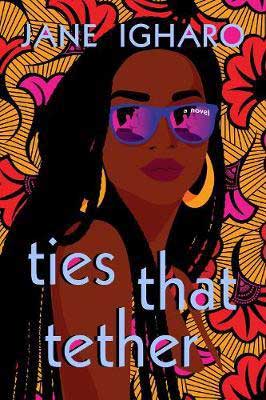 This post may contain affiliate links: If you purchase through my link, I will receive a small commission at no additional cost to you. I only recommend products/services that I approve of. See my full Disclosure Policy.
Author: Jane Igharo
Genre: Multicultural Romance | Book Set In Canada
Pages: 320
Publisher: Berkley
Publication Date: September 29, 2020
Buy now on Amazon
Ties That Tether by Jane Igharo Summary
At twelve years old, Azere promised her dying father she would marry a Nigerian man and preserve her culture, even after immigrating to Canada. Her mother has been vigilant about helping—well forcing—her to stay within the Nigerian dating pool ever since. But when another match-made-by-mom goes wrong, Azere ends up at a bar, enjoying the company and later sharing the bed of Rafael Castellano, a man who is tall, handsome, and…white.

When their one-night stand unexpectedly evolves into something serious, Azere is caught between her feelings for Rafael and the compulsive need to please her mother. Soon, Azere can't help wondering if loving Rafael makes her any less of a Nigerian. Can she be with him without compromising her identity? The answer will either cause Azere to be audacious and fight for her happiness or continue as the compliant daughter.

Berkley
More About The Author, Jane Igharo
Jane Igharo was born in Nigeria. Moving to Canada when she was 12-years-old, Igharo went on to pursue a journalism degree from the University of Toronto. Ties That Tether is her debut novel. Read more about Jane Igharo.
Where You Can Find Ties That Tether by Jane Igharo Reviews On TUL
Discover some of September's best new book releases, including Ties That Tether by Jane Igharo. Uncover bestselling authors like Jodi Picoult, Ruth Ware, and Nic Stone, too. This month's book list promises multicultural romance, books about mental health, and so much more.
What are some of the year's hottest new books in fiction, historical fiction, nonfiction, and YA? Find 2020's new, upcoming, and most-anticipated book releases by month here.
Don't miss our huge Fall 2020 reading list filled with some of the season's hottest new books. Find Ties That Tether by Jane Igharo along with even more romances, thrillers, mysteries, YA, indie, and LGBTQ+ novels releasing in fall 2020. On this list, you might also enjoy Love Your Life, Mistletoe And Mister Right, Simmer Down, and The Death Of Vivek Oji.