Are you looking for a gothic suspense novel set in Maine? Check out this book review of The Widow of Pale Harbor by Hester Fox.
Hester Fox, author of The Witch of Willow Hall, is back at it with another ghostly story filled with witchcraft, romance, and murder. The Widow of Pale Harbor is one of Fox's latest books and new book releases of 2019.
What love story wouldn't be complete without a murder mystery to complicate relationships even more? Imagine injured crows, dead animals popping up at doorsteps, someone excavating your husband's grave, and a spinster on a hill. Gosh, women were so evil in 1846.
If all of this sounds intriguing, keep reading for a full review of The Widow of Pale Harbor to see who can save Pale Harbor from the person responsible for cursing it.
Oh, and did I mention that there is a creepy literary aspect too? All of the murders are based on Edgar Allan Poe stories and poems.

The Widow of Pale Harbor By Hester Fox Book Information
Title: The Widow of Pale Harbor
Author: Hester Fox
Genre: Gothic Fiction | Book Set In Maine | Historical Fiction | Suspense
Imprint: Graydon House Books
ISBN: 9781525834264
Pages: 352
I would personally like to thank Graydon House Books for sending me a free copy in exchange for a fair and honest The Widow of Pale Harbor review.
Grab Your Copy Of The Widow of Pale Harbor by Hester Fox Here:

The Widow of Pale Harbor by Hester Fox Review
A Creepy and Witchy Gothic Fiction Tale Set In Maine in 1846
Sophronia Carver lives at eerie Castle Carver overlooking the cliffs of Pale Harbor. Widowed and a woman accused of murdering her wealthy husband, she sits trapped in self-imprisonment with her servant, Helen. Helen is much more than a spinster widow with a knack for spells and undefined feelings for Sophronia. Something odd simmers between the two outcasts and alleged occultists.
Running her husband's literary magazine keeps Sophronia sane until terrifying and harassing gifts land at her front door: hurt crows and candles with life-threatening notes. Are these the cruel acts of bored school children or some sinister and conservative revenge from a townsmen?
Did I mention Sophronia is gorgeous too?
A Gust Of Wind Blows In A Hunky Minister With An Penchant For Scandalous Women
What is a pretty widow with walls literally and figuratively around her to do when a handsome and mysterious Trandescendalist minister rolls into town?
Enter Gabriel Stone, an alleged minister escaping the sudden passing of his not so innocent wife. Warned that Sophronia is a murderous witch, he cannot stay away. Wildly popular stories are irresistible when the town can't seem to shut up about Sophy.
Watch as Sophy and Gabe's love story transpires (or expires) amidst solving a murder mystery. Townspeople are dropping like fruit flies into my wine, and Sophronia is next on the list. The creepiest part? All of the murders match scenes from Poe stories and poems. Who is this twisted person inspired by Poe? You know those tales are gruesome AF.
Who Will Stay Up All Night Reading This Gothic Murder Mystery
Lovers Of Salem Witch Trial Books Will Devour The Widow of Pale Harbor
If books about the Salem Witch Trials intrigue you, The Widow of Pale Harbor will offer you a new take on mass hysteria and the jealously surrounding mysteriously beautiful and powerful women.
Pale Harbor is a sleepy town gripped by fear and controlled by hatred. Sophronia is a dynamic feminist who struggles through lies, deceit, anxiety, and downright hostility. The small town of Pale Harbor is frustratingly blind and condemning.
And yes, there are witches–or a witch–in this historical fiction title. From the start, readers learn that Helen is a master of charms and killer potions.
Romance Enthusiasts Who Don't Want Fluff Will Enjoy Hester Fox Books
Hester Fox is happily a repeat author for me. TUL reviewed her other title, The Witch of Willow Hall, in 2018. I never knew gothic romance paired with historical fiction could be so powerful until Fox. Similarly to The Witch of Willow Hall, The Widow of Pale Harbor incorporates love that might not survive the story.
However, while the romance is even more steamy in The Widow of Pale Harbor, it's not eye-roll worthy. Love ignites with the mystery and deadly literary Poe elements.
Plus, in my opinion at least, there might be some LGBT+ elements at play here, but that is debatable.
The Widow of Pale Harbor Is For Readers Who Enjoy Women's Fiction
Once again like The Witch of Willow Hall, Fox presents readers with a series of dynamic women. You have servants, friends, and scorned lovers. There are affairs, romances, and of course, walls and massive stereotypes. Fox works hard to paint an accurate picture of mid-1800 society for women.
Sophronia most reminds me of Agnes in Burial Rites by Hannah Kent–a mysterious and attractive leading lady accused as an accomplice to murder. Similarly to Agnes, witchcraft and beauty breed jealousy-inspired death sentences.
Watch as these women rise and fall while supporting each other and tearing each other to pieces. Who will come out with their head held up high and not slit across the throat…
History Lovers Will Eat Up The Widow of Pale Harbor: Castle Carver Is Based On IRL Castle Tucker
Lastly, history lovers will enjoy The Widow of Pale Harbor by Hester Fox. Castle Carver is based on Castle Tucker located in Wiscasset, Maine. Castle Tucker is a Victorian home overlooking the sea and built in the early 1800s. Visitors can seasonally visit the castle in the fall and learn about its three generations of inhabitants.
More About The Author, Hester Fox
When not working as a collections maintenance technician for museums, Hester Fox is an author and artist. Hester lives outside Boston and has a background in Medieval studies and historical archeology. The Witch of Willow Hall is Hester Fox's first novel. Read more about Hester Fox.
Hester Fox Books
If you like The Widow of Pale Harbor, check out Fox's The Witch of Willow Hall.
The Witch of Willow Hall is another gothic fiction novel set outside Boston in 1821. Watch as sisters battle over love as they try to recover their place in high society. There are multiple trigger warnings, including an animal and child death as well as miscarriages.
Find vengeful ghosts and romance in this more somber Hester Fox book.
Books Like The Witch Of Willow Hall
If you like books like The Witch of Willow Hall and The Widow of Pale Harbor by Hester Fox, be sure to check out these book lists on TUL:
If you like The Widow of Pale Harbor by Hester Fox, you may also enjoy these witchy YA titles: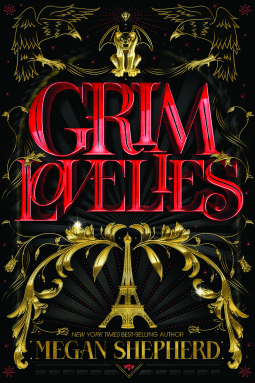 Which of these novels will you pick up next? Have you read any Hester Fox books before? And lastly, what do you love about gothic fiction?