Are you looking for southern coming of age literary fiction? Don't miss The Vanishing Half by Brit Bennett. Discover a The Vanishing Half book summary, book reviews, and book information here.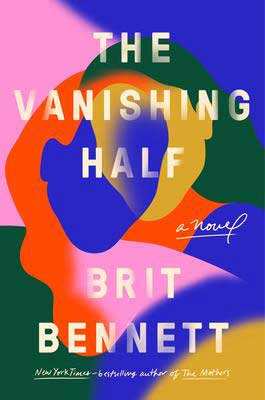 This post may contain affiliate links: If you purchase through my link, I will receive a small commission at no additional cost to you. I only recommend products/services that I approve of. See my full Disclosure Policy.
Author: Brit Bennett
Genre: Southern Fiction | Book About Racism & Race | Women's & Family Fiction
Pages: 352
Publisher: Riverhead Books
Publication Date: June 2020
Buy Now: Amazon | Grab It On Book Of The Month
Find more great books here:
1. We get the month's hottest new and upcoming titles from Book of the Month.
2. Try Audible Plus.
3. Find books via Kindle Unlimited Membership Plans.
4. As a member of Amazon Prime, don't miss Amazon First Reads — early access to Kindle books.
The Vanishing Half by Brit Bennett Summary
The Vignes twin sisters will always be identical. But after growing up together in a small, southern black community and running away at age sixteen, it's not just the shape of their daily lives that is different as adults, it's everything: their families, their communities, their racial identities. Many years later, one sister lives with her black daughter in the same southern town she once tried to escape. The other secretly passes for white, and her white husband knows nothing of her past. Still, even separated by so many miles and just as many lies, the fates of the twins remain intertwined. What will happen to the next generation, when their own daughters' storylines intersect?

Weaving together multiple strands and generations of this family, from the Deep South to California, from the 1950s to the 1990s, Brit Bennett produces a story that is at once a riveting, emotional family story and a brilliant exploration of the American history of passing. Looking well beyond issues of race, The Vanishing Half considers the lasting influence of the past as it shapes a person's decisions, desires, and expectations, and explores some of the multiple reasons and realms in which people sometimes feel pulled to live as something other than their origins.

As with her New York Times-bestselling debut The Mothers, Brit Bennett offers an engrossing page-turner about family and relationships that is immersive and provocative, compassionate and wise.

Riverhead Books
Join The Uncorked Reading Challenge Today
---
Travel around the world with a book a month as part of our Uncorked Reading Challenge. Never be late to the party again with the best new book releases. Get book recs straight to your inbox. Sign Up Now.
About The Author, Brit Bennett
Brit Bennet grew up in Southern California. She graduated from Stanford University and has an MFA in fiction from the University of Michigan. Read more about Brit Bennett.
More From Author, Brit Bennett
Where You Can Find The Vanishing Half by Brit Bennett Reviews On TUL
If you enjoy family stories and books about sisters, head over to this reading list filled with a variety of genres.
Everyone was talking about The Vanishing Half by Brit Bennett in 2020. What other noteworthy books released that you might have missed? Two more popular 2020 historical fiction titles include Mexican Gothic and Code Name Helene. Find out all of the year's most-talked about books in fiction and nonfiction here.
Are you looking for the best books set in every state? Don't skip our MASSIVE 50 States reading list filled with over 200+ book suggestions for United States-based books. This book list is perfect for people road-tripping across the United States right now. Find all genres as well as adult and YA books to read.
Are you looking for some of the best books set in and about the South? Don't miss our Southern novels reading list filled with contemporary titles like The Vanishing Half, The Nickel Boys, and Where The Crawdads Sing.
Uncover all of TUL's North American and American book lists. Travel around the world with these books to inspire travel, love, and understanding.
See what books we are currently reading this August, including The Vanishing Half by Brit Bennett, Big Friendship by Amintatou Sow and Ann Friedman, Metallic Red by Jennifer Ann Shore, Dear Justyce, and so much more — book reviews included.