If you are looking for WWII historical fiction with inspiring women, don't miss The Rose Code by Kate Quinn. Find a summary, book information, and book reviews here.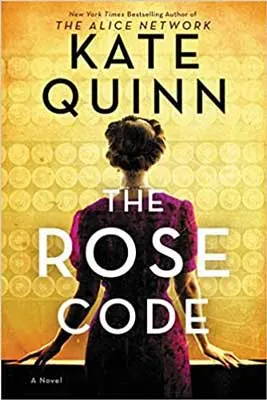 This post may contain affiliate links: If you purchase through my link, I will receive a small commission at no additional cost to you. I only recommend products/services that I approve of. See my full Disclosure Policy.
Author: Kate Quinn
Genre: WWII Historical Fiction | Inspired By A True Story | Set In Britain
Pages: 646
Publisher: William Morrow Paperbacks
Publication Date: March 9, 2021
Buy on Amazon
Find more great books here:
The Rose Code by Kate Quinn Summary
1940. As England prepares to fight the Nazis, three very different women answer the call to mysterious country estate Bletchley Park, where the best minds in Britain train to break German military codes.

Vivacious debutante Osla is the girl who has everything—beauty, wealth, and the dashing Prince Philip of Greece sending her roses—but she burns to prove herself as more than a society girl, and puts her fluent German to use as a translator of decoded enemy secrets.

Imperious self-made Mab, product of east-end London poverty, works the legendary codebreaking machines as she conceals old wounds and looks for a socially advantageous husband.

Both Osla and Mab are quick to see the potential in local village spinster Beth, whose shyness conceals a brilliant facility with puzzles, and soon Beth spreads her wings as one of the Park's few female cryptanalysts. But war, loss, and the impossible pressure of secrecy will tear the three apart.

1947. As the royal wedding of Princess Elizabeth and Prince Philip whips post-war Britain into a fever, three friends-turned-enemies are reunited by a mysterious encrypted letter–the key to which lies buried in the long-ago betrayal that destroyed their friendship and left one of them confined to an asylum.

A mysterious traitor has emerged from the shadows of their Bletchley Park past, and now Osla, Mab, and Beth must resurrect their old alliance and crack one last code together. But each petal they remove from the rose code brings danger–and their true enemy–closer…

William Morrow Paperbacks
Join The Uncorked Reading Challenge Today
---
Travel around the world with the Uncorked Reading Challenge. Get the best book and movie recs straight to your inbox. Sign Up Now.
A Sneak Peek Into TUL's The Rose Code Advanced Copy Review
I don't think Kate Quinn will ever let readers down as the reigning Queen of WW2 historical fiction.
Although the initial length of The Rose Code intimidated this book blogger, I ate up every powerful and suspenseful detail. The women are multi-dimensional, embracing their beauty while exemplifying a fierce and brilliant work ethic.
If you enjoy books about women's friendship and their hidden roles during the war, you'll devour The Rose Code.
More About The Author, Kate Quinn
Kate Quinn is a bestselling historical fiction author. Born in California, she holds a Bachelor's and Master's degree in Classical Voice from Boston University. She currently lives in San Diego. Read more about Kate Quinn.
More Books From Kate Quinn
Where You Can Find The Rose Code Reviews On TUL
Read even more great books about the power of friendships.
If you love women's stories and bravery featured in historical fiction, don't miss this booklist filled with inspiring women set around the globe. On this reading list, you may also enjoy The Lost Apothecary, Code Name Helene, and Salt To The Sea.
Don't miss the most talked about and most-anticipated books of 2021. Find The Rose Code along with riveting historical fiction, YA, indie, and so much more. Travel not only to Britain but also around the world with The Uncorked Librarian.
Along with The Rose Code, what other must-read books are publishing in March? Don't miss The Lost Apothecary by Sarah Penner and The Dating Plan by Sara Desai. Never be late to the party again with The Uncorked Librarian's book releases reading lists.
If you love WW2 books, see what else 2021 has in store for you.