Do you love WW2 historical fiction inspired by true stories? Don't miss The Prisoner's Wife by Maggie Brookes, a WW2 love story set in former Czechoslovakia. Find a The Prisoner's Wife summary, book information, and reviews.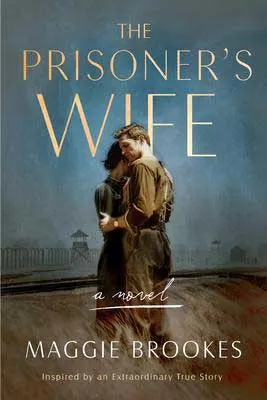 This post may contain affiliate links: If you purchase through my link, I will receive a small commission at no additional cost to you. I only recommend products/services that I approve of. See my full Disclosure Policy.
Author: Maggie Brookes
Genre: WW2 Historical Fiction | Book Set In Czechoslovakia | WW2 Romance
Pages: 398
Publisher: Berkley
Publication Date: May 2020
Buy Now: Amazon
Find books like The Prisoner's Wife by Maggie Brookes free or discounted via:
1. Book of the Month: Get the month's hottest new and upcoming titles from Book of the Month. You might snag an early release or debut author. Along with selecting a book a month, find terrific add-ons, both trendy and lesser-known titles.
2. Audible Plus: From Amazon, listen to Amazon Originals, podcasts, and audiobooks. They add new titles every week.
3. Amazon Prime: Don't miss Amazon First Reads – early access to Kindle books. Get fast delivery as well as movies, music, Originals, shows, and more.
4. Or, start your trial of Amazon Video for movies and tv series on demand.

The Prisoner's Wife by Maggie Brookes Summary
In the dead of night, a Czech farm girl and a British soldier travel through the countryside. Izabela and prisoner of war Bill have secretly married and are on the run, with Izzy dressed as a man. The young husband and wife evade capture for as long as possible—until they are cornered by Nazi soldiers with tracking dogs.

Izzy's disguise works. The couple are assumed to be escaped British soldiers and transported to a POW camp. However, their ordeal has just begun, as they face appalling living conditions and the constant fear of Izzy's exposure. But in the midst of danger and deprivation comes hope, for the young couple are befriended by a small group of fellow prisoners. These men become their new family, willing to jeopardize their lives to save Izzy from being discovered and shot.

The Prisoner's Wife tells of an incredible risk, and of how our deepest bonds are tested in desperate times. Bill and Izzy's story is one of love and survival against the darkest odds.

Berkley
---
Join The Uncorked Reading Challenge Today
---
Travel around the world with the Uncorked Reading Challenge. Get the best book and movie recs straight to your inbox. Sign Up Now.
---
About The Author, Maggie Brookes
Maggie Brookes was born in London and has an English degree from Cardiff University. She is a former historical documentary writer, producer, and director for BBC. She splits her time between London and Whitstable. Learn more about Maggie Brookes.
Where You Can Find The Prisoner's Wife by Maggie Brookes Reviews On TUL
If you love history from around the world, don't miss this WW2 books reading list. Find more WWII books based on true stories such as Code Name Hélène by Ariel Lawhon along with historical fiction books like The Nightingale, All The Light We Cannot See, The Book Of Lost Names, The Socialite, and The Storyteller.
Uncover even more books about WWII on our historical fiction reading list filled with romance, suspense, and inspirational people.
Don't miss these books set in and across Europe to inspire your travels and spark wanderlust. Explore books and book lists set in countries like France, England, Ireland, Lithuania, Greece, Czech Republic, Germany, Latvia, Estonia, and so many more.
What other books published with The Prisoner's Wife by Maggie Brookes? Find books that released in May 2020, including The Jane Austen Society and As Much As I Ever Could.
We love WW2 books and historical fiction. Uncover some of the hottest new books about World War 2 that published in Winter 2020.