If you are looking for edgy historical fiction set in London, don't miss The Lost Apothecary by Sarah Penner. Find a summary, book information, and book reviews here.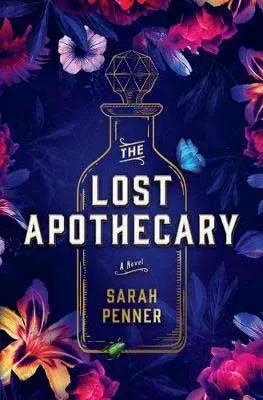 This post may contain affiliate links: If you purchase through my link, I will receive a small commission at no additional cost to you. I only recommend products/services that I approve of. See my full Disclosure Policy.
Author: Sarah Penner
Genre: Historical Fiction | Book Set In London
Pages: 269
Publisher: Park Row
Publication Date: March 2, 2021
Buy on Amazon
Find more great books here:
The Lost Apothecary Summary
Hidden in the depths of eighteenth-century London, a secret apothecary shop caters to an unusual kind of clientele. Women across the city whisper of a mysterious figure named Nella who sells well-disguised poisons to use against the oppressive men in their lives. But the apothecary's fate is jeopardized when her newest patron, a precocious twelve-year-old, makes a fatal mistake, sparking a string of consequences that echo through the centuries.

Meanwhile in present-day London, aspiring historian Caroline Parcewell spends her tenth wedding anniversary alone, running from her own demons. When she stumbles upon a clue to the unsolved apothecary murders that haunted London two hundred years ago, her life collides with the apothecary's in a stunning twist of fate—and not everyone will survive.

With crackling suspense, unforgettable characters and searing insight, The Lost Apothecary is a subversive and intoxicating debut novel of secrets, vengeance and the remarkable ways women can save each other despite the barrier of time.

Park Row
Join The Uncorked Reading Challenge Today
---
Travel around the world with the Uncorked Reading Challenge. Get the best book and movie recs straight to your inbox. Sign Up Now.
The Lost Apothecary by Sarah Penner Advanced Copy Review
One of my new favorite books of 2021, find a beautifully woven tale about a female apothecary serial killer paired with a modern-day story of a woman trying to find herself in a suffocating and manipulative marriage. Librarians and historians will love this feminist historical fiction novel. 5-Stars.
More About The Author, Sarah Penner
Born in Kansas, Sarah Penner began writing after listening to a lecture on Elizabeth Gilbert's Big Magic tour — you know we love Big Magic here at TUL. Penner holds a degree from the University of Kansas in finance, works in corporate finance, and travels the world. Read more about Sarah Penner.
Where You Can Find The Lost Apothecary Reviews On TUL
Do you love reading about *killer* women in history?! Pun intended… Don't miss these inspirational or daring women in history. Find books like The Lost Apothecary next to The Rose Code, These Violent Delights, Mexican Gothic, A Girl Like You, and so much more.
Don't miss the most talked about and anticipated books of 2021. Find The Lost Apothecary along with WW2 historical fiction, YA, indie, and so much more. Travel not only to London but also around the world with The Uncorked Librarian.
Along with The Lost Apothecary, what other books are publishing in March? Don't miss The Rose Code by Kate Quinn and The Dating Plan by Sara Desai. Never be late to the party with The Uncorked Librarian's book releases reading lists.