Did you clean out your closets after reading or watching The Life-Changing Magic Of Tidying Up by Marie Kondo? Discover more information about the book and where you can find this powerful read on The Uncorked Librarian book lists.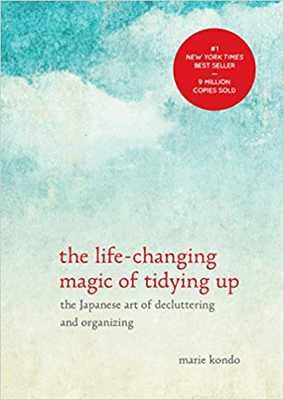 This post may contain affiliate links: If you purchase through my link, I will receive a small commission at no additional cost to you. I only recommend products/services that I approve of. See my full Disclosure Policy.
Author: Marie Kondo
Genre: Organization and Home Cleaning | Japanese Women Writers
Pages: 224
Publisher: Ten Speed Press
Publication Date: 2014 (Originally published in Japan in 2011)
Buy on Amazon
Find all of your favorite books here:
1. Book of the Month: Get the month's hottest new and upcoming titles from Book of the Month. You might snag an early release or debut author. Along with selecting a book a month, find terrific add-ons, both trendy and lesser-known titles.
2. Audible Plus: From Amazon, listen to Amazon Originals, podcasts, and audiobooks. They add new titles every week.
3. Amazon Prime: Don't miss Amazon First Reads – early access to Kindle books. Get fast delivery as well as movies, music, Originals, shows, and more.
4. Or, start your trial of Amazon Video for movies and tv series on demand.

The Life-Changing Magic Of Tidying Up Summary From The Publisher
"Despite constant efforts to declutter your home, do papers still accumulate like snowdrifts and clothes pile up like a tangled mess of noodles?

Japanese cleaning consultant Marie Kondo takes tidying to a whole new level, promising that if you properly simplify and organize your home once, you'll never have to do it again. Most methods advocate a room-by-room or little-by-little approach, which doom you to pick away at your piles of stuff forever. The KonMari Method, with its revolutionary category-by-category system, leads to lasting results. In fact, none of Kondo's clients have lapsed (and she still has a three-month waiting list).

With detailed guidance for determining which items in your house "spark joy" (and which don't), this international bestseller featuring Tokyo's newest lifestyle phenomenon will help you clear your clutter and enjoy the unique magic of a tidy home—and the calm, motivated mindset it can inspire."

Ten Speed Press
Join The Uncorked Reading Challenge Today
---
Travel around the world with the Uncorked Reading Challenge. Get the best book and movie recs straight to your inbox. Sign Up Now.
About Marie Kondo
Marie Kondo is a Japanese tidying expert and bestselling author. You may also know her from binge-watching the Netflix series, "Tidying Up With Marie Kondo." Time Magazine named Kondo one of the 100 most influential people in the world. You can read more about Marie and her mission to spark joy here.
Other Books By Marie Kondo:
TUL Book Lists Featuring The Life-Changing Magic Of Tidying Up By Marie Kondo Reviews
Did you know that you can decorate your home with Marie Kondo's tidying advice? TUL consults home decor expert, Tara of Hammer and a Headband, to help readers enhance their homes, literary-style.
Kondo's book allows us to think more deeply about the way in which we live and improve our lives. Find even more transformative books here.