The Lies That Bind by Emily Giffin
If you are looking for 9/11 contemporary women's fiction, check out The Lies That Bind by Emily Giffin. Find book information, book reviews, and book lists featuring Emily Giffin's novels.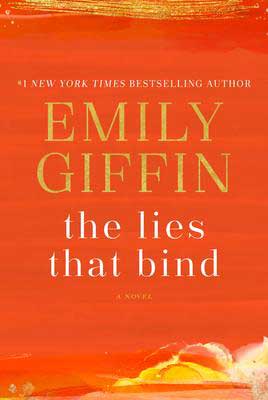 This post may contain affiliate links: If you purchase through my link, I will receive a small commission at no additional cost to you. I only recommend products/services that I approve of. See my full Disclosure Policy.
Author: Emily Giffin
Genre: Contemporary Women's Fiction | Book Set In NYC | 9/11 Fiction
Pages: 352
Publisher: Ballantine Books
Publication Date: 2020
Buy It Here: Amazon
The Lies That Bind By Emily Giffin Summary From The Publisher
It's 2 A.M. on a Saturday night in the spring of 2001, and twenty-eight-year-old Cecily Gardner sits alone in a dive bar in New York's East Village, questioning her life. Feeling lonesome and homesick for the Midwest, she wonders if she'll ever make it as a reporter in the big city—and whether she made a terrible mistake in breaking up with her longtime boyfriend, Matthew.

As Cecily reaches for the phone to call him, she hears a guy on the barstool next to her say, "Don't do it—you'll regret it." Something tells her to listen, and over the next several hours—and shots of tequila—the two forge an unlikely connection. That should be it, they both decide the next morning, as Cecily reminds herself of the perils of a rebound relationship. Moreover, their timing couldn't be worse—Grant is preparing to quit his job and move overseas. Yet despite all their obstacles, they can't seem to say goodbye, and for the first time in her carefully constructed life, Cecily follows her heart instead of her head.

Then Grant disappears in the chaos of 9/11. Fearing the worst, Cecily spots his face on a missing-person poster, and realizes she is not the only one searching for him. Her investigative reporting instincts kick into action as she vows to discover the truth. But the questions pile up fast: How well did she really know Grant? Did he ever really love her? And is it possible to love a man who wasn't who he seemed to be?

The Lies That Bind is a mesmerizing and emotionally resonant exploration of the never-ending search for love and truth—in our relationships, our careers, and deep within our own hearts.

Ballantine Books
About The Author, Emily Giffin
Emily Giffin grew up in Chicago and graduated from Wake Forest University and the University of Virginia School of Law. She began her writing career as a lawyer in Manhattan. Now residing in Atlanta with her family, she is a bestselling author with over nine novels. The Lies That Bind is her 10th novel. Read more about Emily Giffin.
More Books From Emily Giffin
Where You Can Read The Lies That Bind Book Reviews

Learn more about NY with these fictional novels set in New York City and State for adults and teens.
With the end of 2019, we couldn't wait to see what new books would release in 2020. Along with Giffin, find bestselling authors like Marie Lu, Marie Kondo, and Sue Monk Kidd.
What books excited us for Spring 2020? Find some of the best new spring book releases on this Book Buzzed reading list.
June 2020 proved to be a fabulous month for new book releases. Find even more bestselling authors like Elin Hilderbrand and Kevin Kwan on this diverse summer reading list.
Don't miss summer 2020's hottest new books, including bestselling authors like Emily Giffin, Kevin Kwan, Katherine Center, and Jodi Picoult.